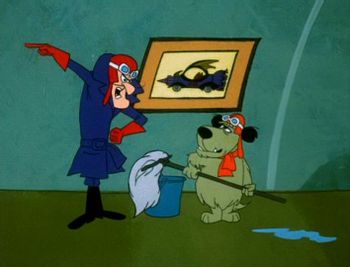 Nab him! Jab him! Tab him! Grab him! Stop that pigeon, now!
One of two Spin Offs from Wacky Races, this series is best remembered for its bizarre aircraft designs. Dick Dastardly leads the Vulture Squadron in pursuit of the courier Yankee Doodle Pigeon. The squadron's other members are Dastardly's partner from Wacky Races, Muttley, a snickering dog always begging for a medal; Klunk, an aircraft mechanic who speaks mainly in vocal sound effects, and Zilly, a nervous coward whose only redeeming virtue is his ability to translate Klunk's speech for Dastardly. The Mean Machine, Dastardly's car from the Wacky Races, can be seen frequently in this series as well.
Although this cartoon is set during World War I, Dastardly always has access to a telephone, even in flight, over which the general communicates with him. Just as Dastardly never won a Wacky Race, he never catches the pigeon. There are two Dastardly & Muttley cartoons along with "Wing Dings", which are short comedy blackouts. A supporting segment, Magnificent Muttley, concerns Muttley's flights of heroic fantasy.
The series' entire voice cast consists of Don Messick (Muttley, Klunk and Zilly) and Paul Winchell (Dick Dastardly and the General). Messick even provides the falsetto voices of Muttley's girlfriends in the Magnificent Muttley segments.
A comic series based on the original series titled Dastardly & Muttley was released in 2017, written by Garth Ennis— yes, that Garth Ennis. In it, Dick (known as Lt. Col. Richard "Dick" Atcherly) is an Air Force Pilot while Muttley is his partner who ends up fused with his dog due to Applied Phlebotinum that results in cartoon physics and lunacy manifesting in the real world. Unlike the original series, it is set in contemporary times.
The 2017 reboot of Wacky Races subsequently revealed that the Dastardly in this series is the grandfather of the Dastardly from the reboot and the father of Dastardly from the original Wacky Races, that he still owns his plane from this series, and that the pigeon is still alive.
---
This series provides examples of:
Cool Planes: Everyone in the Vulture Squadron flies an impressive plane in their attempts to stop Yankee Doodle Pigeon.
Crash Course Landing: Four more inept pilots you will never find. Although in "Sky-Hi I.Q.," it's shown that Dick Dastardly is the only pilot with some semblance of competency.
Crossover: Issue #44 DC's Scooby-Doo Team-Up series, "Just Plane Scared," has the Vulture Squadron seeking assistance from Scooby and the gang in stopping (in Dick's words) a "ghost pigeon." Several years later, Dastardly and Scooby would cross paths again in the movie SCOOB!, only with the hero/villain paradigm.
Diesel Punk: Could be considered a humorous, kid-friendly version of this, though obviously without the "punk" aspect.
Dirty Coward: Zilly will always flee the instant he's in danger.
Disproportionate Retribution: In "Sky-Hi I.Q.," Muttley becomes leader of the Vulture Squadron and is subjected to the same Humiliation Conga that Dastardly usually goes through. When Dastardly has command reassigned to him (thanks to a screw-up by the efficiency expert who issued aptitude tests to the squadron), he consigns Muttley to a year in the dog house (literally).
No Fourth Wall: In "Ceiling Zero Zero", after Don Messick as the narrator plays the "umpteenth time" card over and over:

Dastardly: (to narrator) Oh, dry up! Who's keeping score?

Narrator: What kind of a fiendish device has Klunk come up with this time Dastardly?
Dastardly: It's a radio controlled robot pigeon hawk.

Non-Uniform Uniform: All the human members of the squad wear pilot's uniforms which are a different colour and style from each other, and every uniform used in World War One.
Nothing Personal: Muttley's job is largely to force Zilly into danger against his will, but they're shown to be fairly friendly while off duty. In one episode, where Dastardly has amnesia and is unable to order either of them to do anything, they're both quite happy to lounge around and let the pigeon get away.
Number Two: Klunk would take command of the squadron if Dastardly was away or incapacitated. Noticeably, he was also the only member of the squadron who didn't need to be bullied or bribed into doing his job.
Non-Fatal Explosions: Planes blow up. No one gets killed or seriously injured.
Officer and a Gentleman: Near the end of episode "Medal Muddle", Dick Dastardly was falling and had no medal to offer Muttley so, in order to persuade the dog to save him, Dastardly invoked the trope and promised to help Muttley find his lost medals. Dastardly kept good on his promise.

Yankee Doodle Pigeon pleads this of Dastardly in the comic book story "Truce Or Consequences" (see Team Rocket Wins below.)

Off-Model: In the Gold Key comics, Muttley is colored a pale yellow. His ears are normally black, but in "It's Flop And Go-Go" (Fun-In #2) and "The Pigeon Plot" (Golden Comics Digest #7), his ears are unblackened. In Fun-In #5's "Secret Weapon," his hands are uncolored.
Oh, No... Not Again!: In "Barnstormers", Vulture Squadron fall into a well, and Dastardly receives a call from the General, answering his unheard question with "yes sir, we're in the well again".
Only Sane Man: Zilly's patent cowardice is well founded in that he knows that every plan the Squadron thinks up to stop Yankee Doodle Pigeon will always end in disaster. He even gets tasked with coming up with a plan himself—a giant mailbox—and to say it tanked is an understatement.
Operation: [Blank]: Many of the Squardon's schemes are prefaced such as (for example) Operation Pick-A-Pigeon (from "Go South, Young Pigeon") where they try to select out Yankee Doodle from a flock of ducks being directed into a giant funnel). Two episode titles—"Operation Anvil" and "Operation Birdbrain" (the episode where Dastardly forces the Squadron to think like a pigeon to catch Yankee Doodle Pigeon) and one comic book story ("Operation No-No" from Gold Key's Hanna-Barbera Fun-In #9) effect this as well.
Out of Character Is Serious Business: In "Barnstormers", when Dastardly learns that the milkmaid has transferred affections to him, he screams "Forget the pigeon, let's get out of here!", and zooms past the pigeon into the distance.
Packed Villain: In one episode, Dick Dastardly gets caught in Klunk's pigeon-packing machine and ends up stuffed in a can labeled "sauerkraut".
---