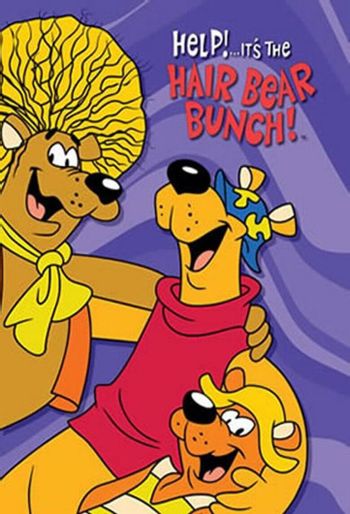 Formally called
Help! It's The Hair Bear Bunch!,
this
Hanna-Barbera
cartoon was essentially an ursine
Hogan's Heroes
in that it featured
three screwball bears
who live at Wonderland Zoo where they bargain for better living conditions and constantly sneak out for a night on the town. The zoo is run by Eustace P. Peevly (
John Stephenson
) and his
dimbulb assistant
Lionel J. Botch (Joe E. Ross). The bears get assistance in their
Zany Schemes
from their zoo inmates who include Bananas the Gorilla, Fumbo the Elephant, Pipsqueak the Mouse, Stretch the Giraffe, Fur-face the Lion and others. The bears' antics get Peevly in hot water with the zoo superintendent, but Hair's fast talking usually bails him out.
The bears were Hair Bear (Daws Butler), so called because of his big orange afro; Bubi Bear (Paul Winchell), who speaks in gibberish quite often, and Square Bear (Bill Callaway), a clumsy lumberer with a big appetite, and the strange ability to ride a non-existent motorcycle.
The show was created by Joe Ruby and Ken Spears (who scripted the debut episode). It was developed as "The Yo-Yo Bears" and was renamed some two months before it hit the air on CBS September 11, 1971. It ran one year, was shelved, then returned in replays in September 1973. It ran Sunday mornings then was moved to Saturdays in February 1974 after CBS revamped its Saturday line-up. It was canceled that fall and remained dormant until 1984 when USA Network ran it on its Cartoon Express block. Cartoon Network and its sister channel, Boomerang, have also run the series.
---
This series provides examples of:
---