open/close all folders
Intermediate Gods
Double
Double, Goddess of Scary Nuns
(The Devilish Double, Sister Agatha, Shadow of Lamia,
Queen Lamia, The Great Mother, Zane MacDougal
, Imposter,
The Republican
, Borshch)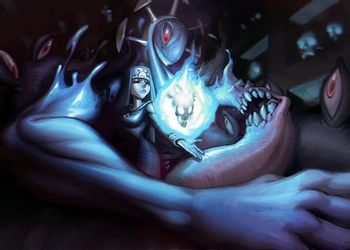 Intermediate Goddess
Symbol: A strange golden crown within a black circle, or This Emblem
Theme Song: Fugue of the Three Goddesses (In Nun form) Dirge of the Divine Trinity and Chamber Below (In monster form)
Alignment: Neutral Evil
Portfolio: Evil Is Visceral, Eldritch Abomination, Mouth of Sauron, Nun Too Holy, The Stoic, Voluntary Shapeshifting, The instigator in most of the conflict in her wold, Humanoid Abomination, Ditto Fighter, The Ageless, Sinister Minister, Lovecraftian Super Power
Domains: Fear, Blood, Corruption, Death, Faith, Evil, Abominations, Transformations
Allies: None. All are pawns for the Skull Heart.
Notable Pawns: Bloody Marie, Judge Claude Frollo, Seymour Guado, the GUAL & The GUAD Ultima & The Luvaci, Calypso, Kane, Father and his Homunculi, Senator Armstrong, any powerful Goddesses she can tempt with the Skull Heart, Madoka Kaname, Maleficent, The Evil Queen
Enemies: Squigly, Peacock, Ms. Fortune, Painwheel, Beowulf, Valentine, Parasoul, Filia, Aleph, Edward Elric, Yuna, Tsubaki Yayoi, Rosette Christopher, Clarice di Lanza
Opposes: ELIZA
Ambiguous Pawn: Ragyo Kiryuin
There was a rumor going around the House of Faith about a mysterious nun questioning the purity of other members and telling of a way to grant any wish they desire. After an investigation, Double was discovered in the Pantheon, for no one knows how long. She was then given her own temple, mainly so that she can be kept an eye on.
In preparation for finding a new, more powerful Skullgirl for the Skull Heart, she took the time to ascend Bloody Marie, its previous user, to provide a suitable distraction. Marie doesn't seem to care and continues on her quest for vengeance. All According to Plan, though Double is wary in case Marie's new allies convince her to switch sides. Such a needless complication after all...
Was absolutely LIVID to hear Eliza made it into the Pantheon. She vowed to make her pay the ultimate price after

killing Aeon & Venus, two-thirds of the Trinity she worships

.
Hated by Squigly for her direct role in the murder of her family, her own death, and her mother turning into a Skullgirl. Double doesn't seem to care, only stating that Squigly is

a pathetic excuse for a minion of the Skull Heart and a fool for thinking she can hope to stop her, no matter how many times she destroys her or the Heart

.
Has shown an interest in the GUAL, as their version of Christianity shares many parallels with her own faith of Trinitism. However, her loyalty to the Skull Heart and her deceptive/destructive nature has earned the ire and distrust of many alliance members.

In truth, she is loyal to no faction in particular, going from place to place to fulfill her own agenda. She does mainly reside with The GUAE, since they are the ones that tolerate her the most.

She is able to perfectly mimic the appearance and voices of other gods in the Pantheon. Although she mainly does this to taunt or mock others, she has been spotted trying to convince other gods to take the Skull Heart while disguised.

This doesn't apply to just other deities, but food and items as well. She is even able to take the form of pure living Life Fibers, which has attracted the attention of Ragyo Kiryuin.

Has earned the hate of Edward Elric, who opposes basically everything Double does, from manipulating others through religion to the very nature of the Skull Heart itself. He pursued her, believing she was another Homunculus created by Father. She denied this claim, but has since then began taking an interest in Father and the ascended Homunculi ever since.

One of their confrontations ended up with Double transforming her appearance into his deceased mother with a twisted smile on her face. The conversation did not end well.

Is working with Seymour Guado to assist in the genocide of the Pantheon, much to the disdain of Yuna. Double in turn is disappointed in Yuna that she did not continue the cycle of destruction back in her own world.
Has been spending an unsettling amount of time lurking around the House of Magic, talking with many of the Magical Girls there about the powers of the Skull Heart. She is ESPECIALLY interested in Madoka ever since the Great Upheaval.

Some say that Double left Madoka a "sympathetic gift" in the form of an ominously radiant box

...
After spending some time with Senator Armstrong, she has picked up a few... interesting policies.
Was once accidentally eaten by Kirby while she was the color of Neopilatian Ice Cream. The results of the transformation were so unspeakable, the two are never allowed to be in the same area again.
She used to try to tempt Tsubaki Yayoi when she was under the effect of Mind Eater, but she then obtained her new power as Izayoi and sobered up, and now defiantly stands against her. Double has noted Tsubaki as a threat to her own agenda.
After hearing about a power struggle between The Evil Queen and Maleficent, she secretly made both of them an offer; the chance to use the Skull Heart all for themself if they could defeat the other. Double eagerly awaits a response...
The Ten Commandments
The Ten Commandmentsmembers , Hand-Picked Deities of Biblical Commands
(Fraudrin: Fraudrin the Selflessness,
Dreyfus
| Zeldris: Zeldris the Piety,
Zeldoris
| Estarossa: Estarossa the Love,
Archangel Mael
, | Galand: Galand the Truth,
Galan
| Monspeet: Monspeet the Silence,
Monspiet
| Derieri: Derieri the Purity,
Derrierrie
| Melascula: Melascula the Faith,
Merascylla
| Drole: Drole the Patience,
Dolor
| Grayroad: Grayroad the Pacifism | Gloxinia: Gloxinia the Repose)
Intermediate Deities
Symbol: Their Demon Clan tattoos
Letimotif: Ten Commandments
Alignment: Galand, Estarossa, Grayroad, and Melascula are Chaotic Evil. Zeldris and Fraudrin are Neutral Evil. Formerly Neutral Evil in the cases of Derieri, Gloxina, Drole, and Monspeet who are Neutral Good.
Portfolio (as a whole): Their Namesake, Black Eyes of Evil, Using Darkness Shadows, Can Utilize Black Smoke To Heal Wounds, Servants Of The Demon King, Most Can Transform With A High Cost, Suck Out Souls To Increase Their Magical Power.
Domains: Demons, Evil, Hell, Power, Tyranny
Allies: Lucifer, Diablo, Baal (Diablo), Ghirahim, Ganondorf, Mard Geer, Scanty and Kneesocks, Corset,
Enemies:

Other Enemies:YHVH, Natsu Dragneel, Gray Fullbuster, Moses, Lady.
Derieri: Gabriel.
Melascula: Solaire of Astora, Cana Alberona, Velvet Crowe.
Galand: Cana Alberona, Haru Glory.
Zeldris: Dante Sparda, Trish, Nero (Devil May Cry).
Estarossa: Dante Sparda, Nero (Devil May Cry), Dean Winchester.
Gloxinia: Nobuyuki Sugou/Oberon the Fairy King.

Rival: Meliodas for Galand.
Opposes: Satan ( Shin Megami Tensei ).
Conflicting Opinion on: Goetia.
Long ago in the land of Britannia, the other major clans began a war against the strongest beings known as the Demon Clan who reigned supreme until they were betrayed by Meliodas. After being sealed away, the most elite demons under the service of the Demon King were freed allowing them to arrive into the Pantheon. Several angels were outraged by this invasion along with other "holy" gods who felt like a brand new holy war on the horizon.
Related to the Ten Commandments

Being the former leader of his father's elite force, the traitor of the Demon Clan was both shocked and "happy" to see his old allies in the household for several ascended deities. Grinning, he unleashed his demonic nature fully prepared to confront his former allies until he was held back with many magical gods not wanting Meliodas to get into a situation where he loses control of himself due to his powers.
Being demons who served the mysterious Demon King each Commandment pledged themselves to powerful leaders of demons or those closely resembling their race such as Lucifer and Ganondorf wanting to remove the "holy" angels of the Pantheon once and for all. The demons are not sure if Goetia could be another ally considering he would possibly ally with YHWH, for now, they remain on good terms.
Also the majority of this group were quick to ally themselves with demonic lords such as Diablo and Baal, the infamous brothers whom also shared infamous like the Ten Commandments but they mainly interacted with Zeldris and Estarossa. Moses was rather offended to hear this group of inhuman monsters was named the Ten Commandments while Haru wondered why they stole the name of his sword.

Exclusive to Zeldris

As the head of the Ten Commandments, the younger brother of Meliodas and Estarossa, but more importantly as the third son of the infamous Demon King Zeldris felt great honor about being a demon. Thus, when he encountered the self-proclaimed "Demon Hunter" Dante Sparda he quickly became one of his worst enemies along with Trish another traitor to demonkind in his eyes. Of course, the former executioner knew family drama as well as he related to Vergil's plight with Dante, even if the Commandment was warned in advance not to fight him otherwise he would lose his arms.
He was sympathetic to both Dracula and Carmilla for their plight as vampires who were feared and hated by humans due to his relationship with someone from the Vampire Clan that once allied with the Demon Clan.

Exclusive to Estarossa

Like with his younger brother, the second child of the Demon King found issues with Dante over his obsession with killing fellow demons like himself. Also, he can't stand Nero despite admiring the Half-Demon for eventually

rebelling against the Order along with their "God"

.
Dean found Estarossa to be a spoiled-ass kid of a demon king, and he was disgusted with hearing the demon speak like him in a certain language.

Exclusive to Galand:

On certain days, a challenger decides to take on the "Galand Game" from the Commandment of Truth with some contestants wondering why the battle resembled a golf course. Galand would chuck down several boulders from a high cliff to rain down on his opponent while his fellow demons sighed at how relaxed he was during such a battled wondering if he would take them seriously due to his arrogance.

Exclusive to Melascula

Despite originally being a snake before absorbing enough misasma

Melascula also felt rather prideful about her status as a Commamdment, even if she also enjoys good tasting booze like Galan. One day however she ran into a fellow demon who drew out her right arm that was wrapped up in bandages. Velvet made it clear she despised daemons much like Melascula who could slurp up human souls one moment before getting drunk off their ass the next.
Both Melascula and Galand sneak out in order to get in some booze having refound a taste for it, but Cana loves to steal all of their secret stash of alcohol suggesting the demons act nicer if they wanted it back. The Faith of the Ten Commandments also loathes seeing Solarie, who's mere presence reminded her of bad times with the Seven Deadly Sins' prideful Esclanor and his mighty "sun".

Exclusive to Derieri:

As a demon who lost a family member due to the machinations of the Goddess Clan, the Purity of the Demon Clan despises angels mainly Gabriel who reminds her of a more busty angel she killed before entering the Pantheon.

Exclusive to Gloxinia:

Having a dislike for humans after the events which led him to join the Ten Commandments, his disgust over Nobuyuki Sugou for claiming the title of Fairy King only made him madder as he knew that unlike his online avatar he was merely a rotten, horrible man unworthy of being any kind of real king. This puts him at odds with whom many consider his successor King.

Exclusive to Fraudrin:

Fraudrin was one of the more prideful demons out of the bunch, even resorting to taking over the body of Dreyfus along with

Meliodas' love in order to kick-start the return of his clan

. Thus, should the moment arise when he can find a new body to hide in Fraudrin would use it to one day gain his revenge against Meliodas.

Exclusive to Grayroad:

Serving as the

demon-spawn maker of the Commandments from red demons to Ash demons

, the masked demon is also hatred for conquering bugs including some from this particular house to defend itself from harm.

Exclusive to Drole:

As a fellow king of giants himself, Drole got along quite well with two fellow Pokemon one being Regigigas. As for the other Steelix was rather impressed by Drole's ability to turn his body hard with his Heavy Metal ability.
Was somewhat pleased to hear about Diane's ascension if only to test her skills and strength once again.

Exclusive to Monspeet:

At one time he sought out the Demon Sisters for a certain piece of advice involving someone he didn't want to be known to the Pantheon. In truth, the demon wanted to know the best kind of dresses for Derriere to wear causing Scanty and Kneesocks to shriek out before taking him on an unintended shopping spree.
Unalaq
Unalaq, The Dark Shepherd
(Dark Avatar,
UnaVaatu
, The Evil Unalaq, The Diabolical But Incredibly Boring and Unpopular Sorcerer From the North)
Intermediate God, Greater in the Dark Avatar State.
Symbol: Vaatu Within Himself
Theme Song: Tension
Alignment: Neutral Evil that pretended to be Lawful Neutral
Portfolio: Dark Shepherd AND Dark Messiah, Dragon-in-Chief To Vaatu, Evil Uncle, Ambition Is Evil, Badass Preacher, Bait the Dog, Faux Affably Evil, Hates His Brother, Knight Templar, The Fundamentalist, Abusive Parents, Lean and Mean, Villainous Cheekbones, Manipulative Bastard, Moment Killer, Visionary Villain, Complete Monster
Domains: Water, Spirits, Manipulation
High Priest: Heimskr
Followers: Fisher Biskit, Sister Butch, Governor Kraft, Paul "Pious" Schäfer
Heralds: Desna and Eska
Allies: Vaatu and his allies, Nyarlathotep, Melkor, Scar, Lady Tremaine, Heihachi Mishima, Vlad Masters, Claude Frollo, Enrico Pucci, Teridax, Xehanort, Angra Mainyu
Enemies: Korra, Raava, Wan, Aang, Tenzin, Mako, Bolin, Asami Sato, Varrick, Lin Beifong, Katara, Sokka, Zuko, Toph Bei Fong, Zaheer, Iroh, Amon, Kuvira, Spongebob Squarepants, Squidward Tentacles, Danny Phantom, Dark Danny, Cosmos, Philemon, Tidus, Yuna, Sora, Riku, Divine Powers, Mata Nui, Immortal God-Emperor of Mankind, Amaterasu
Opposes: Galeem and Dharkon
Unalaq, the man who set off an entire civil war and manipulated countless people just to become the Dark Avatar managed to worm his way into the Pantheon. Proclaiming himself as The Dragon for Vaatu, Unalaq announced his presence much to the chagrin of those who know him. Unalaq could be seen with a shit-eating smirk afterward.

To elaborate on his character even more, Unalaq ascended to chiefdom after having his brother banished. Before Harmonic Convergence would occur, Unalaq would have to open the Spirit Portals. That's where Korra came in, who was conveniently his niece. When Dark Spirits arrived to herald Vaatu's eventually return in the South Pole, Unalaq started to preach how the people lost their spiritual connections and needed to be guided to reform that connection as a way to justify the Northern Tribe's occupation. It was all a front to ensure Vaatu's resurrection wasn't disrupted, working well for him as Vaatu let him become the Dark Avatar. Didn't work well when he got purified by Korra due to being a Dark Spirit with the same technique Unalaq taught her. What a way to go down.

Due to being killed in the Dark Avatar State, Unalaq was rendered no longer the Dark Avatar thanks to Vaatu being removed inside him. Unalaq pleaded for Vaatu to fuse with him once more but Vaatu doesn't want to take chances. Unalaq's still sticking with Vaatu in hopes to be rewarded with the power once again.
Still goes around preaching about how to appease spirits to others, ranting on how technological advancement is bad and all that. This is more or less wanting to sway people to Vaatu's side. Most people take his speeches with a grain of salt considering he tried enslaving spirits in his plans.

Speaking of preaching, Unalaq, unfortunately, has a very annoying High Priest named Heimskr who migrated under him thanks to Talos vanishing from the Pantheon. Heimskr seems to also disdain Unalaq as the priest rants on how Unalaq's plans are evil and that Talos is the true hero of mankind, not spirits. Well... he isn't wrong on the first part.

Once a member of the Red Lotus, which was where he heard the stories of Raava and Wan. While the Red Lotus was perfectly okay with the idea of releasing Vaatu and kidnapping Korra, they would have tried stopping his plan of becoming the Dark Avatar. Zaheer is keen to remind Unalaq that every Red Lotus member is now against him.
Amon considers Unalaq to be the epitome of the corruption of benders and is somehow unintentionally brought back Airbenders to the world. Kuvira is also pissed of Unalaq's arrival, as if Unalaq didn't enact his plans, Zaheer and the rest of his team wouldn't have killed the Earth Queen and caused chaos to the Earth Kingdom.
Thanks to being an enemy of his niece and endangering his own kids, Unalaq made friends with the Child Abuse Supporters. He gets particularly well with Scar but has an iffy relationship with Ozai, as insane as Unalaq's plans are, he's still proud of the Northern Water Tribe and won't forget the Fire Nation's attempted invasion.
Due to his element being water, Unalaq somehow made enemies with Spongebob and Squidward. Spongebob is appalled by the fact that this maniac used what sea creatures use as air and somehow pisses off Squidward even more as Unalaq and him have similar grumpy personalities.
Also managed to become the enemy of Danny Fenton due to being able to corrupt spirits. While spirits in the Avatar universe are different than ghosts from the Ghost Zone, Unalaq is considered a very dangerous person to all mystical entities. Unalaq isn't fond of the hero either and is even more threatened by his Bad Future self. However, the bender has made friends with Vlad Masters who's desire for worldly domination as well.
Made friends withs several religious preachers like Enrico Pucci and Claude Frollo. While they all believe in different things and have differing goals, the four have somehow managed to befriend each other without any of these facts getting in the way.

Frollo is a bit too lustful and has an extreme Holier Than Thou attitude for Unalaq to truly consider him a reliable ally. Despite this, Unalaq respects Frollo's excessive faithfulness and how much conviction he has to his beliefs.
Pucci seems to respect Unalaq's wishes to change the world for what he perceives as the better. Much like how he tried to reset the world

and succeeding

.

Teridax seems to appreciate how Unalaq managed to manipulate everyone despite his Obviously Evil appearance, without having the need to shapeshift like he does. Mata Nui seems to oppose Unalaq for his attempts to drag the world into darkness. Speaking of which...
... Xehanort and Unalaq get along swimmingly, as they both believe in the Balance Between Good and Evil. The commonality between them is that their place in this balance is in The Dark Side. Though may be a but subverted now due to Xehanort turning out

only wishing for to remove everything to prevent evil

while Unalaq's endgame was to drag everything into darkness. Also is friends with Angra Mainyu himself though Unalaq knows that Mainyu is an Omnicidal Maniac who wants to drag everything into the dark abyss.
Doesn't think highly of the Divine Powers, believing group of gods' rebellion has created an imbalance between order and chaos, two factions just as important as good and evil. Their imbalance is not a good thing, as they really just want to recreate The Multiverse to become worshipped again.
Is considered an enemy of humanity, something the God-Emperor of Mankind has said. Unalaq was declared an enemy of the Imperium, a fact which hinders his plans since he's hunted by people in ginormous armor. No water can help him against a blaster to the face.
Absolutely freak out upon Galeem and Dharkon. Unalaq thinks their battles are worse than Raava and Vaatu's conflict after seeing one time they escaped. Unalaq's not even sure that the Dark Avatar and the Avatar themselves can face even one of them together with a sure chance of victory.
Lesser Gods
Bendy
Bendy, God of Post-Apocalyptic Cult Icons
(Little Devil, The Dancing Demon, Little Devil Darling/Darlin', Grinning Demon, The Ink Demon, Figure of Ink)
Lesser God in his Toon Form, Intermediate God in his Ink and Beast form
Symbol: His cartoon face.
Theme Song: For his toon version, A LOT. Most noticeable examples are Bendy and the Ink Machine, Build Our Machine, Bendy and the Ink Musical, and Can't Be Erased, or rather the music boxes found in the animation studio. Alternatively, Ode to Bendy or his show's theme song
Alignment: Chaotic Good with Neutral tendencies in his Toon form, Chaotic Neutral with Evil tendencies in his Ink and Beast forms.
Portfolio: Big Bad of the titular game, Four-Fingered Hands, being constantly abused in cartoons, having a monstrous final form, his weakness being a tape saying the show's over being the only thing able of killing him, possibly not being able and just trying to survive, his ink form being Joey's biggest regret, being locked in the bottom of the studio despite doing nothing wrong besides looking weird
Domains: Ink, Icons of Worship, Cartoons, Demons
Herald: Joey Drew
Followers: Sammy Lawrence and other followers of his, AHEM, "religion"
Allies: Peacock, Mickey Mouse, Oswald the Lucky Rabbit, Felix The Cat, Venom, Erma Williams, The Toontown Guardians, The Itazura Griefers, The House of Demons, Yakko, Wakko, and Dot
Rivals: Cuphead And Mugman
Enemies: Dr. XXX, Master Xehanort, Tom And Jerry, Dokuro Mitsukai, Judge Doom, Toon Patrol
Opposes: Betty Boop
Every studio needs a mascot, and for Joey Drew Studios, that was the one and only Bendy, a fun-loving demon willing to take up plenty of odd jobs, but also had his more playful and trickster side. It was so big that at one point in time, plans for a theme park revolving around Bendy were being developed. However, there was another idea Mr. Drew had in mind. He wanted the adoring public to feel like they're family to them, to spend a day with them. Thus began his most convoluted, expensive, and deadly project yet, the Ink Machine. It was a device meant to turn the cartoon creatures to life... at the cost of human souls. During all of this, Joey Drew Studio went bankrupt, but not without testing the machine at least once.
Bendy's ascension was less an actual ascension and more... creating him. After returning to his temple one day, Mickey Mouse found a box full of old film reels that were labelled with the name of Bendy on one side and the name of the episode on the other. Despite being confused by the container at first, he still cautiously went through the seemingly normal film reels, seeing what else the box held.

At the very bottom of the box, he also found two other items. One was a concealed jar of ink. The other item was a letter, written by Joey Drew himself, explaining why this box was here.

Joey Drew:

"It's simply awe-inspiring what one can accomplish with their own hands! A lump of clay can turn into something with meaning... if you strangle it hard enough... however, I strangled this ink with all my might, and then some...

And I paid the price for it

.

I failed so many people because I kept chasing this dream

,

so I hereby give my dream to the real gods, those that may actually have a chance to succeed where I fell, to give my character a chance at living

.

Enclosed is the tapes of him and his finest moments

, as well as what remained of him."

Bringing the box of tapes, ink, and letter to a meeting with the other Toontown Defenders, they decided on a course of action; call forth Peacock to see if she can bring Bendy to life as she did with her cronies. Peacock confessed it would be her greatest challenge yet, but nonetheless, she decided to give it her all. It took a full week of watching Bendy's cartoons, shaping the ink with her own hands and hardening it just right so it won't get washed away easily and not get set on fire, but eventually, she was able to finish the job. Joey Drew's dream has come to life at last, and Bendy finally had a chance to socialize without being stuck in the abandoned studios.

However, there was a catch to it all. Peacock mentioned hearing of a game starring him, aptly titled Bendy and the Ink Machine, where he was the Big Bad of the game, adding a malicious side to him that Joey neglected to tell in his letter. She had to play through that and discover all the secrets in there as well, which was why she took longer than she expected. As such, while Bendy's toon self is his default self, he is still capable of turning into his Ink form if he comes into contact with more ink, and in that form, he can call forth his Beast Bendy form, getting more and more unhinged with each change. Thankfully, within the Pantheon, there are plenty of ways to deal with this and to keep his darker sides at bay should they come out, namely dousing him with water or Mickey's thinner to wash out the excess ink until he's back in his Toon form.

Being a living toon made in 1929, he quickly did his best to befriend other cartoon characters that originated around that era or reminded him of that time. However, due to the nature of his ink and beast form, this was easier said than done. That said, there are some noticeable mentions. Mickey and Oswald did their best to extend a hand in friendship to the ink demon, given the multiple similarities they had. They even helped him get a spot in the Toontown Guardians, albeit his role is played down a bit as he doesn't have a real-life studio to call his own.

Humorously enough, in his ink and beast form, he worships the both of them as gods and will try to leave gifts at their temples, ranging from simple vinyl records to tied up or badly damaged enemies of theirs covered in ink. The Mad Doctor, Dr. XXX, can testify to that last one, making the mistake of attacking Bendy, taking him as a friend of Mickey's, and trying to use an experimental version of the Inkling's ink. Upon hearing of this, Xehanort just took it as another reason to

stay in retirement, not wanting to deal with him as well

.

Speaking of them, Bendy and the Inklings are never allowed to be in the same temple, and if they do for some reason see each other, the Inklings are prohibited from shooting at Bendy, due to it being a VERY quick way to get him into his ink form and make the situation worse. As such, the Inklings try their best to ignore, but there are a couple of troublemakers making dares with the other Inklings to douse Bendy in their ink and get away with it...

There is also Felix the Cat, who manages to still predate Bendy, much to his surprise. While he does still consider him a friend, this definitely won't stop him from putting a gray beard on Felix and taping a piece of paper with the word "old-timer" on his back from time to time, leading to Felix to retaliate by trying to put denture's into Bendy's mouth. These pranks usually end with both parties laughing.

He ended up crossing the paths of the Warner Brothers (and the Warner sister). They immediately hit it off with Bendy finding out the Warners were locked away in their tower for being too crazy, kind of how he was locked in the depths of Joey Drew Studios. The siblings decided to pitch in and added a slew of ways for Bendy to leave his old studio should someone try to trap him there again, much to his delight.

And of course, there's Peacock, who helped bring him to life in the Pantheon after all. Given her nature, Bendy is more than willing to team up with Peacock on a night on the town, pranking people or helping Peacock in her war against the mafia.

With the title of "Dancing Demon", he can be seen working for other demons in the House of Demons, helping perform tasks for them in their names. He is most commonly seen working for the Satan of South Park, taking part in his hula contests.
During a walk around the Pantheon, Toon Bendy ended up crossing paths with Cuphead, and decided to befriend him after hearing of his cartoony appearance and even getting a cartoon show, wishing to congratulate him on that as well. Unfortunately, due to Cuphead's previous devil experiences, he was more than hesitant when it came to Bendy, forcing a battle that lasted all the way back to Bendy's temple,

ending with Bendy going into his beast form and ripping Cuphead's head off and drinking it dry, killing him

. After being told of Bendy's true nature, Cuphead decided it would be best to just live and let live with him...

at least until he is capable of beating him

.
Despite his admiration for other toon characters, there are a couple of outliers, namely being Betty Boop and Tom And Jerry.

In Betty Boop's case, this is due to her resembling Alice Angel too much for his liking, the angel being his foe in his shorts, often upsetting his mischievous antics. However, just like many other men, he will admit that yes, she can be quite the looker.
In the case of Tom and Jerry, it was that he ended up in the crosshairs of one of their fights. While trying to enjoy lunch one day, he found his hamburger stolen by Jerry, throwing it at Tom who retaliated by tossing a plate at Jerry, hitting Bendy instead. Miffed, he threw a chair at Tom before storming off, making direct contact with Tom. By now, Tom wanted to retaliate against that, and opted to take the first thing he saw and hit him on the head... that being a barrel of ink that was being shipped to the house of Craft. Bendy in his Ink form forced Tom and Jerry into a truce as they tricked Bendy into falling into a lake, drenching him and getting rid of the extra ink. Toon Bendy emerged from the pool wet and spiteful to the cat and mouse duo, plotting his revenge.

He has once not only met up with Erma before but also allowed her to perform with him during one of his shows. He has grown a fondness for her and her desire to give others good-hearted scares, willing to help her out to dish out some extra scares.
Out of all of Bendy's allies, very few predicted that Alma Wade would take pity on the Ink Demon. This is because of not only Wander and Frisk helping quell her rage, but also because how Bendy was trapped beneath Joey Drew's Studio for who knows how long, reminding her of how she was trapped by her father for testing purposes. As such, he can be seen from time to time not only keeping her company but also joining up with her whenever she locks onto a Mad Scientist to cause mischief and trouble.
With his Ink and Beast forms, it has been shown that they still have a smart mindset and can think through problems with ease. It's just that they are also able of causing massive damages, with him being able to turn from his ink form into his beast form should he perceive a threat to be that serious, putting everyone on edge. In these states, Bendy will only respond to Mickey, Oswald, Peacock, or Alma.

During one of the times he was in his Beast form, he ended up running across Venom, who was amused by how similar he and Bendy looked. The confrontation ended with Venom admitting he liked Bendy's style and wondering what kind of mayhem they could cause as several deities skilled in controlling water washed away the excess ink and brought Bendy back into his original form.

Due to their trickster and pranking nature, Bendy expresses interest in joining up with the Itazura Griefers, finding the LOL Rangers to be too safe for his liking and finding Trollkaiger to be prime targets for causing mischief against. Unfortunately, due to Itazura Black being already taken, Bendy had to settle with Itazura Brown, considering how his promotional material and cartoons give him a brown look in spots where it was originally supposed to be white.
As yet another cartoon character in the Pantheon, Judge Doom and Toon Patrol labelled him as a threat and decided to try and douse him in Dip. However, what they didn't know was that Bugs Bunny And Roger Rabbit swapped the latest batch of Dip with regular ink. As such, when the hose was turned on, Bendy found himself sprayed with so much ink he turned into his Ink Bendy form, who instantly decided to get serious and turned into Beast Bendy to chase down Judge Doom and Toon Patrol. Judge Doom and the weasels tried to leave by hopping in a car, but they soon found themselves completely coated in ink as Bendy ran them over, leaving them stuck together until members of the house of Justice could pull them out and part, arresting them.
Has no relation to a certain character in Foster's Home for Imaginary Friends. The Bendy there is way more evil than this Bendy anyway.
Bro'dee Walker/Saint Walker
Bro'dee Walker, God of Compassionate Preachers
(Saint Walker,
Moonface, The First Blue Lantern
)
Lesser God (Intermediate in the presence of a Green Lantern)
Symbol: The Blue Lantern sigil
Alignment: Neutral Good
Portfolio: Kind-Hearted Priest and Saint, Blue Is Heroic, Incredibly Compassionate, Weakens The Villains Lantern Corps, Determinator, Badass Preacher, The Medic, Needs Green Lanterns To Be Potent, "All Will Be Well", The Last Blue Lantern, Still Susceptible to Despair Himself, Beware the Nice Ones
Domains: Constructs, Healing, Hope, Faith, Optimism
Allies: Hal Jordan, Mogo, Iroque, Clark Kent, Barry Allen, Makoto Naegi, Wander, Ood Sigma, Guy Shishioh, Team Dai-Gurren, Purist Thunderwrath, Gardevoir and Gallade, Madoka Kaname, Yuuki Konno, Hisao Nakai, Tony Tony Chopper, Mr. Satan, Akane Tsunemori, Lloyd Irving, Kouta Kazuraba, Kazuma Kenzaki, the GUAG Kibou Go
On Good Terms with: The earth-bound DC superheroes, every optimist in the Pantheon
Enemies: Anyone who seeks to destroy all life (particularly Nekron, Black Hand and The White), The Dementors, Krona, Darkseid, Nurgle, Tzeentch, Yuuki Terumi, Junko Enoshima & Monokuma
Opposes: Both YHVH and Lucifer, those who wish to destroy hope
Bro'Dee Walker was a preacher living in the world of Astonia, in Space Sector 1. On a world dying because of its ageing sun, Walker would use his faith to instill hope within his people. He would go on a great trial to find a savior, leading to the death of his family, and yet he could not find a way to save his world. Still, he planned to spend the apocalypse using the good book to bring peace to his people. He would be rewarded for this as the first Blue Lantern ring attracted itself to him, bringing life back to Astonia's sun and inducting him as the first true member of the Blue Lantern Corps. Wished at first to become the god of Hope Bringers, however, it was already taken. He is fine with this, as it means there are more gods in the Pantheon to instill hope.
With the near-destruction of the Blue Lanterns, Saint Walker proved he too could succumb to despair and thus lost the power of his blue ring. However, seeing Kyle Rayner return as a White Lantern during a conflict with the New Gods restored his hope and power. With knowledge the universe is going to become more hopeful, Walker expects to rebuild the Blue Lantern Corps soon enough.
Alone, the Blue Lantern Corps seems to be the weakest of the corps; their only powers are the typical flight and protective aura. With a force of willpower like the Green Lanterns, however, they're possibly the most powerful lanterns. They weaken red and yellow rings and are unaffected by the orange light, boost the power of the Green Lanterns beyond normal limitations, can calm people down, and even restore the youth of dying stars. The GUAG has made sure to invite some mortal Green Lanterns over to get the most out of them. One of the most under-staffed lantern corps, having less than ten members at most, and only having Walker as a member. He's hoping to rectify this, and as such has sought out bringers of hope beyond the DC Universe. As of now, Mr. Satan, Doctor Tenma, Akane Tsunemori and Lloyd Irving are potential candidates for the ring.
Despite being the bane of the Red Lantern Corps, he and Atrocitus have an understanding. The Red Lantern did rebuke his Not So Different argument by stating that while they both lost their family, Atroctius has someone to blame. Still, Walker's ability to see the best in people makes it easy for him to get along with the other lanterns.
Unsurprisingly, he immediately tried to and succeeded at getting a membership with the GUAG Kibou Go, due to championing hope and boosting morale. He's intrigued at giving Killia a Blue Lantern ring as he can wield positive emotions for one hell of a Holy Hand Grenade, however combining the two was too much and the ring broke from excess power. Has been trying to get Ganthet's help for a strong enough ring, causing Melkor himself to shudder and highly invested in putting an end to the light of hope.
He's a religious fellow, however, isn't The Fundamentalist about it. He's happy to support other religions, so long as they promote the idea of hope. He's not a fan of YHVH due to His desire to stamp out free will and crushing of hope. Still, he believes that there's hope YHVH may realize He's bringing order the wrong way, since He's deluded rather than a Card-Carrying Villain. Though respecting Lucifer's desire for freedom, he doesn't agree with his methods or the terrible Forever War Law and Chaos have produced; it's telling how dangerous they are to hope when it spawns the White. Walker prefers the kinder, neutral path.
Considers Darkseid, God of Apokolips to be abominable due to desiring to destroy free will and systematically crushing hope to all he can rule. Darkseid regards the Blue Lanterns as a threat since they can strengthen the Green Lanterns, who after Final Crisis aren't going to let him stay untouched.
The Blue Lantern ring has a number of other applications. It's great at healing the cardiovascular system, even able to purify someone's blood of the Red Lantern ring. It's also able to regenerate lost limbs. He's usually seen working in the House of Health and Diseases, helping the patients out there. During the Blackest Night, Barry Allen was deputized into being a Blue Lantern. He declined joining them, but Walker has got a spare blue ring from the events. Superman's also considered utilizing it for a rainy day, being just as (if not more than) much a Hope Bringer as the Flash.
Being coalesced Heroic Willpower and hot-bloodedness, he wondered how the ring would react to Spiral Power. Seeing the immense efforts of badassery resulted in the ring shorting out and almost exploding, but it did test his theory by briefly super-powering the ring. Is working with Ganthet to better understand the phenomenon.
Is trying his damnedest to restore hope and peace of mind to Alma Wade. So far it's not getting anywhere, with her enraged, despair-induced aura actually decreasing his blue ring's power. She's warned him to back off. The Blue Lantern is still trying to reach out to here, believing it merely requires a more precise usage of hope to reach out to her.
Much like Atrocitus mistook the Spectre for his entity, he assumed that Madoka was the Hope Entity Adara; the different appearance was just what it mutated into after passing through the Source Wall and being displaced in her universe. Though he was mistaken, he recognized her to be like the emotional entities-mortal beings transformed into immaterial concepts.

He is trying to restore her powers due to the Great Upheaval

.
Rather disturbed about the existence of Tzeentch. The fact that the deranged Eldritch Abomination of change who seeks to corrupt is an affront to everything he believes in. Walker has decried the Changer of Ways as not being a representation of hope, but a chaotic parasite using the pretense of hope to make devil deals. Saint Walker is confident that a true force of hope exists in the Warhammer 40000 universe; if not the Emperor of Mankind, then perhaps outside the Milky Way of the 41st millennium.
General rule of thumb is that he's a very friendly guy and hard to get angry. However, if there's anyone he considers an enemy, it's those who wish to destroy hope. Those who threaten hope, like Monokuma and Terumi, will learn to Beware the Nice Ones. Terumi, in particular, is constantly frustrated at the inability to break him, no matter how much Mind Rape he uses. The despair-based Dementors wish for nothing less than to kill Saint Walker. As beings and predators of despair, the blue light of hope is anathema to them, especially when a Green Lantern is nearby. With a Green Lantern, Blue Lanterns are also skilled at harming Nurgle's kin and curing his corruption, but Nurgle and Typhus themselves are too powerful to affect.

Opposes all omnicidal maniacs. While the main focus in this is Nekron, Walker takes special umbrage in the White. Their desire to destroy everything because all seems hopeless is completely antithetical to all he believes in and hopes to accomplish.
Erica Fontaine
Erica Fontaine, Goddess of Nuns Being Mikos
Lesser Goddess
Symbol: Her guns Gabriel and Raphael crossed over a plate of pudding.
Theme: Mihata no Moto ni (Under The Flag) and Prayer
Alignment: Lawful Good
Portfolio: Being kind, cheerful, clumsy, constantly knocking her head into objects, using twin machine guns in combat, liking pudding, smiling to hide her horrible past
Domains: Religion, cheerfulness, kindness
Allies: Sora, most deities in the House of Friendship, The Katawa Girls, Panty, Stocking, Pit, Artix von Krieger, Elsa la Conti
Enemies: Judge Claude Frollo
When she first ascended, there was some confusion over which House she was to be assigned to. Due to her wielding machine guns, some thought she would go to the House of Weaponry or Combat, while others thought she would go to the House of Friendship due to her cheerful personality. In the end, though, she decided to stay in the House of Faith due to her religious background as a nun in training.
Is on good terms with most of the other Gods due to her gentle and energetic nature.
Likes to perform her Good Morning Dance for the other Gods, much to their chagrin.
She genuinely tries her best to help the other deities, but inadvertently creates more trouble. For example, she once had the job of trimming the grass in The House of Beasts. She ended up accidently razing down half of the House.
Frollo is the only person in the entire Pantheon whom Erica shows any grudge against, mainly because of his false religous view about himself.
Went on trip to stop the merging of worlds. Surprised many of the other gods (like Dante, Demitri, Chun-Li, etc.) by how she was able to keep up with them... and how she weaponized her Good Morning Dance.
Father James O'Flaherty
Father James O'Flaherty, God of Irish Priests
Lesser God
Symbol: The arm of Saint Daniel
Theme Song: Requiem (shared with Koudelka and Edward)
Alignment: Lawful Good, formerly Lawful Neutral
Portfolio: Irish Priest, Badass Preacher, who tends to quote the Bible, Celibate Hero, due to giving up on getting the girl he deeply loved, initially a Nominal Hero, and Jerkass, but eventually became much kinder, partially because of his love for Elaine, Has excellent defense and nigh-immunity to magic but can't deal much damage himself
Domain(s): Priesthood, Faith, Defense, Love
Allies: Koudelka Iasant, Edward J. Plunkett, The Love that Moves the Stars, The Alpha and Omega, God (God, the Devil and Bob), Noah, Moses, Solomon, Saint Martha, Saint George, Jeanne d'Arc, Asia Argento, Xenovia Quarta, Irina Shidou, All good-aligned deities in the Houses of People of Faith and Religious Figures, especially Rosette Christopher, Father Karras and Father Merrin
Enemies: YHVH, Ramses II, Judge Frollo
Respects: William Shakespeare
Pities: Brian Cohen
Conflicting Opinion: Amakusa Shirou Tokisada, The Flagellant
James O'Flaherty was born in Ireland in 1845. His early childhood was during the height of the Great Famine, a period when famine and a tumultuous struggle for independence was shaking Ireland. His family were small, but moderately successful, merchants, and were thus able to afford for him to attend school, which he both loved and excelled at. In his early adulthood, James moved to England, and was accepted into a prestigious English university. There, he met Patrick Heyworth and the pair became firm friends. However, their friendship soon disintegrated when they both fell in love with the same woman, Elaine Spencer. Despite his deep love for her, James felt his low social status and lack of wealth would leave him unable to care for Elaine in a befitting manner. Heartsore, he backed down, which resulted in her eventually marrying Patrick. To soothe his broken heart and distance himself from his emotions, James turned his back on the secular world and joined the Catholic church. He quickly rose through the ecclesial ranks and eventually became a bishop, as well as being tasked with various matters of importance to the church. When three forbidden tomes were stolen from the Papal Library, James was sent by the Vatican to track them down. He managed to follow the trail of one, the Émigré Manuscript, to Nemeton Monastery. There, he reluctantly teamed up with Koudelka Iasant and Edward J. Plunkett in order to investigate the events happening there. Ultimately,

James sacrificed himself during the group's battle against the resurrected monster Elaine and managed to reunite her monstrous body with her soul. The pair then faded in a flash of light, seemingly passing on into the afterlife

.
Upon his ascension, James was warmly greeted by Koudelka and Edward, who were both happy to see him given that

he had sacrificed himself in order to save their lives

. James was also grateful to them for

putting up a gravestone in his memory near the monastery

.
James was unsure what to think when he learned of an alternate universe in which

he, Koudelka and Edward had managed to defeat Elaine and James survived

. He eventually concluded that he didn't really mind the way things ultimately turned out, as he at least

managed to confess his true feelings to Elaine shortly before sacrificing himself

.
James was rather surprised to meet multiple versions of the Christian God within the pantheon. He gets along well with the Highest Joy, the Alpha and Omega and the God who talks to Bob, all three of whom appreciate both his piety and the fact that he had become a kinder person, although they also pity him for

having sacrificed himself in order to defeat Elaine

. However, he is appalled by YHVH, seeing him as a perversion of the Christian God, and strongly opposes him.
James felt honored to meet important biblical figures such as Noah, Moses and Solomon. Noah appreciates James' immense piety and kindness, which strongly contrasts with the descendants of Cain of his own time. Moses was happy to hear about how James had become more humble and kind over time. Solomon respects James' nigh-invulnerability to magic through his immense piety and has shown an interest in teaching him some offensive spells in order to better deal damage to enemies. However, James was also rather surprised to discover that Ramses, the evil Pharaoh who had oppressed Moses' people, was also present within the pantheon. Although he pities Ramses due to the fact that his cruelty is the result of him trying to live up to his father's teachings, James nonetheless still opposes him due to Ramses continuing to do evil within the pantheon.
He quickly became allies with christian saints such as Martha, George and Jeanne d'Arc. Saint Martha was perfectly happy to tell him about the times that Jesus visited her family and Saint George was similarly delighted to have someone listen to his tale of how he fought against a dragon. Jeanne was happy to hear of how he had managed to overcome his former contempt of non-Christians, whom he had previously disregarded as all being evil heretics, especially since she herself had been burned at the stake for supposedly being a heretic. When James told the saints of how he had once used the mummified arm of Saint Daniel in order to purify a church, they were quite impressed.
James has also become friends with Asia Argento, Xenovia Quarta and Irina Shidou. Although he doesn't quite approve of their polyamorous relationship with Issei Hyodo, his experiences with Koudelka and Edward have taught him that it's better to accept the differences of other people as long as their hearts are in the right place.
James is on good terms with most of the deities in the Houses of People of Faith and Religious Figures. He frequently tries to act as something of a mentor figure to Rosette Christopher, whose kind nature and rather unorthodox behaviour strongly reminds him of Koudelka and Edward. He's also on good terms with fellow priests Father Karras and Father Merrin, whom he frequently accompanies and protects during their exorcisms.
James is appalled by Judge Claude Frollo and his treatment of not only Esmeralda, but Gypsies in general. His dislike of Frollo is further fueled by the fact that he reminds James of how he himself used to be similarly dismissive and disdainful of non-Christians.
Being an admirer of his work, James was quite happy to meet Shakespeare in the pantheon. Because their shared fondness for the Bard's writing is what resulted in them beginning to respect each other, James and Edward often like to spend time with him and discuss his work.
James feels bad for Brian Cohen because he was perceived to be the Messiah, something that he didn't want, and was ultimately executed because of it. Brian was happy to hear about how James had managed to overcome his disdain of non-Christians, as James would formerly have been of the opinion that Brian had deserved his fate.
Although James sympathises with Kiara Sesshouin because of her backstory, he does not agree with her end goal of wanting the entire world to end up in a giant orgy and merge together to reach true Nirvana. He hopes to one day convince her to abandon her goal, but has had no success in doing so thus far.
James is somewhat conflicted regarding how to feel about Amakusa Shirou Tokisada. On one hand, he pities him for the persecution Amakusa and other Japanese Christians had suffered and how his rebellion had failed when he and his fellow rebels were ultimately betrayed and executed. On the other hand, Amakusa's subsequent deal with the demonic Ambrosia to wreak havoc in Japan and his obsession with wishing for the salvation of humanity upon the Holy Grail, regardless of whether or not the Grail has evil nature beneath it, is something that James strongly disapproves of. In general, the two are on good terms and James frequently helps him to try and keep his evil self at bay.
James has similarly mixed feelings about the Flagellant. On one hand, the man is part of an extremist branch of his faith and has an unnerving obsession with martyrdom and pain. On the other hand, he isn't actually evil while the monsters he slays definitely are. The Flagellant himself, however, sees James in a more positive light for his mission to retrieve the forbidden documents and

his sacrifice to stop the resurrected Elaine

.
Can also be found in Nationalities
Garterbelt
Reverend Garterbelt, God of Raunchy Preachers
(Garter,
Master G
)
Lesser God
Symbol: His afro-shaped chest hair
Theme Song: Jumping Mole (Nerdcore Switch), or Immoral Church
Alignment: Lawful Good
Portfolio: Has a Thing For Children and Bondage, being the Only Sane Man In Spite of Appearances, A Date with Rosie Palms Via Afro (an awesome one at that), Preacher, the inability to die, a preference for shotguns
Domains: Faith, Order, Fetishes, Death
Allies: Brief (though Garter scares the crap outta him), Chuck, Mako Mankanshoku, Ryuko Matoi, Satsuki Kiryuin, Viral, Samuel L. Jackson, Jules Winnfield
Enemies: Corset, Scanty And Kneesocks, the Houses of Demons and Ghosts
Opposes: Evil rapists like the Kurgan and Ragyo Kiryuin (because Garterbelt has standards), C.C., Lelouch vi Britannia, Satan (South Park)
Garter was the former high priest of Father Anderson, but when he found out that Brief found his way in, he demanded that he get a title so Corset doesn't get a hold of him. He was given a rather embarrassing title in response, but Garter was fine with whatever he could get.
Despite proving himself as a good-natured man, Garter is banned from entering the House of Family, due to his penchant for kidnapping children and forcing them into his own sexual desires. Garter claims that he just did that so

he could find the power of Hell's Monkey

, but supplementary material proves otherwise.
Became Fire-Forged Friends with his former superior. While Anderson still doesn't like his orientation, they found Commonality Connections in the settings of their stories and being in the business of hunting the supernatural.
Was a friend of Mako's before he ascended, so when he was inducted in the Pantheon proper, she introduced him to Ryuko and Satsuki. At first, they were less than amused about meeting him, considering that he reminded them of Ragyo, but they ultimately decided that he was a much more pleasant person than her. Garter himself agrees that the two are easier to work with than the Anarchy sisters.
Has struck up a friendship with Viral, considering that both of them are immortal. Hilariously enough, the last time someone tried to kill him, he blew up Super Sentai style, only to come back not long after.

GOD MY OH!!!!!

Despite this, he has contempt for the Kurgan and C.C., the former for adhering to Rape Is a Special Kind of Evil, and the latter for being a witch whose ally

mind controlled a divine entity

.

Does this in his spare time.
He's been getting some odd looks from the likes of Vegeta, Piccolo, Zoro, and Major Armstrong, for some reason. Issei Hyodo, one of Panty's foremost targets, has also thought that his voice reminds him of Welsh Dragon Ddraig.
His afro is rather convenient for him, as it holds an array of weapons, including his personal favorite, shotguns. Unfortunately for him, it holds something else, and Garter has to go into long periods of seclusion to make sure his afro doesn't explode.
Has been told that his backstory is similar to Tony Montana.
Also in the house of Tainted Love.
Illaoi
Illaoi, The Mighty Priestess
(The Kraken Priestess, The Truth Bearer of Nagakabouros)
Lesser Goddess, Intermediate Goddess when channeling Nagakabouros
Symbol: The Eye of God
Theme Music: Her login screen theme
Alignment: Chaotic Neutral
Portfolio: High Priest of Nagakabouros, Amazonian Beauty, Emerald Green Eyes, Uses a Large Totem to Fight With, Mighty Glacier, Pulls Out People's Souls For a Test of Courage, Badass Preacher, Affirmative Action Girl, Highly Unconventional Morals
Domains: Priests, Strength, Morality
Enemies: YHVH, majority of immortal and especially undead deities (such as Mordekaiser, Hecarim, Thresh), Nautilus
Acquaintances: Gankplank, Miss Fortune, Twisted Fate
Illaoi is the Truth Bearer, the head priest of the religion what worships the serpent god Nagakabouros. With her unmovable body and even tougher faith, she travels Runeterra to spread her faith and test those who she thinks are stagnant.
For an outsider, the teachings of Nagakabouros are... odd. To put it as simply as possible, Nagakabouros is said to be where life originated and where it belongs. Every spirit was born to serve the universe, each spirit was given a desire to follow and only by following those desires will the universe achieve motion to go onwards. Because of this, she doesn't really care for good and evil; all what matters is for the person to be in motion.

If she finds someone who lacks motion, she will put the person through "Test of Spirit" where she yanks the person's spirit out of their body and asks to survive her attacks. Those who fail will die, but she truly wants the person to find the strength and courage to survive her trial to achieve better understanding for their purpose in life.

As the Truth Bearer, she is firmly against undead and immortals to some extend. That is because they are outside the normal motion of the universe and easily becoming stagnant spirits. That being said, if the said deity shows that they still have motion in them, she is more willing to spare them for now.
Despises YHVH. She generally considers following laws blindly as being foolish, as it completely blocks your own desires for the sake of serving someone else. But with YHVH trying to enforce his laws into every single human would bring the entire universe into a stagnant state. She wishes for Nagakabouros to bring her the power to crush Him for good.
Besides the fact that Nagakabouros is sometimes called The Great Kraken, she doesn't consider the Kraken having anything to do with her god. Mainly as Nagakabouros is a serpent, and doesn't live in the sea contrary to the common believe. Though if the Kraken does turn out to be the avatar of Nagakabouros, she might change her mind.
She does not consider herself a god. Calling herself one would be an insult to her god. In fact, she doesn't like nature spirits and such, and she openly mocks those who believe in other gods for believing in a greater force what does nothing unlike Nagakabouros, or that the thing they worship is Nagakabouros and that they have misguided faith.
Quasideities
Brian Cohen
Brian Cohen, God Of Getting Unwanted False Faith
(A Man Named Brian, (Not!) The Messiah, A Very Naughty Boy)
Quasideity
Symbol: The movie's poster
Theme Song: A Man Called Brian
Alignment: True Neutral
Portfolio: Accidental Hero, Denied Parody, Mistaken For The Messiah And Wants No Part Of It Child by Rape (Well At First), Actual Contemporary Of Jesus, Having Your Standard Jewish Mother, Butt-Monkey, Parodic Passion Plays, Misaimed Fandom, The Hero Dies (But Always Look On The Bright Side Of Life)
Domains: Parody, Bible Times, (Unwanted) Faith, Mistaken Identity
Fellow Not-Messiahsnote : Fone, Big Blue, G'Kar, Michael Altman
Allies: Monty Spam Pythons, Arthur Dent, Elvis Presley, Chuck Shurley, God(God, the Devil and Bob), Guthix, Kyle Brofloski, Portgas D Ace, Aslan, The Love That Moves The Stars, Clark Kent/Superman, Saint George and Saint Martha, Moses
On good terms with: Bruce Nolan
Enemies: Emperors Caligula and Nero, Dis, Eric Cartman, YHVH, Merged Zamasu
On poor terms with: Ancient Roman figures of authority
Brian Cohen is the son of a Jewish woman and the rape of a Roman centurion called Naughtius Maximus. He was born near the manger of Jesus and around the same time, leading the three wise men to mistake him for the Messiah. This wouldn't be the end of it, as late in life he was Mistaken for Profound and people assumed he was the messiah. This only annoyed him.
Brian is very vocal he wants to live his life, and doesn't like the title of "God". The Court of the Gods informed him that in the pantheon, the title of god is more of a metafictonal or representative thing than actually divinity, nobody has to actually worship him. Elvis Presley feels similarly about when people call him "The King", and the two have become friends after ending up in a musical.
Isn't a fan of the Ancient Roman authority, which got himself lumped in with the People's Front of Judea. They argue what good the Roman occupation has done..a lot, as it turns out. Though when it comes to emperors Caligula and Nero, Brian's dislike of them is understandable. They and Roman authority don't take his that seriously after making it clear that he's not the Messiah, just a very naughty boy.
The Saber version of Nero is less negative to Brian. She can relate to Brian being mistaken for something she's not, as she was villainized by the public and unlike her historical counterpart has no hard feelings or intent towards hard feelings when it comes to the Abrahamic faiths. Also, she liked watching Life of Brian. Brian was cautious given her position, but otherwise doesn't hold hard feelings towards her.
Eric Cartman hates Brian for being Jewish, and because he prefers The Passion of the Christ over Life of Brian. Brian doesn't like how he uses a Passion Play to justify and fuel his anti-semitism. Brian isn't the Messiah, but he was around during Christ's ministry and can't imagine him endorsing Cartman's ramblings. He is supportive to Kyle, being a fellow friendly Jew.
Unfortunately some still think he's saying he's the Messiah, and not in a good way. YHVH and Merged Zamasu hate Brian for "falsely claiming" he's such. This is entirely petty, as Zamasu hates the idea of anything remotely divine associated with mortals, and YHVH thinks he's one of countless competition to His worship. This is even pettier given the parodic nature of Life of Brian, solidifying what everyone knew-YHVH and Zamasu literally don't have a sense of humor.
In complete contrast to the Great Will and mad Kaioshin, the God named Chuck and the God of God, The Devil and Bob enjoyed the parody of Life of Brian, as it mocks corrupt religious authority but is in good humor. Brian was completely surprised these literal gods liked him. He has become interested and friendly with Bruce Nolan, who actually handled the role of God for a bit.
Dis wanted to torment Brian. This is purely due to wanting to torment Jesus by proxy, given Brian being mistaken for him. Before he could try to drag Brian into the Inferno, The Love That Moves The Stars and Aslan forced him away. They have pity on Brian for how he was mistaken for the Messiah and got himself crucified in large part because of it, and have the sense of humor to appreciate the parody. They think Brian is a good boy, though Brian's mother would say otherwise.
Guthix seems to respect Brian for his refusal to follow the beliefs of people that mistake him for the Messiah, and Brian in turn finds the deity's desire not to be worshipped as refreshing. He also finds Arthur Dent good company, who's Unfazed Everyman personality helps out with whatever Brian gets himself into. Like the time he ended up on an alien spaceship. Superman seems to be friends with him as once in a while he has to deal with Unwanted False Faith.
Was asked whether or not he knew Saint George and Martha, which Brian, annoyed, responded "we didn't all grow up together!" This did not stop the now ascended saints to meet up with him, curious of a relative contemporary and due to how people mistook him for Jesus. They ended up enjoying each other's company. As did Moses, who given he had to bare his role as saving the Jews from slavery by God, sympathized with the trouble Brian got in for being mistaken as the Messiah. Brian was completely floored by this positive response, given he's a Jewish man and Moses is, well, Moses.
Given his crucifixion, Brian feels bad for how Portgas D Ace died because he was Too Good for This Sinful Earth and at the hands of corrupt authority. Also,

they have daddy issues, with Brian's father being a Roman centurion and Ace's father being Gol D Roger

.
Has become annoyed by The Mob for giving him a Pidgeot that was also named "Brian" due to the experiences of adventuring in the Johto Region and having to become a replacement to the original "Bird Jesus". At the very least, he's happy for Pidgeot!Brian for escaping the shadow of Bird Jesus.
Father Karras and Father Merrin
Father Damien Karras and Father Lankester Merrin, Patron Deities of Exorcists
(Father,
Father Jebedaiah Mayii & Father Luke
Brophy
,
The ExorCiccio
)
Insist themselves to be Quasideities, but most people believe they are Lesser Gods
Symbol: Two priests approaching a demonic little girl holding up the Bible and the Cross
Theme Song: "Tubular Bell"
Alignment: Lawful Good
Domains: Exorcism, Faith, Demon
Portfolio: Violent and dramatic exorcism, both died in the movie, Very Loosely Based on a True Story
High Priest: Tangina, Ed and Lorraine Warren
Allies: The House of Faith, Sam and Dean Winchester, the Ghostbusters, Irina Shidou

Father Karras: Dana Scully, those who lost their parents

Enemies: the House of Demons, especially Pazuzu, Faust, Frollo, YHVH, Beetlejuice, Freddy Krueger, every version of Lucifer, Trigon, Pinhead
Conflicting Opinion: John Constantine, Asia Argento, Xenovia Quarta
Pities: Those who suffered from Demonic Possession, Rosemary Woodhouse, Rachel Roth / Raven, Medivh
Two of the most famous exorcist in the history of cinema, the two fathers' spirit were found by the House of Angels and because of their Heroic Sacrifice, the two were deemed worthy of resurrection and being ascended into the Pantheon.
The two of them and Pazuzu ended up having a rematch when the demon heard about their ascension. The battle ended up lasting for days with various attempt by the demon to possess the priests and the people around while the two desperately trying to stop it. It only came to a halt when the All-Mighty caught wind of this and forcefully stop Pazuzu.
Being priests, the two of them are frequent visitors of the House of Angels and witness the good-aligned deities there in all of their glory. The two of them avoid any contact with Lucifer there for obvious reasons.
Were flabbergasted and felt to their knee when seeing the All-Mighty in the Pantheon. The two priests since then have been strengthen their faith when actually seeing the All-Mighty performs miracles and being a general nice person to everyone.

However, the two priest caught wind of how terrible YHVH is and agree with God that this isn't the deity they became priests for.

Were weirded out when being compared to Alexander Anderson because the two tend to opposes violence.
The two are completely disgusted with Frollo and denounce him to represent any side of Christianity.
Father Karras made friend with Dana Scully because of their share experience with the supernatural and their share Crisis of Faith both have went through.
Disgusted by Faust for his lack of respect for God and made a deal with Mephistopheles.
Feels very sorry for Rosemary Woodhouse because of her experience and the two priests made friend with her thanks to the heavy religious tone of their works.
The two of them came across Irina Shidou one day and made friends with her thanks to their shared devotion to Christianity. However, they have difficult relationship the people she hangs out with, namely Xenovia and Asia, mainly because they're "demons". Still, the two priests still agree to hold mass for the two girls to attend and were touched to see that they're still devoted Catholic even though that cause them physical pain.
Because of the fact that the two of them handling the temple of exorcism and their helpful nature, the two priests tend to travel around the Pantheon to rescue anyone from a Demonic Possession. The result... varies. Some they managed to save. Some were not so fortunate. Some even got the two priests into massive troubles like the victims of Freddy Krueger to the point that have to be bailed out and the demons / spirits have to be exorcised / contained / killed by the like of the Winchesters, the Ghostbusters (whom they like well enough) or John Constantine (whom they don't particularly like for being shady).

Trigon heard of their reputation and tried to lure the two priests so he can have a showdown with them. Luckily, his plan was foiled by Raven and the two priests made friends with her, especially after learning about her situation.
One of their trip brought them to meet Medivh who they felt sorry for being possessed to hurt other people.
Offered help to Naruto to remove the Kyuubi out of fear that it was hurting him, but the ninja turned them down saying that he got it under control.
The High Sparrow
The High Sparrow, God of Turbulent Priests
Quasideity
Symbol: The seven-pointed star of the Faith of the Seven
Theme Song: Light of the Seven
Alignment: Lawful Neutral (Lawful Evil on the show)
Portfolio: Turbulent Priest, No Name Given, Politically Incorrect Anti-Hero (Or Villain In Adaptations), Heteronormative Crusader, thinking All Women Are Lustful, Church Militant, Self-Made Man, High Priest of The Seven, As the Good Book Says...
Domains: Faith, The Common Folk, Piety, Revolution, Honest Livings
Followers: Cross Marian, Bishop Von Galen, The Preacher, Uriah Olathaire
Superior: George RR Martin
Allies: YHVH (somewhat) and the Grand United Alliance of Law, Rosemary Woodhouse, Alexander Anderson
Enemies: The Lannisters (ESPECIALLY Cersei), Gregor Clegane, Lady Melisandre, MAEGOR TARGARYEN, Margaery Tyrell, The Emperor of Mankind, Ragnaros the Firelord, Surtr, Brand, Prime Minister Honest, Ethan Roark Senior, Kiara Sesshouin, Garterbelt, Leopold Goenitz
Opposes: For the most part, the House of Royalty and aristocratic gods, homosexual gods
The High Sparrow is somewhat unique in the world of Westeros. The third High Septon, he is unmoved by wealth, sex or power, instead interested in promoting his faith and the common folk. Cersei attempted to use him as part of her plan to remove Margaery Tyrell from power. This only backfired as he ended up opposing her and breaking her regime, targeting the nobility.
Doesn't take kindly to being called a deity, and doesn't think anyone but the Seven deserve to be considered as such. He was convincing to accept it by saying that it's more of an honorary title than actual divinity and being worshiped. The High Sparrow requested his "temple" be a humble abode where he could preach from. Cersei was utterly furious at his ascension, and he was even more enraged that Maegor Targaryen had ascended as well.
Though he doesn't accept any god but the Seven, he does consider that YHVH might be some sort of emanation of the Father or at least has a lot of good points. Same with the GUAL. He is more on the side of YHVH's virtues, namely egalitarianism, and it's not like he's not harsh on non-believers. The Great Will finds a rational and influential religious figure a useful tool for gaining support.
Has come under fire for his religious bigotry, believing homosexuality is a sin and All Women Are Lustful. These traits are more emphasized in the show. Naturally other gay deities don't like him, and he's not making apologies for it. However he at does feel that women have the right to arm themselves unlike most Westerosi, and is just as harsh on men for transgressing the edicts of the Seven. And he is the farthest thing from the elitist(whether intentionally or not) nobles of Westeros.
His homophobia was further inflamed upon learning of Garterbelt. A gay priest, let alone a Pedophile Priest is something he finds completely revolting. And his views on women have left him horrified on discovering Kiara Sesshouin, who he thinks is a disgrace to her and all other religions. In spite of his sexism, however, he is compassionate towards Rosemary Woodhouse due to what she went through and has told her she has nothing to fear from demons or the forces of evil anymore. The High Sparrow is also one of a few who are nice to Brienne.
He doesn't like Leopold Goenitz for being a Sinister Minister. On the flipside, he seems to respect Alexander Anderson a lot, as Anderson is dedicated to serving his Catholic faith and being morally responsible despite the corruption in the church. Seems to see much of himself in the priest, even if they're of different faiths. Even he has to admit the similarities between said faiths, though.
Reminds the Emperor of Mankind of Uriah Olathaire, the last priest of Terra. Naturally, they hate each other. Really, the High Sparrow has contempt for all haughty nobles and members of royalty or corrupt politicians, like Prime Minister Honest and Senator Roark. Despite his flaws, the High Sparrow is one of the few in Westeros that stands up for the smallfolk.
Staying the hell out of the House of Fire & Heat due to his death by liberal use of wildfire. He didn't think even Cersei would dare to do something so atrocious, though his fate in the book is undecided. Utterly terrified of Ragnaros the Firelord, Brand and Surtr. He's not a fan of her father either given his elitism and reversing a number of Aegon V's reforms for commoners. In a timeline they met, Tywin had his own choice words for the man.
The nuns and sisters from Sister Act
The nuns and sisters of St. Katherine's Parish, Patron Deities of Fictionalized Nuns
(Deloris: Deloris van Cartier, Sister Mary Clarence)
Members: Reverend Mother, Sister Mary Robert, Sister Mary Patrick, Sister Mary Lazarus among many others; with Sister Mary Clarene / Deloris Van Cartier / Deloris Wilson as an honorable member
All are Quasideities but Deloris has some moment of Demi
Symbol: A group of women wearing nun habit
Theme Song: "I Will Follow Him" for their younger followers. "Oh Maria" for their older followers
Alignment: All are Neutral Good, although Deloris is formerly Chaotic Good while Reverend Mother is formerly Lawful Good
Domains: Nuns, Faith, Religion, Music
Portfolio: Hollywood Nuns, Four-Temperament Ensemble, all name Mary follows with a male saint's name, Hidden Depths, All Loving Heroines (even Deloris after her stay in the convent), Artistic License – Religion
Allies: Mary Lennox, Father Karras and Father Merrin, Esmeralda, every ascended students from Harry Potter, Othello, Anne Shirley, the March sisters, Madeline, The New Day
Enemies: Castor Troy, Frollo, the House of Demons, YHVH, every version of Lucifer, Double

Deloris: All gangsters in the Pantheon, Aphrodite

Opposes: Eda, Alexander Anderson
Pities: Rosemary Woodhouse
The convent received major attention from the Pantheon for being one of the first and rare genuine portrayal of nuns and sisters that avoid many cliche, capturing the essence of a real religious life in a positive way and portray them as happy, outgoing, well-adjust and even courageous people. Thus, the convent as a whole was ascended into the Pantheon.

There was a big controversy which people argue that Deloris should not present in the temple given that she isn't even officially a nun. However, this was struck down by the council on the fact that she is the protagonist of the movie, that Deloris learned the values and spiritual insight of being a nun, that she is the one that save the convent from being outdated and shut down and, finally, the fact that the entire convent accept and even defend Deloris's honorary member status by all agreeing that she is "a model of generosity, virtue and love".

Because of their share love for music, their convent / temple frequently have choir practice and reinterpret modern songs into religious music. Deloris is a frequent visitor to help the nuns and sisters to perform in front of a large and important audience.
There was a confusion regarding whether or not the women in the convent are nuns or sisters given they were both seen helping the poor and living in solidarity and praying. The convent's official answer (which still doesn't satisfy many naysayers) is that they are a collection of nearby convents that were shut down and thus is a collection of both.
All of them were reduced to a babbling mess and kneel to the ground praying and crying in happiness when seeing the Almighty himself in the Pantheon, except for Deloris who bows her head in respect. Seeing the Almighty only strengthen their faith after seeing him as an All-Loving Hero that perform many miracles.

The convent also excited to visit the House of Angels but try to avoid Lucifer as much as possible, for obvious reasons.

All of the nuns and sisters hate Castor Troy with a passion because he once groped a chorus girl while pretending to be a pastor.
Mary Lennox at first found the nuns' place because she heard that Reverend Mother looks like her caretaker Mrs. Medlock. She found herself enjoying the nuns' generosity and is now a frequent visitor.
The convent have good relationship with Father Karras and Merrin because they respect the works that the fathers have done and frequently invite them to their convent to perform mass.

From the two priests, they caught wind of how terrible YHVH is and agree with God that this isn't the deity they devoted their life for.

Don't like Eda for her strict ways. The fact that

she is a CIA agents

only confused many of the sisters and nuns because they wonder why she had act so strict.
All of them hate Frollo with a passion for his hypocrisy, racism and sexual harassment of Esmeralda. This and the nuns' generosity, their love for music, the fact that they helped the poor and Sister Mary Lazarus looks like a version of her biological mother endear them to Esmeralda, who can sometimes be seen visit their convent to dance.
Their temple, double as a convent receive a steady amount of visitor because of their collected reputation as All-Loving Hero
Don't particularly like Alexander Anderson for his insane love for violence. Also hate Double, for obvious reasons.
Deloris hates any gangster in the Pantheon due to her experience with her ex-boyfriend. Doubly so if they murder people.
Deloris got a surprise visit from Jean-Luc Picard and Worf because they heard that she looks like one of their allies Guinan. The three leave in good term.
The Cheshire Cat once visited Deloris alone to see what the fuzz is all about when people saying that there is a woman that sounds like him. Their meeting went about as expected, which is Deloris freaking out and the Cat keep grinning and disappearing.

However, Deloris's meeting with the muppets like the Cookie Monster and Kermit for similar reasons went better and the three became friends.
Deloris also got a surprise visit from Aphrodite when she heard that a a woman looks like her is in the Pantheon. This meeting went badly when Deloris brings up the fact that Aphrodite cheated on her husband and promptly kicked her out of the temple.
Deloris got a pleasant visit from a little girl named Madeline because the singer's voice is similar to Ms. Clavel. From then on, Madeline was introduced to the convent and enjoyed visit the nuns and sisters because of their hospitality and their devotion to the poor.

The nuns and sisters feel sorry for Rosemary Woodhouse for her experience. They offer to be the place for her to be listened despite knowing that she has drifted away from the church.
Wrestlers and religion usually don't mix, so it was a surprise when one day the nuns were bombarded by a voice screaming, "FEEL THE POWER!!!!!!" and someone playing a trombone. This happened to be wrestlers who formed The New Day, who heard about these nuns spreading positivity and see if they could help (and also because their original gimmick was supposed to be a Southern Gospel choir).
---