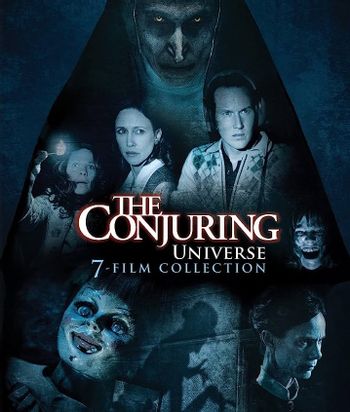 The Conjuring Universe is an American media franchise and Shared Universe centered on a series of supernatural horror films purportedly based on the cases of real-life paranormal investigators Ed and Lorraine Warren
. It is produced chiefly by New Line Cinema and distributed by Warner Bros.
The franchise was launched with The Conjuring, a 2013 film directed by James Wan (of Saw and Insidious fame). The film's commercial and critical success quickly prompted a sequel and a branch into other interrelated horror films, which are spinoffs exploring the villains of the main Conjuring series, forming a shared universe.
This film universe includes:<!—index—>
There are also five short fan films that have been declared canonical. They were selected as the winners of the My Annabelle Creation competition in 2017, and were selected from five different countries.
On April 23, 2021, DC Comics announced that it would create a label specializing in horror comics. The inaugural series is an entry to The Conjuring Universe, The Conjuring: The Lover, which launched on June 4, 2021.
The Curse of La Llorona references this franchise, but has been officially declared not to be an entry.
---
Tropes present across the franchise:
---