open/close all folders
Greater Gods
The Richards Family/Fantastic Four
The Richards Family, Divine Badass Familymembers
(The Fantastic Four, Five, etc, Future Foundation | Reed:
Mr. Fantastic
| Valeria:
Brainstorm
| Franklin:
Powerhouse
| Susan:
The Invisible Woman
| Johnny:
The Human Torch
| Ben:
The Thing
)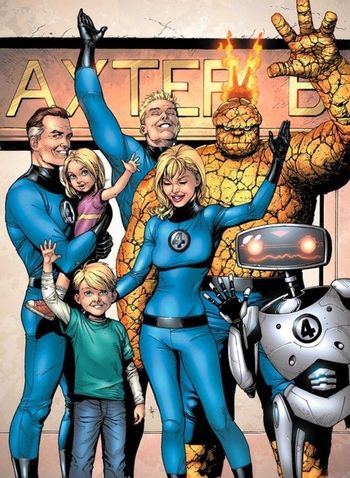 Greater Deities as a teamnote
Symbol: A Circle with the Number Four inside.
Theme Song: Fantastic Four Intro
Alignment: Varies from each individual, but definitely Good
Portfolio (All): Artifact Title, Elite Four (sometimes), Friends with Uatu, Super Family Team, Dysfunction Junction.
Domains: Family, Heroes, Science, Powers
Allies:
Odd Friendship: The Elite Four
Enemies: All ascended Marvel villains but especially Kang the Conqueror, Green Goblin, Ultron, Ragyo Kiryuin, The Huckebein Family, Relius Clover, Heihachi Mishima, Unicron, Syndrome, Shinnok, High Councilor Kal-El, Shao Kahn, Lord Brevon
Complicated Relationship: Galactus, Victor von Doom
A very unique family that not only includes The Richards and their two kids, but also Sue's younger brother Johnny and Reed's best friend Ben. They also have super powers and have gone through many dangerous adventures.
Both Reed, Sue, and Johnny were already part of the pantheon before the arrival of Ben, Franklin and Valeria. However, the three had to relinquish their own individual titles. However, they didn't care. They were just happy being reunited with their family again. And Johnny welcome Ben by dunking a bucket of water over him. That cause Ben to chase Johnny around the Pantheon.
Don't ever, EVER mention a certain movie around them. Really, don't. It's pretty much a Berserk Button for them.
Because the Fantastic Four are a family, they will fight like one. As in, they will argue with each other. Despite what others might think, this actually makes them much stronger as a team. Though, there are limits and the team have broken up on occasion.
Made fast friends the Parr Family. Both groups noted how very similar they are to each other.
While the FF are enemies of Doctor Doom, there have been times when they have work together for one reason or another.

Valeria however isn't antagonistic towards Doom. In fact, she calls his uncle and once ran away from home to live with Doom.
He has become more ally than enemy in recent years since briefly joining the future foundation. Became more pronounced when reed healed Victor's face and Doom pulled a Heel-Face Turn.

Reed, along with Tony Stark, believes that Science Will Explain This. There are no such things as gods, after all, only Sufficiently Advanced Aliens. And he is one of them. Well, okay, maybe that one guy who brought Ben Grimm back from the dead who looked like Jack Kirby counts, but that's it.
While Reed does care for his family, he does have his moments of being too absorbed in his work. Though, there are times when he actually feels guilty over the accident that gave them their powers.
Reed has been hanging around with other smart guys of the pantheon. In particular The Doctor. He is fascinated by the Time Lord's technology of making things bigger then they seem.
Johnny is well know to be a Casanova back in his home world. So it wouldn't be that surprising to see him hit on some of the females in the pantheon. He once actually hit on both Korra and Asami, not realizing the two were together. Though, both parties were cool and Johnny is friends with Korra.
When Johnny and Captain America are in the same room, the two look at each other weirdly since they look similar.
Johnny Storm should not to be confused with Johnny Cage. Human Torch himself also happily joins in with the camp of "I refuse to let Johnny Cage play as me" despite acknowledging his heroic spirit.
Johnny is confuse on why some deities think he is black.
Susan Storm was often consider the weakest member of the Four since her only powers was turning invisible. However, after developing her powers to include making invisible force fields to support her teams and fight, she is now consider the most strongest and dangerous member. Especially when she gets mad.

Susan once even encased the entire Baxter Buildingnote in her force field.

Sue is very protective of her family, especially over her two children. It's because of this she made friends with other protective mothers/wives in the pantheon like Kushina, Nanoha, and Sophitia.
Don't bring up the time Susan dress inappropriately◊. While it was during the time she was possess by Malice, it not a good moment of her's.

Also, don't ever call her a "slutty secretary". It would most likely end with the person knock out.

How Ben feels about his condition varies; most time he is pretty much ok with his rocky exterior. Other times he becomes depress over it. Either way, he is happy that he doesn't get that much stares from the Pantheon.
Ben is often seen as The Heart of the greater Marvel heroes community. He actually made friends with Dick Greyson who is also consider The Heart in the DC heroes community.

Ben also made friends with Claire Bennet who also wanted to be normal again.

Ben has to remind some people that his Catchphrase, "Its Clobbering Time", did not come from his older brother beating him up.
It should be noted that Franklin has the potential of being one of the strongest beings in existence thanks to his reality warping powers. Perhaps even stronger than the likes of Madoka, Sailor Moon, or even Cosmos herself. Sadly, it's because of his hidden powers that he tends to get targeted by the likes of Lord Brevon, Shinnok and Regime Superman who wish to use his hidden powers for their own ends. Good thing his parent aren't going to let happen anytime soon.
Valeria's very existence is a bit complicated. In short, she was actually the miscarried child of Reed and Susan who was saved by Franklin when he used his reality powers to transport her to an alternate universe. In that reality, she was raised by an alternate Susan Storm who married to a heroic Doctor Doom. After some hi jinx, a now grown up Valeria was reverted back to a fetus and into Sue's stomach. And with help from Doom, was safety born again.
Franklin and Valeria have hang out with some of the other younger deities in the pantheon. Though, some would admit Franklin is more easier to be friends with then Valeria, if only because her attitude.
Currently, the area is only occupied by Johnny and Ben with the Richards' whereabouts currently unknown (though since some have pointed out they were last seen rebuilding the Multiverse after the Secret Wars, they are presumably still at it.) Though the other reason is due to their superiors not wanting to do much with the team until reposessing the movie rights. Ben is currently with the Guardians of the Galaxy and Johnny has assured followers and fans they will return and that the Baxter Building is currently in the hands of Spider-Man, in the hands of family.
Intermediate Gods
Medea
Medea, Goddess of Parents That Killed Their Own Children
Intermediate Goddess
Symbol: A knife stains with the blood of her children; alternatively the poisoned robe that she gave to her father-in-law and her romantic rival
Theme Song: The Medea Ballet Suite
Alignment: Neutral Evil or True Neutral depending on her followers
Domains: Love, Family, Murder
Portfolio: Magical Girlfriend to Jason (that ended badly for both of them), kills her own children, Jason's new fiance and her father-in-law for revenge and got away with it, Woman Scorned, sacrificed everything to be with Jason (who cheated on her), kill her children to protect them from slavery and to spite Jason, Evil Eye, a skilled healer
Allies: Hercules, Kotonoha Katsura, the other Medea, any and all Ancient Greek deities
Enemies: Heihachi Mashima, Kratos
Opposed: Any Abusive Parent, any cheating lover, especailly Aphrodite, Zeus
Opposed by: Any decent parents, any children deities, especially Merida
Pities: Makotou Itou
Conflicting Opinion: Hera
Complicated Relationship with: Belldandy, The rest of the House of Family
After taking her revenge on Jason, Medea crash landed her grandfather Helios's chariot into the Pantheon and immediately ascended due to the fact that her action influenced practically every single women that killed their children in narrative.
Despises every single deities that have cheated on their spouses.
Was very pleased when found out about the number of Greek deities that ascended the Pantheon as all of them only considers her actions tragic, not evil. However, she turns against Zeus and Aphrodite after she found out that they are notorious cheaters. Not to mention that Aphrodite manipulated her to love Jason in the first place.

Her relationship with Hera is complicated. While she doesn't mind that Hera punishes the women Zeus cheated on, she points out that a lot of them were raped by him, as well as the fact that Hera hurt the innocent children, which she considers to be unreasonable as Medea herself only kills her children to protect them from becoming slaves. Hera counters her by stating that not even she is cruel enough to let Jason live through all of those tragedies.

Was glad that another version of her found someone that can give her happiness and recovers from the heartbreak caused by Jason. Although she disproves the fact that this version of her still lust after Saber even after got married to Kuzuki.
Because of how she is an enemy with Tomaru and their similar method of dealing with romantic competition, Medea made friend with Kotonoha. In fact, other more sympathetic yanderes have nothing but utter respect and sympathy for her giving the fact that she demonstrated actions that is older than any of them: killing her brother and abandoned her country in order to be with Jason, who promptly cheated on her, asked her to step aside to become the other woman and abandon her and her children to a life of slavery. Though note that she doesn't really want to be together with Jason anymore.
Belldandy was very disturbed when Medea ascended into the Pantheon as the latter was an early example of her followers and confront Medea about her action. Medea just simply asked Belldandy what would she do if Keiichi did the same thing that Jason did to her during the time she was with him. This made Belldandy furious and answers that Keichii would never do that to her, which Medea coldly retorts that this means Belldandy can never understand the pain that she went through. The two are on bad term ever since.
Medea holds nothing but contempt and disgust for Heihachi's action due to how much of a abusive Jerkass he is and pointing out that she only kills her children to protect them from a life of slavery while he does it out of his sadistic tendency.
Merida was very disturbed when she discovered that one of her versions looks exactly like one of Medea alternative versions. Merida actively avoids her temple as it reminds her too much of the time that her mother Eleanor almost kills her due to the effect of the bear curse.
While she sympathizes with Kratos's backstory, namely that

he accidentally kills his wife and daughter

, Medea still despises the God of War as he kills her grandfather Helios brutally and becomes no better than the Jerkass Gods he fought against in his later actions.
Her ascension caused a very... interesting debate within the House of Family. While no one denies that she loves her two children, her temples have a very mixed followers of both good and bad parents. Medea herself doesn't comment on this but would not hesitate to murder someone who DARES say that she is affiliated with the Child Abuse Supporters.
Vinsmoke Family
The Vinsmoke Family, Quintet Deities of Family Theme Naming
("Garuda" Vinsmoke Judge, "Poison Pink" Vinsmoke Reiju, "Sparking Red" Vinsmoke Ichiji, "Electric Blue" Vinsmoke Niji, "Winch Green" Vinsmoke Yonji". Not included: "Black Leg" Vinsmoke Sanji)
Intermediate Deities
Symbol: The Germa 66 flag
Theme Song: Germa 66!
Alignment: Lawful Evil (Vinsmoke Judge), Lawful Neutral (Vinsmoke Reiju), Neutral Evil (Vinsmoke Ichiji, Niji and Yonji)
Portfolio:
Domains: Assassinations, Technology, Royalty, Ruthlessness (as a whole), Ambition, Genetic Engineering, Fathers (Vinsmoke Judge), Poison, Anti-Villainy, Family Loyalty (Vinsmoke Reiju), Brattiness, Ego, Bullying (Vinsmoke boys), Fire, Electricity and Strength (Vinsmoke Ichiji, Niji and Yonji)
Special relationship with: Vinsmoke Sanji (the White Sheep of the group)
Allies: Hassan-I-Sabbah, The Ginyu Force
On good terms with: 2B (Reiju)
Rivals: Agent 47 (as a whole), Ghetsis Harmonia (Judge)
Enemies: Shouto Todoroki (except Reiju) Charlotte Katakuri The House of Justice, most Super Sentai heroes, Frank Castle/The Punisher, Light Yagami, Earthworm Jim, Giorno Giovanna (not Reiju), The Incredibles
Opposes: The Brave Companions (as a whole), Ragyo Kiryuin (Judge)
Opposed by: Anakin Skywalker/Darth Vader (Judge)
Pitied by: Iroque, the Pantheon Thieves of Heart (the Vinsmoke boys, and only in a Sympathy for the Devil way)
The Vinsmoke Family are the royal bloodline that rules the Germa Kingdom, conquering North Blue by their own might 300 years ago. Led by Vinsmoke Judge, they are a group of assassins augmented with genetic engineering and technology, who prove their rule with their own strength. Vinsmoke Sanji ended up defecting, his heart not in it. They are influential within the criminal underground.
As a whole

Though their true homes are the Family and Naming homes, it is the House of Crime, particularly the Killers & Assassins sub-house where they are more associated. There, they compete with Agent 47. Despite their ruthlessness, they do not "double dip" and only serve one payer at a time. This is likely why they oppose the Brave Companions, who also have no compunction against turning on each other when the going gets tough.
They have an honorary position in the House of Organized Crime, as they are a royal, well-organized family of assassins. Giorno Giovanna was upset with this, as while they do have standards the Vinsmokes are still ruthless killers. Also, he hates Judge for being an abusive father and considers the sons to be assholes. He is sad about Reiju's situation, and wants to break her out of their control.
Take a lot of notes from the Super Sentai school of color and costumes, though obviously not the morality. They were quick to notice the Ginyu Force were also a villainous appropriation and love letter to sentai, who were also hired mercenaries and killers like them. The two groups decided it's best if they work together, though there is naturally a lot of competition. Vinsmoke Judge believes the group could learn a lot more on how to better themselves under Hassan-I-Sabbah
They believed they might get some sort of kinship with Frank Castle, respecting him as an excellent killer. Instead the Punisher declared them to be as bad as the mafia heads he goes after and starting shooting at them. Light Yagami saw them as criminals he needed to write their names down. On the more heroic side, the Incredibles have disdain for the Vinsmokes for being a ruthless, murderous family of super-assassins, asides from pity towards Reiju and the White Sheep Sanji. Earthworm Jim is on their hit list trying to take his super suit in hopes of mass producing it.

Applies Vinsmoke Judge

Vinsmoke Judge serves as the patriarch of the family. A ruthless man who believes Virtue Is Weakness, he embraces a Might Makes Right view while also believe in Honor Among Thieves. He found himself relating to Talia Al Ghul, given their ambition in shaping their progeny into killers. He also agreed with a lot of Steven Armstrong's views, and Senator Armstrong is intrigued by him, but is more of him using Judge because he dislikes the hypocrisy of being a Dirty Coward underneath his facade.
Used genetic engineering to remove his sons' empathy and compassion in-utero, to purge what he saw as a weakness. Sanji managed to escape this fate. For this, the Heroic Protectors of Family have labelled him an enemy, as has the scientifically minded Professor Utonium. That said, Judge is above Ragyo Kiryuin's cruelty as in some twisted way he does care for his children and is not willing to kill the White Sheep Sanji, secretly providing food for him while he was imprisoned. Not that it says much in his favor.
Hoped that he might be on good terms with Darth Vader. While Vader is no saint himself and has a tense relationship with his son, he is no fan of Judge's parenting and how he has fundamentally screwed up his family. When Judge pointed out the hypocrisy given he tried to get his son to join the dark side and even cut off his hand, Vader replied "I know, it's why you anger me". Ghetsis was a lot more accepting and respected what Judge did, though is a lot more competitive. Unlike Judge, Ghetsis doesn't have any standards regarding Offing the Offspring.
Many people wonder how the hell he and his wife are so different, especially since it looked like their interactions were not terrible. Others wonder if Judge was always ruthless or if the government raid that also took his former colleague Vegapunk may have had something with it.

Applies to Vinsmoke Reiju

Besides Sanji, Vinsmoke Reiju is the most empathetic of the family. While her ability to manipulate poison is certainly sinister, Reiju serves Judge's interest because she's conditioned to do so and is disgusted by her sibling's Lack of Empathy. The Heroic Protectors Of Family are looking for a way of freeing her from their influence. Not that you'd realize that initially.
Reiju found her relating to 2B, as despite what it seems at first they prove Not So Stoic. She likes Gunvolt as despite being an assassin, he has a kind heart unlike her siblings. That being said, Reiju would rather not associate with assassins, since she dislikes the act and only does so out of family duty. She relates to Taylor Herbert as they were both Forced into Evil.
N, Pacifica Eliza Northwest and Killuya Zoldyack are all hoping to break the programming Judge has set on her to make her obey, so she can live her own life. Shouto Todoroki also supports her, seeing Judge as a caricacture of his own father (Shouto may have a very bad relationship with Endeavor, but he acknowledges that he is not villanious nor a coward.)

Applies to the Vinsmoke boys

Vinsmoke Ichiji, Niji and Yonji are the pride of the family, and none can be called nice. Ichiji is the calmer and stoic of the three, Niji is the lecherous and most haughty of the brothers, and Yonji is the more mindful Vinsmoke boy. The three seem to relate to Sektor, due to having no empathy, and both Cassandra Cain and Damian Wayne show disdain for them as they are massive jerks that like them were raised as assassins, but the Vinsmoke boys remain content to not change.
Ichiji gets along with Bob, since they're both jerky brothers who use fiery powers and think they're too cool for other people. Bob thinks he can be a bit too much of a jerk at times, though. Zuko certainly doesn't care for his cruelty to his siblings and jerkish nature. Niji isn't liked by George due to his association with electricity and being the cruelest of the three brothers to Sanji.
As bad as the Vinsmoke boys are, it's important to note that their Lack of Empathy is not their fault, but Judge's for genetically engineering them to lack it and a fear of death. The Phantom Thieves of Heart and Iroque believe, more than anything, that kind of situation needs their help the most. While some in the Grand United Alliance of Good are opposed to Heel–Face Brainwashing, since the Vinsmoke's apathy was forced on them it's more a case of fixing what damage was already inflicted and letting them be their true selves instead of what Vinsmoke Judge wants. Unfortunately, even Morgana doubts if anything could be done, given how they were biologically engineered without it while all of their past targets became bad rather than be born bad.
Lesser Gods
Bayek and Aya
Bayek of Siwa and Aya of Alexandria, God and Goddess of Parents Who Outlive Their Offspring
(Bayek: The Medjay, The Deliverer, The Crazy Siwan, The Sword of Apollodorus, The Bandit Killer, Amun | Aya: Goddess of Siwa,
Amunet
)
Lesser God and Goddess
Symbol: The Hidden Ones' insignia
Theme Song: Assassin's Creed Origins Main Theme
Alignment: Chaotic Good
Portfolio: Outlived Their Son, and avenged his death, Battle Couple, Dual Wielding, Greater-Scope Paragons, Precursor Heroes, First Mentors of the Hidden Ones, Amicable Exes

Bayek only: All-Loving Hero, Awesomeness by Analysis, Can see through Senu's eyes, Cultured Badass, Experienced Protagonist, Friend to All Children, Multi-Melee Master, Nice Guy, unless he's angered, One-Man Army, Devoutly Religious Bruiser, Walking Armory

Domain(s): Parenthood, Loss, Revenge, Foundation, Assassination, Combat
Herald: Senu (Bayek's Eagle partner)
Allies:

Fellow Assassins: Altaïr Ibn-La'Ahad, Ezio Auditore, Ratonhnhaké:ton/Connor, Edward Kenway, Desmond Miles, Arno Dorian, Jacob and Evie Frye
Other Allies: Marcus Junius Brutus, Anakaris, Ana Amari, Fareeha Amari/Pharah, Zia Rashid, Asterix

Enemies: Cleopatra, Julius Caesar, The Templar Order, Shay Cormac, Ramses II, Imhotep, Caligula, Nero, YHVH, Nerose Satanael, Qin Shi Huang, anyone who opposes free will, Alexander the Great
Worship: The Egyptian Gods
Respect: Leonidas I (

Aya's ancestor

)
Avoids:
Bayek was the last Medjay of Egypt during the late period of the Ptolemaic Kingdom, his duties largely revolved around him acting as a sheriff of sorts for his community. His wife Aya was a half-Greek, half-Egyptian woman from a well-respected family from Alexandria and was trained by him with his father's approval. In 49 BCE, the Order of the Ancients, a proto-Templar organization, murdered their son, Khemu, because he and Bayek refused to cooperate in unlocking the Siwa Vault for them. The grief-stricken couple subsequently embarked on a quest to avenge their son, systematically assassinating every individual who had participated in the plot. During thise time, Aya served as an agent of Cleopatra VII during Cleopatra's war for the throne of Egypt. Bayek followed Aya's lead and pledged his service to Cleopatra as her personal Medjay, in the process embroiling himself in the Alexandrine Civil War against Ptolemy XIII. However, following the conflict's conclusion, Cleopatra and her newfound Roman ally Julius Caesar

openly aligned themselves with the Order

. In response, Bayek gathered their main allies in Alexandria and established the Hidden Ones to counter the Order of the Ancients by fighting to protect innocent people and defend free will.
Bayek originally entered the Pantheon as one of Ezio Auditore's many followers. Out of respect, Ezio wished to find a title for Bayek in order to let him ascend into the pantheon. After learning of Bayek's backstory, Ezio offered him the title of God of Parents Who Outlive Their Offspring, which Bayek accepted on the condition that his

ex-

wife Aya be allowed to ascend alongside him, as she was also instrumental in the Brotherhood's foundation, which Ezio approved.
Bayek and Aya were pleasantly surprised to encounter Brutus within the pantheon, as he had been one of the earliest members of their Brotherhood. However, Aya was particularly annoyed to learn of how their assassination of Caesar received rather mixed receptions, although both her and Brutus have made it clear that they don't regret it.
The presence of Caesar and Cleopatra in the Pantheon unsurprisingly outraged both of them, given how

those two had betrayed them

. Both Caesar and Cleopatra were alarmed to learn of their ascension and increased security within their temples as a result.
They get along quite well with several fellow Egyptians in the Pantheon. Bayek and Aya were initially alarmed by Anakaris, as Bayek had previously fought against apparitions of deceased pharaohs conjured up by an Apple of Eden and believed that Anakaris was another such case. However, after realizing their mistake and getting used to him being an actual mummy, they quickly grew to like him. They're similarly on good terms with Overwatch operatives Ana and Fareema Ahari and have expressed a degree envy of their close bond, as it reminds them of their son Khemu. They also strongly respect Zia Rashid, an Egyptian magician who served as a host of Ra himself.
Due to their experiences with Cleopatra, they have a strong dislike of evil monarchs. Unsurprisingly, they don't like Ramses II, who nearly destroyed his own kingdom through his stubbornness and pride. They similarly dislike Imhotep, who was formerly the high priest of Seti I but ultimately murdered him due to having had an affair with Seti's mistress.
Both of them respect King Leonidas I, who fought against the invading Persians and opposed the Cult of Kosmos, a proto-Templar group. Leonidas himself has expressed a fondness of Aya after discovering that

she's descended from him

.
They sympathize with Killua Zoldyck, who received especially brutal training due to being the heir of a legendary family of assassins. They were happy to learn of how he's reformed and is consciously trying to be a good person.
As the founders of the Hidden Ones, they are opposed to YHVH, Nerose Satanael and Qin Shi Huang, who each desire to erase free will in order to achieve utopia.
Exclusive to Bayek:

Bayek is on friendly terms with Asterix, whom he helped out against a Roman soldier when they first met. Their shared dislike of Caesar further helped them get along, although Asterix is rather uncomfortable with Bayek's use of lethal force.
Bayek generally avoids Ardyn Izunia, whom he freed after the latter crashed into the Meidum Pyramid. Ardyn doesn't particularly care for Bayek, but has remarked that he appreciates Bayek having freed him.

Exclusive to Aya:

Being the founder of the Roman Brotherhood, Aya is dedicated towards combating tyrannical rulers such as the Roman Emperors Caligula and Nero. Caligula in particular hates her due to having been killed by a member of the Hidden Ones, while Nero tends to be more fearful of her, as he's uncertain whether or not the Brotherhood played a part in his death.
Due to being a bit of an extremist, Aya occasionally teams up with Boudicca, the queen of the Iceni tribe who is well-known for her rebellion against the Roman Empire. While the two managed to bond over how they both sought to avenge what happened to their respective offspring, even Aya disapproves of Boudicca's willingness to kill innocent Roman civilians as well.

The two have conflicting feelings on Alexander the Great. Aya respects him as a legendary conqueror of men while Bayek despises him for exactly the same reason: a mass-murderer who subjugated his people.
Blackadder
Edmund E. Blackadder, God of Identical Ancestors and Descendants
Lesser God
Symbol: A black adder
Theme Song: One for each of his incarnations: Blackadder 1 + 2 Theme Song Blackadder 3 + 4 Theme Song.
Alignment: Changes depending on which relative we're talking about, but generally hovers around Neutral Evil
Portfolio: Identical Grandson, The Mean Brit, Deadpan Snarker, Unsympathetic Comedy Protagonist, Manipulative Bastard, Surrounded by Idiots
Domains: Pain, Spite, Avarice
Followers: The Keonig Brothers
Herald: Baldrick
Opposed by: Queen Elizabeth I, William Shakespeare
Annoys: The Doctor
Amused by: Napoleon Bonaparte
Many deities in the Pantheon can say that they look similar to their ancestors, taking parts from their parents and grand parents. For a few, they may look almost identical. For Edmund Blackadder, his ancestors are exactly alike. To the point that his avatar can play the same person over the centuries with no problem at all. No one can explain how such a character can look exactly the same or why they are all have the name, but it is an aspect Blackadder is proud of. Even if not everyone approves of his antics.

What makes things even more confusing is the fact that one may get a different version of Blackadder whenever one goes to his temple. No one knows how it works or whether he is one of multiple people or a single person. Regardless, the Blackaddern lineage has been a fountain of information of the past.
As always, his sidekick Baldrick is never that far from his side. Baldrick also comes from a long lineage of people throughout history and all of them were by Blackadder's side. Baldrick is often the one with the cunning plan. While Blackadder is usually skeptical of them, they are always more successful. Of course Blackadder doesn't always benefit from them. In fact, a few of Baldrick's success has come at Blackadder's expense. Still, Blackadder decided to keep him around.

There are some who believe that Blackadder is related to Mr. Bean. Whether that is true or not doesn't seem to matter to the two as they are happy to stick around with each other to say the least.
Queen Elizabeth the First isn't particularly fond of seeing Lord Edmund Blackadder make a return to the Pantheon. She still holds the lord responsible for being depicted as a spoiled, stingy woman on her rule. She claims that a lot of those traits were rubbed onto her by her half-sister Mary Queen of Scots.

Not to mention that his actions led to her death in end.

Shakespeare had been acquainted with the man long before the two had ascended... and it wasn't a pleasant meeting. Lord Blackadder of 1999 fame is one of many people around the world who tire of having to go through Elizabethan English every time he read a play by him. After stating his characters wore stupid tights, he promptly gave the poet a beating. It did come with a silver lining: for just a small moment of time, people thought he had invented the ballpoint pen. While Blackadder did remedy this by going back in time, he placed a restraining order on the lord.
When it comes to examples of the British making fun of themselves, Napoleon Bonaparte has plenty of options to go with. Among these was when the modern Blackadder clumsily handed him the Battle of Waterloo and with it all of Europe. It didn't last, but Napoleon appreciates that he will have at least that moment of time to savor.
Claims that one of his earliest ancestors was the one who built Stonehenge. When asked by said ancestor, the druid replied that his boss wanted to make a playground. Even he thought that the design was ludicrous.
Captain Haddock had always wondered why Sir Francis Haddock looked almost exactly like him, down to his proficiency for swearing. Blackadder was there to explain all the details for him. Even then, Haddock remains confused as to which member of the Haddock family he talks to. It matters a lot to him, as his interactions with them range from bellowing laughter to vicious fisticuffs.
On the other hand, Obelix hasn't thought much about why every member of his family is big-boned with red hair. He is one of the few Frenchmen with an amiable relationship with Blackadder.
Worf takes great pride in his lineage of the House of Martok. So it was a pleasant surprise to him that his grandfather looked just like him. Blackadder provided a picture of the man as a way of gratitude. He also hoped that Worf would provide a bit of muscle in case anyone would try to kill him.
Xena and Gabrielle hold a special spot in the Blackadder clergy. It is due to an episode with two of their descendants in WW2 Europe. The episode is said to have helped usher in a new genre of Fanfic set in the modern era by versions of the same character. Many of the faithful can attribute their existence to such works. Xena has shrugged off the praise, but Gabrielle is more muted; her daughter is a reminder that not all identical children end up being people you're proud of.
At the end of the day, the last known member of the Blackadder family got as much of a happy ending as he could have ever achieve... yet that earned him a visit from The Doctor. Using time travel for their own selfish benefit left a bitter taste on the Time Lord's mouth and he threatened to undo everything. There was a lot of back-and-forth between the two, but in the end the two agreed to let things be. Some speculated it may have been due to the team giving The Doctor a funny spoof during the down time.
Dr. Light
Thomas A. Light, Divine Patriarch of Robo-Families
(Doctor Light,
Doctor Right
, Dr. Xavier Wright)
Lesser God
Symbol: A capsule with the "L" symbol
Theme Song: Dr. Light Capsule
Alignment: Neutral Good
Portfolio: Plump and Cool Old Men, Big Good, Pacifism, Team Dad, Techno Wizard, Light is Literally Good, Virtual Ghost, Inexplicable Treasure Chests, Treating his Creations as Family
Domains: Robotics, AI, Families
Followers: Dr Soong, Professor Gaudille
Allies: Mega Man, Proto Man, Mega Man X (his robotic sons), Sage Harpuia, Fighting Fefnir, Hidden Phantom, Fairy Leviathan (his robotic grandchildren), Zero, Axl, Ryu (Street Fighter), Optimus Prime, Astro Boy, Android 16, Albert Einstein, Pinocchio, George
Teeth-Clenched Teamwork with: Bass
Enemies: Dr. Wily, Dr. Weil, Omega, Dr. Eggman, Relius Clover, M.Bison, Ultron, Sundowner, Vile, Khorne, EX, The Professor
One of the greatest roboticists of the 21st century, Doctor Thomas Light had a dream: that one day robots and humans would work in harmony, bringing forth peace and prosperity to the world. Through the Robot Masters, and later his masterpiece Mega Man X, he hoped to achieve this and perfect the field of A.I. Unfortunately, his old rival Doctor Albert W. Wily kidnapped and reprogrammed many of his Robot Masters for world domination, and a century later, both Wily's Zero Virus and the lack of Asimov's Laws led to Maverick outbreaks. Still, his works have led to many advancements and Light is well-respected in the android community.
Has a habit of trusting Dr. Wily whenever he fakes a Heel–Face Turn, making him even more frustrated when he turns on him. Despite their antagonism, Dr. Wily doesn't wish to kill him, as the rivalry between the two gives Wily motivation in life. They'll team up against greater threats, like Ra Moon. Finds it particularly ironic that Zero was the one who fulfilled his dream of robots and humans living together peacefully rather than his own creations. While this annoys Wily, Light finds it wonderful that Dr. Wily did something good (even unintentionally).
Death was not the end for Doctor Light—in the 22nd century, his consciousness survives as a hologram AI that helps develop armor and other upgrades for X and Zero. No one's quite sure how he made so many capsules for this.
In the Pantheon, many robots seek him for moral advice. To promote human-robot peace, he has made good friends with Optimus Prime. Copy X was intrigued to learn that the great Dr. Light had entered the Pantheon, seeking advice from the progenitor of Reploids. Only a few minutes into their conversation, the robotics specialist disowned Copy X, utterly infuriated that he bastardized his vision by ruthlessly oppressing Reploid kind for the sake of humanity. Naturally, he absolutely despises Dr. Weil for what he's done.
Having never had his own blood offspring, Dr. Light has instead opted to treat his creations as his children. He can often be seen comforting his youngest son, X, over having to hunt down his fellow Reploids. Whenever he's not on the job, X is in his father's lab with his older brother Mega Man. Proto Man sometimes visits, but he's often aloof. Became intrigued upon learning of Sage Harpuia, who would be considered Dr. Light's "grandson" due to his method of creation. The good doctor became very proud of him for his work in Neo Arcadia. Currently wondering if X based his design off Tornado Man. That pride and curiosity extended to the rest of the Four Guardians after they finally ascended.
As a family man, he detests Ultron; to him, Ultron is a perversion of the very concept of a Robo Family, fatherhood and robotics in general. He is also revolted by Relius Clover for being an abominable parent, and bottomlessly loathes Tenjuro Banno for his treatment to both his biological children and creations, the Roidmudes.
His kind demeanor and respect for robots has led Doctor Light to become a godfather for many young artificial beings, such as Pinocchio. He has even become Astro Boy's foster father, who many speculate he based Mega Man off of.
Due to his pacifistic views, he looks down on the House of War. He especially hates the likes of Sundowner for his war profiteering and abuse of technology. As a fellow pacifist scientist, he's good friends with Albert Einstein.
While normally a Nice Guy, whenever Bob and George come around he becomes a surly drunk who mumbles about ungrateful robots. Though an ally, George doesn't like being around the robotic specialist due to his issues with time travel. Dr. Light has kept the drinking habit though, probably to deal with everything that happened to his vision.
Often hangs out with Ryu, for both training himself, and adding abilities to his robots.
Spends a lot of his work elsewhere in the Robots sub-house.
Larten Crepsley
Larten Crepsley, Patron Saint of Vampires That Love Their Assistant(s)
(Mr. Crepsley, Master Crepsley, Quicksilver,
Vur Horston
)
Lesser God
Symbol: A mouth full of webs.
Alignment: Neutral Good
Portfolio: Badass Red Cape, Badass Teacher, Break Out Character, Dual Wielding, Good Scar, Jerk with a Heart of Gold, Killed Off for Real, Knife Nut, Noodle Incident, Offered A Crown, Parental Substitute, Perpetual Frowner, Platonic Declaration of Love, Proud Warrior Race Guy, Senseless Sacrifice, The Only One Allowed to Defeat You, Together in Death, Withholding the Cure, Vampiric Transfusion, Can Control Spiders, Poisonous Person, Largely Illiterate
Domains: Vampires, spiders, showmanship, freak shows, familial love
Herald: Seba Nile
Followers: Seba Nile, Darren Shan, Graf von Krolock, Darla, Lestat, Eric, Barnabas Collins, Andrew Bennet, Saya
Allies: Adrian Fahrenheight Tepes/Alucard, Arachne, Muffet, Rachnera, Mercury, Hecate, Yukiko Amagi, Zubat, Zinogre, Grey Wolf Sif, Jake the Dog, Queen Elsa, Conan, Xena, Red Sonja, James Howlett/Wolverine, Aragorn, Sora, William Shakespeare, Oscar Diggs, Kaito Kuroba, Zatanna Zatara, Albus Dumbledore
Enemies: Dracula, Ungoliant, Pennywise, Tom Riddle/Voldemort
Feared By: Ungoliant, Pennywise
Weirded Out By: Dracula
Observed By: House of Justice
Respects: Marceline, Harry Potter
Pities: Harry Potter
Opposed by: Many cats and dogs in the House of Beasts
Opposes: Arcueid Brunestud, Nazis in general
Originally found wandering in the House of Vampires he quickly ascended to the god of Vampires that love their vampire son; or in his universe assistant, after the Main House discovered his history with his own assistant, the young Darren Shan.

For those that don't know a vampire's assistant is literally just that, a humannote who assists a vampire in life. Said humans; and half-vampaneze, do this so that they can ultimately one day become a vampire themselves. During their time as a assistant the human will eventually be turned into a half-vampirenote ; a process that's done by having vampire blood pumped into them through their fingernailsnote , so long as the assistant still wishes to become a vampire. As a half-vampire they usually continue to serve as an assistant up until they become a full vampirenote normally.

Vampires are not suppose to blood human children; though exceptions are made depending on the circumstances, this is because of how protective people have become of their children in the recent century.

Unfortunately this is something Larten is guilty of doing this, having blooded his first and only assistant Darren Shan. This fact nearly ended up costing Larten his life when he returned to Vampire Mountain alerting the Vampire Generals and Princes to what he's done. In the end they only spared him was when his assistant inadvertently gave the Vampire Princes' the idea of giving Darren a challengenote for Larten's life, something Larten was unhappy about, but allowed his assistant too decide.

Despite the case of him turning a child into a half-vampire was ultimately dropped with his life being sparednote many in the House of Justice believe that he got off too lightly and should receive a actual punishment. Thankfully though Nemesis was able to tell and reveal that he was under the influence of a more powerful being note , thus resolving the issue. The House of Justice though still keeps him under observation though, just in case.

Also, has a temple in the House of Vampires.
Never bring up his movie counterpart.
Fully supports Alucard's crusade to free the other vampires following Dracula and has even offered his assistance.
Is a little weirded out seeing Dracula in the pantheon, considering that he actually met Bram Stoker and may have helped inspire the creation of the character after Abraham interviewed him and the old Vampire Prince Paris.
Sometimes uses the name of his close cousin and adopted brother Vur Horston as a way to honor him after he was murdered.

The murder of Vur is also the very event that ultimately led him into becoming a vampire.

Doesn't like Arcueid Brunestud, sure she's friendly but the fact that she fed Shiki Tohno another vampire just to be nice disturbs him greatly.

It should be noted though that he has no problem with someone let alone humans eating a vampire; just ask The Guardians Of The Blood. The problem came from how it was done.

Because he used to work in a freak show with his preforming spider Madame Octa before his death and ascension he can sometimes be seen working with gods related to showmanship like William Shakespeare, Oscar Diggs, Zatanna Zatara and Kaito Kuroba
Befriended Arachne, Muffet and Rachnera with stories of his preforming spider Madame Octa. They were; however, disappointed to find out that he no longer has her in his possession since his assistant Darren released her in Vampire Mountain. They were disturbed though to find out that he get Madame Octa to preform by controlling her.
Is hardly ever seen in his temple preferring to travel like the rest of his clan. Naturally he ended up befriending Mercury, Hecate and Yukiko Amagi because of this.
Like all vampires from his universe his blood is toxic, must eat normal food; along with human blood to survivenote , are forbidden to use projectile and explosive weaponry. They can also survive in sun light at least for several hours with little discomfort. Wolves, bats and rats also seem to naturally like them while catsnote and dogs seem to inherently hate them.
Befriended Queen Elsa when she heard that he discovered an ice palace. He's since corrected her, for though is was certainly palace like it was actually a frozen tomb for the legendary Vampire General Perta Vin-Grahl. It did however have plenty of ice and crystal sculptures.
Being a member of a proud warrior race Larten naturally befriended several other great and honorable warriors such as Conan, Xena, Red Sonja, James Howlett/Wolverine, Aragorn and surprisingly Sora.
Nazis once tried to make a alliance with the vampires of his universe, it ended Nazis trying to capture vampires.
Fully agrees with Albus Dumbledore when it comes to his belief of doing things for the greater good.

Upon meeting Dumbledore he learned of Harry Potter, who earned his respect and pity for Larten was also part of a rather grim prophecy. He also learned of Voldemort and quickly became his enemy both for his actions and due to his similarities with Nazis.

Not even a minute when he arrived in the House of Vampires was he unexpectedly barreled over by an orange pegasus filly on her scooter and then watched as the filly (and her close friends) leapt toward the temple next to his, belonging to a pair of vampire wrestlers. Curiosity came to him as he saw the Crusaders take part in an epic LARP battle with those vampires before it ended with the group laughing. He then introduced himself to the group, and the ponies introduced themselves as The Cutie Mark Crusaders who asked if Mr. Crepsley has met their good friends Mr. Gangrel and Miss Luna. Talks were made, stories were traded and Crepsley has now decided to entertain the ponies (or at least, teach them how to be good entertainers) which has made the ponies absolutely happy. When word got out to their older sisters, they could only groan at how the Crusaders have made friends with another vampire.

However, when it came to actually performing in a nightmareish circus, the Crusaders got cold feet. He soon realized that it was related to the last time the three were in a similar circus, it ended with a huge misunderstanding that caused the three to kill all of the circus performers in rage, particularly Apple Bloom blowing a hole in the Ringmaster's forehead (who had Gangrel's face, long story) before she broke down in butchering him. He's doing his best to ensure that the nightmares they had are gone (which has made the Equestrian Gods more trustworthy of him now).
The Parr/Incredible Family
The Parr Family, Divine Super Family
(The Incredibles, Mr. Incredible [Bob], Elastigirl [Helen]) (Names: Bob Parr, Helen Parr, Violet Parr, Dash Parr, Jack-Jack Parr)
Lesser Gods and Goddesses
Symbol: A lowercase "i" in a stylized oval.
Theme: "The Incredits"
Alignment: Lawful Good, with some Chaotic tendencies
Portfolio (All): Badass Family, usage of a Domino Mask, A Boy, a Girl, and a Baby Family, being Supers, wearing costumes that are also super, Battle Couple (Bob and Helen), Brother–Sister Team (Dash and Violet), a family name betraying their potential
Domains: Family, Law, Good, Heroism
Followers: The Marvel Family, The Strongholds.
Allies:

Ascended: Edna Mode, Homer Simpson, Marge Simpson, Bart Simpson, The Addams Family, Sophitia Alexandra, Jun Kazama, Crimson Viper, Sonic the Hedgehog, Robin, Captain Jack Sparrow, Wonder Red and the Wonderful 100, Billy Batson/Shazam, Hayate Ayasaki, Jin Kazama, The Kids Next Door Sector V, Samuel L. Jackson
Non-Ascended: Frozone

Odd Friendship With: Mandy (for Dash and Violet).
Enemies: Syndrome; the Hückebein Family; Maleficent; Ragyo Kiryuin; Sophia Lamb; Grandienne; Colonel Shadam; Lothor; Relius Clover; Scar, Hansel and Gretell (Black Lagoon); Heihachi and Kazuya Mishima; Eric Cartman.
Deathly Afraid of: Widowmaker (Bob, Helen and Violet especially); tank-killers like Bastion (Bob and Violet in particular); Raul Menendez
All of the Parrs are part of the Pantheon, but Helen was the only one who could be seen in the temple on a regular basis. That was because the other Parrs were still in the process of moving in. They had only just now unpacked the last box, so now it's official! Ha ha ha!

Why do they have so much junk?

Bob and Helen (Helen especially) impressed the Pantheon after proving that, after more than a decade of retirement, they can still kick ass and take names. Dash and Violet weren't even entirely aware of just how cool their parents could be until partway through the incident on Nomanisan Island.
Dash has started looking up to Sonic the Hedgehog and the two have a friendly rivalry. Dash has yet to actually beat Sonic (being unable to break the sound barrier is a hindrance), but his water-running has the hedgehog impressed to the point of picking up the skill on his own in newer games.
Bob and Helen are very much reminded of their friend Lucius Best/Frozone (who may or may not be the children's godfather) whenever in the company of Queen Elsa, citing their similar powers. Bob and Helen privately wonder if she's a Super.

This also has left Bob wondering how he could get his buddy Frozone into the Pantheon, which Helen supports and over which she won't lose as much sleep. While he considers how to do so, Bob has befriended Frozone's voice actor Samuel L. Jackson, but makes sure to ask him to not swear when bringing him to the family's temple.

With their similar titles, the Parrs have allied themselves with Robin the Tactician, though unsure of what he or she looks like. The Parrs have worked with Robin and Robin's other allies on different occasions, and Robin's careful planning insures that nothing serious will happen to Dash, Violet, and Jack-Jack, provided their parents trust them.
Bob has an unlikely friendship with Captain Jack Sparrow, which makes Helen uneasy, as he doesn't want Jack to be a bad influence on the kids.
The family has teamed up with Wonder Red and the Wonderful 100 on a few occasions in the Pantheon, and were even given special masks to wear, which enhanced the Parrs' physical capabilities.
Helen used to have her own temple in this house, until she convinced Crimson Viper to join so she can spend more time in the family's temple.
They were greatly disturbed to see that Syndrome has ascended and are making sure that he doesn't get his revenge, to speak nothing of the plethora of Fan Fic authors who ship the bastard with either Bob or Violet… or Helen with Evelyn Deavor.
After a devastating battle against Melkor and his forces, Bob and Helen proposed that Edna Mode be ascended under the title of Fashion Designer, forgetting that Rarity already held the trope. They instead had her ascended under the trope of Always Camp.
Sephiran
Sephiran, Divine Living Distant Ancestor
(
Seferan
, Duke of Persis, Prime Minister of Begnion,
Light of Creation
,
Lehran, Eluran
)
Lesser God (Intermediate God with Ashera's Blessings)
Symbol:

His Medallion

Theme Song: Sephiran's Sorrow, Origin's End
Alignment: Lawful Good (actually Lawful Evil, but he goes back to Lawful Good)
Portfolio: WALKING SPOILER OUT THE WAZZOO, Long Haired Bishōnen, SS Rank in light magic, dark magic, and staves, Living Distant Ancestor by virtue of being Really 700 Years Old, Stepford Smiler, Badass Longrobe, seemingly unimportant characters, Mantle, Rudol Gem, giving in to despair and wants to die before taking everyone with him, Corona, responsible for the events of Radiant Dawn and Path of Radiance, had a child with a beorc, discarding his previous name Lehran, Precursor Hero turned villain, successfully playing everyone, can potentially live and become good if certain conditions are met
Domains: Nobility, Magic,

Villainy

,

Redemption

Allies: The Black Knight, Arvis, almost all heroic Fire Emblem Deities, Yubel, Judai/Jaden Yuki, Yuma Tsukumo
Respects: Ike, Yusei Fudo, Naofumi's party
Enemies: Gharnef, Grima, Don Thousand, Zorc
Pities: Tailtiu, Berkut, anyone who has been De-Powered
Conflicting Opinion: Eliphas
As a Laguz, Sephiran is given access to slow aging. This lets him reach a life span of over 100 years. Couple this with his status as an agent of the Goddess Ashera, he's given Complete Immortality for the purpose of watching over the world and ensuring it doesn't go to war. This has resulted in meeting no less than three of his descendants in his life (Misaha, Micaiah, and Sanaki). After the Golden Ending where

he was shown to be alive 1,200 years after the final battle

, Sephiran took it upon himself to ascend to the Trope Pantheons.
After pulling a Heel–Face Turn on a second playthrough, Sephiran has gotten along well with a lot of heroic characters in his series. However, among these is Arvis, who's a little less heroic than the rest. Despite this, their resonance comes from the fact that they're willing to do whatever it takes for evil to be defeated. But special mention goes to the Black Knight (aka

General Zelgius of Begnion

). These two are close because the latter secretly Hates Being Alone and was given something to fight for. This also gave him the chance to fight his mentor's son (

even if he died

).
Over time, Sephiran has developed a great deal of respect for Ike. Not only did he give the Black Knight the fight he was looking for, he envies his growth and mental fortitude, telling him "You are a strong man, Ike, son of Gawain. But not everyone is as strong as you". When all was said and done, Sephiran (under his former name

Lehran

) resolved to better himself alongside the newly awakened

Ashunera

.
Another God that Sephiran has grown to respect is Naofumi Iwatani. After everything that the Shield Hero has had to endure, he still manages to maintain his sense of morality and only releases his anger on the real bad guys. Just like the above example, Sephiran wants to be as strong as Naofumi so that he will never go crazy

like he did before the events of Path of Radiance

.
One person Sephiran is NOT a fan of is Gharnef. This one is an example of the kinds of people that made Sephiran

lose his faith in almost everyone

. Another God that Sephiran doesn't like is Grima, for destroying the world in one timeline and leaving its survivors with nothing but fear and despair. While Sephiran did try to

turn everyone into stone

, he did it out of despair, not because he thought he was a God.
Another God who's attracted Sephiran's unwanted attention is Don Thousand. This one embodies the worse aspects of what a God of Chaos can be. Because of this, Sephiran sees DT as an Evil Counterpart to Yune. Similarly to Grima, Sephiran dislikes Zorc because of how he plans to destroy the world and leave nothing left. On the flip side, he gets along well with Yubel due to the latter being a fellow villain turned hero after remembering why they were good to begin with. This makes Jaden an ally by proxy.
Tailtiu is an obvious source of pity from him after everything that she's gone through. Upon meeting her in the Pantheon, he let her know that everything would be alright and that he would protect her. Upon trying the same thing to Berkut, the prince lashed out at him, saying all he needs is power to force others to obey him. Such a resentful mentality only made Sephiran feel even more sorry for Berkut, but he kept it to himself.
Upon meeting Eliphas, they disagreed over what to do with their loyal followers. Eliphas wishes to Rank-Up the denizens of the Astral World, even if it means leaving the others to die. Sephiran argues saying everyone in the Astral World should be saved since they're his people, even if it means allowing chaos into the Astral World. Since Eliphas believes Chaos Is Evil, he can't understand how that would solve more problems than it causes. After losing to Yuma, Eliphas changes his mind and becomes more lenient on how to save the Astral World. This prompts Sephiran to thank the young hero.
Demigods
Kinzo Ushiromiya
Kinzo Ushiromiya, God of Succession Crisis
(Goldsmith)
Demigod
Symbol: The one-winged eagle
Alignment: Neutral Evil
Portfolio: Interesting Romantic Life, Pater Familicide, Conspicuous Consumption, Creating Weird Wills, Parental Incest, Abusive Parents.
Domains: Chance, Wealth, Legacy, Ambition, Evil, Depravity
Allies: Deathwing, Scanty and Kneesocks, Slaanesh, Lady Tremaine, Ghestis, Sophia Lamb, Relius Clover, Scar.
Enemies: Beatrice the Golden Witch, Sophitia, Batman, Jason Todd, Sakura Matou, Bryan Mills, Asura, Kiritsugu Emiya, Alexstraza, Ysera, Yu
Earned his title upon the discovery that he is the root cause of the strife amongst the Ushiromiya clan, such as the chain of hate, Eva's dickish tendencies, and Beatrice III's tragic self loathing.
Doesn't actually interact much with the rest of the Gods, as he spends most of his time shut up in his room, practicing black magic and ranting about someone he calls "Beatrice".
The words OH DESIRE seem to have a weird effect on those who hear it, creating a strange compulsion to plant images of Kinzo's face upon random pictures. The effect is much more powerful when the song associated with it plays. Trolls of various alignments have used this to great comedic effect. As such, it's one of the legendary Seven Mysteries of the Pantheon.
Then came the dark reveals of his true nature, which became a game changer in those interactions.

When he found out about it, Batman gathered the Bat Family (Nightwing, Tim Drake) and went to town on Kinzo, topping it off with an Arkham Knight style interrogation involving the treads of the Bat Tank. Jason Todd got involved afterwards and pummeled him with a crow bar.
Deathwing, Slaanesh, Griffith, and the Scanty sisters were pleased with Kinzo's depravity and became quick allies.
Being loving fathers, Bryan Mills and Kiritsugu Emiya decided to Pay Evil unto Evil for the way he abused his children. Needless to say, the combination of CIA style interrogations and a "lap shot" from Calico did not bode well.
Quasideities
Penny (The Big Bang Theory)
Penny, Goddess of Nerd Nannies
(
"slugger"
(by her dad),
Queen Penelope
, Patsy, P-Dawg, Bestie,
Penny Hofstadter
)
Quasideity
Symbol: The 4B door to her apartment with Sheldon's classical greetingnote
Alignment: Between Neutral Good and Chaotic Good
Portfolio: Nerd Nanny, Girl Next Door, unknown surname

/maiden name

, hates being implied to be stupid, Cloudcuckoolander's Minder and pseudo-mother/sister to Sheldon, the only non-genius in her group, harder drinker than her friends, slowly waning Nerd-Cultural Osmosis Failure, from working as a bartender to working as a pharmaceutical salesperson, Waiting for a Break in being an actress, Street Smart, lived just outside of Omaha, Nebraska, White Sheep in her possibly Dysfunctional Family, Geeky Turn-On, Girly Bruiser, Good Bad Girl, occasionally hypocritical, Literally Loving Thy Neighbor, Masculine Girl to Leonard's Feminine Boy, Girly Girl with a Tomboy Streak, groggy until 11 AM, ashamed of her role in Serial Ape-ist, freeloads on food and wifi
Domains: Non-Nerd, Friends (with Nerds), The Lad-ette
Herald: Leonard Hofstadter

(her husband)

Followers: Kuranosuke, Sydney White, Donna Pinciotti, Jackie Burkhart, Angus McPhee
Allies: Sheldon Cooper, Wil Wheaton
Aside from the usual rules for ascension, one extra requirement to ascend with the Nerd Nanny title was to have a nerd to be a "nanny" to. To the already ascended Sheldon Cooper's mild dismay, his roommate Leonard Hofstadter's girlfriend

now wife

Penny was appointed for that role.
One mild problem Penny has with her ascension is that she can no longer freeload for take-out food (unless it's from her followers or when eating at the House of Food) or wifi. Electricity is free, though, thanks to the Yamato Perpetual Reactor.
Though she can't really follow up on what geniuses say, she's hung out with enough of them for a long enough time to be able to pick up on some of their factoids, to the surprise of several. As such, she's managed to be friendly enough with the good deities in the Houses of Science and Knowledge.

And whenever overly complicated solutions are being devised, if there's a simple alternative, she will provide it.

She once appeared in an ultra low-grade horror movie called Serial Ape-ist (with a Killer Gorilla), but refuses to comment on it. Like with every piece of fiction, it eventually found its way in the underground market and rumors of her bit part spread.

There's also a sequel titled Serial Ape-ist 2: Monkey See, Monkey Kill, where she plays a clone of the previous character she played as in the last one, and is a Beast Woman with gorilla hands and feet and gets triggered at the sight of bananas. Some mad scientists think it would hilarious to try and do that for real just for kicks.

Is staying away from MMORPGs after the last time she got addicted to them, only stopping when she realized she accepted a virtual date with Howard Wolowitz.
Speaking of games, somehow, despite having zero prior experience, Penny's managed to be knowledgeable enough in Halo to thrash three of her geek friends (inc. Sheldon) in it, and beat Leonard in chess on the same day she learned the rules! Given that these incident are more of a Rule of Funny, that's all she's getting here.
---