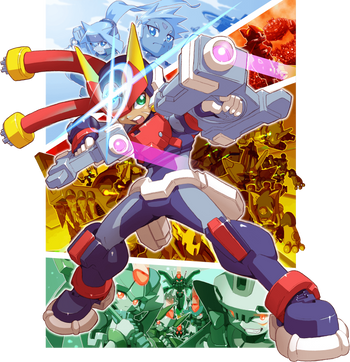 Mega Man ZX is another entry in Capcom's flagship series, set about two centuries after the events of Mega Man Zero and developed by Inti Creates, the team behind the Zero series. This time around, the games are Metroidvanias. The wars between Human and Reploid have finally ended through the process of modifying both races until they're completely indistinguishable from one another. Even so, the threat of Maverick attacks still remains, although the cause of these outbreaks are entirely different.
It consists of two games:
Mega Man ZX, starring Vent and Aile, a pair of orphaned Humans who are taken in by a courier service named "Giro Express" after its owner, the reploid Giro. And are tasked with recovering a quartet of Biometals by a peacekeeping force known as Guardian, before they fall into the hands of Serpent, a popular (but evil) CEO looking to find the Biometals to further his own divine evolution.
Mega Man ZX Advent, which takes place four years after ZX and stars Grey and Ashe (the former's a Reploid, the latter's an augmented human like Vent and Aile), who team up with the Biometal Model A to uncover their mysterious pasts and stop Master Albert, a rogue member of the world's ruling triumvirate out to pull what Serpent tried in the last game, only a thousand times over.
A collection of the ZX series along with the Zero series, Mega Man Zero/ZX Legacy Collection, was released on February 25, 2020 for PlayStation 4, Xbox One, Nintendo Switch, and PC through Steam, featuring new beginner-friendly features with a Casual Scenario mode and Save-Assist ability, optional CRT and smoothing filters, the Japan-only e-Reader Mod Cards for Mega Man Zero 3 and Dual-Slot feature from Mega Man ZX implemented, a collection of official artworks and music from both series, and an all-new Z Chaser mode where players compete against each other to see who can clear a stage the fastest.
Has no relation with BIOMETAL, a completely different game.
---
The Mega Man ZX games employ the following tropes:
---