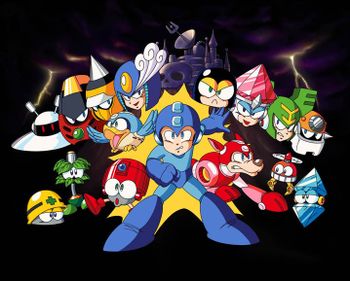 After Mega Man 7, Mega Man 8 and Mega Man & Bass that were featured in 16- and 32-bit graphics, respectively, the ninth installment of the Mega Man (Classic) series saw its return to its 8-bit roots.
Just when people forgot about Dr. Wily, robots all over the world begin going crazy. It soon becomes apparent that these robots were all created by Dr. Light. As phone calls come pouring in to Dr. Light's laboratory, Dr. Wily not only announces that these robotic riots aren't his doing, but shows video evidence that proves Dr. Light's involvement in the recent violent outbreaks. With the world at risk once again and the finger pointed at his creator, Mega Man quickly volunteers to clear Light's name and sets out to investigate the source of the problem.
Robot Masters:
This game is part of Mega Man Legacy Collection 2.
---
Tropes:
---