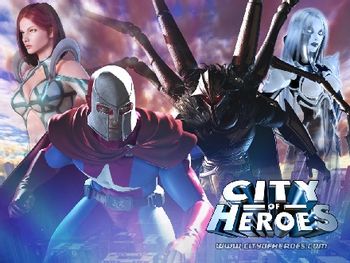 City of Heroes is a Massively Multiplayer Online Role-Playing Game developed by Cryptic Studios based on comic-book style superheroes. Set in and around Paragon City, a fictional Rhode Island metropolis still recovering after a thwarted but still disastrous Alien Invasion, it superbly reproduced the flavor and feel of the superhero genre and was one of the first multiplayer games, and even one of the first computer RPGs period, to really get superheroes "right". Players would take on the role of one of many fledgling heroes surging to fill the void left in the wake of several heroes fallen in defense of the earth during the aforementioned "Rikti" alien invasion.
It was complemented and paralleled by a villainous counterpart game, City Of Villains. Players of assume the role of a freshly escaped super-powered convict who may fit into a prophecy about a "destined one" whom it is said will rise to threaten even the most powerful echelons of the Rogue Isles' villain factions. The two games overlap in select areas, including PvP zones and a no-conflict nightclub in another dimension called "Pocket D". The two games, originally separate subscriptions, were eventually combined, allowing players who hadn't bought CoV to make villain characters, and vice-versa.
An expansion titled Going Rogue was released in 2010, and introduced a Graying Morality storyline set in the Mirror Universe Praetoria. It also opened up paths for Heroes and Villains to change alignment.
The game was also the first major MMO to include user created content, in the form of the Mission Architect system and player-created story arcs.
Originally, a variety of (back)story was told through the developers' adopted avatars — known collectively as the Avengers-esque super-team Freedom Phalanx — with the hero Statesman as their (in game and out) leader. Their evil counterparts would later be introduced in City of Villains. Known as Arachnos by name and led by Statesman's equal-but-opposite in Lord Recluse, ruler of the Rogue Isles (a fictional archipelago about 50 miles north of Bermuda). Statesman was originally the in-game avatar of real life senior developer Jack Emmert, who has since moved on and left the game in the care of Lead Developer Matt Miller (known for his avatar, Positron), who then later moved down to hands-on design work, handing the role of Lead Developer to Melissa Bianco (known for her avatar, War Witch).
Character Design
Archetypes
Some of
CoH/CoV
's most innovative features were related to character/avatar design. The games provided a truly astounding variety of appearance combinations, which would grow with each new version. The power combinations are similarly impressive.
With the aforementioned expansion merger, most character classes (called Archetypes) became available to both sides from the start, except for the respective Epic Archetypes, described below. Each Archetype has two sets of powers to choose from: a primary and a secondary. This leads to a high amount of variety even between characters of the same class - wildly different playstyles can ensue quite easily.
The original Hero Archetypes were:
There were also two "epic" Archetypes, unlocked once one of your heroes reached level 20 (formerly level 50): Peacebringers and Warshades. These had unique abilities, such as intrinsic travel powers and shapeshifting. Their power sets seemed to be fairly similar, but they tended to play completely different. Warshades played to the strengths of your teammates, while Peacebringers tended to make up for their weaknesses. Also, Peacebringers were much more self-sufficient (e.g. if you wanted to heal yourself, you just pressed the button and get healed), while Warshades needed enemies (or their bodies) to drain for their self buffs. To compensate for this the Warshade buffs tended to be a lot more powerful when there were a lot of enemies to drain. When playing Dual- or Tri-Form, Peacebringers tended to stay in one form for the duration of the fight or even the mission, while Warshades tended to constantly switch forms to maximize the gain from their various buffs. The powers of their respective human forms were mostly a combination of Blaster and Scrapper for the Peacebringer, and Blaster and Controller for the Warshade.
The original Villain Archetypes were:
Just like the heroes, there were two epic Archetypes for the villains. Starting out as a member of the Arachnos faction, you took the role of a Wolf Spider (Arachnos Soldier) or Blood Widow (Arachnos Widow), then took one of two "branching" leveling paths. The former represent the rank and file soldiers, starting with guns while then adding cybernetic attachments or specialized tech-maces, while the latter started out as pseudo-ninjas and could either stay as such or become a combat psychic. However, regardless of branch, you ultimately played as a damage type with some quirks (and a cool costume).
Alignment
The second major expansion,
Going Rogue
, opened a third beginning to the game, the
Praetorians
. They were able to play as any of the non-epic Archetypes and start off neither good nor evil, but rather choosing to be a Loyalist to Emperor Cole, previously known in the game as "Tyrant", or become part of the Resistance seeking to overthrow Emperor Cole to save humanity from his iron rule. After ending their storyline in Praetoria, players choose to become either a Hero or a Villain and enter the main reality's Paragon City.
Going Rogue
also introduced the ability to change characters' alignment via
Face–Heel Turn
or
Heel–Face Turn
, allowing a Hero to become a Villain or vice versa as well as opening up the in-between alignments of
Vigilante
and
Rogue
.
Origin
Heroes, Villains, and Praetorians all chose an Origin. Outside of Peacebringer (Natural), Warshade (Science), and the Arachnos archetypes (Natural), there were no limits placed on which origin could be used with what archetype/powers. It was possible to make one of your characters' powers, say, "Assault Rifle" with Magic Origins, and it won't make a lick of difference to your abilities.
---
Heroes defeated NPC Villains and foil the plans of various archvillains and nefarious groups out to destroy Paragon/The World/Humanity. Villains carried out missions against NPC Heroes or other Villain groups to please various factions and power brokers and thereby improve their standing in the underworld. Praetorians either act as Loyalists and strengthen the rule of Emperor Cole or act as part of the Resistance to take Tyrant down and free Praetorian Earth from his control, until deciding whether or not they are a hero or a villain. Rogues try to redeem their villainous ways by protecting Paragon City while Vigilantes weasel their way into the villainous underground of the Rogue Isles. Player-vs-Player combat was limited to restricted areas and is not necessary for game or level progress, although certain bonuses could be gathered by risking yourself in these areas.
The game managed to stay alive despite being only a few months older than the massive World of Warcraft juggernaut, largely by occupying a niche market and having a die-hard, rabidly devoted fanbase. There have been two novels based on it, Web of Arachnos and The Freedom Phalanx (a third about the Ritki War was also planned), as well as two comic book series, one published by Blue King and the other by Dark Horse Comics. Eden Studios started developing a Tabletop Role-Playing Game using their Unisystem but due to licensing issues, only a preview was released. A movie and T.V. series based on the game were in Development Hell, until Paragon Studio's forced closure.
Despite the reported profitability of the game and its diehard fanbase, parent company NC Soft closed Paragon Studios and set the game's closure for 3 months after that to use the game's servers to run, variously, Guild Wars 2 and Wildstar (the latter of which inherited the servers' IP addresses). Paragon Studios was informed of the decision, which was effective immediately. It was announced
to the players on August 31st, 2012 that Paragon Studios would be dissolved and that preparations for CoH's permanent retirement were already underway. The servers were shut down shortly after midnight Pacific Standard Time on December 1st, 2012.
All is not lost, however, as a large group of fans are starting work on a Spiritual Successor called City of Titans (after a successful Kickstarter campaign), with three other projects also in the works: Heroes and Villains
(by a splinter group from the City of Titans project), Valiance Online
(by a separate company that is also simultaneously working on a fantasy-genre MMO) and Ship of Heroes
which is City of Heroes IN SPACE!. And on top of that, fans continue to try to find groups to buy the original game and bring it back, with a fourth attempt being underway at the time of writing. There's also Champions Online, another Spiritual Successor by Cryptic Studios whose team incorporates many former Paragon employees.
In Spring 2019, after revelations that a secret private server, using the game's original source code, had been running for six years, the server code was released into the wild and efforts to build new servers have begun in earnest.
NC Soft has registered the domain names coh2.com and coh3.com, but whether that means they have any plans to bring the game back in any form remains to be seen. (Doubtful, since they were registered back in 2004, but they continue to be renewed). Currently, they only redirect to the NC Soft main page. And while a CoH sequel doesn't look to be anywhere on the horizon, The Statesman became a Guest Fighter in NC Soft's MOBA, Master X Master... which also got cancelled.
In general, City of Heroes's greatest contribution to the wider world of video gaming was in its customization: it was the absolute gold standard of character customization for more than a decade and innovated systems concerning cosmetic customization, and the convenience, accessibility and robustness thereof, years before many of its direct competitors even tried to implement similar systems, and ultimately became, even in death, the bar by which any game featuring cosmetic customization and accessibility of such was measured, even going into The New '20s.
---
This game provides examples of:
open/close all folders
Tropes A-D
Tropes E-I
Hellfire: Used by Demon Summoners and some of their pets. Functionally similar to fire, but oddly colored and with a toxic, resistance-reducing after-effect.
Herd-Hitting Attack: There are literally two attack sets in the game without one, but primarily a Blaster specialty. Controllers and Dominators have a variation of this - rather than focusing on spreading damage across groups of enemies, they instead hit groups for debilitating status effects.
Tropes J-N
Tropes O-S
Sword Beam: Focus and Shockwave from the Claws power set, Serpent's Reach from Staff Fighting.
Tropes T-Z
---