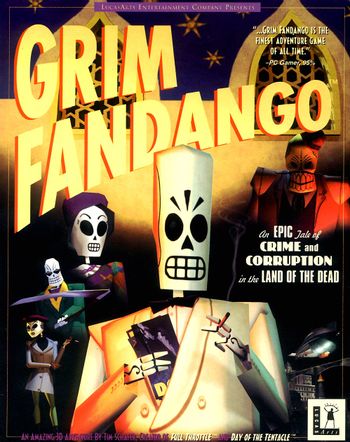 "Bound only by the paper-thin wrapper of mortality, a soul here lies, struggling to be free... and so it shall, thanks to a bowl of bad gazpacho and a man named Calavera."
Manuel "Manny" Calavera is a travel agent with the Department of Death — otherwise known as a Reaper. His job is to bring souls to the Land of the Dead, look over the deeds they have committed over the course of their life, and provide them with the best form of transportation possible for the long journey to the Ninth Underworld. The worst people must walk for four years, facing danger at every turn; the best receive tickets on the luxury train the Number Nine, which covers the same distance in four minutes.
Manny used to be the best in the business, but pickings have been slim for a long time. While the obnoxious Reaper Domino Hurley constantly brings in first-class commissions, Manny is stuck handing out walking sticks to first-rate scumbags, and since he needs to pay back his own misdeeds in life (the exact nature of which is unclear, even to him), he's getting desperate.
He concocts an ingenious scheme to steal one of Domino's clients, a saintly woman named Mercedes Colomar. But when she too comes up on his computer as morally bankrupt, Manny stumbles onto a plot to steal people's eternal rewards away from them. His quest to uncover the truth and save Mercedes takes him on a journey across the Eighth Underworld, spanning years, full of extraordinary places, bizarre characters and startling revelations.
This 1998 Adventure Game for the PC from Tim Schafer is a heady blend of noir, Mexican mythology and Schafer's own warped sensibilities. As with all adventure games by LucasArts, it contained no real action or danger, and no possibility of dying, focusing instead on solving the often tricky puzzles strewn throughout the game, as well as just wandering through the place talking to people. It differed from adventure games of the time in its simple interface; Manny could move in three dimensions in a stationary environment, and interacted with it through three keys — an Examine key, a Use key and a Get key, which could be used when Manny turned his head to look at something or someone. Sometimes all three keys could be used on the same item to different effect; stand near the giant pit of kitty litter and hit Examine, then Use, then Get, and you will get an increasingly funny series of reactions from Manny. Also, except for one arm-in-a-coffee-grinder moment, the adventure game standard of combining items was absent.
For the longest time, Grim Fandango was not given a digital rerelease, meaning that in order for the game to play on Windows 7, some creativity was required.
This was rectified when a remastered edition for PS4, PS Vita, PC, Mac, and Linux was released on January 27th, 2015. The PC version is available from Steam
and GOG.
The remaster was eventually released for the Nintendo Switch on November 1, 2018 and the Xbox One on October 29, 2020.
---
Tropified, the game provides examples of:
---