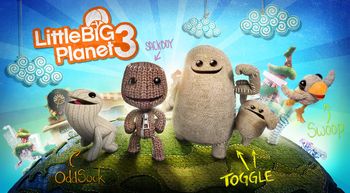 "On the LittleBigPlanet, you're a little Sackperson. This one is you. Aw, bless. You're quite the cute one."
LittleBigPlanet is a video game series created by Media Molecule originally for the PlayStation 3, and supposed to be one of its killer apps. It's based on the basic idea of customizable, user-created funhouse
levels (of which there are over 10 million since February 2017), supplemented by pre-built story levels. The players control a small, Stitchpunk Sackperson, who's customizable using in-game costumes and decorations. It also includes narration by Stephen Fry. That's right, The Hitchhiker's Guide to the Galaxy is now your Guide to this galaxy.
The first game was released in 2008. Critics loved it (for example, it received a perfect 10 in Edge), but initial sales were disappointing (they got better). This is possibly because it was one of the greatest 2D (okay, 2½D) platformers ever made... at a time when 2D platformers were about as relevant to Western gaming culture as vaudeville is to Broadway theater.
In 2009, Guerrilla Cambridge released a spin-off game for the PlayStation Portable with entirely different levels but the same gameplay and features. In 2010 came the PlayStation Move-based Tech Demo Game Spin-Off, Sackboy's Prehistoric Moves. Then came the PS3 sequel in 2011, LittleBigPlanet 2, which dramatically improved the editing tools available for the players. Did we tell you that there's also a sequel for the PlayStation Vita? And a... racing game?
Now, we have LittleBigPlanet 3, which was announced at E3 2014 for the PlayStation 4 and PlayStation 3 and was released on November 2014. Which not only does more to improve the editing tools available for the players, it introduces 3 additional Sack Beings to play with!
The size-changing Toggle, who can weigh down/push heavy platforms and pressure sensitive plates, but is pretty slow, and can't jump very high as a result of his heavy weight. However, he can shrink into Little Toggle who jumps higher, and runs faster. He's much lighter, which allows him to walk on the surface of water and his tiny size lets him enter small spaces the others can't access.
The bird-like Swoop, who can fly freely around levels and can pick up other light characters and objects.
In addition, there's an Endless Running Game called Run Sackboy! Run! for mobile devices and PlayStation Vita.
In the midst of this string of sequels, Sackboy was made a playable fighter in PlayStation All-Stars Battle Royale in 2012, with the Sackgirl as a Pre-Order Bonus.
On June 11, 2020, a 3D spinoff, titled Sackboy: A Big Adventure, was announced for the PlayStation 5.
See also Dreams, the spiritual sequel also from Media Molecule. Additional entries include Larry Da Vinci's self-demonstrating page.
---
Open a folder, and select a Trope with the ACTION BUTTON:
open/close all folders
Whole Series
LittleBigPlanet 1
LittleBigPlanet 2
LittleBigPlanet 3
LittleBigPlanet PSP
LittleBigPlanet PS Vita
LittleBigPlanet Karting
Run Sackboy! Run!
Sackboy: A Big Adventure
---