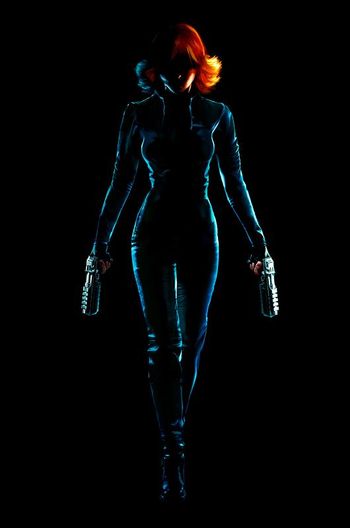 It's dark.
It's very dark.
She's perfect.
PERFECT DARK
— Opening sequence of Perfect Dark on Game Boy Color.
Perfect Dark is a series of First-Person Shooter video games originally developed by Rare, initially created as a Creator-Driven Successor to Rare's previous FPS classic GoldenEye. Rare had failed to secure the James Bond license for a second game, but the Goldeneye development team had little interest in making another James Bond game regardless, having already decided to start work on an original FPS title with more of a sci-fi bent instead. The Perfect Dark series takes place in a Mega-Corp dystopian future and stars Joanna Dark, an agent for the Carrington Institute, and her efforts against the rival dataDyne Corporation.
The first game, Perfect Dark for the Nintendo 64, takes place shortly after Joanna has graduated the training program, and is sent to meet an insider from the dataDyne corporation. The events that unfold quickly reveal a plot against the US President involving dataDyne, the NSA, and a mysterious third faction. Things rapidly become more complicated and she soon finds herself in the middle of a war between two alien races who have allied themselves with different factions on Earth. It would end up being the first M-rated game ever to be distributed by Nintendo, creating some light controversy among consumers and industry analysts
due to this clashing with the company's family-friendly image.note Though Nintendo would market the game, it was self-published by Rare. Nintendo themselves wouldn't publish a M-rated game themselves until Eternal Darkness two years later. Even now, Nintendo retains a family-friendly image and boasts far fewer M-rated titles in its catalog than their rivals, with these few games being developed outside of their internal teams.
Released the same year was a now all-but-forgotten Game Boy Color game that, despite having a title that was identical to the N64 game, was a prequel showing Jo's training and first mission with the Institute. Rather than being a straight-on FPS title like the other games, is played mostly from an overhead view with Metal Gear-inspired gameplay, along with some stages involving flying/driving vehicles from a similar top-down perspective, arcade-style first/third-person shooting, and even Simon Says-esque memory puzzles mixed in. It also has full-motion cutscenes and digitized voice-acting provided by much of the same cast as the N64 game.
The third and final game in the original Rare trilogy, Perfect Dark Zero, was a launch title for the Xbox 360 following several delays and platform shifts. Another prequel, Zero is set 3 years before the original and has Joanna working as a bounty hunter with her dad, setting out on a mission to rescue a defecting dataDyne scientist, before getting mixed up with the Carrington Institute. While well-reviewed, fans deemed it an underwhelming follow-up to its predecessor. In March of 2010, the original game was rereleased for Xbox LIVE Arcade, with new features such as updated graphics with 1080p resolution and eight-player online multiplayer. Both console games were later rereleased again for Xbox One on 4 August 2015 as part of the Rare Replay compilation.
The time period in between the two games is covered in a pair of novels, Initial Vector and Second Front, as well as the comic series Janus Tears.
After being dormant for fifteen years, a new installment in the series, simply titled Perfect Dark, was announced in 2020 for the Xbox Series X|S. Rather than being developed by Rare, it is the first project of Microsoft's new first party studio The Initiative, and has been described as a "AAAA" game.
Includes examples of:
open/close all folders
A - C
Beating A Dead Player: Just like in GoldenEye except that you don't get a third-person replay from three different angles.
Benevolent Alien Invasion: The Maians planned to do this eventually, but left the humans to develop on their own for a few millennia. The end of the main plot revolves around the Maian ambassadors finally coming down to meet with the authorities in the White House and establish peaceful connections. Then the game plays the evil Alien Invasion straight when the Skedar come rolling along.
Benevolent Architecture: Most levels have plenty of pillars and walls to hide behind.
Coup de Grâce Cutscene: After defeating the final boss in the original game, the cutscene shows Joanna

shooting off a shard from an altar

which

impales the boss

.
Covers Always Lie: The Japanese box art◊ makes the game look more like a Silent Hill-esq psychological horror game than the James Bond inspired action game it is. It's mostly a holdover from when Nintendo was pushing to rename the Japanese version to "Red & Black", since they thought a direct translation wouldn't sound quite as good in Japanese.
Critical Existence Failure: For some reason, being pistol-whipped or punched will cause you to stumble and your vision to blur, but not being shot multiple times to the point of near death.
D - H
I - R
Robo Cam: The BombSpy, CamSpy and DrugSpy appear this way when you're piloting them remotely.
Robotic Reveal: When Joanna discovers that Dr. Caroll is an AI.
Rooftop Confrontation: At the end of "dataDyne: Extraction".
S - Z
Teleporters and Transporters: "Deep Sea" has warp portals.
Ten Paces and Turn: The bonus mission "The Duel," in which Joanna is pitted against simulated opponents of increasing difficulty in the Carrington Institute's training center. Each round Jo and her enemy will start back-to-back and take several scripted steps away from each other before turning to fight. The second opponent, Agent Jonathan, will actually cheat and duck behind a wall while your back is turned.
Theme Music Power-Up: The "CI Operative" theme plays during some cutscenes, usually after Joanna does something awesome.
Universal Ammunition: The game uses the same ammo setup as GoldenEye, with a few weapons having unique ammo types and the rest drawing from shared pools, differing only in that a third "generic" pool is added for submachine guns. A fairly ridiculous example, not only in that (at least going by the One Bullet Clip rules) it already made sense for submachine guns to use pistol rounds, but that the alien weapons also draw from these pools.
Unlockable Content: Perfect Dark inherits this structure from GoldenEye (1997), in that, if you want to have the full experience, to explore everywhere, and complete various objectives, you are required to play the missions in the harder difficulties. This however, is no cake-walk.
Unnecessary Combat Roll:

It seems like the first day of security guard school is spent teaching cadets how to perform this. Averted in that it's as woefully ineffective as it should be (it leaves guards open to attack for several seconds) but played straight in that Joanna herself performs a few shoulder rolls during cutscenes.
One of the changes made from GoldenEye (1997) involved making the rolling animation interruptible - that is, a guard no longer finishes his roll, stands up and then dies if shot mid-roll.
Zero lets Joanna do this as a command. It breaks enemy lock-ons, forcing them to get their bearing. They are also substantially quicker.

Unorthodox Reload:

The Cyclone's bizarre reload animation where the magazine is fed into the side of the gun and passes out the other side.
Maian weapons have a magazine which looks like a greenish ball and is absorbed into the side of the gun like a liquid.
The DY357 has a cool-looking but pointless reloading move where you insert the moon clip into the chamber and then flick it sideways one-handed.
When you're dual-wielding. How the heck can you even reload two guns at the same time so quickly if you're holding them in each hand?

Unusable Enemy Equipment: Taken to absurd levels in the GBC title. Most enemies will be armed with assault rifles, yet only a few guards will have usable weapons, or even ammo, on them when they are killed.
Unusual User Interface: Joanna's headset, which is essentially a wearable computer that deploys over her field of vision when you access the menu.
Updated Re-release: Re-released for the Xbox Live Arcade on March 17th 2010 with bright, shiny new high-def visuals and online play! Feast your eyes.
Unwinnable by Design:

You can actually (and on higher difficulties, have to) encounter the Disc-One Final Boss in the very first mission. You can freely gun her down, but it will fail the mission and prevent you from progressing. (The In-Universe justification is that she has a key you need to get into the secret lab, but it will stop working if she dies - and the mission's intro cutscene even tells you as much!)
Rarely, mission objectives will have (non-obvious) timers; two big examples in the same mission are the taxi and the limo on the Chicago stage. You need to bug both of them, but the taxi will leave permanently only a short time into the mission, and the limo will depart a short time after (they'll also both leave if you make too much of a ruckus.) Didn't bug them before they depart? Mission failed, abort and try again.
Also in the Chicago mission, you need to create an opening to sneak into the secret base. If you just casually waltz into the guards' line of sight, they'll permanently lock the door; mission failed.
Obviously, any mission where you need to keep plot-critical NPC's alive will fail if they die.
You need a disguise to infiltrate Area 51 in the second self-named mission. If you get the disguise, but then botch it by raising the alarm anyway, you can't get into the room you need to to complete the mission. Time to restart!
In the start of that same mission, you need to escort a hovercrate to a weakened wall to blast an opening into the base itself. You have to move it through a warehouse full of enemies. The crate is fragile, and there is only one. You do the math.

However, you can still pull it off if you lose the crate, by throwing the assault rifle in proximity mine mode next to the marked wall, then shooting it with another gun to detonate it.

In the Airbase missions, raise the alarm in the airbase before you've infiltrated it, or on Air Force One before you've proven the conspiracy to the President (or don't have the evidence when you do, or leave before you present it, etc.) will turn the level hostile and prevent you from finishing.
Video Game Caring Potential: If you disarm or surprise some foes, they'll surrender and cause you no further trouble note . But...
Video Game Cruelty Potential: Are you evil enough to shoot an enemy in the groin after they've been disarmed and surrendered? Yes.

In the original, foes who have been knocked out can then be killed rather easily, especially if you like headshots.
In the first mission, you can shoot down flying cars that go by, obviously killing whoever was inside.
Nothing says "guilty, sadistic pleasure" more than shooting a dead body curled up in the fetal position.
The non-combatants in Area 51 will either surrender, run away to hide or alert security, or yell at you. You can kill them all without failing the mission... if you want to, that is.

Scientist: "Leave this area now!" (gets shot in the head)

If you wasted time and ammo in breaking all of the bottles in the Wine Cellar of Carrington Villa, Daniel will call you out for destroying at least a million dollars worth of vintage alcohol.

Carrington: "Act your age, Joanna."

Video Game Cruelty Punishment: In some levels there are civilians wandering around. You are not allowed to shoot them, and if you do so you instantly fail the mission.
Villain Shoes: "Mr. Blonde's Revenge" is played from his perspective.
Violence is the Only Option: Against the Skedar.
Virtual Ghost: Dr. Carroll is the mind of a dead scientist programmed into a floating laptop computer. He appears in human form in Perfect Dark Zero.
---