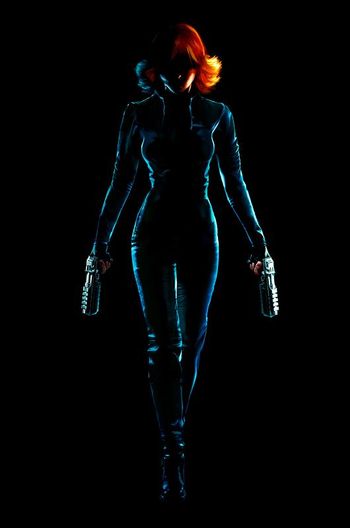 It's dark.
It's very dark.
She's perfect.
PERFECT DARK
— Opening sequence of Perfect Dark on Game Boy Color.
Perfect Dark is a series of First-Person Shooter video games originally developed by Rare, initially created as a Spiritual Successor to Rare's previous FPS classic GoldenEye. Rare had failed to secure the James Bond license for a second game, but the Goldeneye development team had little interest in making another James Bond game regardless, having already decided to start work on an original FPS title with more of a sci-fi bent instead. The Perfect Dark series takes place in a Mega-Corp dystopian future and stars Joanna Dark, an agent for the Carrington Institute, and her efforts against the rival dataDyne Corporation.
The first game, Perfect Dark for the Nintendo 64, takes place shortly after Joanna has graduated the training program, and is sent to meet an insider from the dataDyne corporation. The events that unfold quickly reveal a plot against the US President involving dataDyne, the NSA, and a mysterious third faction. Things rapidly become more complicated and she soon finds herself in the middle of a war between two alien races who have allied themselves with different factions on Earth. It would end up being the first M-rated game ever to be distributed by Nintendo, creating some light controversy among consumers and industry analysts
due to this clashing with the company's family-friendly image.note Though Nintendo would market the game, it was self-published by Rare. Nintendo themselves wouldn't publish a M-rated game themselves until Eternal Darkness two years later. Even now, Nintendo retains a family-friendly image and boasts far fewer M-rated titles in its catalog than their rivals, with these few games being developed outside of their internal teams.
Released the same year was a now all-but-forgotten Game Boy Color game that, despite having a title that was identical to the N64 game, was a prequel showing Jo's training and first mission with the Institute. Rather than being a straight-on FPS title like the other games, is played mostly from an overhead view with Metal Gear-inspired gameplay, along with some stages involving flying/driving vehicles from a similar top-down perspective, arcade-style first/third-person shooting, and even Simon Says-esque memory puzzles mixed in. It also has full-motion cutscenes and digitized voice-acting provided by much of the same cast as the N64 game.
The third and final game in the original Rare trilogy, Perfect Dark Zero, was a launch title for the Xbox 360 following several delays and platform shifts. Another prequel, Zero is set 3 years before the original and has Joanna working as a bounty hunter with her dad, setting out on a mission to rescue a defecting dataDyne scientist, before getting mixed up with the Carrington Institute. While well-reviewed, fans deemed it an underwhelming follow-up to its predecessor. In March of 2010, the original game was rereleased for Xbox Live Arcade, with new features such as updated graphics with 1080p resolution and eight-player online multiplayer. Both console games were later rereleased again for Xbox One on 4 August 2015 as part of the Rare Replay compilation.
The time period in between the two games is covered in a pair of novels, Initial Vector and Second Front, as well as the comic series Janus Tears.
After being dormat for fifteen years, a new installment in the series, simply titled Perfect Dark, was announced in 2020 for the Xbox Series X|S. Rather than being developed by Rare, it is the first project of Microsoft's new first party studio The Initiative, and has been described as a "AAAA" game.
Includes examples of:
open/close all folders
A - C
D - H
I - R
S - Z
---