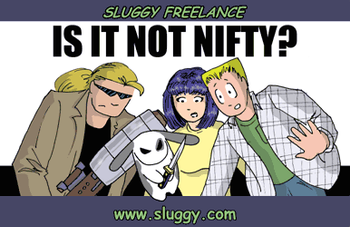 "This here's my comic. Is it not nifty? Worship the comic."
— Original Tagline, later providing the titles for the first two compilations
Sluggy Freelance
by Pete Abrams is one of the longest-running (since August 25th, 1997) and most popular Webcomics out there. It mostly revolves around the doings of a core cast, which conveniently form a Five-Man Band plus two cute talking animals.
In its time, it has shifted from being a simple gag comic with rather short arcs to a complex tragicomic tale of friends living in a mad world mixing elements from just about every genre, trying to find fulfilling lives in it, and occasionally heroically and/or humorously saving it. It has helped create or popularize a ton of webcomic tropes, and it repeatedly hangs lampshades over every single trope it uses, and subverts a few dozen more.
Since it has been publishing mostly daily since 1997, there is quite a bit of material to digest, but its continued popularity has never been questioned, even by those who don't make it a daily read. However, it can be a prime source of Archive Panic for newcomers, so much so that even long-time fans can be a bit intimidated by the idea of an Archive Trawl. For new readers, it's probably best to start at the beginning and ignore the current arc until/unless you actually get there.
As the comic's 20th anniversary on August 25th, 2017 approached, Pete announced that he would try to wrap up most ongoing storylines by around then and would not continue doing the comic in its current form. As it turned out, the webcomic did continue, but with a less frequent and regular posting schedule, as well as a new site layout and a new version of the optional paid subscription system.
This comic has a character sheet.
---
This comic shows examples of:
open/close all folders
A-C
D-F
G-H
I-L
M-R
S-T
U-Z
---