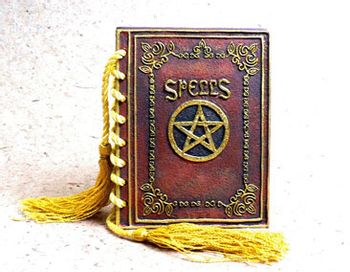 Spell Books are books with various magic diagrams and incantations, presumably spells, written in them. This is where the resident magic users go when they need to get serious but the spell was just too darn long to memorize. Or if they're trying to preserve magical knowledge and expect to be dead by the time said knowledge is needed. They may also be magic artifacts themselves, imbued with arcane potency, and magic is cast by wielding the book rather than by reading what is written in it.
In Real Life, the Spell Book is called The Manual and allows the user to cast "Tech Support" without use of reagents (although like its fictional counterpart, beware the person who thinks they're a wizard just because they read the book and are eager to try out the powerful incantations therein). In Sci-Fi, the Spell Book may be called by a number of names, but reading Techno Babble aloud from its sacred pages can produce limitless feats of technical wizardry.
People who practice Witchcraft call these things grimoires or Black Books. Also known as a Book of Shadows, they are usually more like commonplace books with collections of incantations, calendars, diagrams, recipes, journal entries and notes on whether this or that spell worked.
Related to, but distinct from the Great Big Book of Everything which is an infinite source of information. The Tome of Eldritch Lore is also a spell book, but has added implications of doom!. Some examples probably need to be moved over.
Older Than Dirt, as the ancient Egyptians thought magic could be performed by reading and performing specific incantations, and used collections of written spells in various forms. Writing itself was considered a magic art.
---
Examples:
open/close all folders
Anime
Caster's magic book in Fate/Zero is his Noble Phantasm. Specifically, it's the Necronomicon, identified as the Spiral Text of the Sunken City.
Hayate Yagami's Tome of the Night Sky in Lyrical Nanoha, which went through a period of being a nastier sort of spell book that would gather spells by draining the Mana of others before it was cleansed. Reinforce Zwei also has her own spell book called the Book of the Azure Sky.

Reinforce Eins: I'm the happiest magical tome in the world.

Mahou Sensei Negima! has the book of Melusedek which is said to be an Amplifier Artifact capable of making mages unstoppable and muggles smarter; magical text of the highest level. Magical Library that it's located in also has many ancient techniques and spells in the lower reaches.

The Thousand Master had a home-made Spell Book, as he was atrocious at remembering spells and would wade into battle with crib notes.

Slayers: Lina Inverse learns the Ragna Blade spell from a Spell Book, but she learns it permanently.
Zatch Bell!: Each mamodo comes with a Spell Book which teaches the mamodo's partner spells.
In Black Clover they are referred to by the archaic word "grimoire", and are received by young magic users in a yearly ceremony so that they can unlock their true magical potential.
Comics
Fanfiction
In Ancient Languages, some ancient books contain spells in the Sindarin language. One of these books brings Lyla to Rivendell in Middle-earth, the setting of The Lord of the Rings. Because of limits, no one can use the spells except when the plot demands.
Child of the Storm has the canon example of the Darkhold that's chock full of dark magic and which is, unfortunately, also an Artefact of Doom and a conduit to the Elder God Chthon. Accordingly, it causes most of the problems of the first book.
Dungeon Keeper Ami: Detailed in "Recovering", the Reaper Armor spell was given to Ami in a book with brass bindings, which tells her how to cast the spell, along with how to fight with the scythe the spell provides.
Films — Animated
Films — Live-Action
Literature
Live Action TV
Toward the end of Season 6 of Buffy the Vampire Slayer, Willow

absorbs a whole bunch of spell books before destroying the Magic Box

.
Charmed has the Book Of Shadows, which fulfills this purpose as well.
Nowhere Boys features one that is owned by Alice.
Sabrina the Teenage Witch has a big spellbook, though it doesn't tend to do her all that much good.
Supernatural has the Book of the Damned, which Sam wants because it could remove the Mark of Cain from Dean. Rowena wants it for more reasons than that.
Tabletop Games
One of the more entertaining ones: In Deadlands, the Hucksters carry spellbooks... Hoyle's Book of Games. Turns out Hoyle left coded secrets of magic in the pages, and if you know the key (and are willing to accept the price), you can mimic his better tricks.
Dungeons & Dragons is the modern Trope Codifier.

Classic OD&D and the first three editions and 5th of AD&D all require the Wizard class and its variants to use spellbooks along with the Vancian Magic system. Certain races, classes, and class variants have dispensed with this requirement, usually at the cost of a reduction in versatility. Generally, divine casters do not use spellbooks, with the exception of the Archivist from the Heroes of Horror supplement that does it instead of praying for spellsnote .
In the fourth edition, the Wizard class also has a spellbook, but anyone can learn to use rituals that are long enough to require being put in a book. Also, the Cleric gets a spellbook automatically for rituals and the Swordsage can get a spellbook for spells like the Wizard with a feat.

And, of course, Moral Guardians still insist that the D&D rulebooks themselves include actual directions for summoning demons and the like.

In the Dark Sun setting, since magic (and literacy) are outlawed, Wizards' spellbook-equivalents are as diverse as pictogram-inscribed bones or knotted, beaded clusters of string.

Mage: The Awakening features grimoires, books of information on the structure and development of rotes. Unlike most spell books, however, grimoires act more like hard drives for magical knowledge; the mage literally writes all the information out of his mind and into the grimoire, where it can then be picked up by whoever reads it. The mage can even relearn the spell invested into a grimoire from one he wrote himself (at the same cost it took to learn it in the first place), and having it on hand when he casts the spell makes it easier to do.
The backs of Magic: The Gathering cards are meant to invoke the feel of that player holding a spell book. Coincidentally, in-game mechanics refer to the player's deck as their library.

There are also numerous artifact cards that represent supplementary spellbooks (like Jalum Tome, Jayemdae Tome, and of course, Spellbook), which work by giving the player faster access to spells (ie, drawing more cards per turn) or in the case of Spellbook, removing the limit on how many spells (cards) you can have access to (have in your hand) at once.

Yu-Gi-Oh! has an entire archetype based on spell books, giving various powers to "Spellcaster type" monsters.
Warhammer is full to the brim with spellbooks of one sort or another. There are so many that Tzeentch, Chaos God of Change, under whose auspices magic falls, has created a pair of daemons - the Blue Scribes - to travel the multiverse copying them all out for him. Notable spellbooks include the Book of Hoeth (High Elves), the Nine Books of Nagash (Undead), the Book of Volans (Empire) and the Tome of Furion (Dark Elves).
In Ironclaw each spellcaster's (save for Druids and Blessed, who follow oral traditions and don't even need to be literate) trappings Gift includes one copy of a published spellbook. On Elementalism for Elementalists, Thamauturgoria by Kyndranigar the Shadow Magus for Thaumaturge's, an anonymous treatise on Green and Purple magic for Cognoscenti, Ye Book of Black Magic for Necromancers, and a Bible The Testaments of Helloise for Clerics.

1st edition had an advancement system that required wizards to either find a mentor or read the appropriate spellbook (requiring a literacy check) to improve their spell skills or career trait. 2nd edition converted many skills to perks, including literacy and all spells, and made the aforementioned trappings the base of each school's spell tree.
Theater
Ur-example from The Tempest:

'Prospero. [...] I'll break my staff,

Bury it certain fathoms in the earth,

And deeper than did ever plummet sound

I'll drown my book.

The Grimmerie in Wicked is a spell book, but if you don't have magical abilities PLUS the ability to actually read the book, it means nothing (Yes, it appears in the book too)
Video Games
Dragon Quest XI: It never comes up in cutscenes like Serena's harp, but Veronica carries a large book that she uses to activate special abilities from her Vim tree.

Serena inherits this book after Veronica sacrifices herself at the end of Act 1.

A crucial component of The Spellcasting Series, as Ernie Eaglebeak can't cast a thing unless he's got his Spell Book in his hands. Any new spells he finds automatically transfer right onto the pages - unless you forgot to bring it, in which case, the spell flies off into space, and you get to look for the 'load save' button.
In the Flash RPG DragonFable, one of the most powerful villains faced in early stages of the game's development had been Xan the Pyromancer, a fire-bending mage whose power had been amplified through his use of an artifact called the Pyronomicon. It was a powerful spellbook which focused the user's ability to manipulate fire.

The Pyromancer Class gives the player a Pyronomicon of their own- a nod to fans of the Mad Pyromancer. It is stated to be a lesser, "second edition" version of the Pyronomicon.
During the Christmas event following Xan's initial attempt to destroy Falconreach and defeat Warlic, he finds the "Eggnognomicon," which acts as an Ice-aligned version of the Pyronomicon.

It melts when Xan is defeated, much to his dismay.

In some iterations, Alice Margatroid from the Touhou series uses her grimoire to shoot or cast spells.

Patchouli Knowledge does this as well in the fighting games, though she also throws it at her opponents.
Byakuren Hijiri stores her spells in a scroll which is itself a spell, taking the form of multicoloured Hard Light symbols stretching between two rods. She can also make it recite spells by itself.

In Fire Emblem, the Spell Books seem to be (or contain) consumables used to cast spells.

The third Fire Emblem explained the tome thing as "The basis of Sorcery relies on sealing nature's hidden power into tomes and staves, and freely using those to harness great power." while the ninth and 10th involve short phrases (the only one given are "O light, gather. Open my path..." and "The light of life! Shine a ray upon my path and...strike my enemy!") in the ancient language.

Henry and Miriel in Awakening briefly mention how only spells "based on this world's elemental forms" require tomes. Dark Mages can cast curses on their own, essentially replacing tomes with complex rituals. Not that you can replicate this in-game, of course.
Fire Emblem Gaiden is the first game where tomes and staves are not used to cast magic; spells are Cast from Hit Points there, suggesting that tomes and staves are used because they're safer, if nothing else.

The Final Fantasy Legend and its sequel have books to cast magic. The magically-gifted mutant/esper race can also use naturally-learned magic, but the draw is that spell books (A) have more uses than a natural spell; (B) can be found/bought and replaced; (C) are usually stronger than natural spells; and (D) feature some spells that can't be learned naturally, like the powerful Fog and Prayer spells.
Diablo

The original game has one of the less abstract uses of the spell book trope in video games. A spell book, when read, simply adds that spell to your repertoire so that you can use it as much as you want in future (as long as you have enough mana). If you find another book of the same spell at a higher level, reading it will let you cast a more advanced version of the same spell.
Diablo II bypasses the use of spell books. There are single-use scrolls for certain universal spells (Identify and Town Portal), and if the scrolls take up too much room in your inventory you can store up to twenty of them in a book.

The Elder Scrolls:

Throughout the series, there are spell scrolls which essentially act as one-time-use magical spells which cost no Magicka. The spell is not learned from the scroll, however, and the scroll is destroyed through use.
Through vanilla Oblivion, the series lacks true spell books. Instead, spells are taught by purchasing them from a vendor, who presumably teaches it to you directly. That said, magical tomes can be found which lay out the items/actions needed to perform a ritual, such as permanent summoning. (The Player Character is unfortunately unable to perform these rituals, however.) Oblivion's Spell Tomes DLC adds the eponymous spell tomes to the game world which can be read to learn new spells.
Skyrim builds onto these spell tomes, which become the new standard way of learning spells. You can now purchase the tomes from vendors or find them in the game world.

Naturally, any Dungeons & Dragons-based game (see Tabletop Games above) will usually have a wizard using a spellbook.

The Intellivision game Treasure Of Tarmin features three particularly useful spell books at the higher levels: one that lets the player see through walls, a second that lets the player transport through walls, and a third that transforms any weapons into a platinum (highest value) version of itself.

Castle of the Winds uses a method effectively identical to the original Diablo, except there are no levels for spells, though the cost of a spell can do down as one goes up in level.
Apparently, human spellcasting classes—some of them, anyway—in the Warcraft 'verse have to use spellbooks. For example, in Reign of Chaos, the Archmage hero model carries a spellbook and staff. In The Frozen Throne, the Farseer Drek'Thar carries a spellbook—not his own, but pieced together from human mages killed during the First and Second War. He gives it to you as a reward for helping him out; it gives the wielder a bonus to mana, a brilliance aura (one of the Archmage's skills), and the ability to use Mass Teleport (the Archmage's "ultimate" spell).

There is an (unused in the standard game) spell called Spell Book, which allows you to access several spells through it, bypassing the usual six-ability limit.
There is also Medivh's spellbook, which contains great powers in and of itself, playing a central role in both Tides of Darkness and Warcraft III as an artifact desired by those that want to open portals into other worlds.
In World of Warcraft, some spell-casting classes get tomes that are held in the off-hand. However, they stay shut and don't give you new spells (though a few of them can be used for special effects). Instead, they passively provide stat bonuses that increase your existing spells' damage or healing.

The Factor 5/Studio Ghibli DS collaboration, Ni no Kuni, came with an actual "spell book" as a pack-in. The spell book will contain instructions on how to cast spells in the game world, as well as providing information on the game worlds themselves. For the PS3 version, the entire book was replicated digitally in the game, with pages becoming available as the story progressed, but players who scored the fairly rare Wizard's Edition also received their own physical copy of the book.
In some Rogue-like variants a spell-caster must carry around spellbooks for all the spells they want to cast, which both takes up space in a limited inventory and also weighs down the not-physically-strong wizard (books are heavy). In NetHack and its variants, however, the player only needs to hold onto the spellbooks long enough to memorize the spell.
In Tales of Phantasia, Arche learns her spells from various spellbooks. Claus, your other mage, comes to battles equipped with tomes he flips through to summon spirits. He can also use them directly on any enemy that comes close.
In Final Fantasy Tactics A2 Seers and Scholars learn their spells from Books. Since everyone learns their skills from weapons, they can also smack people over the head with their books, too.

Scholars return in Final Fantasy XI, and anytime a Stratagem is used, a large black or white tome will appear in midair, pages flying rapidly.
In Final Fantasy XIV, Arcanists and their Prestige Classes the Scholar and Summoner use Grimoires are their weapon. The Grimoires are made by Alchemists with enchanted ink.

Nessiah's most treasured possession, the Revelation of the Gods, in Yggdra Union and Blaze Union. He's the only spellcaster to fight with a spellbook instead of a staff (which is plot-important, yes); he is also not above hitting people with it when charging into battle.
Grimoire Weiss of Nier is an exceedingly arrogant, sentient spellbook that absorbs the blood of dead enemies and in return provides Black Magic. It's also responsible for most of the snarky one-liners of the game.
Alexander of Daventry from King's Quest series definitely knows his way around these - he uses them in both of his games.
Leon's weapon of choice in Star Ocean: The Second Story, which summons armed spirits to do the melee attacking.
There are a few in Kingdom of Loathing; some are offhand items that increase spell damage, others teach you new skills (and either go on your bookshelf or are consumed upon use).
Bible Black from the game of the same name. Despite the fact that the spells are working, it's just an ordinary book, however.
Charlotte from Castlevania: Portrait of Ruin uses spellbooks for her default attack. While some (like the Encyclopaedia and Blank Book) are straight cases of Throw the Book at Them, others summon weapons or other entities to attack over short range.
A couple of these turn up as Plot Coupons in the first Majesty game, enabling any hero that picks them up to cast a variety of low-level offensive and defensive spells that are normally only available to the Wizard.
Chloe Heartzog equips these as weapons in Mana-Khemia 2: Fall of Alchemy, and also reads them as a hobby. Her books can summon flying weapons from their pages, serve as a portal for The Legions of Hell, and perform a comprehensive Enemy Scan on monsters. By chewing on them.
Several enemy mages in Dragon Age: Inquisition wield floating tomes (a first in the series). It is yet unknown if the player has access to them. According to the codex, these books are in fact normal books enchanted with prepared spells, presumably because these so-called Spellbinders don't have the training or experience to make up battle magic on the fly.
In Pillars of Eternity, wizards have a special slot in their inventory for "grimoires": magical tomes that can be "loaded" with the spells the wizard had previously learned. The number of spells a wizard can prepare this way per grimoire is limited, so especially at lower levels, it may be a good idea to carry a couple with different spell selections and dynamically switch them in combat. Furthermore, pretty much the only way to learn new wizard spells is to plunder the grimoires of enemy mages.
Several Heroes of Might and Magic games have spellbooks as something a hero needs to equip in order to learn spells, with no real reason not to get one right away, and most heroes on the Magic side come with one anyway. Some artifacts also function as spellbooks, allowing the wielder to cast magic they normally don't have access to.
The Legend of Zelda has a Magic Book which gives the Magic Wand's attack flame properties. Curiously, in the Japanese version, it's explicitly The Bible.
Sakura Wars (2019): as a practitioner of libromancy, Claris Snowflake's Weapon of Choice is a grimoire. Her spiricle striker is also outfitted with a upscaled magic tome. Why? Why not!
Smite: The Book of Thoth is a purchasable item for Mages or Guardians that allows them to stack up mana and magic power as they kill minions or other Gods. Later on, the owner of the book, Thoth, becomes playable as a mage who uses the book to read up and launch spells from there.
Golden Sun: The Tomegathericon in the second game gives the user a unique class with various "evil" spells such as summoning demons and hellfire (shame the balance is heavily skewed towards Attack! Attack! Attack!). The name is a double Shout-Out: to the Necronomicon, obviously, but also to Tau Mega Therion, the Greek name for the biblical Beast of the Apocalypse.
Kirby: Squeak Squad: You can find some "Copy Ability Scrolls" from certain treasure boxes in the game; each of them enhances one of your copy ability, usually in the form of giving you one extra move.
In Minecraft, with a plain book, some obsidian and diamonds in hand, you can craft an enchanting table where you can put your hard-earned experience points and lapis-lazuli to get enchantments on your tools, the enchantments being stronger the more bookshelves you put around it. Around the world you can also find enchanted books which can similarly buff tools when combined together on an anvil (these books can also be created by enchanting ordinary ones on an enchanting table).
A few areas in Shovel Knight, Pridemoor Keep in particular, feature large bouncing tomes which when struck produce pages around the area that serve as temporary platforms.
Disgaea Dimension 2 introduced Books as a new weapon class, their skills allowing the user to "summon" characters that performed an attack. That said, long before Dimension 2 introduced them as a weapon class, Makai Kingdom made use of them for elemental attacks.
Webcomics
Hex and Mye of Charby the Vampirate keep a bookshelf full of spell and potion books in the basement next to their cauldron.
The first three chapters of Evon are based on the titular character's attempt to steal back her father's spellbook from her evil ex-master. She doesn't need the book to cast spells but studying it allows her to become more powerful.
Most El Goonish Shive magic users, in spite of having power origins as widely varied as comic book superheroes, receive a spellbook that spontaneously adds pages to itself whenever they "level up" through a remarkably and regularly lampshadedly straight form of Stat Grinding.
Inevitably, The Order of the Stick lampshades some of the counterintuitive oddities of D&D spellbooks.
The Aurans of Plume used to have one that let them make

a guardian spirit out of Corrick

. It seems to remain a singificant McGuffin after Auru falls.
Sluggy Freelance has the "Book of E-ville" and the "Book of Gud", although the latter is more of a McGuffin than a real book of spells. The former, however, apparently contains numerous spells.
Bett in Unsounded casts spells from a (probably stolen) spellbook. Of course, given the way magic works in the setting, this means that he's basically running programs without having any idea how the code behind them works.
Web Original
Western Animation
---