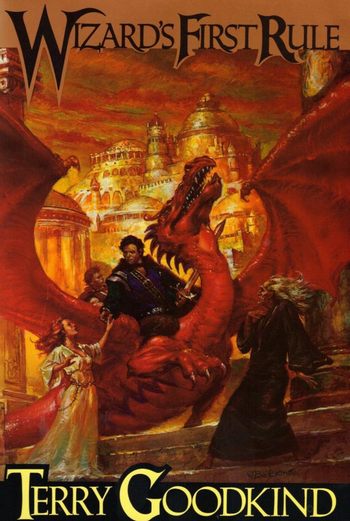 "People are stupid; given proper motivation, almost anyone will believe almost anything. Because people are stupid, they will believe a lie because they want to believe it's true, or because they are afraid it might be true. People's heads are full of knowledge, facts, and beliefs, and most of it is false, yet they think it all true. People are stupid; they can only rarely tell the difference between a lie and the truth, and yet they are confident they can, and so are all the easier to fool.
"
— The Wizard's First Rule
A series of High Fantasy novels — ahem, stories that have important human themes—written by Terry Goodkind. It started in 1994 with the publishing of Wizard's First Rule and ended in 2007 with the eleventh in the series and final book of the Chainfire trilogy, Confessor. There is also a prequel novella, originally published in the Legends compilation of short stories and now available on its own, called Debt of Bones. In story-internal order, the books are as follows:
Debt of Bones (1998)
Wizard's First Rule (1994)
Stone of Tears (1995)
Blood of the Fold (1996)
Temple of the Winds (1997)
Soul of the Fire (1999)
Faith of the Fallen (2000)
The Pillars of Creation (2001)
Naked Empire (2003)
Chainfire (2005)
Phantom (2006)
Confessor (2007)
In addition to these books, Terry Goodkind has written other novels related to the main Sword of Truth series. The Law of Nines serves as a sequel of sorts to the main series and features an entirely new cast of characters. The Omen Machine, billed as "A Richard and Kahlan Novel", takes place immediately after Confessor, but is not connected to the Myth Arcs of the previous series. The First Confessor is a self-published e-book which features events in the backstory of the main series.
The Law of Nines (2009)
The Omen Machine (2011)
The First Confessor (2012)
The Third Kingdom (2013)
Severed Souls (2014)
Warheart (2015)
After the conclusion of Warheart, the main series ended. However several side characters received a spin-off series of sorts, titled The Nicci Chronicles. That series follows the adventures and tribulations of Sister Nicci and Wizard Nathan.
The TV adaptation, called Legend of the Seeker, has its own page.
Links:
---
Richard Cypher is a woods guide living in a mostly-pastoral nation called Westland, cut off from the rest of the world—known to them as consisting of two other lands, called the Midlands and D'Hara—by a magical boundary that is in fact a window to the underworld; all who enter it die. After coming upon an "odd-looking vine", he spots a mysterious and beautiful woman who appears to be chased by four armed men. Offering to help her, he finds she is being trailed by assassins.
She explains that she has come in search of a great wizard, who supposedly came to Westland years ago, to help defend the Midlands against a man named Darken Rahl, who hopes to bring all the world under his dominion. Richard knows that what she says is impossible; nothing can get through the boundaries, and Westland doesn't have any magic. Yet he has never seen a woman like her, nor men like those hunting her. He decides he should take her to Zedd, a slightly crazy old man who is like a grandfather to him, and who always seems to know everything that goes on...
As you might have guessed, Zedd does, indeed, turn out to be the wizard, and the three characters team up to stop Darken Rahl before all is lost. Richard is given the titular Sword of Truth, which uses the power of its user's personal anger to strike down enemies.
The two first books, Wizard's First Rule and Stone of Tears, are fairly standard fantasy fare, complete with dragons, an evil wizard out to rule the world, the discovery that he wasn't working for his own sake, a potentially world-ending plot, a magic sword, a wise old wizard, a mysterious woman with strange powers, and a gratuitous S&M sequence. For a long time some people thought Goodkind was ripping off Robert Jordan, as his stories contained many things that had exact counterparts in Jordan's novels. From the third book on, things get slightly less derivative, with the introduction of a new Big Bad and increasing focus on Richard's struggles as a leader. By the fourth book the plot is still pretty standard but starts going under its own power.
Around the fifth book, Goodkind began introducing overtly Objectivist themes and aesops inspired by Ayn Rand in the Sword of Truth. Things went overboard in the eighth book, Naked Empire, which contains the infamous evil pacifist plot. The last three books, collectively called the Chainfire Trilogy, brought back plenty of the early themes and events of the series, and Confessor, the last book, was specifically one huge throw-back to Wizard's First Rule.
Goodkind has stated a distaste for cliffhangers and other ways of forcing people to buy future books, which is why, aside from the Chainfire trilogy, the books have mostly self-contained plots; some new danger is introduced, the characters wonder about its meaning, and it is defeated. However, all of these book-plots are tied by the Myth Arc of either the Imperial Order or the Keeper of the Underworld.
There's also a spin-off book, The Law of Nines, which follows a completely different cast of characters and shifts genres from High Fantasy to a contemporary thriller with fantasy elements. It takes place in the magic-free world created at the end of "Confessor", the inhabitants of which developed technology to replace the magic they had lost. The story follows the exploits of Alex Rahl, a distant descendant of Richard's half-sister Jennsen, whose life is changed forever when he meets a woman named Jax who claims to be from a parallel universe where magic still works.
Now has a character sheet.
---
This series provides examples of:
Amazon Brigade: The Mord-Sith, who are the sworn protectors of Lord Rahl, as well as his expert torturers. They perform... other services for him, they act as his bodyguard, are capable of beating up squads of elite soldiers without breaking a sweat, have a magical torture device / weapon / awkward phallus thing called an Agiel, they're made via a truly horrifying Break the Cutie indoctrination process, are probably the second most feared thing in all of D'Hara, only behind the Lord Rahl himself... oh and they can capture your magic and then use it to torture you. They've driven one member of the main cast insane.
A Million Is a Statistic:

Zedd detonates a light spell with similar power to a modern nuclear weapon in the midst of the Imperial Order's gigantic army. The resulting explosion kills an estimated 500,000-1,000,000 soldiers of the enemy army, though there's more where that came from. Though the Imperial Order has always considered Zedd (and Richard Rahl, who he was acting on behalf of) to be the epitome of evil (and more so afterward), Zedd is not bothered by what happened because the soldiers killed were all faceless enemy thugs of an invading army intent on killing him and enslaving/raping everyone on the continent.
Zedd's attitude toward murdering a large fraction of the world's known population in the backstory (before the rest of the continent was revealed to also have people in the third book) and burning up their souls to fuel two thousand-mile-long hellmouths to serve basically the same function a ten-foot wall could have filled is essentially "meh, worth it".

Animal Eye Spy: Slides have an ability to look through animals' eyes and hear with their ears when sending people's captured souls into them.

Nicholas used this to always stay one step ahead of Richard until he figures it out.
Badass Normal: Chase, consistently described as wearing a small armory (he had to actually dress down in order to infiltrate an enemy camp), knowing how to use every weapon he has to great effect, and is probably the deadliest non-magical person in the whole series.
Balance Between Good and Evil: Ann says to Richard at one point that she believes getting rid of the Keeper (who embodies death and is the main Big Bad in the early series) would not be a good thing, unlike the view other Sisters of the Light have. She explains that without the Keeper nothing would ever die. Very soon there would be no room for anyone in the world and they'd be left as utterly miserable immortals forever. She warns him never to tell anyone about her view, because many would consider it heresy and proof that she's a servant of the Keeper herself.
Black-and-White Morality: The heroes are good and noble, and always right, while the villains all Kick the Dog like they're in an international dog-kicking competition. Or at least, that's how the author intends it. To many readers, it comes off as more Black-and-Grey Morality, given how ruthless the heroes can be (using torture, massacring people etc.) if not Evil vs. Evil at times.
Black Eyes of Evil: Emperor Jagang's "nightmare" eyes are black and sign of his evil. When any Dreamwalker is experienced enough, their eyes turn, as "the mark of a Dreamwalker."
Black Magic: Magic is defined as Additive and Subtractive, with the "magic sand" for Additive magic being pure white and for Subtractive magic being as black as space. Subtractive magic can also be granted only by making a Deal with the Devil by the time of the books, though in the past it was available to most mages and neutral. While it destroys things (in contrast to Additive, which creates them) it's not inherently evil. Rather, Subtractive's issue is due to its source, and it reemerges in a neutral way after Richard's born with both.
Brainwashed:

The effect of Confession. Anyone who undergoes it loves the Confessor who does it without limit over the rest of their life, will do anything they're ordered to, and die from grief without them.
Mord-Sith are tortured and forced to kill so they'll serve as fanatically elite bodyguards/torturers of the Lord Rahl.

Breaching the Wall: There were two cases of magical barriers put up in order to stop a war. The first is broken by the Big Bad of the first book in order to have an easier time conquering and looking for the McGuffins, the second is deactivated by the protagonist so that he can stop The Keeper from breaching the barrier between life and death, destroying everyone.
Break His Heart to Save Him: This is how Kahlan persuades Richard to go away with the Sisters of the Light in Stone of Tears. Later, when Richard has to do the same thing to his pet gar Gratch, he realizes what Kahlan was actually doing.
Lotus-Eater Machine: The boundary separating the New World from the Old World works like this, tempting those attempting to travel through it with their hearts' desire. It also appears to keep people alive when it traps them, since

when Richard brings down the boundary, dozens of people who've been stuck there for years are finally freed

.
Luke, I Am Your Father: Richard Cypher's real name is actually Richard Rahl. He is a Child Of Rape by Darken Rahl, and has inherited his kingdom and magical powers. Neither of them knows this until Zedd reveals it.
---