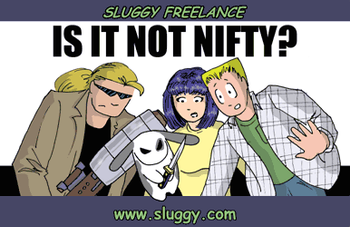 "This here's my comic. Is it not nifty? Worship the comic."
— Original Tagline, later providing the titles for the first two compilations
Sluggy Freelance
by Pete Abrams is one of the longest-running (since August 25th, 1997) and most popular Webcomics out there. It mostly revolves around the doings of a core cast, which conveniently form a Five-Man Band plus two cute talking animals.
In its time, it has shifted from being a simple gag comic with rather short arcs to a complex tragicomic tale of friends living in a mad world mixing elements from just about every genre, trying to find fulfilling lives in it, and occasionally heroically and/or humorously saving it. It has helped create or popularize a ton of webcomic tropes, and it repeatedly hangs lampshades over every single trope it uses, and subverts a few dozen more.
Since it has been publishing mostly daily since 1997, there is quite a bit of material to digest, but its continued popularity has never been questioned, even by those who don't make it a daily read. However, it can be a prime source of Archive Panic for newcomers, so much so that even long-time fans can be a bit intimidated by the idea of an Archive Trawl. For new readers, it's probably best to start at the beginning and ignore the current arc until/unless you actually get there.
As the comic's 20th anniversary on August 25th, 2017 approached, Pete announced that he would try to wrap up most ongoing storylines by around then and would not continue doing the comic in its current form. As it turned out, the webcomic did continue, but with a less frequent and regular posting schedule, as well as a new site layout and a new version of the optional paid subscription system.
This comic has a character sheet.
---
This comic shows examples of:
open/close all folders
A-C
D-F
Don't Ask, Just Run: You don't question Code Boom.
Doom Magnet: Most random minor characters whom the gang gets acquainted with die in their current adventures (see the "K I T T E N" storylines, for instance). They really aren't the best people to know. Basically, any character the gang meets either joins the main cast (or at least the recurring cast), or dies; they can't just fade back to obscurity. Subverted by Kent who just vanished after one of the vampire arcs. Other characters also pay in other ways for associating with the gang. For example, Leo ended up getting hurt after he ate food whose weight couldn't be shed, leading him to be unbalanced for his cannon and Broadman lost his job at the radio station after he got blamed for a cow stampede that Riff started.
Early-Bird Cameo: Two of the main characters in Chapter 68 get these. Dr. Vistuvius first appears in a single panel of Chapter 67 as a potential ally to the heroes, at which time they decide not to make contact with him. Sylvia's role in Chapter 8 goes little beyond Nominal Importance, and it's easy to miss that, unlike her fellow vampires, she isn't shown being Killed Off for Real after her Non-Lethal K.O.. It's nevertheless a long time between her appearance then and her adventures in Chapter 68 (synchronous to Chapters 66 and 67).
Empathy Pet: During the Anima arc, the gang gets stuck in a dimension where the souls of all sapient life manifest a symbolic creature called an "anima" representing their current feelings. This makes deception impossible for most people, with the exception of the bedeviled, who possess corrupted animas. As a result, it is one of the friendliest and most peaceful dimensions that gang has ever visited, at least when it comes to sapient folk interactions (the wild natural fauna on the other hand included deadly giant monsters). The gang still manages to get themselves chased out of society by a torch-and-pitchfork angry mob, several times.
The End of the World as We Know It:

According to the Fate Spiders, the Great Tangle will cause reality itself to break down if its not fixed.
In the Anima dimension, evil people figured out how to invoke Your Soul Is Mine!, allowing them to increase their psychic power by killing other people and stealing their animas. They annihilated most of the population stealing animas, bringing the about the downfall of their entire civilization and continued to hunt people down even afterwards. The situation got so bad that it was ultimately only resolved via Divine Intervention, when the goddess in charge of their world (i.e. the last survivor of the anima wars) was forced to rewrite how the entire anima system worked.
Fate Worse than Death:

Zoë, if we believe Rammer.

After the events of 4U City Red, we learn that she *IS* alive

as a permanently comatose vegetable, since the nanites had no mental snapshot of her... and simply rebuilt her body... with no mind inside.

Fantasy Kitchen Sink: All sorts of legends from various sources are referenced, and parodied.
Fictional Video Game: Several; the Fashion Rancher series on the PlayStayshun, the PC MMORPG Years of Yarncraft, the smartphone casual game HamsterNom, and Super Duper Dream Fighters, apparently the result of demons doing an in-universe defictionalisation of Torg's Fighting Game dreams.
Fun with Acronyms:

'Notification of Unified Kindness' Envelopes as the ultimate weapon within the Dimension of Peace.
From this strip: Recording Editable Content Application Peripheral.

OASIS

turns out to be one as well.

Future Self Reveal: Hereti-Corp executive Dr. Newguy, never seen without a bag over his head, attends a time-flux experiment upon disgraced agents Drake and Tyler. Tyler gets zapped first, ending up in the past, where he leverages his knowledge of anime futures to build a new identity with a doctorate and a diagnosis of extreme rosacea: Dr. Edris Ilba Newguy. He then escapes with Drake before she can be subjected to the horrifically painful experiment too.
G-H
I-L
It Tastes Like Feet: Torg thinks Gwynn's blue-cakes taste like a giant pink eraser without the added teeth-cleaning effect. Riff thinks it's more like shoe-leather with a rotting foot still in the shoe, and an aftertaste of BS.

Gwynn: Don't hold back, guys. Tell me what you really think.

James Bondage: Who are we rescuing this time? Riff or Torg? Either one will end up stuck in Another Dimension, or trapped by some Big Bad. Zoë/Gwynn/Aylee/Kiki to the rescue!
M-R
Noodle Incident: Just what did happen between Bun-bun and Santa that necessitated the use of the first Deus Ex Ovum and Bun-bun's ejection from the time stream? And more importantly, when did it happen?

Operation Red Durango...for now.

Not-So-Harmless Villain: The demons of the Dimension of Pain are comically inept and prone to petty bickering...and are also absolutely deadly, as seen in That Which Redeems. This results in a lot of Mood Whiplash.

Dr. Schlock, too. He serves as a Butt-Monkey from his very first appearance, yet can still be a potent enemy.

Nostril Shot: In the strip where Bun-Bun ends up shoving the camera up Torg's nose.
The Nudifier: What to do with a swarm of clothes-devouring moths? cCe the meeting of the Young Republican Women's Assembly...
Obfuscating Stupidity:

If Crushestro is to be believed, Minion Master has this trait, pretending to be manipulated by Torg while really using Torg to knock down other evil organizations so that Hereti Corp can pick them up.

It seems not, as we now know that it's Izzy (at least according to what she said) who is in contact with Hereti Corp.

Torg pulls this on Crushestro [[Spoiler:while they're working together as part of the Alliance]]. Crushestro recognizes this and is impressed, but doesn't realize that Torg is doing it also to distract Crushestro from his new teammates.

Obviously Evil: Advisor Magon in the Storm Breaker Saga, lampshaded by Torg:

Torg:

Hey

Ming

! Let me guess: skull-cap,

Fu Man Chu mustache

,

just stabbed a buddy in the back for knowing too much

....

BAD GUY

, right?

Magon:

I prefer the term "morally challenged".

Older Than They Look: A major reveal here. The details still haven't been revealed.

This really applies to the entire cast to some extent. Given the comment made in the first year about Torg and Riff having a tradition of giving each other beer for Christmas, they had to be at least 23 when the story started in 1997. Adding in the fact that due to holiday related events we know that real time and Comic-Book Time roughly line up, that would make them at least 37 in 2011. They haven't noticeably aged at all, much less appear to be approaching 40.

Ominous Multiple Screens: Hereti-Corp's offices. Lampshaded with comments about why the room is so dark if it has so many bright screens in it.
The Omniscient Council of Vagueness: Several over the years, but Hereti Corp's executives is the most common.
Once More, with Clarity!: Occasionally the reader is out of the loop for the real plans. As the final plays are revealed, a few strips will usually be devoted to recapping the planning phase with new panels showing new information. Examples include the plan to rescue Sasha from

Monicruel

, Riff's last resort when raiding Hereti-Corp (

Aylee

), and the reveal of the Black-Ops Elves' plan to make

Torg

their leader.
Once Per Season: For some years it was the case that every Halloween, the Dimension of Pain would send a demon to try and kidnap Torg, and every Christmas Bun-bun would try to murder Santa Claus. Both these were eventually resolved in the storylines "That Which Redeems" and "Holiday Wars" and thus do not happen anymore.
Only Known by Their Nickname / Only One Name: Torg and Riff. Riff prefers it, since his one name doubles as an Embarrassing Middle Name (Hellooooo Riffington..!) The Unreveal of Torg's last name is a running gag in the Harry Potter spoofs.
One-Steve Limit: There isn't one. In fact, we have Dr. Steve, Steve Uozin, and Steeeeeve.
Orphaned Punchline: In the third-to-last panel of this strip, Bun-bun (who is narrating this arc) guarantees that the comic will not end with a punchline. The next panel then has him being handed a "breaking news bulletin", which contains the punchline to a well-known joke, whereupon Bun-bun states in the final panel, "I stand corrected."
Our Demons Are Different: There are several different varieties, each with their own rules. All varieties lean towards Always Chaotic Evil. Even the rare exceptions are infused with evil power.

Most of the demons of the Dimension of Pain are implied to be descendants of mortals who were corrupted by the Spear of Callmadar. They are effectively mutants with infernal powers and happen to be Too Kinky to Torture. The Demon King who rules the Dimension of Pain on the other hand, is more like a God of Evil.
The standard demons of the main universe are spirits from another realm. Most of them are called "Possessors" and are limited to controlling a host via Demonic Possession. Manifestors can channel magic through their hosts. "Emergent" are the rarest type of demon. They can manifest physically without the need for a host, though they still have the option of taking a host if they want it.

K'Z'K was originally the god of destruction, but was converted into "merely" an ultra powerful Emergent demon. This gave him the power to possess people.
K'Z'K's demonic followers are spirits without physical bodies of their own. Instead, they possess mortal bodies and are able to channel their individual powers through them.
Imps are a particularly weak and foolish type of demon, but they are nevertheless Emergent. One man manages to trick and bind one, Ozzid, to serve as a Power Source for Powers via Possession.

At one point, Gwynn makes a Deal with the Devil with a group of demon soul merchants. They do not have physical forms, but they are Reality Warpers at the power level of a Physical God.
Satan has been described as a devil, in contrast to a demon.
Gwynn describes a flower monster that enslaves the dead as a demon.

Our Gods Are Different:

Multiple pantheons have appeared, but the one most central to the story are the gods of Mohkadun. The One created Prozoato and Kozoaku as the gods of creation and destruction respectively. God empowered one of Prozoato's creations, Khronos, to become the Anthropomorphic Personification of time to stop Kozoaku from destroying Prozoatu's creations before he is meant to. Khronos empowered several additional mortals into godhood to serve as role models against Kozoaku's influence. It has been heavily implied that Bun-Bun is actually an Amnesiac God from this pantheon, the God of Power. The gods of Mohkadun vary greatly in magical power, ranging from merely superhuman strength and endurance to the power to cause Time Stands Still or a massive Zombie Apocalypse. They do not age and are very tough, but they can be killed. But only by an empowered Chaz.
Eventually, most of the gods of Mohkadun are Depowered into Holidays. While they remain The Ageless, it is entirely possible to kill them by ordinary means, and they lose most of their powers.
There has been reference to the Greek gods, such as Zeus and Poseidon, who were involved with the Holidays but eventually waned.
The Dimension of Pain features the Goddess of Goodness and the Demon King.
In the Anima Dimension exists a Deity of Human Origin, Troloria, who more or less became a psychic Physical God by devouring every living soul in her world, leaving her as the Last of Her Kind.

Our Vampires Are Different: Three different types of vampires, summarized briefly here. For more detail see Vampire Variety Pack.
Our Zombies Are Different:

Jane's variety of zombies are immortal beings who rely on regeneration. The catch is that their regenerative state is highly selective and completely dependent on what they consume. For example, eating eyes will keep their eyesight from deteriorating while eating brains will allow them to retain their intelligence and cognitive abilities. In addition, being bitten by a zombie will not turn a person into one.
Whenever someone dies in a location under K'Z'K's power, their body rises as what K'Z'K calls a "Deadel". They retain some of their old personality and can potentially even talk, but are essentially corpses who act according to the bidding of their master.
Some Technically Living Zombies appear in the Living Conditions arc, when brain eating bugs disrupt the balance between social skills and scientific genius so badly that the newly created super nerds start acting like zombies.
There is a type of zombie-like creature referred to as "Ghouls," which are

actually aliens, belonging to Aylee's species.

In The Road to Bjorkea, Torg and Gwynn discover an even stranger type of zombie created by a flower demon. Anyone who dies within a certain radius of the flower demon gets stuck in their bodies instead of moving on to the afterlife. After unspecified conditions are met (speculated to be exposure to sunlight), their undead corpse starts converting into a plantlike monster, but the victim retains its freewill. However, they become prone to anger. If they are sufficiently enraged, it burns out their soul, making them into the flower demon's slaves and dealing them a Fate Worse than Death.

Overly-Long Gag: Dr. Viennason explains the dimension of timeless space by illustrating what happens when you run out of time supplies. By standing perfectly still for thirteen panels. Although he breaks it to surreptitiously glance at the camera if you look carefully in the tenth panel. The same trope is used for a whole sixteen panels in this Gofotron battle.
Paper-Thin Disguise: A popular gag. Aylee does it here, the angular "Clockjerk Dudes" robot bodies always seem to fool everyone, it's used as a Description Cut joke here where we are primed to expect one of Dr Schlock's very realistic inflatable decoys, but in fact The Men in Black are fooled by an obvious small balloon.
The Parody: Very many over the years. A few examples:
Parody Name: Many, almost invariably of the Punny Name variety (see below).
Pass the Popcorn: Aquired by Torg from the Wondrous Ladies Room to watch Sasha and a nearly naked Monecruel duke it out.

Also note that one of villians had been stopped cold by the door of the same ladies room.

Paste Eater: Zoë does it here. "Pashe ish yummy!" Minion Master also eats paste when as an adult.
Perfect Pacifist People: Mocked with the inhabitants of the Dimension of Lame, who think food fighting is immoral and crumble over the slightest bit of external pressure.
Perfectly Cromulent Word: In trying to come up with his new name, You-Probably-Don't-Know-Who ends up anagramming his name to "I'm a slorddly tampon". Lucius says that slorddly's not even a word, but William Wotcherclaws says that if the master says it is, then it is and then uses it in a sentence one comic later.
Personality Powers: According to a spellcaster named Marco, every spellcaster has a type of magic they are particularly good at. As a result, one's spellbook tends to be filled with spells that reflect their personal strengths. Due to being kind and compassionate, Marco's spellbook is filled with happy and positive magic.
Pet the Dog:

[Subverted] by Bun-Bun, who appeared to be mailing Kiki to Alaska out of the goodness of his heart (and for laughs), but was actually using her in a scheme to conquer Halloween.

The Pig-Pen: Taken to comically ridiculous levels with Doctors Bill and Phil, the Creepy Cloner Geeks, in the Living Conditions storyline.
Pirate: Subverted in one occasion, when they all turned out to be highly intelligent scientists stuck in a space between dimensions after failed time travel experiments, and roleplaying as pirates kinda became traditional because so many of the people trapped there were massive nerds.
A Pirate 400 Years Too Late: Kiki, Bun-bun, and a little girl play at being pirates in a small boat. Unfortunately Bun-bun, being Bun-bun, tries actually thieving and murdering.
Please Put Some Clothes On: In this strip, Sasha casually takes off her clothes in front of a hot and bothered Torg. "I'm looking the other way while you get naked but throwing your bra at my head is not helping!"

And in the aftermath of the "Aylee" chapter, when

Aylee reveals that a) that's not a dress, it's her wings wrapping around her, and b) she's become so human she now has "human female naughty parts" underneath.

Poor Communication Kills: Usually with Reakk from the Dimension of Pain mishearing orders. Also, Drs Bill and Phil from Clonegressive Inc misheard orders from their superior that led to a (small-scale) zombie apocalypse in "28 Geeks Later".

And dimensionally-misplaced minions Blinky and Clyde are told to find a village's most chaste maiden to feed to a dragon but mishear it as "chased" so they find the village slut and the dragon gets angrier.

Pop-Up Trivia: Dr. Viennason's Guide to Timeless Space comes with "Pop-Up Cudbitz". Unlike real-life implementations, these bonus facts are printed on actual signs that dangle next to Dr. Viennason as he presents his wisdom for the video recording, and he doesn't quite conceal his disgust when they are insulting to him (which happens surprisingly frequently).
Powers via Possession: Demonic Possession is a battle of wills between the demon and the human they are possessing. Generally speaking, the demon's will is stronger, but it is possible for a human to force a particularly weak demon into possessing them so that they can siphon off the demon's magic for their own purposes.
Pragmatic Villainy: A majority of the Strakoi vampires agree to unseal K'Z'K in return for the destruction of all other vampire types. One of them points out that driving humanity to extinction will reduce their food supply, but is overruled since most of them are confident this has been accounted for.
Pride: The author of the Book of E-Ville came up with a clever plan to keep K'Z'K harmless and hidden for a long time. But unfortunetely, his successor, his daughter, was filled with pride, and disobeyed every single last one of his Last Requests in her arrogance. She filled the Book of E-Ville, which was intended to be a Spell Book of useless spells, with highly dangerous ones. Convinced that she would live forever, she made fun of her descendants as losers and failed to prepare them to take up her own duties. After she died a sudden and unexpected death, the Book of E-Ville fell into her granddaughter's hands. Her granddaughter, clueless and naive, knew nothing of the Book of E-Ville's true nature and was tricked into ruining much of the author's plans just before the Book brought her own demise and put an end to their line.
Pronouncing My Name for You: Dr. Haught-Sheik's name is mispronounced "Hot-Chick" and "Hoochie" by other characters, much to her annoyance.
Psychic Powers: The Anima Dimension's electicity magnifies the synapses, resulting in all sapient beings having an Empathy Pet. It is possible to use one's Empathy Pet to interact with other peoples' minds.
Punctuated Pounding: "I! CAN'T! LOSE! HER! AGAIN!"
Punny Name: Everyone apart from the main cast. Particular mention goes to the inhabitants of the Punyverse and of Torg Potters' wizarding world.

The book of E-ville [Elizabethville, Pa.]

Really 700 Years Old: Some of the vampires, including Lysinda, Valerie and Philinnon (who is said to be old even by vampire standards, originating around 400 BC).

Oddly, Philinnon is a "vrykolakas", which really is a Greek vampire...but its name is a Slavic loan-word (originally meaning "werewolf"), borrowed in the Byzantine era. Of course, it's entirely possible Philinnon and company were just called something different back then.

Real Men Wear Pink: Bun-bun once wore a lavender dress. And it was awesome.
Reassigned to Antarctica: When Riff tried a "normal" 9-to-5 job he was transferred to Nome, Alaska because he'd threatened to sue them if fired (beats getting transformed into a gnome).
Reckless Gun Usage: Alt-Bun-bun invokes this trope, enough that Torg yells, "Quit pointing that empty gun at me, it's not really for making points in conversation!" Justified since Alt-Bun-bun comes from a dimension without guns (or much in the way of violence at all).
Red Herring: Often, due to the serpentine plots.

Early on, the viewer was meant to think that Bun-bun had been killed when Santa blew up his booby-trapped workshop, and his vengeful spirit had come to the Dimension of Pain. It turned out that the spirit was in fact the elf Mr Squeekybobo, who had died in the same attack, and Bun-bun was in a cage somewhere with Laser-Guided Amnesia.
The dimension where Torg flees with the giant Aylee is infested with zombie-like creatures who, we are led to believe, are the result of Kesandru's Deal with the Devil Rithuly. The Reveal has Torg realise that they have nothing to do with Rithuly -

they're Aylee's race

.
The letters 'ROKEN' behind Oasis in the photo made most readers think it was a cutoff of 'BROKEN', which was indeed the name of a later arc...however, said arc revealed (in a slight cop-out) that it was in fact a cut-off of PYROKENETICS - misspelled by an illiterate sign painter.
Red Shirt: When you hear that there's someone named Bitparte in K I T T E N I I, you just know he won't survive until the end.

Parodied in one of the stick figure fillers (IN SPACE!), where wearing a red shirt makes you a magnet for random gunfire.
Also parodied during Aylee's first appearance.

Torg: Wow! It knows to go after the extras first!
S-T
U-Z
---