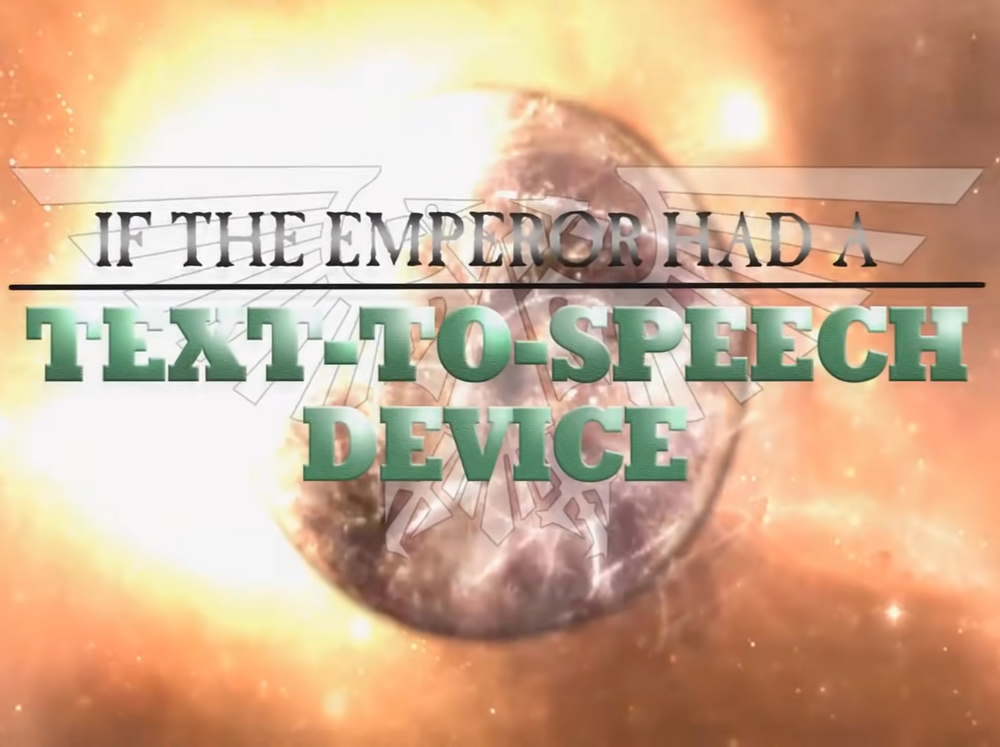 The Custodian:
My divine lord, we have managed to implement a text-to-speech device into your glorious Golden Throne! Please, lord,
speak
to us!
The Emperor:
[garbled noise]
ABOUT FUCKING TIME.
The Custodian:
At last! Our glorious lord can command us once agai—
The Emperor:
I HAVE SO MANY THINGS TO COMPLAIN ABOUT.
If the Emperor Had a Text-to-Speech Device
(informally abbreviated to TTS by fans) is a series of online videos made by Bruva Alfabusa, asking the question of what exactly would happen if the Emperor of Mankind could ask about the current state of the Warhammer 40,000 universe. Hilarity ensues as the Emperor proceeds to have some... colorful critiques about the universe as well as its numerous Retcons over the years, and begins some changes.
The story follows the Emperor as he tries to "unfuck" the galaxy, his personal caretaker "Little Kitten" (and later others) as the other half of a Double Act, and intertwined subplots such as the Inquisition trying to enforce their own martial law on Holy Terra. Initially, the series mostly focuses on a kind of "question per episode" format, with the Emperor as a Fish out of Temporal Water Catching Up on History, either asking or answering a question about the setting in rather colorful language (such as what the hell the Warp is), though slowly the overarching plot begins to emerge. It's a very comedic take on the 40k universe, though itself can serve as an introduction to its complex lore.
Each season is composed of ten episodes. Season 2 has been completed with help from Karl the Deranged
. Season 3 began with a two episode premiere on March 3rd, 2016. In October 2017 the series saw a small spin-off called Brotrip 40,000 depicting the journey of Corvus Corax and Vulkan as they make their way to Terra, stopping to see the galaxy as they go. The series occurs in the same universe as Karl the Deranged's series "Chaos Descends" and Eliphas the Inheritor's trilogy "Behemoth
". Now has a Recap page.
On July 2nd 2020, a new Actual Play side series, called "WarHams", debuted following the adventures of four low-ranked members of the Bro Trip crusade, via games of Cubicle 7's edition of Wrath and Glory. Following Captain Zedek, the (incredibly alcoholic) leader, Reeb Van Horne, an Inquisitorial Acolyte, π-Braine, an Axe-Crazy Skitarii ranger, and Lorn, a half-senile Fenrisian sanctioned psyker, the quartet travels from planet to planet on their dubiously-reliable ship the Debt Collector, trying to gather resources and allies to fund the Crusade, in hopes of winning coveted "points" with their leader, the food-obsessed Minister Moderatum Katje Van Noord. This being the TTS universe, the WarHams soon find themselves in wacky adventures that they hope they can navigate successfully, and hopefully with all their limbs intact.
On July 29th 2021, Alfabusa announced
that the series is on indefinite hiatus due to Games Workshop establishing a zero tolerance policy
on fan animation. This ended the series, so far, at episode 30 part 2.
On December 18, 2021 Alfabusa released a new animated video not based on Warhammer 40,000, but on Hunter: The Reckoning, called Hunter: The Parenting with the core TTS ensemble becoming a Universal-Adaptor Cast, this time portraying a clan of Hunters lead by The Big D.
---
If the Emperor Had a Text-to-Speech Device provides examples of:
open/close all folders
Tropes A to M
Accent Adaptation: Magnus is given an Australian accent, though this was entirely by accident as the voice actor was trying for a British accent. This led to an in-joke in the TTS cast about him being Australian and it has since been declared a Prosperan accent.
Action Figure Speech: The only way the characters are indicated talking is by shaking the clip-arts around, sometimes to exaggerated effects. With the exception of the Emperor, of course, who can't move at all since he's a skeleton. (Instead, his speech is hinted by his eyepiece glowing.) As of season 2, some characters have their artwork articulated to let them gesticulate. Lampshaded in Short 7 when Kitten is unable to place his hand on an Ouija board because his hands are drawn grasping his weapon.
Actor Allusion: An In-Series variant; Asdrubael Vect and the Emperor (Whenever he isn't using the TTS device, which is usually only in flashbacks or when he's in psychic vision form) are both voiced by SpeakerD. That lends a certain subtext to this line.

Vect

:

It is time for two Emperors...to meet.
Tropes N to Z
---
---