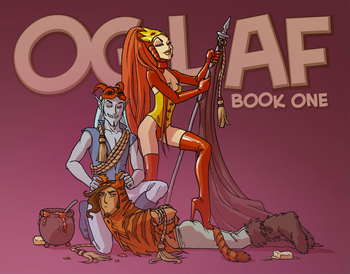 "This comic started as an attempt to make pornography. It degenerated into sex comedy pretty much immediately. Even so, there are some things depicted that are best kept away from children and work. Please click on the button below to certify you're over 18. Of course, if you
are
under 18, you can't legally certify anything. So if you're a minor, please get a parent to click the button which says you aren't. Thank you. (Taking moral advice from cartoon characters is probably a bad idea.)"
— Opening disclaimer
Oglaf
is an often seriously NSFW webcomic by Trudy Cooper and Doug Bayne. Most of the episodes (called "stories") are single non-sequential pages, though some stretch out longer; the very first one was eight pages long. The comic started out as a gag-a-week work, but slowly started including longer Story Arcs, most of the time focusing on Ivan and his never-ending torment at the hands of Mistress and Sandoval, the Ambassador of Xoan. In addition to this there were the misadventures of Navaan, a sex-starved vampire who became a Back-Alley Doctor, and Grier, a no-nonsense lesbian mercenary. These arcs appeared to be (very) slowly coming together into a single overarching plot until they didn't and the series went back to its gag-a-week format.
Just a note: Click "Next page" to see the next page of a story. "Next story" to see the next story. The last page of each story has a small diagonal cutout at the bottom right-hand corner. Also, some stories have an epilogue that is behind a separate link.
Most strips are very NSFW; the strips that are work-safe are the ones slapped with a warning label. However, the comic also features many gags that are quite innocuous or just "immature" (beware of comics with labels like 'safe-ish', 'semi-safe' or 'safesque', however — they tend to be ones that are modest by Oglaf standards but questionable by work standards).
Definitely not to be confused with Olaf the Snowman, Count Olaf, or Olaf One-Eye.
Because the site has an SFW "Do you really want to see this content?" page, we allow links to the site, but do not link directly to NSFW comics.
---
Oglaf provides examples of the following tropes:
open/close all folders
A-B
C-E
F-I
J-O
P-S
T-Z
---