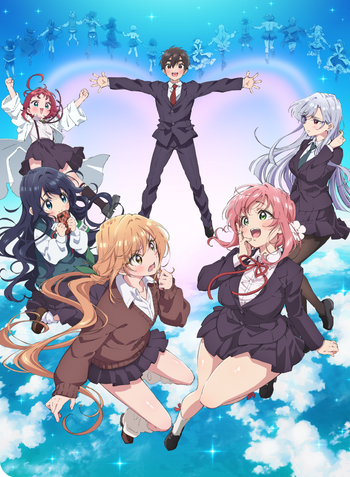 Yes, you just read the title correctly
.
The 100 Girlfriends Who Really, Really, Really, Really, Really Love You (original Japanese title: 君のことが大大大大大好きな100人の彼女 Kimi no Koto ga Dai Dai Dai Dai Daisuki na Hyakunin no Kanojo) is a serialized manga written by Rikito Nakamura and illustrated by Yukiko Nozawa in Weekly Young Jump. The first chapter debuted on December 26th, 2019.
Rentarou Aijou has experienced 100 heartbreaks in his short life. While praying in a shrine, the God of Love appears, saying that due to a clerical error Rentarou will meet 100 soul mates in high school. However, anyone who fails to fall in love with their soulmate will lose all luck and die a tragic death. Now it's a matter of love or death, and it's up to Rentarou to decide.
Seven Seas Entertainment licensed the series for English release starting February 2022.
An anime adaptation was announced in March 2023, premiering on October 8th of that year.
A light novel short story collection written by Hamubane with illustrations by Yukiko Nozawa was released in Japan in July 2023.
Has a character page here and a recap page here.
---
And so, due to how things panned out, would you guys mind accepting these tropes as having their own pages...?!
<!—index—>
<!—/index—>
So, these are the tropes of a wealthy family...
open/close all folders
A-C
D-G
H-K
L-O
P-R
S
T-Z
---