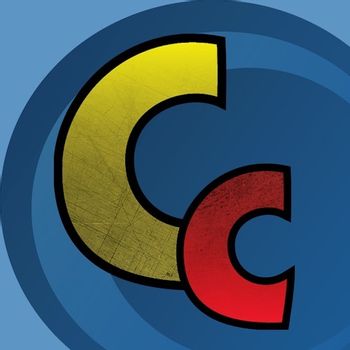 Click here to see the current LP's logo
"Hey everybody, it's Chuggaaconroy! Welcome back for more TV Tropes!"
Chuggaaconroy
(real name: Emiliano Rosales-Birou) is a Let's Player with over 1.2 million subscribers. He is known for his high production values, regular update schedule, lighthearted and (mostly) family-friendly approach to games, his propensity for catchphrases and running gags (usually based on internet memes), his impressive lung capacity, his hilariously bad puns, and overblown reactions to things that happen throughout his playthroughs.
He's also collaborating with ProtonJon and NintendoCapriSun on a collective LP account, known as The Runaway Guys.
Every game he has LP'ed to date has been available on Nintendo's systems; with the exception of Ōkami, Ōkamiden, Sonic Colors, and Chrono Trigger, they've all been Nintendo first-party titles. He has played at least one game on every major Nintendo home console and handheld, including six on his personal favorite, the Nintendo GameCube. He is known for his opposition to emulation, though he had to bend this personal rule to LP MOTHER which wasn't available in America at the time and Mother 3, which still isn't. He started out doing exclusively RPGs, but beginning with Super Mario Sunshine, he started doing other genres as well, such as platformers.
He is also a big fan of the Mario series. Thus far, he has LPed ten Mario-related games: four of the main-series platformers (Super Mario 64 DS with some parts of the N64 game included, Super Mario Sunshine, Super Mario Galaxy played as Luigi and thus referred to as "Super Luigi Galaxy", and the long-awaited Super Mario Galaxy 2), Super Mario RPG, three of the Paper Mario games (Paper Mario 64, Paper Mario: The Thousand-Year Door, and Super Paper Mario), two of the Mario & Luigi series (Mario & Luigi: Superstar Saga and Mario & Luigi: Partners in Time), and spin-off game Luigi's Mansion and its sequel, Dark Moon. ProtonJon has additionally stated in a livestream that Chugga is considering a playthrough of Sonic Adventure 2, but thus far no definite plans have been revealed for that game. The Runaway Guys have also done several Mario games like Mario Party, New Super Mario Bros. Wii, New Super Mario Bros. U and New Super Luigi U.
After more than two years at it, he became a YouTube Partner, which was unprecedented among Let's Players (multiple others have since become partners), due to the legal "gray area" that showing game footage entails. He was also part of a collective of gamers called TheGameStation (since rebranded as Polaris), which looked to be shaping up as an alternative to Machinima.com, before he went independent some years later. Finally, he's well known for his work with The Speed Gamers, even appearing live at their home base for two separate marathons, the second of which was the first time since he started doing LPs that he's shown his face on the internet (he appeared wearing a mask in the first, and has since shown his face on countless occasions).
---
open/close all folders
Current/Upcoming LPs
Current LPs
Currently-Updating Bonus Content
Kirby: Triple Deluxe (Waiting on doing the multiplayer)
Various bonus content he never got around to doing
Completed LPs (Console Played) (Date Started - Date Completed)
Miscellaneous Playthroughs
Chugga Sticks It To Sticker Star
In a departure from his usual Let's Plays and the occasional skit, Chugga ended up created a series of videos on his least favorite
Paper Mario
game,
Paper Mario: Sticker Star
in a style that would be more expected on a
Video Game
Analysis Channel
. A breakdown of the game mixed with his usual brand of humor, the videos deconstruct and dissect all of the problems that plagued his experience, as well as expanding on his complicated feelings towards the shreds of genuinely good moments that evoke what Paper Mario had been in the past, and his extreme frustration at the numerous deeply flawed design choices that could have been avoided or mitigated.
---
---
His Let's Plays and other videos provide examples of:
A-B
C-E
F-G
H-O
P-S
T-Z
---