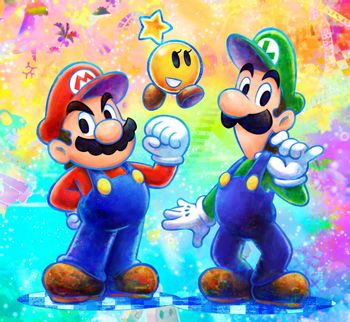 Mario & Luigi is a series of Eastern RPGs for Nintendo handheld systems, starring the eponymous Super Mario Brothers. It's the third Role-Playing Game series to star Mario, the first being the one-shot Super Mario RPG made by Squaresoft and the second being the Paper Mario series. Developer AlphaDream produced every title in the series up until their bankruptcy and closing in October of 2019, and every game thus far has featured a soundtrack composed by Yoko Shimomura.
On the surface, the games are fairly standard RPG stuff, with a field screen, a map, and a battle screen, equipment and items to collect, a smattering of statistics, and a suitably grand adventure. What sets it apart is how it integrates classic Mario elements into an RPG. The two leads are joined at the hip, the field screen is negotiated with platform action, and all sorts of action elements are added to the battles, up to elaborate "Bros" attacks which can be shockingly demanding. Enemy attacks can be avoided completely with proper timing and can even result in counter-attacks.
Also, as the title implies, Luigi, ever the Lesser Star in most Mario games, is given a much more prominent role here than in any other Spin-Off game other than Luigi's Mansion and its sequels. Many of the jokes revolve around his tradition of staying behind during Mario's other adventures and how hardly anyone knows who he is outside of the Mushroom Kingdom. But at the same time, he also gets to make a name for himself through his own heroics in each entry of the series, to the point where he eventually earns the remembrance of characters who start off unable to remember his name.
There are seven games in this series, two being remakes:<!—index—>
<!—/index—>
---
Tropes in the series as a whole:
---