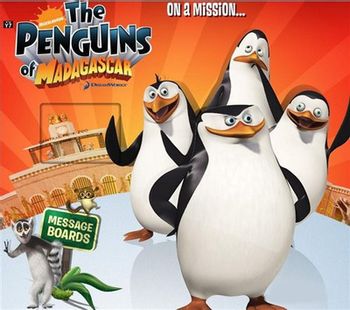 "Cute and cuddly, boys!"
— Skipper
A spin-off of the Madagascar films that aired on Nickelodeon. It is an All-CGI Cartoon featuring the penguins of the Madagascar film series (Skipper, Rico, Kowalski, Private), as well as the lemurs (King Julien, Maurice and Mort) in the main cast and chimpanzees Mason and Phil as recurring characters. A new character, Marlene the otter, is part of the main cast, and while various zoo animals are introduced, the main cast from the films are not shown at all (save for Alex in one of the TV specials and even then he's only as a hallucination of Skipper's). Private, Kowalski, Maurice and King Julien have all had their voice actors replaced with some names you might recognize just the same.
In it, the penguins and other aforementioned characters are all residents of the Central Park Zoo. Led by Skipper, the penguins deal with various missions within the zoo. At times, they are at odds with Incidental Villain King Julien, but at other times, he and the other two lemurs are needed to help in the missions.
The show is very much in an Alternate Continuity, but as its own vehicle, it manages to stand up rather well. The series premiere drew 6.1 million viewers, setting a new record for viewership on the network.
The spin-off debuted in 2008. After several years of success on Nickelodeon, the show was shafted to sister network Nicktoons in 2012, causing ratings to slide. It was announced canceled on December 23rd, 2013 after an over year long hiatus. Five episodes that were left unaired were burned off to the network two years later in 2015, with no advertising whatsoever.
A feature film, drawing heavy inspiration from the cartoon, but otherwise set in the continuity of the other films, was released in November 2014. Click here for its page.
Tropes about specific characters can be found on this character sheet.
---
Tropes:
open/close all folders
Tropes A-C
Tropes D-I
Tropes J-P
Tropes R-Z
Thank the Maker: At one point in the episode "Jiggles", where Kowalski creates a Blob Monster, he says "Thank the Maker, which in this case is me."
---