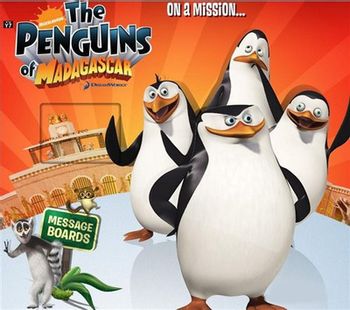 "Cute and cuddly, boys!"
— Skipper
A spin-off of the Madagascar films that aired on Nickelodeon. It is an All-CGI Cartoon featuring the penguins of the Madagascar film series (Skipper, Rico, Kowalski, Private), as well as the lemurs (King Julien, Maurice and Mort) in the main cast and chimpanzees Mason and Phil as recurring characters. A new character, Marlene the otter, is part of the main cast, and while various zoo animals are introduced, the main cast from the films are not shown at all (save for Alex in one of the TV specials and even then he's only as a hallucination of Skipper's). Private, Kowalski, Maurice and King Julien have all had their voice actors replaced with some names you might recognize just the same.
In it, the penguins and other aforementioned characters are all residents of the Central Park Zoo. Led by Skipper, the penguins deal with various missions within the zoo. At times, they are at odds with Incidental Villain King Julien, but at other times, he and the other two lemurs are needed to help in the missions.
The show is very much in an Alternate Continuity, but as its own vehicle, it manages to stand up rather well. The series premiere drew 6.1 million viewers, setting a new record for viewership on the network.
After several years of success on Nickelodeon, the show was shafted to sister network Nicktoons in 2012, causing ratings to slide. It was announced canceled on December 23rd, 2013 after an over year long hiatus. Five episodes that were left unaired were burned off to the network two years later in 2015, with no advertising whatsoever.
A feature film, drawing heavy inspiration from the cartoon, but otherwise set in the continuity of the other films, was released in November 2014. Click here for its page.
Tropes about specific characters can be found on this character sheet.
---
Tropes:
open/close all folders
Tropes A-C
Acceptable Targets: In-Universe:

Skipper: I am not vacationing in New Jersey's own Ninth Portal of Hades!

Skipper: Curse you, Internet — 28,000 cat videos, zero useful information!

Skipper: Clearly the people have become immune to our adorable antics! I blame the Internet, and its plethora of cheap puppy videos.

Achievements in Ignorance: The penguins have trouble removing a hornet nest. They discover that Mort isn't hurt by the hornets because he is protected by a "halo of ignorance". Kowalski uses a machine to drain their minds of bad thoughts so that they could then deal with the hornets. Hilarity Ensues.
Actor Allusion:
Adaptation Expansion: Sort of. The four main characters from Madagascar proper, but the Penguins and the zoo have their lore expanded upon.

Skipper gets an archenemy in a dolphin named Dr. Blowhole, and it's revealed that he can't go back to Denmark due to an incident involving a puffin named Hans.
Kowalski, on the other hand, is revealed to be in love with a dolphin named Doris (who's later revealed to be Dr. Blowhole's sister).
Rico, who had very little characterization in the movies, is established as an Ax-Crazy Penguin of Mass Destruction.
Private has a past as a miniature golfer who goes by "Mr. Tux."
Mason and Phil, while not as prominent as the penguins or the lemurs, do have more personality: Mason is a Neat Freak and Phil is a laid-back slob.
The following zoo animals get their introduction here: Marlene the otter (who's originally from an aquarium in Northern California), Burt the elephant, Roy the rhino, Bada and Bing the gorillas, Joey the kangaroo, Leonard the koala, Pinky the flamingo, Roger the alligator, Barry the poison dart frog, and Darla the baboon. note

Allergic to Love: Rico and his "mushy love sensitivity" is the perfect example.
All Just a Dream: The ending of "Wishful Thinking" makes it seem like the events of the episode were just that, until Bert the Elephant is seen holding a loaf of French bread and wearing a beret.
All That Glitters: Subverted. The Lost Treasure of the Golden Squirrel is in fact a room full of gold.

Julien: This is real treasure, right? Not one of those "friendship is the greatest treasure of all" deals? Because you can't trade friendship for, you know, the goods and the services.

All Your Powers Combined: Eggy the duck was cared for by the penguins as an egg, which involved training. As a result after hatching, the duckling possessed all of the penguins' skills and personality traits. At the end, King Julien teaches Eggy how to dance, which also results in him mimicking Julien's Buffy Speak.
Alternate Continuity: This is how producer Tom McGrath (who is also Skipper's VA) sees this series in association with the films. It's been established that the lemurs are still from Madagascar, and that the penguins have been there, but it's never explained how or why they returned. Basically it's what would happen if the main cast chose to remain in Africa while the Penguins and chimps chose to return to New York.

Alex: We used to be neighbors, and then a lot of crazy stuff happened?

Always Chaotic Evil: Hornets and rats.
Ambiguously Gay: King Julien is this incarnate, complete with imaginary girlfriends. He also declared that he was given a diamond necklace by the Sky Spirits for "kicking up the fabulous, baby!" Complete with air-humping.

Julien: To impress this girly monkey, you must sweep her off her feet. That is how I got my many girlfriends.

Maurice: What girlfriends?

Julien

: You don't know them,

they're all in Canada

, but trust me when I tell you that they are

made up

... I mean with lipstick and powders and such, but you know, tastefully.

Amusing Injuries: Frequent.
An Aesop: Like adult-oriented cartoons, the show plays with this; it may genuinely bring out some sound Aesops, but it very much brings out subversions to this by mostly throwing the Aesop away, especially at the last minute. They're not Lost Aesops, mind you, since they are done intentionally, and for fun.

Private: But, Skipper, doesn't violence beget more violence?

Skipper: It sure does, Private. It's a win-win!

An Ass-Kicking Christmas: "The All Nighter Before X-Mas". Pummeled Fake Santas! Stolen trees, including big car chase! Generic mayhem! Spirit of Christmas, only slightly lampshaded!
Animals Not to Scale:

Everyone but Mort is unusually small for their species — no one seems to be over 2 feet tall.
The gorillas, on the other hand, are about the same size as the rhinoceros - so it's either extremely big gorillas or an extremely small rhinoceros.
Especially blatant when the (scaled-up) gorillas and the (scaled-down) chimpanzees share a screen. While in Real Life, chimpanzees are only slightly smaller (although much more gracile) than gorillas, in this show a chimp could fit into a gorilla's hand.

Animal Sweet on Object: Zigzagged, where one of the eponymous penguins is in love with a doll named "Ms. Perky". It'd be pretty odd if he thought she/it was another penguin, but he doesn't seem to think she/it is a human as the penguins are usually prejudiced against humans. He doesn't seem to realise it's a doll either, though.
Animal Talk: Humans can't understand animals, so the Penguins have to rely on special software to communicate for them. Santa Claus, on the other hand, can understand them directly.
Anti-Hero: Type II - they're the good guys but all four of them show some morally ambiguous traits.
Appease the Volcano God: Referenced in "Huffin and Puffin." One of the characters ties up the penguins and attempts to trap them in a hollow plastic volcano in the lemur exhibit so that he can cause mayhem. Maurice notices and wonders aloud what is going on. Julien replies: "Someone is sacrificing penguins to the volcano ... eh, these things happen."
April Fools' Plot: "April Fools" focuses on King Julien pulling pranks even though it's not April 1st.
Arson, Murder, and Jaywalking:

In "Fit to Print", the penguins are concerned over a picture of the lemurs that also has the penguins doing their secret things in the background ... but Skipper's even more concerned that the picture also shows him with toilet paper stuck to his foot.
In "The Hoboken Surprise" when Skipper learned that the deranged zookeeper of the Hoboken Zoo would be working at the Central Park Zoo, he realized that everyone there would be replaced with bio-androids and imagined Marlene being thrown off a cliff by her double, Phil and Mason's doubles throwing them in a underground chamber, and ... Julien's double using him as a punching bag, to which he stated "Eh, I could live with that one".

Artifact of Attraction: The key and the treasure itself, in the episode, "The Lost Treasure of the Golden Squirrel".
Artifact Title: The penguins aren't in Madagascar anymore.
Artistic License: Biology, cloning etc. in the cloning episode. Somehow Dode the Dodo remembers everything that happens before his death despite cloning only copying the genetic code of a person/animal instead of bringing them back to life. Rule of Funny applies here.
Ash Face: Julien HAD to tamper with Kowalskis chemicals ... Kaboom ensues.

Occurs also in "Smotherly Love" (and probably a dozen other occasions when either Kowalski's inventions go haywire or Rico deals a few rocket-propelled grenades).

Ass Shove: Not exactly shown onscreen, but Julien's expression when Kowalski shoves a flipper under the table he's sitting at and yanks out a thermometer makes it pretty clear.
Authority Equals Asskicking: Skipper consistently pulls off the craziest, wildest, awesomest stunts. The Rat King also falls into this, but...
Awesomeness by Analysis: "Mental Hen" features a "psychic" chicken whose powers are actually a result of being so intelligent and analytical that she simply arrives to the likely outcome by deduction.
Baby Carriage: In "Cradle and All". Of course they manage to save it, but of course the baby escapes again, of course to a wrecking site, giving rise to a nod to Buster Keaton's famous window-over-man scene and some (lampshaded) Scooby-Dooby Doors.
Badass Adorable:

Mort, who is usually rather cute and pathetic, but he has been known to beat Skipper at arm-wrestling, uproot whole trees and smash things with them, and beat up gorillas (though the last one was a result of one of Kowalski's experiments accidentally making him extremely large and muscular). Private may also qualify. Despite being very "cute and cuddly" he's been shown to be an excellent fighter, able to fend off Skipper's attacks while training blindfolded in one episode. And all without breaking a sweat. Then there's Eggy the duckling, who possesses the fighting skills of all the penguins

before he gave it up for dancing

.
The titular characters also count, being small penguins capable of their cute moments that just so happen to be able to beat some stronger and bigger animals and get their job done every time. Private is the most obvious example.

Badass Boast: Occurs in "The Falcon and the Snow Job":

Skipper: I eat fright for breakfast.

Kowalski: With skeleton marshmallows!

Badass Crew: The penguins.
Badass Fingersnap: This turns out to be how

The Red Squirrel activates his mind control of Buck Rotgut

. Kowalski realizes that they can do the same to break his control ...

but then realizes that the penguins lack the necessary digits

.
Bad Impressionists: Julien tries to imitate Mason, which results in "Ook ook! I sure do love the tire swing!"). When asked to do one of Private, Julien says, "Ook ook! I sure do love a stinky fish!" Private himself copies Julien's imitation of Mason spot on while luring out Savio.
Balloon Belly:

Kowalski gets one in "The Big Move" When he accidentally zaps himself small with a body altering ray gun and leaves it to Burt to zap him back to his original size and shape. He becomes big, small, fat, thin and polka doted.
King Julien in "Time Out" where he eats a hot dog whole and becomes quite round.

Bamboo Technology: Considering what he has to work with, Kowalski has come up with some amazing inventions. Also played literally in "Sting Operation" and "Untouchable", where Skipper reveals that one of Kowalski's ultimate inventions is a six-foot bamboo whacking pole. It doubles as one of Kowalski's less disastrous inventions too.
Bee Afraid: The subject of the episode "Sting Operation."
Be Yourself: Spoofed, King Julien tries being nicer after the Chimps pull a prank on him and the Penguins have to convince him to be a jerk again as his being nice made him MORE ANNOYING.
Being Watched: The entire episode "Tangled in the Web."
Berserk Button:

Never, EVER touch King Julien's feet. And if you ever decide to skate over them... well, say hello to Julienderung. "Friend-in-a-Box" suggests that a Freudian Excuse may be involved. After Mort becomes obsessed with a portable video game, Julien goes out of his way to try and force Mort upon his feet, claiming that he wants to experience the joy of kicking Mort off. Eventually, he even goes so far as to beg Maurice and the penguins to pay attention to the royal feet.
NEVER forget or ignore King Julien Day, for that matter... "Which forgetter is next for the whooping?! Come on, I want you to hurt LIKE I DO! UAHAHAHAHAA!"
Rico's berserk buttons are messing with his dolly or hurting his friends, especially Skipper.
Skipper has a few:

Okay, so he doesn't go berserk, per se, but he really doesn't like it when you call him fat, or any of its synonyms. He likes to claim it's muscle.
He really doesn't like Hoboken, NJ.
Or Denmark.

The two badgers Becky and Stacy hate it when someone says "badgering", or calling their games silly, or making fun of their species.

Beware the Nice Ones:

Private sometimes shows elements of this, such as his reaction to The Reveal in "Mask of the Raccoon" or "Untouchable".
Burt the elephant also qualifies, such as in

"The Big Squeeze"

.

Big Eater: Rico doesn't just choke things up, it's been shown that he also eats almost anything too. He's also the fattest of the penguins, with something resembling a double chin.
Big, Thin, Short Trio: Maurice, Julien and Mort; in that order.
Big Red Button: Played with in "Tagged." The lemurs have to hit the right-colored one to prevent the heat/air conditioning system (which Kowalski doctored) from blowing up, but all seven are virtually indiscernible shades of red (brick, crimson, scarlet etc.). Mort finally hits the right one, but they've installed the pressure mechanism on the air conditioning system instead of the heater by mistake.
Big "NO!":

Skipper in "Skorca!" when he sees Private get carried off by the "dying" skorca.
Julien also lets one off in "Out of the Groove" when he finds out he can't dance anymore.
In "Snakehead" when Skipper gets eaten by the large fish, the other penguins let this off.
Skipper does yet another Big No when he discovers Rico's gone hippie on them.
Deconstructed by the Red Squirrel in "Our Man in Grrfurjiclestan" when he gets captured during it.

Red Squirrel: Nooooooo - (gets caught by a lasso) I really should have run away instead of yelling.

Bird-Poop Gag: In "In the Line of Doody", Frankie plans to "drop one" on the city commissioner. He ends up covered in his own poop.
Bizarre and Improbable Golf Game: The climax of "Mr. Tux".
Bloodless Carnage: "Endangerous Species" is basically 11 minutes of Dodo massacres but despite all the gruesome deaths not a drop of blood is seen.
Body Wipe:

"An Elephant Never Forgets" with Burt the elephant crushing Kid Kazoo with the "Two Cheeker"
"Misfortune Cookie" near the end with a brown duck landing on Rico
"Antics on Ice" with Roy the Rhinoceros landing on Skipper

Bowel-Breaking Bricks: Max the stray cat "hairballs" himself in "Cat's Cradle" upon seeing Officer X.
Bread, Eggs, Breaded Eggs: In "Arch Enemy", Skipper suggests a proper nemesis for Private (instead of Dale the snail) - a tiger, or a shark, or a tiger shark.
Brick Joke: Done a lot; occasionally mixes with Continuity Nod.

In the first episode, Kowalski is suggested to have a crush on a dolphin named Doris. About 70 episodes later, a sleep-talking Skipper mutters, "No, no Doris, Kowalski must never know ..." It's now become somewhat of a Running Gag, as she's been mentioned twice afterwards.
During the official series premier episode, Skipper mentions that he can't set foot in Denmark. Again nearly 70 episodes later, we meet Hans, who was involved with Skipper in the Copenhagen Incident. "You're the reason Skipper can't go to Denmark?!"
Most of the stuff Skipper's paranoid about is always brought up again. During the episode with a lemur robot, Skipper brings up "space squids". "I Know Why The Cage Bird Goes Insane" shows that Space Squids do exist. And they came to Earth for Kowalski's inventions.

Bullet Seed: Rico uses popcorn kernels to (literally) shoot out the lights in "Popcorn Panic."
Bullet Time: Done in "Untouchable" when Barry the poison dart frog tries to touch King Julien.
But for Me, It Was Tuesday: In the episode "Arch-enemy", a snail shows up looking for revenge on Private, who he claims stepped on him. Private doesn't recall. Funny enough, it actually did happen on a Tuesday.
Butt-Monkey: When painful things happen, it usually starts with Kowalski, who has the worst luck of the four with countless Amusing Injuries, Sanity Slippages and his inventions frequently backfiring in his face.
By the Lights of Their Eyes:

Go Fish has this inside a truck.
"I Was A Penguin Zombie" has this happen when Kowalski, Private, and Rico are mourning Skipper and a bolt of lightning knocks out the electricity, before Skipper falls into their home base and Private turns on the flashlight.

Calvinball: One episode features the penguins playing a card game called Stomp the Wombat, which involves betting fish and placing cards on one's head.
The Cameo: Big Time Rush get one. In beaver form.
Camera Spoofing: The penguins try this in "Tangled in the Web," using a crudely drawn sketch on lined paper.
Capture the Flag: "Penguiner Takes All" featured an high-stakes game of CTF between the penguins and the lemurs.
Cardboard Prison: The animals, even the dangerous ones, seem able to get out of their habitats with ridiculous ease.
Cassandra Truth:

Private has problems with this while trying to warn others about the title's "Skorca!"
According to "Operation: Blowhole", the team's exploits outside the zoo also qualify.
The little boy in "Field Tripped" who keeps seeing the penguins.
The people who first saw Roger in the wild in "Gator Watch" get even ridiculed on a news show.

Casting Gag: When the celebrity voice actors were replaced in the transition from the film to the series, Sacha Baron Cohen (Julien's voice actor in the movies) was replaced by Danny Jacobs. Jacobs previously played an impersonation of Cohen's Borat character in Epic Movie.
The Cast Showoff:

Kowalski's "Graveyard Eight" song lets Jeff Bennett show off his singing ability.
"The Return of the Revenge of Dr Blowhole" seems made to allow the cast to show off. Kowalski even gets a duet with Dr. Blowhole. Blowhole even gets two songs to himself afterwards.

Cerebus Syndrome: Starting with "Dr. Blowhole's Revenge", the show began playing up the science-fiction and spy-like aspects more, and the overall feel is a little less cartoonish.
Chain of Deals: The episode, "Operation: Good Deed".
Cheek Copy: Kowalski does this in "Fit to Print".

and then it gets done several more times. Julien one-ups the others by, when a copier isn't available, using a crayon.

Chekhov's Gun: Rico's "mushy love sensitivity" in "All Choked Up." At the beginning of the episode, Rico swallows a time bomb, but is given anti-regurgitation medicine. After several unsuccessful attempts to make him cough up the bomb, the other penguins' tearful farewells repulse him enough to make him gag.
The Chessmaster:

The Blue Hen tampers with the stop-clock making Skipper think he isn't fit for leaderdom anymore. And everything else in the episode she planned beforewing too

in "Operation P.E.L.T.".
Chronically Crashed Car: Every time something is thrown off screen with an explosion, you can hear the same guy scream "My Car!!!"
Civilized Animal: The animals may not be able to talk to humans, don't exactly live in houses, and usually don't wear clothes, but they do fit this trope a lot of the time.
Class Trip: The point of the episode "Field Tripped."
Classified Information:

"Operation: Plush and Cover":

Skipper: I'm waiting for my away team to report before declaring Defcon Red.

Marlene: Uh-huh. Real quick: what's Defcon Red?

Skipper: Classified. Just hope you never live to see one, sister.

"Otter Gone Wild", after a cage is produced from Hammerspace to capture a feral Marlene:

King Julien: Uh, where did that cage come from?

Kowalski: Sorry, that information is classified.

The Officer X/Alice exchange quoted below.

Claustro Phobia: Or something like that. When Kowalski is captured in Fred's tree house during the "Snowmageddon". (Probably that he is captured with Fred is the problem.)
Clear Their Name: "The Falcon and the Snow Job" revolves around Skipper's efforts to clear Kitka's name despite his True Companions believing that he's blinded by love.
Cloning Blues: In "Endangered Species", the penguins kept having to reclone Dode the Dodo due to his extreme stunts getting him killed each time.
Coincidental Accidental Disguise: In "I Was a Penguin Zombie," Skipper escapes from the vet after breaking his wing, and through a combination of green topical ointment (which numbs his mouth, making him unable to speak), tangled gauze, talcum powder, and a sprained ankle, ends up looking and acting like the living dead.
Comically Cross-Eyed: Private has outward cross-eyes, giving him a constantly goofy expression, which is in line with him being childishly naive. He's still The Heart of the team, and considered the cutest one, and is often the Only Sane Man compared to his Ax-Crazy comrades.
Comically Missing the Point:

After accidentally being zapped by the penguins's enhancement ray, Mort (a tiny mouse lemur) quadrupled in size and strength, capable of bringing down animals larger than himself and many times taller than his bossy, but absent-minded ring-tailed lemur leader, King Julian. Julian's advisor, Maurice, takes note of this transformation immediately.

Maurice: Do you, uh, notice anything different about Mort?
Julien: Well yes, he's obviously doing something different with his hair! It's nice actually.

In another episode, Maurice takes over as king while Julien is sick, becomes mad with power after eating rotten lychee nuts, and threatens to take over the entire zoo. After hearing about this, Julien's reaction is, "I cannot believe what I am hearing. Maurice ate my lychee nuts!"
Julien, when mocking the rats who are playing against the penguins at hockey, sneers "You probably can't even get the ball into the hoopy-thingy!" Kowalski tells him it's called a "puck", to which Julien responds "Oh, thanks ... You probably can't even get the ball into the puck thingy!"

Comic Trio: The lemurs form one: King Julien (the egomaniacal leader), Mort (the ditzy Fearless Fool), and Maurice (the Only Sane Man).
Continuity Cavalcade: "The Hoboken Surprise" features the Penguins ending up in the Hoboken Zoo, where every minor character the penguins had gotten rid of by sending them to the Hoboken Zoo is waiting for them.

Private: Lulu?

Kowalski: Hans? Savio? Clemson and Rhonda too?

Skipper: What in the name of returning guest characters? It's villain-mageddon!

Roger, the Alligator, is first introduced in the episode that Marlene believes he's a monster living underneath her habitat. Later, in "Gator Watch",

Roger is caught and moved to the zoo. When Roger shows up again in subsequent episodes he always appears in the zoo.

Max the cat is first met when the penguins believe they've traveled to the moon. Later, the penguins greet him as "Moon Cat", and he's seen in cameo in a later episode.
Barry the poison dart frog, first seen in the episode "Can't Touch This", is seen in the reptile habitats in "The Big Squeeze".
In "Launchtime", Private holds up a tour guide map of the zoo with him on the cover. Many episodes later it's a plot point that Private has always been on the cover of the zoo's tour guide.
The Russian repairman from "Work Order" shows up again in "Kanga Management".
In the climax of "Untouchable", Private builds himself an iron penguin suit to protect him from the toxic touch of Barry. He uses the suit on several more occasions afterward, such as a super hero suit in "Danger Wears a Cape", a hazmat suit in "Siege the Day" and even as a space suit in "Operation: Big Blue Marble".

Continuity Nod:

The entire "It's About Time" episode may be a nod to a remark that Kowalski made in "Two Feet High and Rising" about inventing a time machine.
"I Was a Penguin Zombie" gives a slight one to "Needle Point," in that the doctor acknowledges Skipper's fear of needles and gives him a topical application instead. It goes horribly right.

It pops up again in "King Me," apparently worse than before because said needles were just sewing needles.

"Tangled in the Web" and "Go Fish" mention a video of an old lady beating up a lion.
"Hard Boiled Eggy" is a sequel episode to "Paternal Egg-Stinct", with several flashbacks.
In "Badger Pride", Marlene goes feral when she's outside the zoo, like in "Otter Gone Wild".

Convenient Eclipse: The monkeys use it to trick Julien into "being nice". You can guess where this ends.
Conveyor Belt o' Doom: Occurs in "Operation Plush and Cover." The conveyor belt leads to a Nightmare Fuel-ing chomping machine of doom, from which the penguins, as well as Maurice and Mort, are rescued at the last second by King Julien. At the end, it turns out that

Private

is somehow on the conveyor belt still.
Cool Toy: "Hello Dollface" has the Chatty Ms. Perky, so popular that crowds snap up the inventory everywhere the penguins attempt to get one.
Counting Sheep: In "Two Feet High and Rising," Mort tries to do this but the sheep turn into King Julien's feet.
Cucumber Facial: Julien gets one while in the hospital.
Cuteness Proximity:

Not even Skipper is immune from succumbing to his brooding instinct when the penguins are tasked with hatching an egg. Although he tried.

Skipper: Monster trucks, men!

In "Cute-astrope", Private learns how to ramp his own cuteness factor 138%, resulting in a weaponized Cuteness Proximity that makes everyone who witnesses it faint from sheer sugar shock.
Tropes D-I
Tropes J-P
Tropes R-Z
---