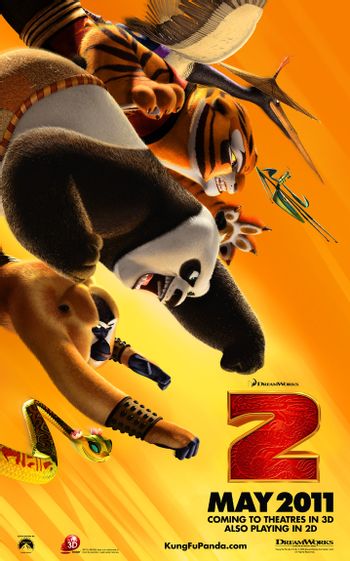 "How can kung fu stop something that stops kung fu!?"
— Po
Kung Fu Panda 2 is the 2011 Sequel to DreamWorks Animation's Kung Fu Panda.
Long ago, a peacock named Lord Shen (Gary Oldman) sought to harness the power of fireworks for a more practical use in weaponry, a cannon. His worried parents, the rulers of Gongmen City, consulted a Soothsayer, who foretold that Shen would be defeated by "a warrior of black and white". To prevent this, Shen destroyed an entire nearby panda village; but when he returned home, his horror-stricken parents exiled him. In response, Shen swore revenge and vowed to return to the city, complete his invention, and conquer all of China.
In the present day, Po, now a highly skilled Dragon Warrior and the sixth member of the Furious Five, is trying to learn "inner peace" from Master Shifu. They're interrupted when a gang of wolves attack a village in search of metal to help in making Lord Shen's cannons. Po and the Furious Five set out for Gongmen City to stop the wicked peacock, and along the way, Po learns about his origins.
Considered one of DreamWorks' finest films, Kung Fu Panda 2 became one of the highest grossing films of all time to be directed solely by a woman.
The DVD release came with a short titled Secrets of the Masters detailing the backstories of Masters Ox, Croc, and Rhino. In 2015, another prequel short titled Secrets of the Scroll was released, telling the story of how the Furious Five met each other. A sequel titled Kung Fu Panda 3 was released on January 29, 2016.
For character tropes, see the Character Page.
---
Kung Fu Panda 2 provides examples of:
open/close all folders
Tropes A to C
Absurdly Long Stairway: Po and the Furious Five are taken to Lord Shen's throne room at the top of a tall tower. Po has to be carried by one of Shen's guards for half of the way.

Po: My old enemy... stairs.

Acoustic License: An aversion Played for Laughs. After Lord Shen has shot Po with a cannon, he sails his ships to open sea in order to conquer all of China. Then he sees Po atop a roof far away. Po stands heroically and then starts giving an inspiring speech... except no-one can hear a thing he's saying because Po is talking in a normal tone of voice and standing too far away for Shen to understand him. After a few confused "What?"s, Shen gives up trying to understand Po and just orders his troops to fire.
Action Film, Quiet Drama Scene: Two major examples:

The nighttime boat scene that shows how close as friends Po and Tigress have become, and Po and the Soothsayer in

Po's home village where he remembers his horrific past and comes to terms with it

.
Lord Shen and the Soothsayer have a short one before the climax, where she begs him to let go of his anger but is refused when he tells her it's too late to stop now. She sadly gives up, and knowing they have nothing more to say to each other, Shen lets her go free.
Tropes D to H
Tropes I to M
I Am Not Your Father: Mr. Ping makes an astounding revelation: he's not Po's biological father.

Po:

I just found out that my dad isn't really my dad.

Tigress:

...your dad?

[Po nods] Tigress:

The

goose. [Po nods again] Tigress: [no change of tone or expression whatsoever]

...That must have been quite a shock.

I Can't Hear You: Po shouts a challenge from a rooftop to Shen. He should have picked a closer rooftop.
If I Wanted You Dead...: The soothsayer says this to Po after fixing him up.
I Have You Now, My Pretty: The wicked Shen does this briefly toward Tigress near the end of the movie

while she's chained up with the rest of the Five and Po is presumed dead

.

Shen: [leans in close to her face] You are going to be part of something beautiful.
Tigress: [bares her teeth and growls at him]

Imperial Stormtrooper Marksmanship Academy: Justified because the cannons are so heavy they can't swing fast enough to shoot Po.
Improvised Lockpick: When Po and the Five are brought before Shen's cannon, Viper uses the end of her tail to unlock Tigress's cuffs. This works, and everyone is able to free each other before they all start Storming the Castle.
Indy Ploy: Po becomes a master of on-the-fly gambits in the sequel. Lampshaded at least once.

After Po and the Furious Five's ill-fated first encounter with Lord Shen:

Master Storming Ox: What did you do? It's chaos up there. What happened to stopping Shen?
Monkey: Yeah?
Po: Guys, come on, give me a little credit. I meant for him to get away, 'cause... it was a trick, it was a plot; I was thinking... I'll figure out his plot more.
Mantis: That makes no sense.
Po: What do you mean? Sure it does.

After Po returns from the valley to rescue the Five:

Tigress:

What's your

plan

?

Po:

Step 1, free the Five.

Viper:

What's Step 2?

Po:

Honestly, I didn't think I'd make it this far.

Internal Reveal: Thanks to the opening sequence, the audience knows from the beginning what happened to Po's family, but Po himself doesn't find out until just before the climax.
I Surrender, Suckers: Po tries this to get into Shen's palace and destroy the weapon.

Ultimately works; unfortunately, Shen has more than one cannon

.
I've Come Too Far: The main reason Shen doesn't stop his mad quest for power, despite knowing deep down that it won't ever be enough to satisfy his crippling inferiority complex. In his mind, there's too much blood on his hands to turn around and admit it was All for Nothing; all he can do is push forward until he achieves victory or death.
Jaw Drop: Crane lets his lower beak hangs twice, when Tigress first gives a Cooldown Hug to Po and when Po hugs Tigress near the end (and doesn't get rebuffed).
Killed Off for Real: Master Thundering Rhino dies early in the film, while Lord Shen and Shen's right hand man, the Wolf Boss, are likely dead. Po's mother is hinted at having been killed as well, but it's not entirely confirmed.
Killer Gorilla: Shen's Elite Mooks are gorillas.
Knife Nut: Shen. Even though he's got cannons as his main thing, his fallback weapons are loads and loads of sharp, pointy objects.
Last of His Kind: Subverted. Both Shen and Po think that there are no more surviving giant pandas. However, the Sequel Hook at the end of the movie shows a whole panda village, including Po's biological father.
Last-Second Chance: Rejected once again. Po tries sharing the secret to inner peace with Lord Shen, but even if Shen understands it, he attacks Po anyway. Although by that point Shen almost certainly wants to die (you can see Shen accepting his fate as the giant cannon falls on him soon after), choosing self-destruction instead of redemption still counts.
Last Villain Stand: After Po destroys his entire armada and he's killed his own Dragon, Shen is left with nothing. Po finds him on the ruins of his flagship in the middle of a Villainous BSoD. Po offers him a Last-Second Chance, but Shen ultimately rejects it (either by not understanding or just wanting to die) and does the one thing he'd spent the entire movie running from, fighting Po one on one with everything he's got.
Laugh of Love: Invoked and exploited by Po, when he giggles while pretending to be a female panda in order to get close enough to a nearby wolf to knock him out, which is successful.
Laugh with Me!: Shen and Po.
Left Hanging: While conversing on a boat, Po tells Tigress she's "so hardcore you don't feel anything". In response, Tigress gets a saddened expression and begins to say "I was...", but is interrupted by the rest of the Five showing up, and it's not revealed for the rest of the film what she was going to say.
Left the Background Music On: A self-explanatory case in the fight at the Musicians' Village. Po invokes this.

Po: Tell those musicians to start playing some action music, cuz it is on!

Light Is Not Good: Shen, both in regards to Chinese and Western iconography, being white and red (the latter being the color of luck and joy in Chinese culture) as he is, besides being a peacock (which is basically the animal that most resembles the Chinese phoenix) and given what the possible readings of his name mean (神, "divinity", and 焴, "flame"). Although him being white-feathered goes to Obviously Evil territory if you consider that white is the color of death in most Asian cultures.
The Load: Po is a literal example. He is a capable kung fu master and can direct the members of the Furious Five in battle fairly well. However his mobility is so poor that he is often literally thrown and carried around by his much quicker comrades.
Look What I Can Do Now!: Po. In regards to the first movie.
Lucky Translation: The Swedish dub has Tigress prompting Crane to not be such a tit, meaning wimp in Swedish as well as being a type of bird.

Tigress: Var inte en sådan mes.

Made of Iron: Subverted and played straight. Subverted in Master Rhino's death. Played straight in that everyone else also got hit with a cannon. Also played literally with Tigress, as due to her punching ironwood trees near the Jade Palace for 20 years has allowed her to take Po's hardest punch and not feel a thing, even hurting Po himself in the process.
Meaningful Echo:

When Po finds the truth, the Soothsayer repeats a line said by Mr. Ping in the beginning of the film. "Your story may not have such a happy beginning..."
Tigress tells Po that hard-style isn't really his style. After he takes care of Shen, she chuckles warmly, "That was pretty hard core."
When Mr. Ping is about to tell Po the truth about

the latter's adoption

, he begins with the exact same words he used in the previous film when Po had questioned this topic. Interestingly, the way Po says "OK" here, almost sounds like he's expecting his dad to say something different, since in the previous film, Mr. Ping told him about the "secret ingredient" of his special soup instead.

Mr. Ping: I think it's time I told you something I should have told you a long time ago...

Metaphorgotten: Seems to be heading this way, but is subverted with Po and Shen during

the final confrontation, after Po's destroyed Shen's armada

, in a way that actually adds to the message.

Shen: I took away your parents! Everything! I scarred you for life!
Po: That's the thing, Shen. Scars heal.
Shen: No, they don't. Wounds heal.
Po: Oh, yeah. What do scars do? They fade, I guess?
Shen: I don't care what scars do!!
Po: You should, Shen. You gotta let go of that stuff from the past, 'cause it just doesn't matter.

Meteor Move: Performed by Po on the Wolf Boss at the end of the Rickshaw Chase.

Po: Alaka-squasho!

Mickey Mousing: The first fight with the wolf pack certainly has a lot of action in sync to the music. Justified as the wolves are stealing musical instruments, and they keep getting struck during the fight, so naturally they sound in time with the action, as the action is happening to them. One musician also keeps playing while the battle goes on around him. The few times where the punches and thus music are not going well with the rhythm, it is even lampshaded by the regarding characters cringing in discomfort.
Miles Gloriosus: Wolf Boss appears to be this; at first, he initially wants to challenge Po with his wolf soldiers. Then when Monkey and Crane pop up and defeat his wolf soldiers, he then proceeds to run away with his tail between his legs. Though as with Shen, it's Pragmatic Villainy — he's just leading them to where he has backup.
Misplaced Wildlife: Shen's gorillas, which are native to Africa. Possibly Fridge Brilliance since Shen had recently returned from exile. (There is precedent of gorillas appearing in China in the Kung Fu Panda universe: in "Secrets of the Furious Five", the enemy that Viper defeats is a massive, armor-wearing gorilla.)
Missing Mom: Well, at least we know what happened now.

Sort of

.
Mood Whiplash: At times it's hilarious. At times it's action-packed and rousing. At times it's even dark as hell and emotionally powerful. Of course, that's what makes it so good.
Mook Chivalry: Averted. Wolves are pack animals. They always fight as a unit. Also the instances we see multiple shots fired at Po,

he simply dodges most of them before catching one and throwing it back

.
Moses in the Bulrushes: Or more precisely, Baby Po in the radish produce crate.
Must Not Die a Virgin: A very subtle example occurs when Mantis laments the fact that he's not going to die by having his head torn off, like his mom did to his dad. Since female mantises usually eat their mates after mating, Mantis is complaining that he's going to die a virgin.
My God, You Are Serious: When Po realized that Tigress wasn't kidding about no snack stops on the way to stop the wolf bandits.
My Significance Sense Is Tingling:

Master Shifu collapses after sensing

Po being shot by Lord Shen's cannon

.
At the end of the film,

Po's biological father senses that he is alive and well

. The latter is explained in the sequel.
Tropes N to R
Tropes S to Z
Secrets of the Masters provides examples Of:
Secrets of the Scroll Provides Examples Of:
---