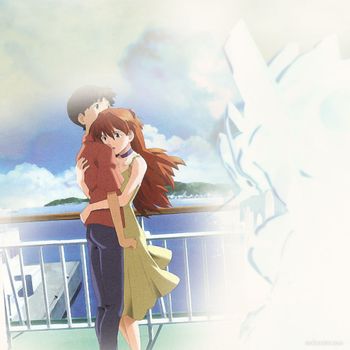 "You're just like me."
Shinji takes just the slightest different action when Asuka offers a kiss...and everything changes. Suddenly, they're no longer alone, and start becoming far stronger than they've ever been before. And from their new bond, changes start to ripple outward. The Angel War, and the plans of SEELE and NERV, will never be the same.
Advice and Trust
is a For Want of a Nail Neon Genesis Evangelion fanfiction written by Strypgia — author of A Crown of Stars — where the events of a fateful kiss take an unexpected turn...and lead to Shinji and Asuka becoming a couple. Action, humor, suspense, and loads of warm and fuzzy feelings await as the two struggle to keep their relationship under wraps, all while continuing the fight against the Angels.
Originally started in the forums of Sufficient Velocity, this fanfic has been (per Word Of God) highly influenced by other NGE fan stories Nobody Dies, Walking in the Shadow of Dreams, The Second Try and Once More with Feeling. The story can be found here
on Sufficient Velocity, and it is also hosted on fanfiction.net
and the SpaceBattles.com forums
.
It has a continuation crossover of sorts with The Second Try, approved by both Strypgia and Jimmy Wolk. In The "Chronicles
" series, the A&T cast finds and watches the original Evangelion series, and later read TST.
---
Tropes:
open/close all folders
A-C
D-F
G-I
J-L
M-O
P-R
S-U
V-Z
---
Shinji: "As long as you'll have me, I promise. Together, forever and always."
Asuka: "Until the end of the world, you and me, against Angels and anything else that tries to hurt us."
---