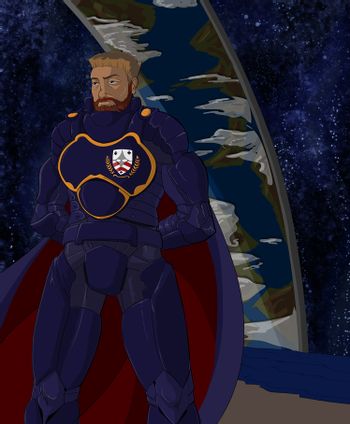 Don't…that's something else they told us. You don't have to be afraid anymore. Of anything. And 'you're allowed to be happy now.' Don't miss this chance.
Shinji… […] this… isn't going to be easy. I know… I can be hard to live with. And you… we've both got… a lot of problems
Asuka, both of our parents practically dumped us by the side of the road before we were four. Both of us have actually died in combat with alien monsters before we were fifteen. We outlived the end of the world, and then some. Why should anything in our lives be easy, even the good things?
After Third Impact, Shinji and Asuka's lives got increasingly worse. For five years, they were puppets of the warring warlords and military dictators fighting over the control of the post-apocalyptic world. They were kept alive only because they were the only living persons able to pilot an Evangelion, and they were forced to remain apart for three years. Although they met again, they were so physically and psychologically worn-down and emotionally wrecked than they were unable to open up. Still, they stuck together because they felt that nobody else in the world could understand their pain.
And then, right when they are being sent off into another war, after which they will be rendered obsolete and possibly executed at a dictator's whim, a stranger comes along and makes them an offer of the "It sounds too good to be true" kind… and he brings along their future selves to convince them that they can trust him.
A Crown Of Stars is a Neon Genesis Evangelion Fix Fic by Strypgia, and authorized sequel of the Dark Fic A Throne Of Bayonets
. Strypgia read "A Throne of Bayonets" and found it excellent, but he felt that Shinji and Asuka deserved a happier end. So that he got permission from the original author to try and write a sequel (which ironically is several times larger than the original fic). Reading "A Throne of Bayonets" it is not needed to understand the fic, but it is recommendable.
It is also worth mentioning that characters of another Eva fic The Way out is through
make a short appearance.
It can be found in the Sufficient Velocity forums
and in FF.Net
. As of March 25, 2021, the fanfic has concluded, though the author is thinking about revisiting the setting of Avalon at some point.
Strypgia also wrote another highly recommendable Evangelion fic, Advice and Trust.
Do not confuse it with Crown of Stars.
Now has a Character page in desperate need of some wiki magic.
---
A Crown Of Stars provides examples of the next tropes:
open/close all folders
A-C
D-F
G-I
J-L
M-O
P-R
Panicky Expectant Father: In chapter 68

Asuka told Shinji that she was pregnant.

He was on the brink of freaking out, but since he could see that she was upset he held it back until he had reassured her. And THEN he started out to freak out and shake.

Shinji froze as still as she was. "You're…" It came out as a strangled gasp. He reminded himself to breathe again. A couple of deep breaths gave him the ability to try again. "You're right. We did see this already. We should have expected it." His shocked expression shifted to a faintly happy one. "At least this means we're going to be rescued sometime in the next four months."
Asuka gave him a dour look that would have hit harder if she hadn't still been shaking so much. "You're taking this awfully lightly, Third Child."
He laughed weakly. "Oh, I'm holding on by a thread. I want to run around the room screaming right now, I'm not sure if in joy or terror. But you obviously do not. I can freak out later if I need to. You need me, and that's more important. I promised. I've got your back for everything, including this."

Papa Wolf: Daniel mentions that in timelines where Yui did not die Gendo is an actually scarily overprotective father.
Parental Abandonment: Shinji and Asuka's fathers dumped them by the side of the road shortly after their mothers' deaths before they were four. Fifteen years later they are still traumatized about it. In chapter 33 Daniel and Rayana talk about their fathers' behaviour, concluding Asuka's was the worst of the lot.

"Considering he may have been the worst dad out of your whole group, we've left your father alone for now, Asuka," Daniel said. "Let us know what you want done later."
"And when the group includes Ikari Gendo, that's saying something," Rayana said. "Gendo was at least a bad man trying to do good, just really badly. Pieter Langley had no such excuse. I mean, cheating on your mom in the next room with the doctor? Being married to her by your mother's funeral? Abandoning you after that? Say the word, and I'll smite the piss out of him."
'Oh yes, my wonderful and supportive father, who ditched Mama before she was even gone, and me before she was two weeks in the ground. He can rot in Hell in the cell next to Shinji's father. They can swap 'cheating on your child's mother' tips.' "He can stay wherever the Hell he is now. He'll get all the care from me that he gave my mother and I," she said rather bitterly.

Parental Neglect: During a conversation with Asuka Misato admits she failed her and Shinji. She was their guardian and the only mother figure they had, but she neglected them during the war right when they needed her the most, and as a result their trauma got worse until they broke down.
Parental Substitute: Misato was Shinji and Asuka's guardian and caretaker during the Angel War, at the end of the which she got killed. During the story Daniel brought her back, and she dedicated herself to fight to rebuild the post-Third Impact world as a way to atone for neglecting her wards during the War. During a conversation with Asuka she admits she was the closest thing they had to a parent, she screwed, and she is afwully sorry about it.
Parents in Distress: Asuka rescued her mother Kyoko right when she was about to be executed by a death squad. She shot at them all before picking Kyoko up and hightailing it.
Pass the Popcorn: In chapter 33, while Asuka is sparring verbally with Misato and Hikari, Daniel and Rayana picked a bowl of popcorn and munched on it as they watched the fun.

"Ladies, please! Wait!" Daniel interrupted. He reached behind the couch he and Rayana were sitting on and retrieved a large bowl of popcorn. He placed it in his lap and Rayana took a handful. "Alright, continue."

Pervert Revenge Mode:

Asuka leaned behind Shinji and wrapped her left arm around him to show him an image on her wristband, accidentally embracing him and pressing her front-side against him. Shinji crossed his legs quickly, but she saw it and she smacked him on the back of his head.

Touji

drooled over Rayana when he saw her, setting off

Hikari's

revengeful wrath.

Physical God: Daniel and Rayana are the God Emperors of Avalon (Big Good of the story, but not the heroes). They always wear a humanoid shape and they are inmortal, very ancient, can manipulate souls and travel through time, space and dimensions, have some level of reality-warping and omniscience, and Rayana's speciality is magic. They also are pretty cool "people".
Planet Spaceship: The HMS Asuka Langley Sohryu is a moon-sized space-ship.
Please, Don't Leave Me: Asuka asked Shinji making her another promise: Never leaving her.

Asuka: "Can you promise me you'll always be there, Shinji? Promise me you'll never leave me again?"

Poor Communication Kills:

Shinji and Asuka's inability to open up to each other without miscommunication or misunderstandings was cause of most of their troubles before and after the end of the world. They often wonder what could have happened if they had managed to understand each other.
The Avalonian army was trapped in Earth and cut off because Rei couldn't -or didn't want to- understand that Shinji and Asuka were together now and they were getting along well. Several people tried to explain the situation to her, but Rei refused to buckle and stop blocking the dimensional door.

Pop-Cultural Osmosis Failure: Emperor Daniel cites The Last Starfighter. To his disappointment, neither Shinji nor Asuka know what he is talking about.

Daniel: Greetings, Starfighter! You have been recruited by the Star League to defend the Frontier against Xur and the Ko-Dan Armada! Are you ready to begin?
Shinji/Asuka: What?
Daniel: (sighing) Never saw that one either? Kids these days, no classical education, I swear…

Porn with Plot: Strypgia kept the sex scenes deliberately few and little explicit because the point of them was showing that their relationship had progressed to the point where they could have a non-unhealthy life sex.
Portal Cut: When the Avalon army is transporting troops from their homeworld to the "Evangelion" Earth through a dimensional portal,

Rei

collapses the gate right when an Humongous Mecha was stepping through, cutting it in two.

There was simultaneously a tremendous CRACK and rumble like thunder in the air over their heads and seconds later a chunk of shallow-curved metal the size of a garage door slammed to the earth near them, every line on the inside of the slice glowing orange-red with heat. Asuka didn't jump too badly at the impact; it was too much like things she'd seen before involving chunks of Angel or buildings in her past battles. But she knew instantly something was very much not right. That was the front two meters of the Black Knight that had been coming through the portal. 'Where is the rest of it?!'

Portal Door: Several portal doors leading to other dimensions show up as soon as the first chapter when Daniel opens one inside Shinji and Asuka's tent to pick them up and take them to Avalon. During their stay in Avalon, both teenagers found out that magic and technology capable to create or build inter-dimensional gates or time doors are commomnplace. Also, bad things happen when a portal

collapses, leaving the main characters cut off and stuck on other dimension.

Asuka's rest did not last long undisturbed. Shinji was just rising from replacing his cello in its padded trunk when the sun rose in their tent.
Shinji whirled around. "What?" He blinked his eyes repeatedly against the sudden blaze of gold. A perfect seven-foot circle of seeming daylight stood on the far side of the tent, filling the tent with noontime brightness. Shading his eyes with his hand allowed Shinji a slightly better look at it. Almost too bright to look at directly, it seemed for all the world like a floodlit pool stood on its side. Shinji had only a moment to stare in confusion when the light dimmed as a man stepped out of it. This did not diminish his puzzlement.
"Pilot Ikari Shinji-san?" The man inquired in Japanese.
"Third, what's th—-" Asuka blinked awake in her suddenly brightly lit sleeping bag, then bolted upright. "Who the hell are you?! What is that?"
"Fräulein Pilot Asuka Langley Sohryu? I'm sorry to interrupt your rest, but this is the earliest I could arrive." Shinji still could hardly see the backlit figure, just a caped silhouette. The figure noted his squint. "Ah, my apologies for the brightness of the portal. Rather a large energy differential between here and home. Let me get that." He snapped his fingers and the glowing mini-sun shrank to a point and vanished. The near-daylight illumination dropped to just the solitary camp lantern hanging at the tent's entryway.

Posthumous Character: Winthrop. He got executed before the beginning of the history, but his monstrous actions have got a lasting, severe effect upon the characters and their world, and throughout the story the characters are trying to repair and fix what he damaged and broke.
Powered Armor: Used by the Imperial Army. They are named Heinlein Mk 161 infantry combat suits after Robert A. Heinlein.
Pre-Asskicking One-Liner: Asuka gets one in chapter 55 that doubles as a Shout-Out:
Pre-Climax Climax: Asuka and Shinji partied and slept together before the Final Battle in order to not have any regrets.
Precision F-Strike: At the height of chapter 75, Shinji is fighting to save his world, has got family and friends back, he and Asuka have gotten together, they are going to be parents and Asuka has FINALLY said him that she loves him right before a battle. Faced with the possibility of getting killed in action, he says:
Pregnant Badass: Asuka was pregnant as she fought during the war to free her world from the blood-thirsty dictators ruling it. Justified because she was a mecha pilot.
Pretentious Latin Motto: The moot of Avalon Imperial Army is "Numquam Soli. Semper, Sumus Legio", which means "Never Alone. Always, We Are Legion". The motto of Clan Guards is "Morior Invictus", meaning "I Die Unconquered" (and is taken from "O Fortuna!" from Carmina Burana).
The Promise:

Shinji promises Asuka that he will NEVER abandon her, not matter what.

Shinji: "I... even if it had been futile, I should have tried. I can't abandon you like that again, Asuka. So I won't. Ever."
Asuka: "Do you swear, Third? […] You've got my back, no matter what?"
Shinji: "Y-yes. I swear. No matter what."

And later she asked him to make her another promise: Never leave her.

Asuka: "Can you promise me you'll always be there, Shinji? Promise me you'll never leave me again?"

Psychic Powers: A lot of Avaloni folk are at the very least telepaths, empaths or mirage casters. Several divisions of the Army are formed exclusively by psychic soldiers.
Psycho Supporter: Former Big Bad Winthrop was a psychopath, a rapist and a blood-thirsty dictator. His Dragon with an Agenda -and current Big Bad- Jinnai was a paranoid, megalomaniac, power-thirsty, rapist, raving lunatic. And after replacing his former boss he got worse.
Punctuated! For! Emphasis!:

Asuka to Shinji

in chapter 20:

"If you wanna 'love me', Third, you better be ready! to! push! BACK!"

Pungeon Master: Daniel loves doing this, to the point that his wife and even his subjects warn newcomers of this: "Provoke the Lord of Puns at your own peril."
Punished for Sympathy: Before the beginning of the story Shinji had been giving money to homeless, starving people that the secret police deemed as "possible subversives and rebels" And Asuka criticized him for it, since she was frightened that the police secret would haul him and her away, too. Nevertheless she later admitted that Shinji was doing the right thing.
Quit Your Whining:

In chapter 44 Shinji is starting to get angsty after Their First Time but Asuka stops him telling they are past the point of complaining and getting frightened.
In chapter 50 Shinji and Asuka are arguing about their failure on reaching each other out. When Asuka asks him why he never told anything Shinji retorts asking why she never did say anything either and muttering he was nothing. Asuka cuts him off telling her lover is not "nothing" and she hates seeing him behaving like a self-pitying whiner.

Rage-Breaking Point: After the Third Impact Shinji and Asuka became the tools of the dictators running their world. Asuka was turned into a plaything for years, specifically. Shinji knew what the woman he loved was being hurt daily but he hated to kill and he was powerless to stop it, so he repressed his rage for several years. Then he heard one of them badmouthing her and threatening her and he wanted to kill him with his bare hands.
Rank Scales with Asskicking: Avalon's Royal Family are Physical Gods with all it entails, and all of them undergo military training because they are duty-bound to protect their subjects.
Rape as Drama: In "A Throne of Bayonets" Asuka went to Winthrop for "protection". He used her like his sex toy for one year before getting tired of her and passing her on Jinnay. Although Asuka technically "chose" becoming their sex slave, it was virtually rape.

Daniel could not prevent it from happening, but he swapped Asuka for a dummy every time they slept with her.

Asuka still feels the weight of her choices but at least she

is freed from the remembrance and the feeling of getting ravished

and she

can choose to giving herself whoever she wants freely.

Rapid-Fire "No!": Asuka combined this trope with Big "NO!" in chapter 5. When Asuka insists that she does not need anyone and she has an agreement, Daniel points out that it is very fragile and she fears that it will not last... And then what? She will try to kill herself again?

She hadn't cried, not even the day they buried her Mama. She would not cry now. She would not. 'Don't take him away. I don't want to be alone. I don't want to be alone.' "I don't... ...need anyone. My arrangement-"
"Is a hollow shell, that you both fear and expect to collapse at some point. Then what? Water again? Or this time the barrel of a gun in your mouth?" Daniel said quietly, his words hitting Asuka harder than if he'd been shouting them. "Or a twist of hemp like your mother, feet in the air?"
"NO! Nononononono! I...I...STOP IT!"

Really 700 Years Old: All people Shinji and Asuka meet in the Empire of Avalon are at least several hundreds of years old, but neither of them seems older than forty. Ching is 432. Daniel, the God-Emperor of Avalon is 452,388 years old and it is due to his protection that aging is not an issue in the empire. When Asuka tells Shinji about it in chapter 40, he has a very hard time coming to terms with their longevity.

Shinji: "Asuka, I want to ask you a question."
Asuka: "So spit it out, Third."
Shinji: "Well, you said I didn't want to know."
Asuka: (thinking) 'Oh, that. Well, better now than some comically awkward future moment.' (aloud) "Try not to freak out. Ching told me yesterday that she was envious of me, for meeting you when we were so young. She said she's 'waited centuries' and not been lucky enough to have met anyone that…feels for her the way you do for me."
Shinji: "Centuries? How old is she?"
Asuka: "Four hundred thirty-two. She'll be four thirty-three in five months,"
Shinji: "She's four hundred thirty-two and she's a Lieutenant?"
Asuka: "She did say she had a few decades of practice as a psychiatrist before she joined up. But see why they don't mind years between ranks?"
Shinji: "And Lord Verfico is a Senior Marshal… how long would that take?"
Asuka: "A long damn time is my guess. Given what Ching told me next about Daniel's age, I can make a fair guess as to Lord Verfico's."
Shinji: "Do I want to know? (sighing) You did warn me. Alright, hit me."
[Asuka grinned, and punched him in the shoulder.]
Shinji: "Ow! Hey!"
Asuka: "Oh, don't be a baby, Third. (grinning and kissing him) You just gave me a straight line, and I had to use it. It took your mind off the strangeness of their crazy long lives, didn't it? Alright, Lord Verfico is probably at least four hundred thousand years old, given that Ching said Daniel is 452,388 years old if my math is right, which of course it is."
Shinji: "Gleep,"

Reassigned to Antarctica: Invoked in chapter 2 when Ching makes such a terrible quip that Daniel jokes that kind of puns will get her exiled to Antarctica.

Ching: (while serving drinks) Of course, Your Majesty. It's an honor to serve.
Daniel: And puns like that will get you promoted and possibly exiled to Antarctica.

Recursive Fanfiction: Authorized sequel to "A Throne Of Bayonets".
Red Is Heroic: Asuka wears red nearly always. Often she is seen wearing a scarlet dress, her old and new mechas are red, her bathrobe is red... after seeing her wrapped in a red bathrobe and towel, Shinji compared her with a "ruby cat".
Red Oni, Blue Oni: Avalon's army commanders Ching and Bir. Ching is the Red Oni -enthusiastic, mirthful and passionate- and he is the Blue Oni -calm, serious and somewhat staid-. They are also a Battle Couple.
Reformed, but Rejected: After a long talk with his wife and Rayana, Gendo sincerely wants to turn a new leaf and make amends. However neither Shinji nor Asuka are willing to forgive him easily.
Relationship Upgrade: In chapter 24 after considerable soul-searching and getting plenty psychological counsel, Shinji and Asuka have a very serious talk. Shinji confesses his feelings and they agree to try and to have a real relationship even if Asuka has not come to terms with her own feelings yet.
Ring World Planet: Several artificial worlds of the Empire of Avalon are built like this. Shinji and Asuka see several of them as soon as they step through the dimensional portal.
Roaring Rampage of Rescue: Winthrop turned Asuka into his plaything and flew with her to Germany, forcing Shinji to remain in Boston especifically because he wanted to avoid the teenager went berserker and tried to rescue her.
Romantic False Lead: After the Third Impact, thinking Shinji could not protect her or would let her down again, Asuka briefly dated Hans, a subordinate of Winthrop. When his boss sent him away she "voluntarily" went to Winthrop for protection. She spent over a year as his toy before he tired of her and gave her to Jinnai. She spent two years with him before meeting Shinji again. After many, many ordeals and shared pain she and Shinji started to reconcile and try to have a real relationship. Hilariously Jinnai got mad when he found out, claiming he had been dumped by a slut despite of Asuka being nothing but her toy and her telling plainly she never liked him and she serviced him and his former commander because they would put a bullet in her head if she did not "behave".
Romantic Runner-Up: Rei to Shinji. She is not a bad person and she cares about him, but Shinji loves Asuka, not her. Unfortunately she is too jealous to realize and understand Asuka loves Shinji back, and her jealousy is creating troubles right when they need her help.
Royal Bastard: Members of the secondary branches of the Avaloni Royal Family are known as Bastard Princes and Princesses. In the Avalon Empire, being a royal bastard is, in fact, an honor because it means that you have at the very least a smidgen of divine blood.
Royals Who Actually Do Something: The whole Imperial family is utterly and whole-heartedly devoted to improve the lives of the subjects of the Imperium and other alternate realities. Likewise, even if you are royalty, you start from the bottom and you HAVE to earn your position.
S-U
V-Z
---
"If you wanna 'love me', Third, you better be ready! to! push! BACK!"
---