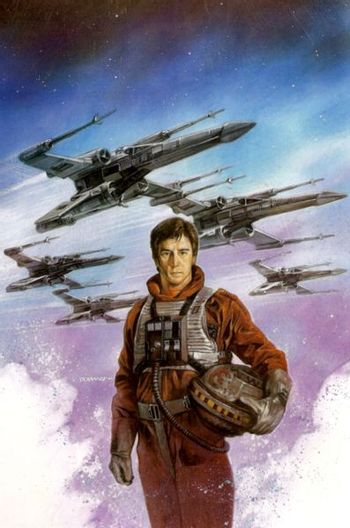 Star Wars: X-Wing Rogue Squadron
is a comic book series within Star Wars Legends. It was published by Dark Horse Comics and ran for 35 issues, beginning in 1995, and ending abruptly in 1998. One of the writers was Michael Stackpole, who was simultaneously writing the X-Wing Series novels, but exactly how much influence he had appears to vary from issue to issue and arc to arc. (He is listed as plotter only in the first few arcs, then usually given credit for the scripts as well.)
This series is set not very long after the Battle of Endor. Initially the comics were supposed to run through three arcs, about twelve issues, but they ran for a good thirty-five issues, not counting the bonus short comic "Rogue Squadron One Half". There is also a prequel of sorts, Rogue Leader
, a three-issue arc that came out in 2005, did not involve any input from Stackpole, and is generally considered inferior due to Off-Model art and rampant decompression.
The Rogue Squadron video games are heavily based on the comics.
Story arcs
The Rebel Opposition
The Phantom Affair
Battleground: Tatooine
The Warrior Princess
Requiem for a Rogue
In the Empire's Service
Family Ties
Masquerade
Mandatory Retirement
A Rogue Squadron film set in the Star Wars canon has been announced, to be helmed by Patty Jenkins and released in 2023. Jenkins confirmed that its writing will be influenced by the games and books in which the squadron appears.
---
This series contains examples of:
You Killed My Father: The big reason why Wedge Antilles hates Loka Hask is because Wedge's parents sacrificed themselves to save the refueling station after Hask took off without unhooking, letting his thrusters ignite the fuel, in order to stall the police.
Your Head A-Splode: In "Requiem for a Rogue", the bad guy, failing to kill the Rogues, is interrupted by a new bad guy with a stronger connection to the Force. The new bad guy finishes him off by making his head explode.
---