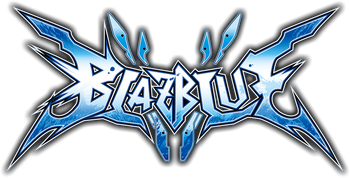 "The Wheel of Fate is Turning..."
— The Announcer, starting a match
BlazBluenote pronounced "blaze-blue," or "blay-blue" in Japanese is a Fighting Game series by Arc System Works, and a Creator-Driven Successor to Guilty Gear. This series has about as large a fandom, if not more, as its technical daddy.
Long ago, the world was on the brink of destruction. The Black Beast had laid waste to the world and was on the cusp of wiping out the human race before six legendary heroes emerged and, using their magic and martial prowess combined, battled the creature. Teaching the secrets of magic to humanity (and helping them with creating a form of Magitek to defend themselves), the Six Heroes worked together to kill Black Beast and saved the world from total ruination. But the cost was great — the battle with the creature left much of the world polluted, forcing humanity to move into hastily constructed cities in the mountains. World governments collapsed, and from them sprang the NOL, aka the Novus Orbis Librarium, to help guide humanity into the future.
Several years later, the NOL has evolved into a full-on dictatorship. A young man named Ragna the Bloodedge, armed with a strange blade, dark magic, a missing arm and a bad attitude begins systematically destroying dozens of Library outposts for seemingly no reason. His incredible strength leads to the NOL saddling him with their biggest bounty yet and declaring him wanted dead or alive. Ragna flees to the city of Kagutsuchi, where he is pursued by all manner of warriors and magicians out for the bounty on his head. He also attracts the attention of Jin Kisaragi, a Library agent with a very pronounced hatred for Ragna beyond any reasonable measure, and Noel Vermillion, a Library lieutenant with a cloudy past sent to retrieve Jin before he gets himself killed.
As the events at Kagatsuchi spiral out of control, a tale of godlike cyborgs, legendary magic, ancient conspiracies, a smattering of Mind Rape and brainwashing, and all manner of political intrigue ensues, with Ragna and his mysterious "Azure Grimoire" being stuck right at the center of it all. The Wheel of Fate begins to turn, but Ragna slowly gets the feeling he's done this all before...
Gameplay wise, BlazBlue is an anime fighter with a strong emphasis on fast gameplay, long combos, and extreme character designs. All the traditional fighting game staples are here, such as airdashing, pushblocking, and lots of meter to play with, as well as the "Roman Cancel" (here called the "Rapid Cancel") mechanic making a return from Guilty Gear. The major area where BlazBlue differs from the competition is the Drive mechanic. Each character uses the Drive button differently, because every member of the cast has a different Drive that informs how they play. Ragna, for instance, regains health with every move performed with the Drive button, while Jin can freeze his opponent solid with sword swipes performed by the Drive button. And that's just the tip of the iceberg- much of this series' depth comes from how each individual character plays around their Drive button and how it informs their lore. Blood Knight Azrael can detect his enemies weak points and then target them for bonus damage with his Drive, Smug Snake Hazama uses his Drive like a grappling hook to shoot about the screen, Hospital Hottie Litchi Faye Ling switches between using her Martial Arts Staff to attack her foes and being a Bare-Fisted Monk when her Drive button is pressed, The Stoic warrior Hakumen uses his Drive to parry attacks... the list goes on. Even the Mu-series, literal Moveset Clone characters, play differently due to their Drives. How each character interacts with their Drive and the strategies that emerge from using give a lot of interesting roster depth, as no two characters play alike.
In 2022, Producer Toshimichi Mori retired from Arc System Works
, making the future of the series uncertain.
open/close all folders
Main Titles
Side games
Aside from those, the franchise also has side stories in other media. Listed below:
Light novels
<!—index—>
Blaz Blue Phase Shift

BlazBlue: Phase 0: written by Komao Mako, illustrated by BlazBlue's lead artist Katou Yuuki and based on a story from BlazBlue creator Mori Toshimichi was published by Fujimi Shobo on August 20, 2010 (see here). The story begins when Ragna has a chance encounter with Celica A. Mercury, a young lady harboring a mysterious power, and involves the mysteries of the BlazBlue world.
BlazBlue: Phase Shift 1: The first sequel was released in April 2011. This time the focus shifts to Yuuki Terumi and a boy named Kazuma Kvar, while also elaborating more on Nine and Trinity before she became Platinum.
BlazBlue: Phase Shift 2: Released January 2012, this sequel focuses on Jin Kisaragi's exploits during the Dark War and his eventual evolution into taking up the mantle of Hakumen.
BlazBlue: Phase Shift 3: Released May 2012 the focal point character is Konoe A. Mercury, better known as Nine of the Six Heroes, and tells her dealings with the Magic Guild and their involvements in the Dark War.
BlazBlue: Phase Shift 4: The fifth novel, released in late September of 2012, this time placing the spotlight on Celica yet again, all the while setting the stage (in a rather major way at that) for later iterations of the series, Chronophantasma in particular.

Bloodedge Experience: In June 2014, another prequel story was released, following a new cast that bears quite a few resemblances to the main story cast, though younger versions of a few of them appear too.
BlazBlue: Spiral Shift - Hyoujin no Eiyuu (Hero of the Ice Blade): Released in 20th October 2016. This novel tells the tale about Jin's exploits and tribulations during Ikaruga Civil War.
<!—/index—>
Manga
<!—index—>
BlazBlue: Remix Heart: A manga authored by game writer Deko Akao, drawn by former doujinshi artist Sumeragi and supervised by Mori. It's a prequel to the games set at the NOL Military Academy and stars a new character named Mai Natsume in addition to Noel, Makoto and Tsubaki.
BlazBlue: Variable Heart: The sequel to the above, again written by Mori and drawn by Sumeragi. It's set right after the events of Ikaruga Civil Warnote and once again follows Mai's story who's being hunted by the Wings of Justice.
<!—/index—>
Visual novels
<!—index—>
XBlaze series

<!—/index—>XBlaze Code: Embryo : released in July 25th, 2013 on Playstation 3 and Playstation Vita. The story takes place 150 years before Calamity Trigger. It stars Touya Kagari, an Ordinary High-School Student who lives peacefully until a mysterious girl named Es comes to his life. From there, the story explores the hidden mysteries of the world.
XBlaze Lost: Memories: Sequel to the above, released in 9th April 2015 in Japan (and summer 2015 worldwide), stars "Watashi" ("Me") in her journey inside a strange dimension named "Phantom Field", along with the mysterious girl Nobody, to find pieces of her lost memories and her missing sister. The story will also explain what happens with the cast of the previous game.
Drama CDs
BlazBlue: The Wheel of Fortune: Released September 8, 2010, this story takes place in the original timeline (before all of the time loops happened) and stars Tsubaki Yayoi, who's appointed as the secretary for Major Jin Kisaragi (instead of Noel in the games, who doesn't exist here).

It retells the "old man's tale" of Hakumen in the second game.

BlazBlue: Happy Trigger: The first, Blue Drama Rebel One, released July 2009, and the second, Blue Drama 2 Rebel Two, released December 2009. Both are mostly gag stories involving the Blazblue cast.
Other
Game Adaptations
The games also have been adapted to various media.
An official monthly webcomic adaptation of Calamity Trigger titled BlazBlue: Chimelical Complex by Haruyoshi Kob. It can be viewed here. It's written in Japanese, however.
Blazblue, a new and improved two volume manga adaptation of Calamity Trigger.
Calamity Trigger light novel comes in 2 parts, the first released January 2013 in Japan and the second in May 2013.
Continuum Shift light novel also comes in 2 parts, the first released Semptember 2013 in Japan and the second in January 2014.
<!—index—>
<!—/index—>
This series has character sheets for each sub-series. Please place all character-specific tropes there.
Page is currently undergoing a revamp.
---
Rebel 1! ACTION!
A-H
I-P
Q-Z
---
FINISH!
---