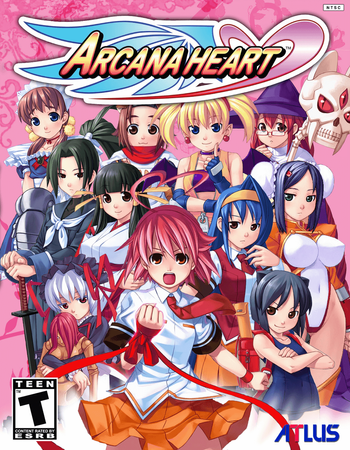 Arcana Heart
is a
Fighting Game
series developed by Team Arcana. The series features an
all-girls
cast.
Many years ago, the human world and the Elemental World coexisted peacefully, but were forcibly separated by a dimensional barrier. However, somewhere above Tokyo, there is someone actively working to break down the barrier and merge the two worlds once again, which could bring disastrous consequences to all of Earth. A handful of maidens have been given the power to communicate with elemental guardian spirits known as Arcana, which grant them the power to take the necessary steps to prevent this from happening.
The original Arcana Heart was released in arcades and for the PlayStation 2. Apart from the roster of characters, this game's play mechanics are similar in some respects to Guilty Gear, with their emphasis on speed and combos, and the ability to take battles really high into the air. Each character is actually divided into two parts: The fighter herself and her Arcana, who each have their own moves and techniques. Though each character has one canonically set to her in the story, the game allows you to choose whichever one you want when you play.
An updated version, entitled Arcana Heart FULL!, addressed some character balancing issues.note The regular and FULL! versions of each character are selectable in the home version.
There's also the sequel Arcana Heart 2, and its enhanced remake Suggoi! Arcana Heart 2. The latter got a PS2 port of questionable performance.
Arcana Heart 3 was released December 2009. It was ported to the PlayStation 3 and Xbox 360. The game was published by Arc System Works. The game is only available in North America through the PlayStation Network, while it received a physical release in Europe. The Japanese arcade version saw an Updated Re-release with Arcana Heart 3: LOVE MAX!!!!!, which is mostly about rebalancing issues and a cosmetic update. LOVE MAX!!!!! was ported to the PS3 and PlayStation Vita with extra features such as an After Story scenario and Trial Mode. Another update, titled Arcana Heart 3: LOVE MAX SIX STARS!!!!!!, was released for Japanese arcades in Winter 2014. It features a new character, Minori, and a new Arcana (the Arcana of Blood). As of September 2015, LOVE MAX!!!!! has received a PC port from Arc System Works, and is available in North America on Steam. After initial problems of trying to bring SIX STARS!!!!!! into retail, a Kickstarter
was made to bring the game to Steam. The Kickstarter succeeded while also bringing Parace L'Sia back as a usable Arcana and introduced two new playable characters, Pistrix and Dark Heart. SIX STARS!!!!!! was released on Steam on December 12, 2017.
Heart Aino, the first game's main character, would later appear as the sole Arcana Heart representative in the Massive Multiplayer Crossover BlazBlue: Cross Tag Battle, alongside characters from BlazBlue, Under Night In-Birth, RWBY, Persona 4: Arena, Akatsuki Blitzkampf, and Senran Kagura.
The series has had various publishers: AQ Interactive (1 & 2, JP), Atlus (1, NA), Arc System Works/Aksys Games (3 & LOVE MAX!!!!!, JP & NA), Zen United (3, EU), and NIS America (LOVE MAX!!!!!, EU).
---
Stand-by Angel! FIGHT!
---
Break Down!