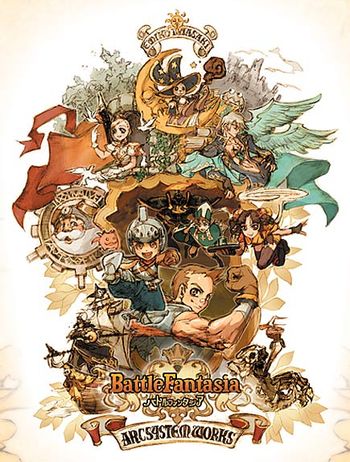 A fighting game released by Aksys and Arc System Works. It was the first fighting game to be released by the company on the Xbox 360 and PlayStation 3. It is set in a cookie-cutter Medieval Fantasy world, which serves as a contrast to Guilty Gear's and BlazBlue's heavy Science Fiction setting. The art style is very colorful and heavily fantastical, and the game's themes are much Lighter and Softer than its predecessor.
Gameplay is also much slower than the Guilty Gear or BlazBlue series, resembling Street Fighter more than anything.
The game saw a disc release on the 360, which is notoriously difficult to track down, and a digital release on the Playstation Network.
On July 7th, 2015, the game was given a Steam release under the title of Battle Fantasia -Revised Edition-.
Not to be confused with a set of Magical Girl Real Trailer Fake Game clips. Or with the Battle Fantasia Project.
---
This game provides examples of:
---