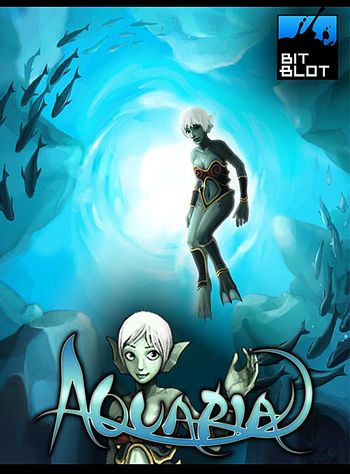 An independent video game developed by Bit-Blot, consisting of Alec Holowka (Night in the Woods) and Derek Yu (Spelunky). Aquaria follows the story of Naija, an amnesiac aquatic Fish Girl who has been living in a cave and eating fish for as long as she can remember. Eventually, wanderlust forces her to leave and explore the ocean around her. Not five minutes after she leaves her cave, she encounters a mysterious robed entity, whose touch gives Naija a vision that brings back some of her memories. The entity disappears and Naija follows, leading her on a grand adventure in which Naija discovers more about her homeland than she could have ever imagined.
Aquaria was released in December of 2007, winning numerous awards from the independent gaming community as well as widespread praise from gamers.
Gameplay is mostly focused around exploration and puzzles, though there is plenty of combat. Think Ecco the Dolphin meets Metroidvania.
Following the success of the "Humble Indie Bundle" charity drive, Bit-Blot, the developers of the game, have released its source code. (Info here.
) Keep in mind that the game's content will remain closed, so you will still have to buy the game in order to play anything more than the demo version.
Naija is also an unlockable character in Super Meat Boy.
Not to be confused with the online game Aquaria, the Brazilian metal band Aquaria, or the formerly reigning Next Drag Superstar.
---
Tropes:
---