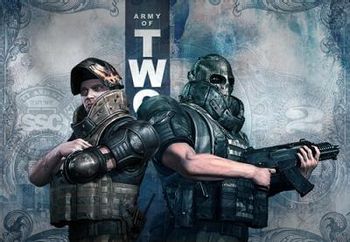 Army of Two is a 2008 third-person shooter from Electronic Arts, featuring two Private Military Contractors, Elliot Salem and Tyson Rios.
The story starts Salem and Rios as members of the 75th Army Rangers in Somalia, where they're ordered to assist a PMC named Phillip Clyde eliminate Mo'Alim, a Somali warlord. Following the completion of the mission, SSC CEO Ernest Stockwell offers Salem, Rios, and their CO positions in his company.
Salem and Rios get spiffy new armor, evil-looking masks, and a huge selection of weapons. They take missions from Alice Murray, and as the game progresses, Rios starts connecting seemingly disparate events, and the Army of Two start unravelling a plot of War for Fun and Profit that threatens their lives and the fate of the free world.
A major mechanic of this game is "Aggro", summed up as the amount of attention you currently have from your enemies. Bigger and flashier weapons garner more aggro, and therefore, more attention, allowing your partner to move around unnoticed, while smaller, quieter, and less noticeable weapons allow you to let your partner draw attention. Aggro is represented by a meter on one side of the screen; players enter Super Mode by maintaining their place with the Aggrometer buried on one side until Overkill is activated.
The sequel, Army of Two: The 40th Day, sees Salem and Rios travel to Shanghai, China for a seemingly simple contract and get caught up in a cataclysmic attack on the city. The game features numerous improvements, including massively expanded weapons customization, civilians to be rescued, moral choices and new co-op techniques like mock surrender.
A third game was released in 2013: Army of Two: The Devil's Cartel. which follows Alpha and Bravo, two soldiers working for Tactical Worldwide Operations in the middle of a Mexican drug war. In order to make the game a much more straightforward action game, the game removed most of the trademark gameplay mechanics like back-to-back shooting, co-op and AI interactions, and renamed the Aggro system.
---
This game provides examples of:
---