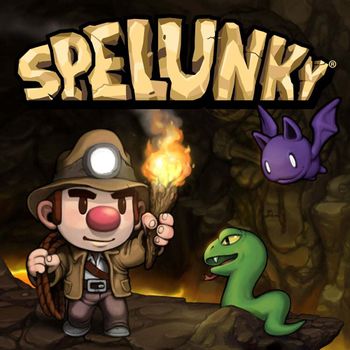 Putting the faded photo in my pocket,
I drained the rest of my canteen,
and wondered how long I'd be below.
—
(one possible)
Spelunky intro
Spelunky is a series of roguelike platform games created by Derek Yu. Following the adventures of an explorer named Guy Spelunky, the aim of the games are to traverse underground tunnels and ruins, gathering as much treasure as you can while avoiding traps and enemies. Combining elements of the roguelike and platforming genres, the Spelunky games feature the randomly-generated levels, multiple ways of interacting with the environment, varied progression paths, and Permadeath of the former, and the real-time jumping and climbing of the latter.
The first entry, now referred to as Spelunky Classic, was a freeware game released at the end of 2008. It can still be found here
. This version later received a Video Game Remake for Xbox Live Arcade, complete with a change from retro graphics to hand-drawn art, more features, many new levels and enemies, and local co-op/comptetitive multiplayer. Known simply as Spelunky, the HD remake was released on Xbox LIVE Arcade on July 4, 2012, GOG.com and Steam on August 8, 2013, PlayStation 3 and PlayStation Vita on August 27, 2013, and PlayStation 4 on October 7, 2014.
A sequel, titled Spelunky 2, was announced in 2017, starring the original protagonist's daughter. You can watch the announcement trailer here
. The game was released for PlayStation 4 on September 15, 2020, and released for Steam on September 29. Both games were released for the Nintendo Switch in August 26, 2021.
Each of these games are addictive. And tough. You've been warned.
---
Provides examples of:
open/close all folders
General
Spelunky Classic
Spelunky HD
Spelunky 2
---