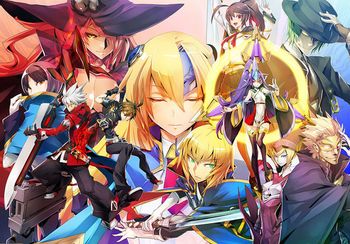 BlazBlue: Central Fiction is the fourth and final main entry of Arc System Works popular fighting game franchise. As with every new title, it comes with many new features and mechanics. There are two main mechanics like Active Flow, which rewards continuous offense with a 10% damage increase and happens once per round; Active Flow also makes your Burst stock recover faster. The second is Exceed Accel, which is a new, Overdrive only Limit Break that every cast member possess, which does further damage (as well as gain new visuals) in Active Flow. Both seem to be inspired by the Vorpal and Infinite Worth EXS mechanics from Under Night In-Birth, a game which Arcsys themselves published on consoles.
The game's setting has gone back once again to the 13th Hierarchical City of Kagutsuchi, but also includes areas from the Ikaruga Federation introduced in Chronophantasma. This time, however, things are...different. Very different. Several aspects of history have been suddenly and drastically changed, and everything is at odds with what we've come to know. And to top it all off? We're back in the year 2199. Prepare for a retelling of Calamity Trigger like you've never seen before, and for the long, twisting saga of Ragna the Bloodedge to reach its conclusion at last.
The cast have once again been re-balanced, with the addition of four new characters for the Arcade version:
Hibiki Kohaku: Kagura Mutsuki's Battle Butler, who utilizes his family's traditional assassin techniques and ninja-like movement to confuse his opponents.
Naoto Kurogane: A Canon Immigrant from the Bloodedge Experience novel series. He is searching for the Azure to undo his transformation into a vampire and can utilize his blood as a weapon.
Nine the Phantomnote : Jubei's wife, Kokonoe's mother, and one of the Six Heroes. She was recently revealed to be alive after being thought dead for years, but her true motives remain unknown. Nine utilizes powerful magic spells by calling upon the powers of the elements themselves to overwhelm her enemies.
Izanaminote : Imperator Librarius of the NOL, de facto ruler of the world. Izanami is an entity occupying the body of Saya, Ragna & Jin's little sister. Her desire is to create a bleak, desolate world where nothing can survive. She utilizes a strange ring-like structure that floats behind her known as the Yasakani no Magatama to summon projectiles and magical barriers.
On April 12th, 2016, the console version was announced in Famitsu and confirmed there will be additional characters for that release.
Es: The main heroine of the XBlaze series. Her playstyle is be easy to use, wielding a big sword with good reach. Story-wise, she only appears as small flashes in the beginning before making a big appearance in the middle.
Mai Natsume: The main character from BlazBlue: Remix Heart and its sequel BlazBlue: Variable Heart. Her attire and weapon are from the sequel, in which she uses a spear that can be redirected if it misses its target.
Susanoo: A Walking Spoiler. He fights with a very aggressive and feral style with the ability to unlock more moves. Unlocked by completing the Story Mode or purchased as DLC.
On July 15th, 2017 at the Evolution 2017 Championship series, Mori revealed a new character would be released as well as updating the balance and system mechanics of the game.
Jubei: The last of the Six Heroes finally makes his playable debut. His playstyle revolves around quick movement in conjunction with his claws and pair of Kodachi, aptly named Mucro Somnio: Musashi.
Unlike previous entries, the game's Arcade mode is divided into three different acts, the first of which was available on release, named Phantom of Labyrinth, released in Japanese Arcades on November 19th, 2015. The last two acts were released with updates after the game's initial release, with the second act being called Nightmare Memory, released on January 28, 2016. The third act, named The Replacement Blue, was released on March 31, 2016. A subtitled version of the first trailer can be seen here
. The console versions released on October 6th, 2016 in Japan on the Playstation 3 and Playstation 4 consoles. Aksys once again provides the localization (alas, without a dub this time) and brought the US version of the game over on November 1st, 2016, with P-Qube following suit with the PAL version on November 4th, 2016. The PC/Steam version of BB:CF was released on April 26, 2017, and it contains all DLC (Characters/Colors/Etc.) so far from the console versions included (except for Jubei, as he's DLC for the Steam version).
A Switch version by the name of BlazBlue: Central Fiction - Special Edition was announced at Tokyo Game Show 2018. It will be released in JP and NA on February 7th, 2019 and in EU/PAL on February 8th 2019. Like the Steam version, it will include all the DLC so far with Jubei included, along with the "Switch"-type character colors (Red/Blue) based on BlazBlue: Cross Tag Battle.
At CEO 2021, it was announced that the PC port of Central Fiction would be receiving an update to upgrade the game's noticeably shoddy delay-based netcode to the more industry standard rollback netcode, along with Cross Tag Battle getting the same for its PC and PS4 versions.
---
REBEL 4, ACTION!
---
ASTRAL FINISH!