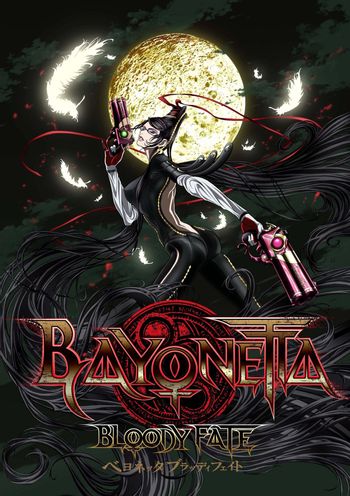 Bayonetta: Bloody Fate is an anime movie adaptation based off the first Bayonetta game, produced by GONZO. The movie saw a two-week release in Japanese theaters on November 23rd, 2013, with a DVD and Blu-Ray on February 14th, 2014. It saw a North American release by FUNimation featuring the return of the entire original voice cast on October 21st, 2014.
Bayonetta is a witch with no memories, having been woken from a 500-year-long slumber at the bottom of a lake 20 years prior, with the only knowledge retained to her is that she is an Umbra Witch, and she needs to kill the Angels of Paradiso to keep Inferno happy. It's at this time that the president of the Ithavoll Group, Balder, who is also the leader of the Ragna religion seeking the resurrection of The Creator, Jubileus, sends an invitation to Bayonetta. Being pursued by a mysterious woman in red with the same witch powers as her, as well as a much less threatening Intrepid Reporter named Luka, Bayonetta sets her sights on the city of Vigrid in order to discover the secrets of her lost memories.
The anime is notable for being the first Bayonetta product to feature Japanese voice acting, and was so positively received by fans that the cast was brought back for the Japanese dub of Bayonetta 2 and a re-release of the original game for the Wii U. But despite its positive reception, the events of Bloody Fate are considered entirely non-canon because the official continuation of the franchise in Bayonetta 2 goes in a different direction.
---
Bayonetta: Bloody Fate provide examples of:
---