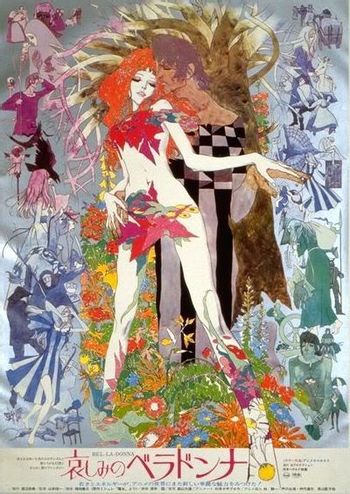 Jeanne (Aiko Nagayama) is a peasant woman who has just been Happily Married to Jean (Katsutaka Ito). They can't pay the absurdly high marriage tax, so the baron (Masaya Takahashi) sees fit to have his way with her.
When she returns home, she is seduced by the Devil (Tatsuya Nakadai) and finds herself gradually turning to witchcraft to find empowerment and freedom. At first, she and her husband are prosperous, but as famine, war, and The Black Death strike the rest of the village, suspicion grows and she is eventually cast out of the village. She wins the villagers over when she offers a miracle cure for The Black Death, but then the nobility catches wind of her power...
Belladonna of Sadness (Kanashimi no Belladonna, also known as The Tragedy of Belladonna) is an avant-garde anime film made in 1973, and the final installment in the Mushi Productions' Animerama trilogy that was started by A Thousand & One Nights. Inspired by... Jules Michelet's non-fiction book, Satanism and Witchcraft
(or La Sorcière), the film was directed by Osamu Tezuka's disciple, Eiichi Yamamoto, and produced by Tezuka's studio, Mushi Productions.
Although the film was initially a commercial failure, it has gained some recognition in anime circles for its experimental animation, which is full of beautifully painted still images, Gustav Klimt Art Nouveau inspired imagery and heavily stylized depictions of sex. The film also inspired Kunihiko Ikuhara to work in anime, and its visual and thematic influences can be seen in Revolutionary Girl Utena.
Released in 2016 with theatrical and home video re-release in North America,
the official and Red Band trailers can be found here
and here.
It has also been broadcast, uncensored, late nights on Turner Classic Movies.
---
Belladonna of Sadness provides examples of:
Animation Bump: It's rather an animation earthquake when the slide-show "animation" is suddenly replaced by a full-animated psychedelic extravaganza during the Deal with the Devil. In general, the sex scenes are intricately animated while the non-sex plot-moving scenes are Limited Animation or The Ken Burns Effect. There are also dramatic moments where the animation becomes absurdly fluid. The juxtaposition between still frames and moments like these is both jarring and effective.
An Arm and a Leg: The baron makes Jean the official tax collector for regularly paying his taxes, but during the war, he can't squeeze anything more from the peasantry. As punishment, the baron has Jean's left hand chopped off.
Deal with the Devil: Jeanne makes a series of deals with the Devil to gain increasing material and magical power until she finally sells her soul to him, has sex with him, and becomes a Hot Witch.
Deranged Animation: The film could be considered a Trope Maker for this trope in anime, since Kunihiko Ikuhara, the creator of Revolutionary Girl Utena, was directly inspired by it:

The sex scenes, especially Jeanne's rape—which begins with a white silhouette of her body being torn in half through the crotch—are packed with surreal and often disturbing imagery.
The "transformation scene" in which Jeanne sells her soul to the Devil with some vigorous sex is particularly surreal and even visually quotes Yellow Submarine.
Downer Ending: Jeanne is burned alive, Jean is killed during his attempt to save her, and the rest of the village is cowed into submission to the Baron. However...
Droit du Seigneur: Jean is unable to pay the exorbitantly high marriage tax to the baron, leading the baron and his entire castle to gang rape his wife, Jeanne, as substitute payment.
Mind Screwdriver: The symbolism makes a bit more sense if you've read Satanism and Witchcraft. For instance, the eight-minute "Schoolhouse Rock" sequence refers to the book's claim that as part of their Deal with the Devil, witches received all knowledge of past, present, and future.
Ms. Fanservice: Jeanne is a beautiful girl who's never had any shoes and is fully or partially naked more often than not. She's such foot fetish material that in one scene of her gang rape, one of her rapists is playing with her toes. And then there are her various erotically charged encounters.
No Name Given: The baron, the baroness, and the page have no name given.
Nude Nature Dance: Jeanne kicks off the village orgy by dancing nude with magical, healing flowers.
The Devil is a tiny little roughly penis-sized figure wrapped up completely in a white cloak except for his pink head. Shortly thereafter this becomes something more than innuendo as he jumps down into Jeanne's pants and begins pleasuring her.
Women Are Wiser: Jeanne gets the abilities of a traditional wise woman, such as plant knowledge, healing and making magical potions. She's also more knowledgeable of human nature, judging by the fact that she knows her meeting with the baron will be a trap. In contrast, her husband, Jean, is rather feckless and gets treated like a Butt-Monkey.
---