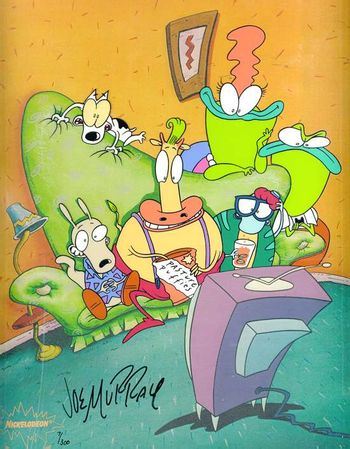 One of Nickelodeon's most famous Nicktoons, and the 4th overall, created by illustrator and cartoonist Joe Murray. It stars Rocko (voiced by Carlos Alazraqui), a mild-mannered young wallaby from Australia, adjusting to life on his own in the hectic metropolis of O-Town.
Most of Rocko's days were "very dangerous days", in which A Simple Plan like a trip to the laundromat or just trying to keep his job was met with bad luck and other weirdness. In later episodes, Rocko's friends Heffer (Tom Kenny) — a gluttonous, not-too-bright, but amiable bovine who was literally Raised by Wolves — and Filburt (Mr. Lawrence) — a neurotic, hypochondriac turtle — were often dragged along for the ride. Rocko would also find himself butting heads with his cranky next door neighbors, middle-aged toad couple Ed and Bev Bighead (Charlie Adler).
The writers had an amazing talent for getting away with a lot of risqué material, making The Ren & Stimpy Show's attempts look amateur and obvious by comparison (although Ren & Stimpy focused more on shock value). At least two episodes, "Leap Frogs" and "Heff in a Handbasket," were banned after their original airings for their raunchier-than-normal content and certain episodes (i.e. "Road Rash", where Rocko and Heffer encounter a shady motel ran by a stereotypical Asian) had scenes that were cut from broadcast.
Shout! Factory released the complete series to DVD in 2013. While it includes the banned episodes, it also excludes several scenes from others ("Hut Sut Raw", "The Good, the Bad, and the Wallaby", "Road Rashed", and "Wacky Delly"), forcing completionist fans to seek them elsewhere.note This set was eventually re-released by Paramount in November 2018, but the contents were exactly the same as the last one, including the censored scenes.
The pilot episode was animated by Murray's own studio. The rest was animated by Sunwoo (76 episodes) and Rough Draft Studios (27 episodes).
Other media includes:
---
Very dangerous tropes:
open/close all folders
Tropes A-H
Tropes I-Q
I Am Not Weasel: In a Running Gag Rocko has trouble convincing people he's a wallaby. Heffer's partially blind grandfather constantly mistakes him for a beaver.

Heffer and his father also often have to correct people that call Heffer a "cow" that he is technically a steer.

Dad Wolfe: He's a STEER!!!

I Ate WHAT?!: Rocko, after Heffer describes what's in the dinner he made for him. And for the record, the ingredients are: Pickled banana shavings, gym socks, canned haggis, beetle bladders, real processed head cheese, saltpetre, reconstituted corn sweat, the finest barley and hops, potash sulfur, monosodium glutamate, and vegetable cartilage as a binding agent.

Basically, Heffer fed Rocko animal innards, potassium-based chemical compounds mostly used in fertilizers, food additives, and two of the main ingredients of beer. Rocko actually liked it before Hef read off his ingredients list.

Identifying the Body: Spoofed. When Heffer goes missing, his parents go to a butcher's shop to identify a butchered steer; thankfully, it wasn't him.
Ignorant About Fire: In "Popcorn Pandemonium", a fire is ignited in the movie theater. Rocko tries to get everyone's attention, but they just shush him, thinking that it's just the 3D effects. As such, the fire reaches the popcorn machines and popcorn floods the theater.
I Have No Son!: A season two episode where Rocko and Filburt search for The Bigheads' estranged son, who now works in Holl-O-Wood as an animation director.
I'll Tell You When I've Had Enough!: Said by Heffer in "Who's For Dinner?"
I Resemble That Remark!: In "Eyes Capades", Heffer remarks that Rocko is "blind as a bat", when a giant bat approaches Heffer being insulted by that stereotype. After Heff apologizes, the bat suddenly bumps into a wall.
Impossible Shadow Puppets: In "Cabin Fever", Mr. Bighead does shadow puppets of the Thinker, a running deer and the Eiffel Tower. Much to his frustration, nobody can guess what they are.
In-Universe Soundtrack: The show's distinct background music is notable for, among other things, heavy use of the trombone. In one scene in the series finale, there's a scene in the Bigheads' yard where the trombone music adruptly stops at the same time that Bev speaks. Pan up and we see that Bev has been playing the trombone while sitting in the windowsill the entire time, only stopping to deliver her line.
Inherently Funny Words: Heffer gleefully exclaiming the word "Naked" in "Camera Shy". NAAAKEEED!
Insistent Terminology: Heffer frequently corrects people who call him a cow ("Steer"). George Wolfe is also ready to correct anyone who does so.
Instant Wristwatch: Used in "Carnival Knowledge", "Rocko's Happy Sack", "Popcorn Pandemonium", "Commuted Sentence", and "Rocko's Modern Christmas".
Interspecies Adoption: Heffer was originally going to be fattened up and eaten by the Wolfe family, but they grew to love him instead.
Interspecies Romance: Filburt and Dr. Hutchinson, along some minor characters.
Ironic Echo: In "Commuted Sentence", Mr. Smitty shows Rocko a chart that shows that "time=money", as an analogy for why he can't be late for work. At the end of the episode, Mr. Smitty has his car towed and at the impound lot, he tells one of the workers, "I want my car, and I want it NOW!" The guy pulls down the same "time=money" chart.
It Came from the Fridge: "Trash-O-Madness" involves Rocko finding something green and slimy in the refrigerator.
Jerkass:

Ed Bighead has an irrational dislike of Rocko and often goes out of his way to make the wallaby's life a living hell.
Slippy the Slug from "Carnival Knowledge", who willingly puts his customers through dangerous rides and rigged carnival games just to make a buck.
Rocko's cruel boss, Mr. Smitty, who once had Rocko stay up all night just to fix one minor flaw on each copy of over a thousand comic book covers.

Jerkass Ball: Filburt can occasionally lapse into this, too — usually if he's forced to be around Heffer. Not that Filburt needed Heffer's help. In one episode, he seems willing to let Rocko get eaten by a bald eagle in order to steal said eagle's wigs.
Jerk with a Heart of Gold:

Grandpa Wolfe in "Crusin" Part 2, when he saves Rocko from drowning in the ocean.
Also Heffer; while he's lazy and selfish, he's shown to really come through for Rocko in times of duress. To give Heff credit, if he's the one who ends up messing something up for Rocko, he'll make up for it without question albeit in unorthodox ways. "Hair Licked" is one of the best episodes that signifies this trope for him. He's responsible for messing up Rocko's hair (albeit unintentionally since he's not the best barber) and his picture at Filburt's (his butt bumped into the fan trying to pick up a cookie) but he was also the one who helped Rock get a better haircut by the Chameleon Brothers and a picture for the newspaper thanks to pushing Rocko's face on the copier. It wasn't the prettiest picture and everyone mocked it but Rocko liked it anyway.

Joker Jury: A fly fakes physical injuries to file a lawsuit against Rocko. The entire jury is made up of insects.
Kafka Komedy: Rocko just can't seem to catch a break. Partially subverted in that his niceness is not infinite.
Kangaroo Court: See above.
Karma Houdini: In "Camera Shy" Heffer and Filburt film Rocko sleepwalking naked. This ends up causing a big ordeal for Rocko, but never once do they so much as suffer a lick of guilt for their little prank. Then again, they did have to help erase 10,999 copies of the film which must have taken days to do. (The only copy was given to the Australian Film Festival where it won)
Karmic Butt-Monkey: Ed Bighead is an ill-tempered Cranky Neighbor who is rude to Rocko. Ed gets even more slapstick than Rocko does, though, leading him to say his catchphrase, "I hate my life!"
Language Fluency Denial: When Heffer and Filburt are on the news after changing their identities, Heffer declares "Me llamo Francois" while Filburt claims that he doesn't speak English.
Large Ham:

Ed Bighead, without a doubt. "PINHEADDDDDDDS!"
The Hippo Lady as well. "HOWW DARRE YOUUU!?"
The hot-tempered instructor from "Skid Marks" is also one of these. "As far as I'm concerned, you're all WILD PIIIGS!!!"note
And who could forget the Chameleon Brothers in "Camera Shy"? "OH, LOOK, it's our little FILLLM-MAAAKERS HEERE!!!" "Goofy sound effects? WITH WHIPPED CREEAM ON TOPP!!!" "THAT'S OURR MASSTERPIECE!!" "Everyone who is wishing to look artistic will want one...OF OUR ELEVEN THOUSAND COPIES!!" "EVERYONE is FRAPPING IT to our bought-out FILM! Have an espresso, baaaaaby!"

Laser-Guided Broadcast: In an episode, Rocko is upset about the mess in his house and the fact that his old POS vacuum cleaner isn't working. Heffer persuades him to take a break, and Rocko reluctantly agrees, saying, "Sometimes, I believe I was destined to exist in an endless world of filth." The TV then plays a commercial with those Exact Words.
Laugh Track: Parodied when the show focuses on Spunky's parasites, Bloaty the tick and Squirmy the ringworm, and they're treated as sitcom buddies. It's only heard on "Dirty Dog", though.

There's also one on Ralph's cartoon "The Fatheads", only it's just one guy laughing like crazy, and whenever the Fatheads smile for the camera, traditional sitcom applause is heard.

Lemony Narrator: In "Popcorn Pandemonium", the trailer voice for "Dracula: Done to Death" states:

Announcer: It's not new, it's not original... it isn't even very interesting... but it is coming this summer.

Let's Meet the Meat: One episode begins with a chicken applying for a job—at a chicken restaurant. You can see her nametag on a package of chicken about five seconds after she gets hired.
Limited Wardrobe: Lampshaded, too.
Long List: In "Bedfellows", Heffer rattles off every ingredient in the meal he cooked for Rocko.

Heffer: There's pickled banana shavings, gym socks, canned haggis, beetle bladder, real processed head cheese, salt peter, reconstituted corn sweat, the finest barley and hops. (the meal comes alive and tries to get away; Heffer stabs it) Hmmm, now where was I. Pot ash, sulfur, mono sodium glutamate, and vegetable cartilage as a binding agent.

Lookalike Lovers: Ed and Bev sort of look like clones of each other. Though there is one consistent differences besides their clothes and hair: Bev has fatter arms.
Lounge Lizard: Filburt aspires to be one in the style of his idols Jack Walla, Frank Salamander, Johnny Charisma, Bobby Gila, and Buddy Gecko.
Lowest Common Denominator: Parodied heavily in "Wacky Delly". In this episode, Ralph Bighead intentionally has Rocko and co. create a sloppily put-together series to get out of his contract, only for the executives and the general public to adore it. Ralph then tries to have the show cancelled by making it more and more lowbrow, only to make it even more popular. It only takes one intellectually improved episode created by Ralph for the show to be hated by the public and immediately cancelled. It's after this that Ralph expresses his frustration with the masses with this...

Ralph: You cretins! You don't know what art is!!! I'LL SHOW YOU!!!!

Mad Doctor: "Skid Marks" has one though he's actually rather friendly and likes to examine eyes with a Jump Scare because it's much easier. Dr. Bendova in "Flu In-U-Enza," however, might actually not be a real doctor but a mental patient if the nurse's dialogue is anything to hint at...

Nurse: HEY! I THOUGHT I STRAPPED YOU TO THE BED!

May Contain Evil: Numerous CONGLOM-O products in "Canned", including a childrens' water slide with electrified rails and a combination jock strap/jumper cable.
Magnum Opus: In "Wacky Delly", successful animator Ralph Bighead wants to get out of the animation business to make "real art", and Hilarity Ensues. The episode ends in a Flash Forward showing Ralph after he has complete his life's master work, a still life of wine and fruit carved into a mountain a la Mount Rushmore. The subtitles tell the viewer that its creation has taken ten years, although judging from Ralph's mop of white hair and long white beard, those years have taken a toll on him.
Magnum Opus Dissonance: In-universe example. Ralph Bighead felt that the world's largest still life sculpture would be his masterpiece, but it turns out that it's not as popular as Wacky Delly was before he got involved in the show.
Major Injury Underreaction: The pilot in "Jet Scream". He delivers news about severe plane damage in a very calm manner:

Pilot: No need to worry, we just lost power to our right engine. (the plane flies between two mountains and loses both of its wings) Oops.

Maligned Mixed Marriage: Filburt and Dr. Hutchison's relationship (and later marriage) is not approved by the Widow Hutchison or the clans of cats and turtles because cats and turtles don't mix!
Mandatory Line: In "Teed Off", during the climax when Heffer's plane is hit by a piano and descends, everyone starts to scream, including Rocko, sitting in a chair with Spunky at home. He wasn't featured in the episode before that point.

Rocko only shows up in the beginning of "An Elk for Heffer" and "Nothing to Sneeze At" with only one or two lines of dialogue.

Manly Tears: Anytime Heffer cries, especially during "Who's for Dinner" and "To Heck and Back".
Man of a Thousand Voices:

In addition to voicing Heffer, Tom Kenny provided the voices for the majority of minor and one-shot characters in the show.

And those characters that WEREN'T voiced by him were almost always voiced by Charlie Adler.

Linda Wallem voiced practically every female character on this show.

This can also be a case of talking to himself, when one considers, with a few exceptions here and there, the series really only utilized five voice actors:
Carlos Alazraqui: Rocko, Spunky, Leon, Mr. No Way, Squirmy, Earl the Dog
Tom Kenny: Heffer, Chuck, Mr. Smitty, Really Really Big Man, Peaches, Bloaty, Tyrone the Garbage Rat
Doug "Mr." Lawrence: Filburt, Peter Wolfe
Charlie Adler: Ed Bighead, Bev Bighead, Mr. Dupett, George Wolfe, Grandpa Wolfe, Hippo Lady
Linda Wallem: Dr. Hutchinson, Virginia Wolfe, Cindy Wolfe, Tammy Pig

Mascot Villain: Edward Bighead.
Meaningful Name: "Dr." Bendova apparently practices proctology.
Medium-Shift Gag:

At one point in "Jet Screamed", Hef and Rocko become Picasso-esque artwork versions of themselves.
The live-action meatloaf footage in "Wacky Delly", which was filmed by Joe Murray and Richard LeRoy on Murray's patio.

Mega-Corp: Conglom-O. Hell, their slogan is "We Own You". It's right on the front of their building. And their logo is the Earth in a martini glass like an olive.
Mime and Music-Only Cartoon: "Fatal Contraption".
Misfortune Cookie: Could be considered the Trope Maker. The episode "Fortune Cookie" has Filburt receiving a fortune cookie telling him "Bad luck and extreme misfortune will infest your pathetic soul for all eternity" and him receiving a streak of bad luck shortly after - when he's supposed to be "Mr. Lucky!" for an upcoming game show appearance.
Moment Killer: At the end of the big musical number "Spring Cleaning" in "Zanzibar" somebody lets out a great big fart.
Mood Whiplash: In "Rocko's Happy Sack," the grocery store butcher wallows in a pool of self-loathing as he evaluates how sucky his life is: he's fat, he's ugly, he's a pig, he's never been married, etc. Then a liver somehow comes to life, crawls out of its packaging, and finds its way to him, which actually breaks him out of his misery, and then believes he's actually got a pretty good life as it is.
Mooning: In "Sugar Frosted Frights", one of the slides looked at by Rocko, Heffer, the Hopping Hessian, and Gordon depicts Heffer smiling as he drops his pants to bare his butt to the camera.
Movie-Theater Episode: In "Popcorn Pandemonium", Rocko and Heffer treat Mr. Bighead's big-screen TV like a drive-in. After they inadvertently destroy the TV, they go to the Googa Plex Cinema, where every movie playing is Lethal Odor IX. Along the way, they try to find a good viewing room, and watch trailers for upcoming movies, including The Little Poots, Garbage Strike: The Musical, and Dracula: Done to Death.
Musical Episode: "Zanzibar".
My Beloved Smother: A more mild version, Virginia Wolfe treats her adopted son Heffer like he's still a little kid, but he's is such a Manchild, he doesn't seem to mind... that is until Rocko and Filburt start teasing him about it and calling him a "mama's boy".
Naked Freak-Out: In "No Pain, No Gain", Heffer accidentally spills a smoothie on Rocko at a sauna juice bar. He reaches for a towel, and rips it off of Bev Bighead, leaving her naked. She screams and jumps inside of a piano to cover herself.
Nature Tinkling: Comes up in "Hut Sut Raw" when Filburt informs Rocko that he needs to use the bathroom and Rocko responds by pointing towards a bush. Filburt is so disgusted by the idea of peeing behind a bush that he chooses to hold it instead.
Nervous Wreck: Rocko nearly becomes one of these while trying to prevent the "La Vida Moderne de Pinto" clips (featuring the scene above) from being sold.

The film ended up winning the festival where Rocko's parents saw it and sent him ten dollars to buy a bathrobe.

New Job as the Plot Demands: Dr. Hutchinson. She started off as a dentist in "Rinse and Spit" (until she got tired of always looking down in the mouth), then a surgeon in "Tickled Pinky" and "Nothing to Sneeze At" (until she just couldn't cut it), then a pharmacist in "Kiss Me, I'm Foreign," and then finally a canine nutrition specialist in "The Fatlands." It's likely her not being so frequent is because she's either going to school to get said new careers or working long hours without a break.

Filburt also seems to change his job as well. He was working as a cashier in a grocery store, aspired to be a dentist, worked at Rocko's comic book store as an assistant, selling samples at the grocery store (where he met Heffer), the DMV, a fast food restaurant, and an amateur photographer. His aren't as called out on because he changes easily obtainable and replaceable part-time jobs and his wife changes careers.

New Job Episode: "Canned"
Nice Mean And In Between: Of the main trio: Rocko is the nice one, Heffer is brash and often inconsiderate and Filburt has his moments when he can act like a jerk, but is mostly pretty neurotic and tolerable otherwise.
No-Dialogue Episode: The episode "Fatal Contraption", in which Rocko buys a living food processor, features no dialogue except for an announcer saying "Buy this! Food-O-Matic 2000!"
No Macguffin No Winner: Double subverted. Rocko gets two tickets to a wrestling match, with Filburt and Heffer both trying to butter up Rocko to get the other ticket. However, Filburt and Heffer's antics keep getting further and further on Rocko's nerves, especially when the two of them come to blows over it. Eventually, Rocko has enough, saying that he's going to the wrestling match alone. It's subverted when Filburt and Heffer both handcuff themselves to Rocko in an attempt to force the issue, but then double subverted when Rocko just tears both tickets into tiny pieces so none of them get to go.
Non-Indicative Name: The Five Fingers of Death. All characters have Four-Fingered Hands.
Noodle Incident: Heffer asks Rocko if he's still "peeved about the Poodle Incident" at the beginning of the episode "Manic Mechanic."
Nose Nuggets: Mr. Dupet seems to be constantly picking his nose. Sometimes when he's using both hands for something, he'll have one of his employees pick his nose for him.
Not Where They Thought: In "Popcorn Pandemonium", Rocko and Heffer run into what they think is one of the cinemas while the lights are off. They sit down and Heffer says his seat is wet. A guy walks in and turns on the lights, revealing that Rocko and Heffer have unknowingly entered the men's restroom and are sitting in urinals.
Oblivious Adoption: Heffer was quite literally raised by wolves, and didn't realize this until Rocko pointed it out.
Oktoberfest: Heffer joins a cult that is all about schnitzel. (To the point where they consider any other foodstuff, including pizza with sausage on it to be an abomination.) They all wear lederhosen, and the women wear their hair in braids.
Once an Episode: A fart noise can be heard. Sometimes more than once per episode, but every episode had at least one.
Only Sane Man: Rocko, although even he has his moments.

Rocko seems to have problems dealing with frustration and anger, especially in later episodes.

Organ Autonomy: The pink appendix in "Tickled Pinky" who goes to Organ-School
Out Of Control Popcorn: Near the end of the episode, "Popcorn Pandemonium", Filburt, who works as the projectionist for the Googa Plex cinema, accidentally falls over and leaves his glasses in front of the projector. This causes the projector to set the screen on fire, and the fire makes its way to the popcorn storage room, causing the popcorn to fill up the entire theater, destroying it and making it look like a drive-in. At the end of the episode, as Rocko and Heffer eat the popcorn from the pile that buries them, two of the rat garbagemen from the trailer for Garbage Strike: The Musical refuse to clean up the mess, and why is that? Cause' they're on strike!
Over-the-Top Roller Coaster: In the first episode, Rocko and Heffer ride a roller coaster at the carnival that goes through the clouds all the way into space, and when they come back down, the coaster is still under construction.
Overly-Long Gag: The wheel in "Fortune Cookie" comes off, as a result of Filburt's bad luck, and starts wrecking everyone and everything in the whole world.

It eventually comes back to where Filburt's been standing in hope that he'll win... and he does.

Overly Pre-Prepared Gag: In "Tooth & Nail", Rocko has an out-of-control nail-biting addiction, and he decides to hide his chewed-up nails from his friends. When Heff and Filb open the door, Heff notices that Rocko has his hands inside a monkey puppet and a ham. Rocko pretends not to notice, but then Filb asks if he is hiding something, to which Rocko replies, "Everybody's got something to hide except for meat and my monkey! Goodbye!"
Papa Wolf: George Wolfe, both literally and figuratively. He's very protective of his adopted son when he's not yelling at him.
Paper-Thin Disguise:

Ed dresses as Earl in "Frog's Best Friend".
Also Heffer and Filburt dress as Ed in "She's the Toad" which actually works until Hef and Filb gave it away at the very end.
Filburt has a pathetic example to pass himself off as Rocko in "Born to Spawn." Heffer actually falls for it though that's mainly because he's staring more at the TV.

Parallel Parking: Rocko's boss, Mr. Smitty, does a really poor job of it in "Commuted Sentence", smashing both the front and rear car while pulling in.

Virginia also doesn't do such a great job when Rocko teachers her how to drive in "Driving Mrs. Wolfe."

Parodies of Fire: Seen in "From Here to Maternity," as Filburt attempts to beat a stork to the O-Town Hospital, when running to the main entrance, everything then goes into slow-motion as a sound-alike of the Chariots of Fire theme plays, as Filburt manages to run ahead of the stork. But then the music stops (with Record Needle Scratch) and the speed returns to normal when the stork catches up and swipes Filburt's glasses so he can't see where he's going.
Pilot: "Trash-O-Madness", which was later expanded to 11 minutes and worked into a proper episode opposite "The Good, the Bad, and the Wallaby." It's incredibly Off-Model as a result of all the conflicting art styles.
A Pirate 400 Years Too Late: Mr. Bighead sleepwalks and acts out dreams of being a pirate, brought on by going to see a play about pirates with Bev, and thinking back to his first instance of stage fright while performing in the very same play back in grade school.
Plane Awful Flight: "Jet Scream" has Rocko endure every bad plane flight cliche known to man, from losing his luggage (it ended up on another planet) to dealing with a bratty kid (the passengers cheer when an exasperated Rocko stuffs him in an overhead bin) to the plane going into a dive.
Plumber's Crack: Rocko takes a job as a plumber's assistant after losing his job in "Canned." He is dismayed, however, to find out that his sole responsibility is to pull up the plumber's pants.

Plumber: Hey, could you get that? Thanks a lot. Hey, could you get that? Thanks a lot. Hey, could you get that? Thanks a lot.

Police Code for Everything: "Uniform Behavior". 1041 = Naked Cow in public.
Post–Wake-Up Realization: In "Nothing to Sneeze at", Mr. Bighead wakes up and doesn't realize his wife has swollen from sickness until after he walks a few feet away from the bed.
Potty Failure: Ed Bighead has one in the episode "Keeping Up With the Bigheads" where he laughs so hard that he wets himself.
Promoted Fanboy: In-universe example. Rocko, Filburt, and (not revealed until later) Heffer were big fans of Ralph Bighead's Meet The Fatheads, and gladly accepted Ralph's offer to help him create his new show.
Punctuated! For! Emphasis!: From "Skid Marks":
Tropes R-Z
---
That was a hoot!