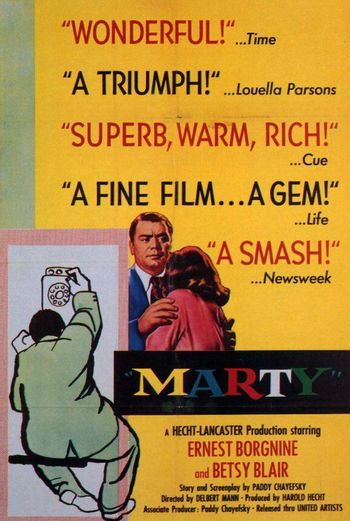 "See, dogs like us, we ain't such dogs as we think we are."
— Marty Pilletti
A 1955 film directed by Delbert Mann and co-produced by Burt Lancaster, Marty was based on a 1953 teleplay of the same name by Paddy Chayefsky, who also wrote the screenplay.
Marty Pilletti (Ernest Borgnine) is a Bronx butcher who lives with his mother. At 34, he's resigned himself to a lifetime of bachelorhood while his siblings have families of their own. Everything changes when he meets Clara (Betsy Blair), a schoolteacher who has also resigned herself to never finding love. Through each other, they find happiness.
Nominated for eight Academy Awards, Marty won for Best Picture, Director, Actor, and Screenplay. It also received the Palme d'Or at Cannes. Besides his Oscar, Ernest Borgnine also earned a Best Actor Golden Globe Award for this performance.
---
This film features examples of:
---