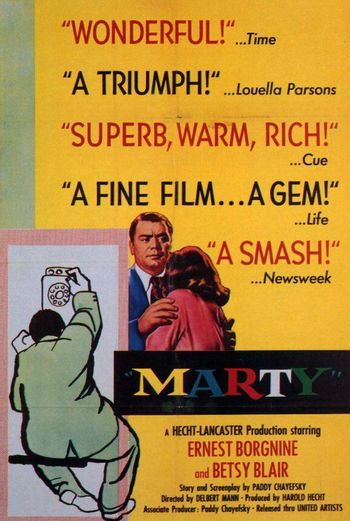 "See, dogs like us, we ain't such dogs as we think we are."
-Marty Pilletti
A 1955 film directed by Delbert Mann and co-produced by Burt Lancaster, Marty was based off a telefilm by Paddy Chayefsky, who also wrote the screenplay. It was the Star-Making Role for Ernest Borgnine, which earned him an Oscar for Best Actor. The film also won Best Picture and earned its director and writer Oscars, as well as the coveted Palme d'Or at the Cannes Film Festival. After The Lost Weekend, it became the second film to win the Best Picture Oscar and the Palme d'Or, a feat that would not be repeated until Parasite 2019 64 years later. It is also the shortest film to win Best Picture, at just 90 minutes long.
Marty Pilletti is a butcher who lives with his mother. At 35, he's resigned himself to a lifetime of bachelorhood while his siblings have families of their own. Everything changes when he meets Clara, a schoolteacher who has also resigned herself to never finding love. Through each other, they find happiness.
Legend has it that co-producers Harold Hecht and Lancaster decided to make the film and cast Borgnine (a character actor best known for playing heavies) assuming it would flop, and use it as a tax-write off.
---
This film features examples of:
Plain Jane: Clara. Marty himself is a male version.
The Pollyanna: Marty. Despite not being married, he still thinks positively.
The Remake: Of a 1953 live television movie starring Rod Steiger and Nancy Marchand. The actors who played Marty's mother and aunt and his best friend Angie reprised their roles from the teleplay.

The 1991 movie Only The Lonely starring John Candy is often considered a loose remake, due to the similar plot, with Irish characters instead of Italians.
---