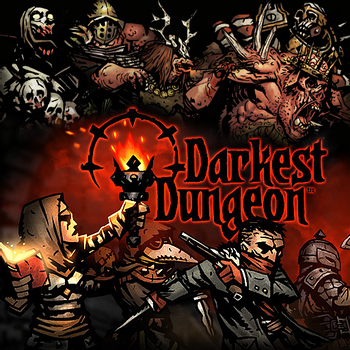 "You remember our venerable house... opulent and imperial. It is a festering abomination! I beg you, return home! Claim your birthright! And deliver our family from the ravenous, clutching shadows... of the Darkest Dungeon."
— The Ancestor
Darkest Dungeon is a challenging Gothic Horror Dungeon Crawling RPG about the stresses of dungeon crawling, developed by Red Hook Studios. You are the heir of a former noble family, damned due to the actions of a hedonistic forebear who spent the family fortune excavating an ancient portal underneath the family estate and inadvertently releasing an untold number of Eldritch Abominations. Your goal is to drive back these horrors and redeem the family name.
You will send out teams of recruited heroes on a perilous side-scrolling descent, dealing with a prodigious number of threats to their bodily health, and worse, a relentless assault on their mental fortitude! Five hundred feet below the earth you will not only fight unimaginable foes, but famine, disease, and the stress of the ever-encroaching dark. Darkest Dungeon focuses on the humanity and psychological vulnerability of the heroes and asks: What emotional toll does a life of adventure take?
Visit their website here.
On February 3, 2015, the Steam version was released as an Early Access title. The game was fully released on January 19, 2016 for Microsoft Windows and OS X computers, with a Linux release on April 26th, 2016, and a release for PlayStation 4 and PlayStation Vita consoles on September 27th, 2016. A paid DLC expansion named The Crimson Court was released on June 19th, 2017 for computers, and on August 22nd, 2017 for consoles. A second DLC, named The Color of Madness, was released on June 19th, 2018. The iPad version was released on August 24th, 2017, and The Crimson Court is scheduled to be released later. A Nintendo Switch version was released on January 18th, 2018.
On April 2020 they announced a new free DLC pack for the game, The Butcher's Circus, which features a new biome and player vs player combat. It was released on May 28, 2020.
The sequel, Darkest Dungeon 2, was announced
in February 2019.
Mythic Games held a Kickstarter campaign to fund
Darkest Dungeon: The Board Game miniature game in late 2020.
For tropes related to Marvin Seo's custom classes and other mods, see this page.
For tropes related to the total conversion overhaul, the Black Reliquary, see this page.
Not to be confused with Dark Dungeons, the original comic book by Jack Chick and its film adaptation.
---
In time, you will know the tragic extent of these tropes:
open/close all folders
#-B
C-D
E-F
G-L
M-P
R-T
U-Z
The Crimson Court DLC provides examples of:
A-Z
The Color of Madness DLC contains examples of:
A-Z
The Butcher's Circus DLC contains examples of:
A-Z
---
The old road will take you to hell, but in that gaping abyss... We will find our redemption.