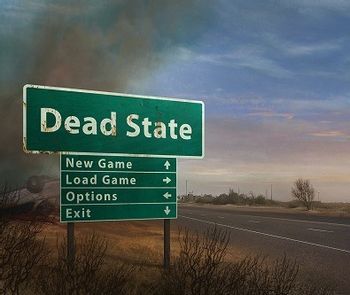 Let us beware of saying that death is the opposite of life. The living being is only a species of the dead, and a very rare species.
Dead State is a post-apocalyptic Role-Playing Game developed by DoubleBear Productions with the assistance of Iron Tower Studio, who later relased The Age of Decadence. The game was partially funded through Kickstarter and released in 2014. It casts the player as the leader of a safehouse during a Zombie Apocalypse. Although zombies will, of course, be a constant menace, the focus of the game is human interaction: other survivors will be both your greatest asset and your greatest threat.
It went through a massive rehaul and content patch as of May 13th 2015. Now called Dead State: Reanimated it boasts Hardcore mode, Iron Man Mode, and allows for PC infection.
Now has its own wiki here
---
Tropes featured in Dead State include:
---