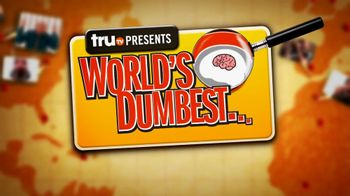 World's Dumbest: Why Does This Always Happen?
— Michael Loftus' proposed slogan for the show.
truTV Presents: World's Dumbest... (formerly titled The Smoking Gun Presents: World's Dumbest...) is a program on truTV, "highlighting" the world's dumbest criminals, drivers, brawlers, animal encounters, etc., with celebrity commentary. Originally produced by The Smoking Gun, a site profiling known criminals and many celebrities such as Danny Bonaduce and Leif Garrett, who also were regular emcees on the show. Other emcees include Bryan Callen, Frank Stallone, Tonya Harding, Judy Gold, Todd Bridges, Brad Loekle, Gary Busey, Ted Jessup, Nick DiPaolo, Daisy Gardner, Chelsea Peretti, John Enos, Chuck Nice, Roger Lodge, Loni Love, Daniel Baldwin, Mike Trainor, Kevin and Tom McCaffrey, Jaime Andrews, Marianne Sierk, Michael Loftus, Mike Britt, Brendan Walsh, Greg Wilson, Billy Kimball, Chris Fairbanks, Rachel Feinstein, and Jamie Lee. In 2013, the series experienced an overhaul, letting go a number of the aforementioned emcees, and bringing in new additions to the roster, including Amanda Landry, Mike O'Gorman, and Gilbert Gottfried.
As aforementioned, the show was formerly known as The Smoking Gun Presents: World's Dumbest... until truTV assumed control over it starting with its tenth season in 2011. All previous episodes have been retroactively rebranded under the truTV title.
---
truTV and TV Tropes Presents: World's Dumbest Tropes
open/close all folders
#-G
H-M
N-T
U-Z
---