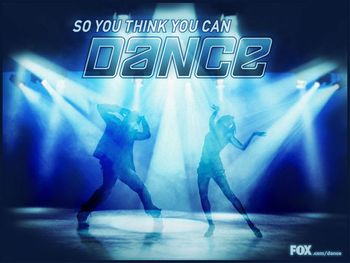 Fox commissioned this reality/talent contest from the people behind American Idol in 2005 in an attempt to get lightning to strike twice. The show's eventual executive producer, Nigel Lythgoe (himself a former dancer) thought it would never work. And, although the series wasn't the pervasive cultural juggernaut that Idol became, it became a significant success in its own right.
The show, at least in the beginning, adhered pretty closely to the Idol format with some interesting variations. Auditionees who aren't either sent to the next stage of the competition or rejected are asked to stick around and show they can pick up some basic choreography, then a final decision is made on them. This is followed by Hollywood Week, a boot camp where all the dancers are tested in ballroom, contemporary, and hip-hop styles (as well as a few other challenges depending on the season ) to prove their worth and earn a spot on the live show. Once contestants make it to the Top 20, they're paired up into couples of one guy and one girl. If any couple lands in the bottom three for the votes, each individual performs a solo and the judges make the decision of which guy and which girl goes home that week. This continues until they have 10 contestants remaining, then the couples are determined by the girls picking a guy's name from a hat, or vise-versa. Also, once the Top 10 is established, voters now vote for their favorite individual dancers, and the judges get no more say on who goes home. Said Top 10 contestants also get to perform in a tour following the end of the season, which gives the judges a vested interest in making sure the best qualified dancers don't wind up voted off too early. Sometimes some dancers who are popular but didn't make the Top 10 will also be on the tour; for example Chelsea Traille, who was eliminated in Week 3 of Season 4.
Season 7 followed a different format, where there was only a top ten (what actually happened was a top eleven) and instead of being paired up with other contestants, the hopefuls were paired with "All-stars": fan favorites from previous seasons. The judges and the fans both seemed to enjoy the format, though injuries wreaked havoc with the season. Season 8 returned to the top twenty formula, but when the competition narrowed down to the top ten, the All-stars were brought back. The judges now continue to make decisions beyond the top 10. In season 9 and 10, a Favorite Boy and Favorite Girl were crowned winners, but season 11 returned to a single winner.
Season 12 made a considerable departure from previous seasons' formats. The season was referred to as "Stage vs. Street", and instead of a Top 20 of even girls and boys, they were split into the 10 members of Team Street and Team Stage. Team Street, led by tWitch, had dancers representing various hip-hop genres (krump, breakdance, animation, etc.); Team Stage, led by Travis Wall, was made of dancers representing contemporary, ballet, tap, etc. The bottom three of each genre were announced at the beginning of the episode, and those watching the show's live broadcast (in US Eastern and Central Time Zones), had the ability to save a dancer from elimination by way of voting on Twitter. The show's judges then could save one of the other bottom three, resulting in one member of each Team, regardless of gender, being eliminated.
Season 13 returned to a Top 10, and also had the subtitle "The Next Generation", and had young dancers aged 8 to 13, each of whom was partnered with an All-star to be mentored by and dance with throughout the season. Though season 14 returned to the original age range, the format of having the same All-star partner throughout the season stayed in place. Season 15 returned to the rotating All-star model, which stayed in season 16.
Season 17 was announced after a three-year hiatus brought on due to the COVID-19 Pandemic, with an extended age rage (up to 32, when previous seasons went up to 30) and a Hollywood studio to hold all auditions, and a Top 12 instead of 10 or 20.
Like American Idol, the shows judges gained popularity - but notably, many seats on the panel rotated between the show's choreographers, sharing their own insights on weeks when they were not presenting numbers of their own (usually). Those in bold are the current permanent judges.
Nigel Lythgoe (Season 1-16), the producer and was the sole regular judge for the first couple of seasons until he was joined by Mary. While often critical in comparison to the others, he's nowhere near as acerbic (anymore) as Simon Cowell.
Mary Murphy (Season 3-11, 14-16), a histrionics-prone ballroom choreographer, effectively a louder version of Paula Abdul to Nigel's Simon. She's notable for screaming about any number that made her excited, and declaring especially skilled (or sexy) dancers as boarding "The Hot Tamale Train".
Adam Shankman (Season 6-7), a choreographer and director notable for Hairspray (2007) and Rock of Ages.
Mia Michaels (Season 7), who had already done contemporary choreography for the show and had a reputation for her numbers being difficult to pull off but especially powerful when done right.
Jason Derulo (Season 12-13), pop and r&b singer, songwriter, and dancer.
Paula Abdul (Season 12-13), famous pop star most notable for her former Idol judging stint for it's first decade.
Maddie Ziegler (Season 13), a young dancer who achieved fame for her collaborations with Sia. She was brought on to help judge the child-focused season 13.
Vanessa Hudgens (Season 14-15), singer, dancer, and High School Musical star.
Stephen "tWitch" Boss (Season 15-Present), runner-up in season 4 and Team Street captain in season 12.
Laurieann Gibson (Season 16), a Canadian choreographer who's worked with Michael Jackson, Alicia Keys, Lady Gaga, and Beyoncé.
Dominic "D-Trix" Sandoval (Season 16), former contestant from season 3.
Jojo Siwa (Season 17), teen singer, dancer, and YouTuber.
Matthew Morrison (Season 17), former Broadway and Glee star. Was removed from the show between Callbacks and Top 12 after sexually harassing a female contestant.
Leah Remini (Season 17), actress and competitor in season 17 of Dancing with the Stars, where she placed 5th.
With dance styles ranging from various Waltzes to Bollywood, and from Contemporary to Hip-Hop, the show has become a somewhat unlikely but welcome showcase for the art and culture of dance. A number of spin-off shows in other nations were spawned; unfortunately most were cancelled after a few seasons, though standouts like Turkey and Ukraine lasted a good while and the Polish version is the only one still ongoing alongside the American.
---
So You Think You Can Trope:
---