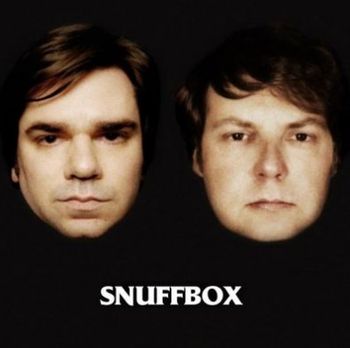 I can't be in love if it's plastic
To live on my own just seems tragic
But we'll raise our swords high when our day comes
We thought it was gold but it was bronze.
Snuff Box is a bawdy and truly bizarre Sketch Comedy/Brit Com, starring Englishman Matt Berry and American Rich Fulcher, who work as hangmen and spend time at a gentleman's club. (Evidently, the series takes place in a world in which hanging still survives as an institution). Each episode has a main plot and other one plot and other sketches of tangential relevance. Adding to the confusion, almost every character has the same name as their actor, so it's difficult to tell which Matt/Rich it is you're watching, but the show is funny enough that you don't care.
The show was reliant on Running Gags that, though hilarious, probably would have gotten old eventually were it not for British Brevity. The series was commissioned as a replacement for another show, Popetown
, which was axed because of backlash from Catholics; the BBC gave Berry and Fulcher complete creative freedom on the condition that it would (most likely) not be brought back after its original run of six episodes. It was not recommissioned.
Also see Garth Marenghis Darkplace, most of whose cast have appeared on this show at one time or another, and The Mighty Boosh, which also features Messrs. Berry and Fulcher as a comic duo with a similar dynamic.
---
Tropes used include:
---