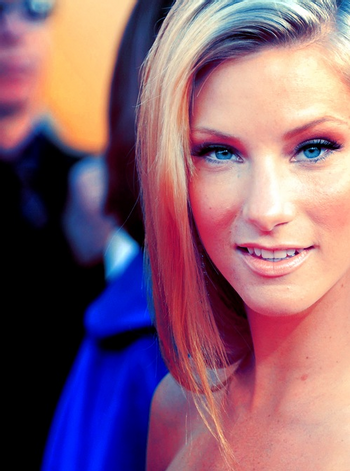 Heather Elizabeth Morris (born February 1, 1987 in Ventura County, California) is an American dancer, actress, and comedian from Arizona most famous for portraying Brittany S. Pierce on the FOX Musical Comedy Glee.
Starting dancing at a young age, before winning competitions and moving onto cheerleading in high school. Upon graduation, determined to be a dancer, she moved to Los Angeles. Her first "big break" happened in 2006, where she made it to Vegas Week on that year's season of So You Think You Can Dance before she was eliminated aged 18. Unfazed, over the next year she would perform and continue to learn and audition before landing the job that started her career: one of Beyoncé's two primary back up dancers for her tours and television appearances for two years. Now in the public eye, Morris was offered roles as dancers and cheerleaders in music videos, film and television — amassing five roles before in 2009, on the back of a successful Pilot, a little show hired her to be an assistant choreographer.
This little show was called "Glee", and soon became the show that everybody has heard of, a future classic and immediate hit. Whilst Morris was initially hired to share her knowledge of Beyoncé's dances, the producers soon decided that she might as well just do them herself — a third cheerleader was yet to be cast, and she had what they didn't even know they wanted. Initially a background character with one line an episode that she made up herself to confuse the cast and viewers alike, Morris' character Brittany was an Ensemble Dark Horse that gained a healthy following of her own but even more fans when paired romantically with counterpart Santana (Naya Rivera). Ever ones to please their audiences, the creators expanded Morris' role after the first season — giving her storylines, and both singing and dancing solos.
The success of Glee presented Morris with many more opportunities acting and dancing in films and television shows as well as web videos, even being given chances to do some comedy writing of some of these, before she took a break to have children and get married (to her baseball player high school sweetheart she didn't actually meet when they went to school together, Taylor Hubbell).
She was controversially included in the 24th season of Dancing with the Stars (including having to have a replacement backup professional partner for several weeks that she was clearly more experienced than), and then controversially eliminated after receiving the season's first perfect score. Notably, in her jazz, contemporary and hip-hop routines she was marked down for not choreographing them herself and outperforming the professionals, which sparked debates over being a fair expectation, creating unfair comparisons, and/or proving the show knew well they were hiring a much more experienced professional dancer as a contestant.
You can also see her as the face of The Ditz. As Brittany.
Filmography:
---