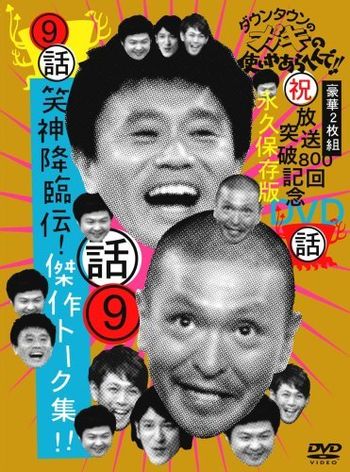 Downtown no Gaki no Tsukai ya Arahende!! (ダウンタウンのガキの使いやあらへんで!!, Downtown's 'This Is No Job For Kids!!'?) is a Japanese variety show hosted by the popular Japanese owarai duo, Downtown. The popular show began airing on October 3, 1989, and continues to air every Sunday night.
The regular cast consists of 5 comedians: the Downtown combi formed by Hitoshi Matsumoto and Masatoshi Hamada, the Cocorico combi formed by Naoki Tanaka and Shouzo Endo, and Housei Tsukitei (formerly known as Housei Yamazaki).
They're best known for their New Year's Punishment Games and the Silent Library skits, the latter of which became the basis of its own game show in the United States on MTV.
---
ダウンタウンのガキの使いやあらへんで!! チキチキ 話し合うべき非常に多くの状況! TV Tropesエンドレスリスト!note
---