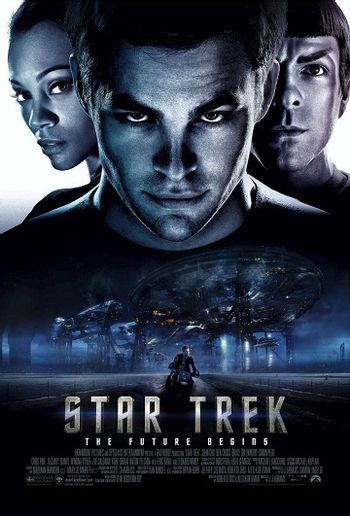 Spock: I would cite regulation, but I know you will simply ignore it.
Kirk: See? We are getting to know each other.
The One with... Lens Flare — Lots. And Lots. Of Lens Flare.
Star Trek is the eleventh movie in the Star Trek film series, released in 2009.
The Film of the Series and partial Continuity Reboot from Lost creator J. J. Abrams featuring the characters from Star Trek: The Original Series played by a new cast and is set in an Alternate Timeline during the time period of The Original Series. Alternatively called J.J. Abrams' Star Trek, Star Trek 2009/'09, Star Trek: The Future Begins (even though that "subtitle" is actually the tagline), and Star Trek XI/11 to keep confusion in check with the other Trek films.
In 2233, The Federation starship Kelvin comes across a "black hole"-like spatial phenomenon near a distant sun. Emerging from it is a massive ship called the Narada captained by a Romulan named Nero (Eric Bana). Nero kills the Kelvin's captain, and deploying weaponry vastly superior to that of the Federation ship, the Narada forces the Kelvin crew to abandon ship, with many crewmembers lost. While the survivors flee the devastating battle, a young boy is born amongst them: James Tiberius Kirk, son of the first officer of the Kelvin (Chris Hemsworth), who sacrifices himself and the ship to buy time for his crew's escape. This incident ultimately sets a new series of events in motion; one of them being James T. Kirk (Chris Pine) growing up an angry, rebellious young adult until he is recruited by Captain Christopher Pike (Bruce Greenwood) to join Starfleet.
As Kirk makes waves at Starfleet Academy, the Narada and Nero emerge again after years in hiding. The Federation scrambles its fleet to confront the warship, deploying the flagship Enterprise, commanded by Pike, for the first time. All the rest of the fleet is destroyed, with the Enterprise only surviving due to a brief delay in getting to the battlefield. When the Enterprise engages the Narada, Pike is taken hostage. When they learn the Narada is from the distant future and begin to put together the events that lead to that future, it falls on Kirk and Spock (Zachary Quinto) to overcome their initial mistrust of each other and on the ship's green, hastily put-together crew of cadetsnote actually, concerning those with major roles, it's three cadets (one of whom is a lieutenant, and another of whom is already a qualified doctor), an ensign, a lieutenant, a lieutenant commander who was Reassigned to Antarctica, and a commander who was told You Are in Command Now—(the young TOS characters)—to somehow save the day.
The first theatrical Star Trek film to feature any of the original characters in 15 years. Released seven years after 2002's Star Trek: Nemesis (the biggest gap between films to date) from which it takes a major Tone Shift and, believe it or not, to which it is also a loose Stealth Sequel.
Star Trek is the first entry in what has been officially dubbed the "Kelvin Timeline" that continues with the 2013 sequel Star Trek Into Darkness and the 2016 sequel Star Trek Beyond.
---
This film provides examples of:
open/close all folders
Tropes A–B
Tropes C-D
Tropes E-F
Tropes G-H
Tropes I-J
Interchangeable Asian Cultures: Korean actor John Cho plays Sulu, who is Japanese-Filipino.note
Internal Homage: The young Spock's persecution over his half-human heritage and meeting his future elder self was featured in the animated series episode, "Yesteryear".
Interspecies Romance: Spock/Uhura (half human/Vulcan + human), Sarek/Amanda (Vulcan + human) and Gaila/Kirk (Orion + human).
Ironic Echo: When Kirk and McCoy first meet, McCoy tells Kirk, "I might throw up on you," since they're about to fly into space, triggering his phobia. Three years later, McCoy has gotten used to the idea, and stares in wonder at the shiny new Enterprise while Kirk, sick as a dog from the vaccine McCoy gave him, warns him about imminent vomit in turn.
Jerk with a Heart of Gold: Kirk, Captain James T. At first, it's almost as if he wakes up in the morning and thinks of new ways to piss off any and every body he encounters. Wrecks his stepdad's car and stands up to the cop who tried to pull him over. Participates in a bar fight that some cadets start (they punched him first) because he kept hitting on Uhura (who's completely uninterested in him). Reprograms an unwinnable test, which is cheating, to prove that he can win it (by thinking outside the box). Shows no remorse when caught because he doesn't feel he's in the wrong. Indeed, Kirk demonstrates the same wheeling, dealing, and conniving traits of a Magnificent Bastard. The differences are—first, Kirk was never out to hurt anyone just for his own ends. Second, it is made clear he's only acting up because he lacks a challenge worthy of his smarts—once the adventure kicks off, Kirk repeatedly throws himself into danger to save people, despite inevitably ending up getting his ass kicked. Most importantly, he uses his cunning to save the universe. This movie states overtly what the series were more subtle about: Kirk's Jerk tendencies are also the qualities that make him The Captain we all know and love.
Tropes K-L
Tropes M-N
Tropes O-P
Tropes Q-S
Tropes T-Z
---
The Future Begins.