Main Character Index | Protagonists | Shift Cars | Roidmudes | Others | Movie Exclusive Characters
This is a partial character sheet for Kamen Rider Drive. Visit here for the main character index. Subjective trope and audience reactions should go on the YMMV page.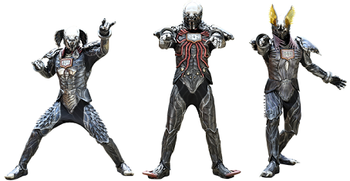 The Roidmudes are the main antagonists of Kamen Rider Drive. A group of 108 artificial life forms created by Doctor Tenjurou Banno as unique androids that were capable of 'evolving' to become more like humans. However, when their development had hit a wall, he asked his friend Krim Steinbelt for help. Steinbelt was developing a new source of energy called "Core Driviar". While skeptical of his colleague's research, Krim relented and allowed Banno to utilize the prototype of his invention in the development of the androids.
Unfortunately, upon their completion, rather than wanting to work together with humanity, the Roidmudes decided that they themselves were the superior beings and opted to rebel against them. The first act of their rebellion was to kill both Banno and Steinbelt. Then they proceeded to enact a worldwide invasion, with resulted in the "Global Freeze" incident, destroying everything in their path. But thanks to a lone hero known as Proto-Drive, their scheme was stopped at the last minute. Six months later, the Roidmudes are now in hiding and biding their time, slowly gaining more power, with the long term plan of finding the enigmatic "Promised Number" and finally annihilating the human race.
Covered in a conductive material similar to the human brain, they can evolve by copying people's body parts and physical attributes, making them more and more powerful. But their most dangerous power by far is the ability to cause the Density Shift Effect - a phenomena where everything in the vicinity is slowed down to a crawl, with the exception of the Roidmudes themselves.
open/close all folders
General Tropes
Heart
002 Heart Roidmude/
Kamen Rider Heart
Portrayed by: Tomoya Warabino (live), Yohei Fujita (suit)
One of the first Roidmudes and their de-facto leader. He greatly cares for his fellow androids, treating all of them like friends. That empathy however hides a bloodthirsty killer, who will risk his own life to destroy those opposing the Roidmudes. Together with Brain and later Medic, he plots the uprising against mankind.
His most fearsome ability is being able to enter a state known as "Dead Zone", where he gets stronger and stronger at the risk of exploding.
---
Tropes exclusive to him as Kamen Rider Heart
Brain
003 Brain Roidmude/
Kamen Rider Brain
Portrayed by: Shouta Matsushima (live), Daisuke Satou (suit)
A high-ranking Roidmude and Heart's partner. As his name indicates, he is extremely logical - which causes him frustration when others around him are more emotional and don't follow or appreciate such logic (which is most of the time).
---
Tropes exclusive to him as Kamen Rider Brain
All Just a Dream: Ultimately, his time as a Kamen Rider was a dream Brain was having.
Calling His Attacks: Really indulges in this in his second fight with his Rider Poison Hand and Poison Handkerchief, and his Brain Head Crusher Finishing Move.
The Cameo: Appears as one of the Riders summoned by the power of Zi-O Ohma Form in Over Quartzer.
Cool Bike: Is shown driving the Ride Braiser,...which is a redesign of Chase's Ride Chaser.
Cool Sword: His Brain Megane Blade, which is a green recolor of the Sunglasseslasher. Lampshaded by Dark Ghost's last words.
Finishing Move: Brain Head Crusher: Brain leaps into the air and performs a flying kick charged with his toxins at his opponent...then lands in front of them, redirects the toxins into his head, and delivers a powerful headbutt at the opponent.
Foil: He's one to Kamen Rider Heart. While he transforms by simply turning the Advanced Igition on his modified Banno Driver, his sole Kamen Rider form shares the same aesthetics as Gold Drive, and his "Mr.Belt" is Crystal Peppler, a human scientist that looks suspiciously like Krim Steinbelt, Heart transforms with a Shift Car and Drive Driver, his forms are based off of Kamen Rider Drive's own forms, and he had his own "Mr. Belt" in the form of his fellow Roidmudes Brain and Medic. While Heart still fights hand-to-hand with his full strength restored, Brain possesses his own unique gear, including a Sunglasseslasher recolor and his handkerchiefs.

Also, ultimately Heart transformed into a Kamen Rider while in the real world, while Brain only transformed while in a dream.

Irony: For the man who is extremely devoted to Heart, his Driver resembles the Driver of Banno/Gold Drive, the man Heart most despises, and also shares his appearance with both him and Proto-Drive, the Rider that foiled Heart's Global Freeze plan the first time around.
Poisonous Person: Turned Up to Eleven as a Kamen Rider, as he claims that he's now able to produce 999 types of toxins
Lethal Joke Item: His '''Poison Handkerchief" attack, which he throws his signature handkerchiefs, completely covered in poison, to kill Dark Kiva and Another Para-DX on contact.
Chase/Mashin Chaser/Kamen Rider Chaser
Chase/Mashin Chaser/Proto-Zero/Kamen Rider Chaser
Portrayed by: Taikou Katoono (live), Yasuhiko Imai (suit)
Drive's rival and enforcer for the Roidmudes. His mission is to defeat Drive and also assassinate Roidmudes that fail to follow their orders.
His true identity is the 000 Human-type Roidmude Proto-Zero, who was previously Kamen Rider Proto-Drive before being captured and brainwashed. He later regains his memories and becomes Kamen Rider Chaser.
Tropes that apply to him in general
Tropes exclusive to him as Mashin Chaser
Tropes exclusive to him as Kamen Rider Chaser
Medic
009 Medic Roidmude
Portrayed by: Fumika Baba (live), Toshihiro Ogura (suit)
A female Roidmude who joins Heart and Brain in searching for the "Promised Number." Previously, she was in a "sleep" state, but Volt Roidmude created a device to gather enough amount of lighting to wake her up. Now, with her powers to heal and restore Roidmudes defeated by the heroes, she is a valuable asset to Heart and Brain.
---
Freeze
001 Freeze Roidmude
Portrayed by: Masami Horiuchi (live), Masaru Obayashi (suit)
The first Roidmude, who prefers to stay in the background while others handle the day-to-day duties. He has infiltrated human government as Secretary of Defense Soichi Makage. Once his presence becomes known, this have gotten much more serious.
---
004
004 Spider-type Roidmude
Portrayed by: Chris Peppler (live), Eitoku (suit)
An enigmatic Executive who, sometime after the Global Freeze, went MIA and was out of contact with Heart. He had secretly been reprogrammed by Banno to serve as the agent of his revival, and to that end he copied Krim Steinbelt at the moment of the latter's death in order to obtain all of his knowledge. His attire in his human guise is nearly identical to that of "Future Krim".
---
Advanced Roidmudes
029 Iron Roidmude
Portrayed by: Nobuo Masuda (male form) and Iyo Sawai (female form) (live), Kazuya Okada (suit)
The first Roidmude that Shinnosuke faces. Starting as a Cobra-type Roidmude, he was apparently killing people together with 042 (Spider-type) and 088 (Bat-type), almost succeeding and leaving their bodies with red skin. Kamen Rider Drive stopped the trio's next attack, but 029 survived his Finishing Move and was given another chance by Heart thanks to another Cobra Viral Core. Eventually, Shinnosuke figured out that 029 had been kidnapping people with "perfect" physical traits in order to copy them and get more powerful. The apparent victims mentioned earlier only suffered a side effect when 029 rejected their physical bodies.
---
010 Paint Roidmude
Portrayed by: Lou Oshiba (live), Daisuke Satou (suit)
A Roidmude that impersonated an artist in order to capture young females in his paintings. He is especially interested in Kiriko, which started when he was a Spider Roidmude. 084 (Spider-type) was his apprentice with similar powers. After 084 was busted in the team's investigation of kidnapped women, the Paint Roidmude tried to escape with the help of Chase but got one-upped by Kamen Rider Drive and Kiriko.
---
023 Crush Roidmude
Portrayed by: HIROnote (live), Kazuya Okada (suit)
A Roidmude with 074 (Cobra-type) and 060 (Spider-type) as his underlings. He is responsible for several attacks on armored vehicles belonging to food companies. As it turns out, at first it was just a random stunt to get some food. But he and his troupe happened to come by a truck belonging to the Font El company, which was smuggling explosives in it's deliveries. Upon eating and getting a major power-up from eating them, he started attacking any similar truck in hopes of getting his hands on more explosives.
---
033 Scooper Roidmude
Portrayed by: Hiroshi Naka (live), Satoshi Fujita (suit)
A Roidmude that evolved shortly after the death of Crush, by absorbing Shunsuke Kusaka's passion for making scoops. After that he made several buildings collapse, so Kusaka can photograph them and give him even more power. He appears to be helping making him successful, but that's because his evolution is incomplete and will once in a while revert back to a Bat-type Roidmude. Once his evolution is complete, however, he turned against Kusada, only to be taken down by Kamen Rider Drive.
---
024 Volt Roidmude / Volt Ghost
Portrayed by: Isamu Ago (live), Satoshi Fujita (suit)
An arsonist of a Roidmude, causing electrical fires until the Shift Fire Braver stopped his latest one. When he and his lackeys investigated, they ran afoul with Drive. But even death doesn't stop this Roidmude nor his plan, as he was able to copy some of his code into the machine he was using to gather electricity. He then "returned" to life, albeit only a shadow of his former shelf - a literal ghost. Volt Ghost aimed to fulfill plan of creating a city-wide total blackout, seemingly aiming to cause chaos on Christmas Eve. But his true goal was to absorb the power from the city for Heart's own ends. Even when he is put down for good and Christmas saved, he still succeeded in feeding enough energy to revive the third Roidmude Executive - Medic.
---
017 Gunman Roidmude
Portrayed by: Bernard Ackah (live), Kazuya Okada (suit)
First operating in USA, Gunman and his "little brother" 018 came to Japan when their ran afoul of Kamen Rider Mach. There they then started to sell Slowdown inducing armbands to low-level criminals. Their motive was to evolve 018, who gained more power by absorbing ill-gotten money, with Gunman serving as his bodyguard. The Roidmude brothers met their end after the Riders uncovered their plans and subsequently got send to kingdom come by Mach.
---
030 Voice Roidmude
Portrayed by Hiroshi Matsunaga (live), Daisuke Satou (suit)
A Roidmude that masquerades as Shu Amagi, the owner of a popular dating service. Using his powers he was able to brainwash women into seeing him as their ideal man, leaving them comatose after they give him all their money. After being confronted by Drive and Mach, he turns out to have another identity: Kisaburo Sasamoto, Rinna's old boyfriend. It turns out the real Sasamoto is still alive, and was working with the Roidmude For Science!. Voice is ultimately destroyed, and Sasamoto is put behind bars.
---
065 Judge Roidmude
Portrayed by Seiroku Nakazawa (live), Daisuke Satou (suit)
Five years ago, a vigilante known as Judge ran a revenge-by-proxy website and took requests to assault victims. The vigilante supposedly committed suicide before he was caught, but Lt. Ohta and his mentor Shingo Tachibana believed that Judge merely faked his death by throwing his scapegoat off a bridge. Their beliefs were apparently vindicated when this Roidmude appeared, claiming to be Judge. Not only did this Roidmude resume Judge's actions, he is also able to go after large groups. Ohta vows to track down the Roidmude and end the case of the Judge once and for all. As it turns out, the Judge Roidmude has taken the identity of Shingo Tachibana. It was merely impersonating the vigilante Judge in order to lure the real one out. The vigilante Judge is eventually exposed, and the Roidmude is destroyed by Drive.
---
091 Shoot Roidmude
Portrayed by Naoki Takeshi (live), Jiro Uchikawa (suit)
A Roidmude responsible for several bombing attacks, each of with were announced to the police beforehand. He has the power to fire incredibly fast missiles and explosive darts. When he tried to use his missiles to bomb four places simultaneously, Drive foiled his plot and destroyed his body, but failed to actually kill Shoot and not before Shoot knocks Kamen Rider Mach out of commission with the heavy damaging of his Driver. Thanks to Brain, he gets a new body with the additional perk of adding poison to Shoot's weapons. He then proceeds to stalk and trying to kill his human accomplice Mogi, as the old bomb threats are now boring to him. He faces off again against Mach, being able to defeat him again, thanks to the toxin. Their next confrontation didn't turn out well for Shoot, though - while he managed to poison him again, Go used Deadheat's
Explosive Overclocking
to burn the poison out of his system, and managed to stay in control. He was then destroyed by the combined finishers of Mach Deadheat and Drive Type Formula.
---
007 Sword Roidmude
Portrayed by Takashi Ohara (voice), Masaru Oubayashi (suit), Mitsuyoshi Tani (human host)
A Bat-type Roidmude who evolved by bonding into an evil heart of a criminal through the usage of a Neo Viral Core. The criminal in question was Hajime Taga, previously arrested by Shinnoske's former partner Akira. 007 intercepted one of his police transportation and offered him Neo Viral Core, allowing the two to fuse into Sword Roidmude. This allows Hajime to go after the hospitalized Akira in revenge, but Kamen Rider Drive stopped and defeated him, putting him back in jail. 007's Core, however, managed to survive thanks to the intervention of Roidmude 001, the creator of the Neo Viral Cores. When 007 hunted down Taga after gaining a new body and refuses with him to become Sword once again, he incapacitates Deadheat Mach, with Drive out of commission from an earlier bout with Mashin Chaser resulting in his left arm broken, and nearly kills Kiriko, only for Chase to arrive, and battles Sword, forcibly undos Sword's fusion, and destroys 007.
---
050 Seeker Roidmude
Portrayed by Kiyohito Yoshikai (voice), Kazuya Okada (suit), Haneyuri (human host)
A Spider-type Roidmude who, through the use of a Neo Viral Core, can amplify the hatred in people, causing them to rage against one another. He is searching a perfect candidate to record the fiercest anger, while the losers fall into comatose, having done so to over 80 people already, with a young woman named Yoriko being related to a missing person. When Go busts his fourth attempt, he's backed by Roidmudes 078 (Spider-type) and 082 (Cobra-type), but when Chaser comes in for the assist when Mach was getting mobbed by three Roidmudes, Mach loses it and goes after Chaser, as according to Seeker's plan. After Drive defuses the situation, the Roidmude attacks again at another complex, with Go working on stopping the rampages as Mach Tomarle. Once he found Yoriko's brother, the "brother" confesses he
never had a sister, revealing the trap: Yoriko had worked with a Roidmude to find the fiercest anger
, and found it in Go. Goading him into attacking them after fusing into Seeker, Chaser and Drive played interference, with Drive defusing the situation once more and goes on the offense. After beating Seeker hard enough as Type Formula Mantarn to separate
Yoriko, real name Reiko Nishihori
, and 050, allowing Drive to destroy the Roidmude and arrest the host.
---
067 Open Roidmude
Portrayed by Yoshimasa Kawata (voice), Hajime Kanzaki (suit), Hiroaki Fukui (human host)
A Hybrid Evolution combined with Itsuro Neigishi, one of the robbers from a bank robbery that happened 12 years ago. Said robber happens to be the man responsible for the death of Shinnosuke's father, Detective Eisuke Tomari, making this personal. He has been on a crime spree robbing banks, each one caped with a dead employee. As it turns out, Open's true motive was to eliminate anyone involved with the robbery from 12 years ago, the attacks serving as a cover-up. He was found out, and 067 met his and at Chaser and Drive Type Formula's double
Full Throttle
attack, with Neigishi ending up in police custody.
---
106 Thief Roidmude
Portrayed by Anri Katsu (voice), Hajime Kanzaki (suit),
Kisuke Iida

(human host)
A Hybrid Roidmude responsible for stealing every bit of info and data relating to cases handled by Detective Eisuke Tomari, Shinnosuke's father.
For tropes associated with 106's human host, see Mitsuhide Nira.
---
090 Cook Roidmude
Portrayed by Momoka Ayukawa (voice), Daisuke Satou (suit), Sonrei Yoshioka (human host)
A Hybrid Roidmude somehow related to the spontaneous combustion of several other Roidmudes. The SCU learns that the case has something to do with the famed underground restaurant Supreme. As it turns out, Cook is working with Medic to develop a serum to help Roidmudes achieve Ultimate Evolution, the serum also doubling as a heavenly sauce named Honfleur Sunset used at Supreme.
---
008 Tornado Roidmude
One of the Executives who has returned from travelling around the world and successfully evolved into an Advanced Roidmude.
---
006 (Unknown) Roidmude
One of the Executives who has returned from overseas, with 062 and 036 as his lackeys. Like 008, he has successfully evolved into an Advanced Roidmude and prefers to keep it hidden for the time being. However, just before he could make use of it, his body was hijacked by Banno just as he tried to get rid of him.
---
108 Paradox Roidmude
Starring in Kamen Rider Drive: Surprise Future, he aims to create a permanent Global Freeze. For tropes specific to this Roidmude, see Kamen Rider Drive Movie Exclusive Characters.
099 Angel Roidmude
Potrayed by Mami Yamasaki (live), TBA (suit)
The Big Bad of Kamen Rider Drive Saga: Kamen Rider Chaser. One of the first Roidmudes who appears during the first Global Freeze. She later achieved her evolution as the Angel Roidmude. For tropes specific to this Roidmude, see Kamen Rider Drive Movie Exclusive Characters.
5886 Roidmude
The Big Bad of Kamen Rider Drive Saga: Kamen Rider Heart. A mysterious monster with the amalgamated appearance of all three Roidmude types. He appears two years after the Roidmude threat ended, targeting the previous Roidmudes' human templates. He attacks Medic's human template, Misuzu Hatori, and runs afoul of the newly revived Heart. For tropes specific to this Roidmude, see Kamen Rider Drive Movie Exclusive Characters.
Reaper Legion
After Medic
changed Chase's primary programming, and thus made him unable to continue his duties as a Reaper
, she took upon herself to subdue rogue Roidmudes. For that reason she formed the Reaper Legion - a division of remodeled Low-Class Roidmudes of any type, who now serve as the enforcers of the Executives, with Medic as their leader. Thanks to the upgrades received from her, the members of the Legion are far more powerful combatants than your ordinary Low-Class Roidmude, and twice more ruthless.
The first two members of Medic's Reaper Legion are 044 and 094. After she defended herself from Drive Type Dead Heat Flare's Full Throttle by using them both as shields, she created a next batch as replacements, consisting of 034, 054 and 104. All three ended up destroyed by Mach, one being more immediate than the other two. 092 and 028 are later tasked with protecting 001, who expects to be attacked by Drive. They are swiftly dealt with by Kamen Rider Chaser.
---
Others
005 Bat-type Roidmude/
Revenger Roidmude
A Roidmude that appeared in two of the Bonus Episodes. Just before the Global Freeze, he was tangentially involved in a case Shinnosuke was investigating. He was beaten by Proto-Drive, but six months later Heart and Brain resurrected him to fight Drive. He can fly and is also able to combine with a gun to enhance its fighting capabilities.
---
051 Bat-type Roidmude
Portrayed by: Oga Taro
A Roidmude who became a robber. While Heart and Brain have no problems with Roidmudes committing crimes, they cannot afford them to make a ruckus. As the result, they, together with Chase, chase 051 into an abandoned warehouse to destroy him, sending him back to square one. He copied the data of a criminal, Toshio Miwa, the same human whose data was copied by Roidmude 077.
---
018 Spider-type Roidmude
Portrayed by: Marvin Jr.
After failing to deal with the riders, Gunman focuses on helping 018 evolve, with Chase tasked to back them up. 018 sells Density Shift Braces and feed on the customers' greed by absorbing the earned money while being guarded by Gunman and Chase, but unfortunately for them, their scheme was busted by Kamen Rider Mach and he was destroyed before he could evolve.
018 and Gunman's relationship are unique among the Roidmudes due to who they copied their human form with. Their disguise are based on a smuggling brothers where the younger one make business, while the older one acts as his bodyguard.
---
069 Bat-type Roidmude
A Roidmude who copied and took both appearance and obsession of a stalker. This made him go after a model the stalker lusts after, only to get foiled by 096, who for some reason, chose to protect the model. At first, Brain wanted Chase to reset 069, but after a long struggle with the heroes, Brain opts to give him another chance, feeding 069 with 3 Bat Viral Cores and made him mutate into a Giant Bat Roidmude. When it kidnapped Kiriko, Chaser and Mach gave chase, while Drive was hanging on with thanks to Hooking Wrecker, Mach obtained the Ride Crosser, and used the new vehicle to fight against 069, eventually killing the Roidmude.
---
096 Bat-type Roidmude
Underneath a black cloak is a witch-like Roidmude who does fortune-telling with tarot cards. For some reason, it is protecting Lila Nanao, a fashion model, even going as far as stopping 069 who happened to be after her. Its first victim was a fat guy who never fails to pop in front of Lila just to give her gifts. 096 slashed him, turning him blue and putting him in a coma, leaving behind The Fool card. It then attacks 069's human partner after 069 was destroyed and Lila's Jerkass manager, leaving more cards to mark them as The Chariot and The Heirophant. Thanks to some good old detective works, it's revealed that 096 had contracted with Lila and took her grief and memories to fuel her evolution so Lila can be ignorant for accidentally causing Hiroki's death, but the Roidmude was bested and destroyed by the teamwork of Kamen Riders Drive and Mach.
---
072 Bat-type Roidmude
A Roidmude that seems to be attacking a woman when first encountered by Drive and Mach. It then gets really excited upon seeing the Kamen Riders, like a nerd. This is because it took on the identity of the Special Unit's resident otaku Kyu Saijou. In fact, Saijou and the Roidmude have been coexisting peacefully for several months. Having absorbed Kyu's personality and memories, the Roidmude is mostly harmless. However, this means the Executors consider 072 defective, and he's killed by Medic.
---
027 Imitation Drive
A Cobra-type Roidmude who sold knock-offs of popular manga compilation Terebi-kun. When Kiriko and Shinnosuke investigate, he somehow manages to copy Drive's appearance and abilities (even hijacking Max Flare's tire when Shinnosuke attempts a Tire Change). He then escapes due to tricking Mach into attacking Drive, and then attempts to damage Drive's reputation. Mr. Belt and Rinna upgrade Drive into Drive Type High Speed to give Shinnosuke an edge over him.
---
089 Shocker Buruburu
First seen as a Spider-type Roidmude who took the cells of deceased Shocker scientist Dr. D. Serves as the body for Shocker's Great Leader. Responsible for creating a dimensional distortion device that brought the Ninningers to Drive's world. After
Youkai Buruburu
is defeated, Kyuemon gives him the purified sealing shuriken, which he infused into himself allowing him to take the Youkai's form and turn into Shocker Buruburu.
---
Giant Bat Roidmude trio (026, 043, 087 Bat-Type Roidmudes)
Sent by Brain to stall Riders Drive and Chaser from interfering with Seeker's plan, these three Bat-type Low Class Roidmudes were given supercharged Viral Cores to intercept the airborne Kamen Riders in Booster Tridoron.
---
Low-class Roidmude sextet (038-040, 047-049)
When Nira and Brain's plan went pear shaped and ruined their reputations thanks to some
, these 6 Roidmudes were called in to help with fighting against the Kamen Riders.
---
Conservation of Ninjutsu: These guys were beaten rather easily, considering that their Cores didn't explode from being hit from Full Throttle attacks, but enhanced attacks rather.
Killed Off for Real: 038, 039, and 040 were cut down by a enhanced sweeping slash by Chaser's Shingou Axe, and 047, 048, and 049 were offed by enhanced Zenrin Shooter strikes from Kamen Rider Deadheat Mach.
Rule of Three: Three Low Class Roidmudes fighting against Riders Deadheat Mach and Chaser.
A Roidmude who copied the data of Toshio Miwa,
the same criminal who was copied by Roidmude 051
. He made his way to
Fūto City
and attempted to use a Gaia Memory
, which didn't go so well for him the first time around. The second time, on the other hand...
---
---