Space, Cosmos, Planets, Galaxies, and Observable and Dimensional Universes
Space; a seemingly endless sight filled with bright twinkles, the occasional asteroid, and planets floating around in their native solar systems. To some, it is a fantastical and gorgeous site that many can only dream of witnessing, let alone exploring, while to others, it is a terrifying thought to even venture into the vastness of space as even with centuries of studies and thoughts, it's unknowability still remains massive and elusive, not to mention the unexpected can always occur when it comes to something like this. And yet, even so, space, consisting of galaxies and universes, is not only filled with an enormous swath of life and events but also sees its fair share of accomplishments and threats either rising or occurring. And as much of the Pantheon is composed of a grand universe of its own, there's a designated House of Space and Cosmos to represent the overall matter.
The House is... well, the entirety of the Pantheon's ever-expanding universe and its seemingly endless number of galaxies, stars, and planets. Theoretically, it could be considered the largest House on a physical plane of existence, but some believe the comparison is unfair, especially when most other Houses have a defined appearance, outlook, and values to uphold, all of which are skewed and sporadic when the House of Space and Cosmos is filled with literally any kind of extraterrestrial you could think of, which is to say all sorts of different ethics, lifestyles, and alignments. Of course, not everyone is a participant as most would rather stick to their own turf, though some might be interested in colonization, politics, and establishing galactic relations, though those can vary depending on their interests. On an additional note, there's a strong tether with the House of Extraterrestrials, which benefitted in the fact that understanding and studying alien cultures as well as traveling between Houses is made easier.
The defining architecture that represents the House is an observatory that takes the shape of an orbiting celestial body, which is where The Grand Spacial Onlookers have established their presence and authority. They normally discuss events in the Pantheon as well as any news on space, astrology, extraterrestrials, and stars as well as seeing if there can be invites to allow them to observe the stars and generally have a great time as they're aware that star-sighting and generally exploring the universe is one thing lots of people desire, even if it is dangerous. Despite this, numerous battles have happened in space, so technically speaking, they occurred in this House, but given the vast size and scope, nothing notable tends to be shown regarding casualties and collateral damage so long as said fights are contained and don't involve destroying other planets, which most try to avert as they're aware that planetary destruction can hold disastrous effects for many. Unfortunately, there exists a second group of representatives, The Cosmic Trio of Disaster who represent those who pose a grave threat to the universe and beyond, though it seems as if Nicol Bolas is the only one who has any intentional ambitions of opposing the forces of good as well as endangering the cosmos for his own ends. This doesn't stop Lavos and Greeza from having to be checked up and stopped though.
No, Poland cannot into this House.
---
<!—index—>
---
open/close all folders
---
The Grand Spacial Onlookers
The Living Tribunal
The Living Tribunal, God of Guarding the Multiverse
(Living Trinity, currently the
Adam Warlock
of Earth-19141)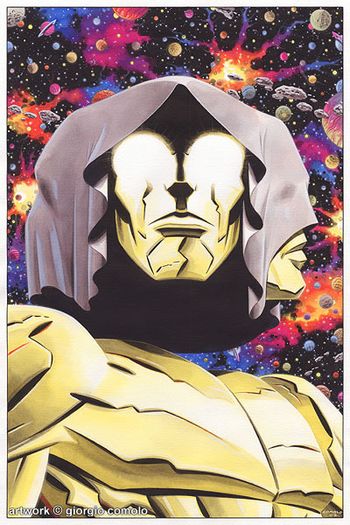 Overdeity
Symbol: The purple shroud surrounding his faces
Theme: Living Tribunal Double D
Alignment: Lawful Neutral
Portfolio: Guarding Reality, ordering around The Powers Cosmic, Multiple Head Case, Absolute Power that's rarely used
Domain: Law, Balance, Time and Space, Justice
Second in Command to: The One Above All
Underlings: Eternity, Galactus, The Celestials
Enemies: The Anti-Monitor, Darkseid, YHVH, Lord English, Fused Zamasu, Barbatos, Galeem and Dharkon, Hajun, Unicron, Lord Fuse, Sigma, any being who poses a serious threat to multiversal balance and order really
Opposes: Every other Hadou God, Nekron, The Daedric Princes
The Multiverse is a large place, and as such someone has to make sure it's safe. There are a number of multiversal guardians, but the Marvel Multiverse's official guardian is the Living Tribunal. Second only to The One Above All, the Living Tribunal keeps the balance of the various powers in creation and prevents any reality from becoming too powerful or any being from truly upsetting the balance. It's rare that something gets his attention, with even universe-level cataclysms often being below his notice, but his judgement is absolute and only scant few have ever avoided it.
Technically the second Living Tribunal. The original was slain by the Beyonders, so The One Above All chose an alternate Adam Warlock. It is unknown if the original was ever a mortal being or the successor to another. His three faces effectively serve as judge, jury and executioner. Known to few is the ever-covered fourth face, which reflect those who see it as a sort of cosmic mirror.
Is one of the most powerful members of the Pantheon. He is second only to his God (hinted to be Jack Kirby) in the Marvel multiverse, and is almost as powerful as the Four Alignment Overdeities. However, he rarely showcases this because of a fatal weakness: his heads need to be in agreement with one another to act. And whenever he's involved personally, the Living Tribunal has a harder time for some reason. Maybe it's down to having little combat skill, since he almost never needs it.
The Living Tribunal quickly became a co-worker with Eiki Shiki, who saw his massive power as a boon to the cause of justice. With their combined powers, almost no-one will dare try and rebel against the Court of the Gods. YHVH has tried to get him to work for him, however, he has declined. The reason? YHVH as a flagrant abuser of power, and upsets the balance of creation by tying it to. He and Eiki Shiki are working for a way of eliminating Him for power abuse, or at the very least make Him more manageable.
The Living Tribunals' antipathy towards YHVH has only grown upon his Eiki Shiki being co-leaders of the Magistrate Judges, in order to monitor YHVH and serve as an ethical center. While not looking favorably on him, he doesn't actively oppose Nekron, due to being a natural cosmic force who exist to defend/embody the natural darkness and void, he has warned the Lord of the Unliving not to push his luck. His opinion on Lucifer, however, remains undecided.
On good terms with the Endless, being cosmic entities who are fundamental constants like Death, Destiny etc. It's just he's far more introverted than them and only very rarely shows up in person. He generally acts indirectly, willing to destroy whole worlds to preserve trillions of lives (though as Doctor Strange has shown, he will listen to reasons against such extremes). He looks favorably on Primus, for being a force of benevolent while also knowing not to interfere all that much.
He is in contact with the Protectors of the Plot Continuum, who's work fits his own vision of cosmic balance and stability by hunting down irregularities like Mary Sues that'd throw it out of whack.
As per his role of Multiversal Guardian, The Anti-Monitor has placed him high on his list of opponents. The Living Tribunal is preparing to slay him once and for all. Others have proven serious threats to the safety and stability of the multiverse, such as Lord English and many within the House of Legendary Foes. Predictably, Zamasu is the most vocal about his critique of the Living Tribunal, calling him out by how rarely he intervenes. The Living Tribunal simply replied "your extremism shows why beings like me can't interfere too often".
Since the Throne overwrites and creates new laws of the entire multiverse, the Living Tribunal opposes those who sit on the Throne. He is not completely averse to change as he argued in favor of Galactus being the Lifebringer as opposed to Master Order and Lord Chaos demand that he remain the Devourer. However, they proceeded to kill him using the newly formed order to hit him when he's weak and justify their actions through it. Hajun is the one being the Living Tribunal is absolutely opposed to sitting on the Throne, as his Law would destroy all that is and ever shall be so Hajun can forever be left alone. Which is actually similar to The One Below All in motivation, actually.
Because Order and Chaos killed him while the cosmic order wasn't set in stone, the Living Tribunal has grown a distaste towards Galeem and Dhakron. They're very overbearing and destructive, and have proven to disrupt the balance of order and chaos on a multiversal level. He is interested in Ugo since he maintains divine ranks, though has yet to form a concrete opinion on him.
Though he is not contemptuous towards them as he is to Hajun, the Living Tribunal doesn't like most of the Hadou Gods as their Law hurts the mystic, moral and cosmic balances he exists to maintain. Mithra started the whole thing, and her Law is highly chaotic in practice. Nerose Satanel may have noble goals, but purges free will. Mercurius causes eternal stagnation in his eyes. Ren Fuji's Law is the only one he can tolerate.
The Living Tribunal dislikes the Daedric Princes on principle, though he does not consider them a serious and direct enough threat to creation compared to the likes of Zamasu and Barbatos that he has to intervene. His reasoning is that they are generally chaotic beings who had no hand in creation; this is in contrast to the orderly Aedra who sacrificed their power to take part in Mundus' form.
Despite his frustration towards the Throne, the Living Tribunal tolerates someone gaining ultimate power over their single universe. Just as long as they do not affect multiversal balance. He tolerated Thanos taking the Infinity Gauntlet because its range is limited to a single universe, and because he worked for it. For example, he does not have anything against Asura taking down Chakravartin, for example.
Unlike most other Gods of Pantheon, The Living Tribunal was actually glad to see the Celestials ascend. His reason is namely that Scathan the Approver, his own personal Number Two, now resides.
Rosalina and the Lumas
Rosalina and the Lumas, Overseers of The Stars
(
The Cosmic Travellers
| Rosalina:
Rosetta
, Mama [to the Lumas], Princess Rosalina [honorary] | Luma:
Chiko
, Twinkle, Star Child)
Greater Goddess (Rosalina); Lesser Deities individually, but can perform feats of greater status depending on how many come together (Lumas)
Symbol: A Power Star surrounded by a multitude of Lumas; alternatively the Comet Observatory
Theme Music: Rosalina in the Observatory 1 (2, 3), Luma (The Luma and the Hat), Orbital Burst*
Alignment: Lawful Good
Portfolio:
Domains: Space, Stars
Allies:
Enemies: Galeem & Dharkon, Unicron, The C'Tan, Planet Remina, The Sleeper, Thanos, Oryx, King Ghidorah, Majora, Lord Hater & Commander Peepers, Lord Dominator, Brainiac, Dark Matter Horde
Pities: The Admins
Uncertain Relations: Omni-Man
Once there was a little girl who encountered a strange star-shaped creature and the two went off on an intergalactic journey to search for the star's mother. As the two traveled across the cosmos, the girl started to feel lonely without her mother, who might have been long dead by the time the star-shaped creature had appeared and thus, to fill the void left behind, the girl adopted these stars and they have since viewed her as their "mama". This was how Rosalina and the Lumas originally met and since then, the two have traveled across the cosmos to keep them safe. When Bowser attempted to take over the galaxy, Mario would find The Comet Observatory, the home of Rosalina and the Lumas and with their help, was able to thwart Bowser's cosmic scheme. Since then, Rosalina and the Lumas have gotten to meet up with Mario quite often even during recreational activities the plumber holds with his friends and frenemies.
The Comet Observatory managed to find its way to the Pantheon one day, resting near the main planet where many of the Pantheonic denizens resided at. At around that same time, Mario was going through different planets at his own leisure when he saw the Comet Observatory and decided to visit the place once more. He then met Rosalina and the Lumas, with Rosalina telling Mario that she learned of an interesting place in the stars that was stated to have many different galaxies connected to it, prompting her and the Lumas to see what it was. Not only was the Mushroom Kingdom connected to the Pantheon, but so were many other worlds that Rosalina had never heard of. As someone dedicated to watching over the cosmos and exploring them, Rosalina and the Lumas decided to watch over the galaxies of the Pantheon and ensure those places are safe from harm, though she has enough time to hang out with Mario and his friends during the Pantheon's calmer days.
Lumas are star-shaped creatures who see Rosalina as their "mama" and have helped Mario on his journey through transforming into not just planets for him to explore, but different types of stars to give him more mobility. Some of the more notable Lumas include Polari, an elderly retainer for Rosalina, and Lubba, a large purple Luma who built Starship Mario for its namesake to use in his intergalactic travels. While the Pantheon had plenty of planetary bodies, there were a few notable ones that Rosalina and Luma took a strong liking towards. Mogo was one such unique planet given its sentient nature and it actively being a force for good in addition to having a serene landscape has given Rosalina and her Lumas plenty of reasons to keep it safe and prevent it from getting destroyed by potential adversaries. The Little Prince was someone who had a close association with a planet akin to Rosalina, prompting her and the Lumas to befriend him, especially since the Lumas are fascinating creatures to him.

Despite Rosalina and the Lumas maintaining good terms with many of the planets across the Pantheonic cosmos, there were a few planetary bodies that posed a great danger to others. Some dangerous entities present in the cosmos included Remina, a malevolent planet that eats others of its kind across the solar system, and The Sleeper, a comet capable of corrupting the world around itself, including those that get too close to it, something that Rosalina and the Lumas found to be far more deadly than any Prankster Comet that they have previously detected. One particularly troubling adversary for them was Unicron, a massive robot that can disguise itself as a planetoid and devastate galaxies by eating the planets that reside there. As such planets in the Pantheon include those that were originally Lumas, Rosalina knew that something like Unicron cannot exist and has done what she can with her allies' support to fend off his attacks. Such animosity extends to those such as Majora who are willing to drop different kinds of planetary bodies onto Earth so that they can destroy Earth for their own benefit.

As someone who is dedicated to watching over galaxies, Rosalina and the Lumas quickly took an interest towards others in the Pantheon who had a similar role as them such as the King of the Cosmos. Among those include Palkia, a Pokémon who embodies the concept of Space and is part of The Creation Trio that keeps Time and Space stable, with Rosalina frequently working alongside the Pokémon when it comes to the cosmos. Aurelion Sol was another godlike entity who watches over the stars and values them greatly, with Rosalina and Luma being among the cosmic characters that The Star Forger has respect towards. Rosalina and the Lumas' friendship with those associated with the cosmos extended to those that aren't explicitly cosmic in nature, but have a cosmic theme such as Lemres, who is known as the Comet Warlock and is fascinated with the sweet Star Bits and how they can make Lumas turn into planetoids.
There have been plenty of space travelers who have come across the Comet Observatory at one point or another. Wander and his sidekick Sylvia saw the place while looking for others in need of help and took a brief visit there, with Rosalina admiring the two for their dedication to helping others in various planets that are in trouble. She would also meet up with a team of space heroes known as the Guardians of the Galaxy at one point and would learn of the time where Star-Lord would learn of his father, who turned out to be a planet that wanted to take over the galaxy and the team had to destroy it. In spite of this rather strange story related to planets, she's still willing to help them out whenever they cross paths with her. The Star Twinkle Precure was another team of space heroes that Rosalina has helped out a number of times, with Hikaru Hoshina being greatly enamored by the Lumas and the little stars enjoying her company as well.
Given that Bowser attempted to take control of the cosmos and that Rosalina and the Lumas helped Mario out in thwarting the Koopa King's plan, she has plenty of reasons to keep an eye out on others in the Pantheon who had a goal similar to that of Bowser's. While Bowser has since moved on to other ambitions and even had the time to participate in recreational activities that Mario and his friends (Rosalina included) are involved in, many of these galactic villains have conquest as their main objective and are very likely to surpass the power Bowser has, even taking his alternate forms into account, and it's clear that Rosalina is going to be much tougher on them than she was towards Bowser. In addition to those that conquer parts of the galaxy such as Thanos, Lord Hater, and The Dark Matter Horde, there were plenty of figures who destroyed planets and wreaked havoc on the cosmos such as King Ghidorah and The C'Tan. One particular enemy that was a cause of alarm for Rosalina and the Lumas was Brainiac, who preserves knowledge for himself by destroying planets after shrinking them for "research". The fact that Lumas can turn into planets after consuming enough Star Bits intrigued Brainiac and he's set his sights on the planets closely associated with Rosalina to see if there's anything of use for his greater ambitions, especially if there's some mechanical aspect to it. Brainiac is someone who's never taken lightly in the Pantheon and Rosalina has gotten help from powerful entities related to the cosmos to fend off Brainiac's plans.
There are plenty of cosmic entities both good and evil in different ways that Rosalina learned about, but it's a series of enigmatic characters known as The Admins that's a rather unorthodox case in terms of how both parties view each other. Canopus serves as the top Admin of the ensemble and rules over the Four Factors that keep the cosmos stable, with Polaris and Arcturus being other admins that rule over the life cycle of a universe, and Arcturus being an interim Admin if one of them dies before their cycle is complete. As a whole, The Admins have access to extensive amounts of information about life, but their desire to maintain Order no matter what has led to conflict against those that oppose them. Rosalina isn't involved with such a daunting war that the Admins are involved with, but she feels that their fatal dedication to keeping Order has led them to not fully appreciate the cosmos as much as she'd want. As someone heavily associated with the cosmos, Rosalina was one of the small number of people that The Admins are on good graces with and they have put in place measures to ensure her safety against those who threaten her line of work.
When Mario thwarted Bowser's initial attempt at galactic conquest, a supermassive black hole was formed that required the Lumas to step in and sacrifice themselves to destroy it, resulting in a new universe being created. As Rosalina would later learn, there was a godlike entity that had to stop a similar black hole from consuming their universe, prompting her and the Lumas to find that character. They would eventually meet up with Ultraman King, who was the strongest member of a group of super-powered individuals known as Ultras and had to merge himself with his whole universe to stop Ultraman Belial's Super Eradicator Bomb from destroying everything, forcing Ultraman King to put himself in a dormant state until everything was restored. While Rosalina's role in watching over the cosmos was daunting as is, she's aware that there's others like Ultraman King who have a much larger commitment to keeping the world around them safe. Even so, the two have gotten along with each other fairly well considering what they had to go through and the similar actions taken to prevent their respective universes from being annihilated.
It isn't clear if Rosalina's mother was dead before or after she met the Lumas, but regardless, she had to accept that her mother was long gone before moving on with watching the cosmos alongside the Lumas. There were others in the Pantheon who had to cope with a deceased mother that Rosalina and the Lumas were able to sympathize with. Among such characters include Lucas, who had to endure an arduous journey following his mother's death and had to contend with an enigmatic entity that was later revealed to be his brainwashed brother, and Ponette, who learned to accept that her mother was dead for a while after being in denial about it for a while. They, among others who have gone through the tragic loss of their mother, have listened to Rosalina's story in the Comet Observatory at one point and can relate to her past very well.
The relationship between Rosalina and the Lumas can be seen as a surrogate family and the Pantheon had its share of characters who have taken to being surrogate familial figures to those they know quite well. The 00-Cyborgs was a surrogate family who Rosalina and the Lumas were supportive of given the team's backstory of having tragic pasts of their own before fighting back against an evil group that wanted to use them for world domination and moving on to different adventures related to varying threats. Some of their adventures have taken the cyborgs to outer space and one such endeavor in the Pantheon led them to the Comet Observatory where Rosalina and the Lumas offered the team help in finding a galactic villain that wanted to conquer the many planets surrounding the Pantheonic world. As the cyborgs made their way to the villain's lair, they took note of how the Lumas reacted to Rosalina and were aware of the surrogate dynamic she has with them. Once the villain was defeated, Rosalina promised to support them and that she'll offer them aid should another challenging adventure in the cosmos await the cyborgs.
Omni-Man was one otherworldly entity who Rosalina is very unsure of in terms of what he's gone through. Having served a dangerous extraterrestrial race of beings known as Viltrumites, Omni-Man was tasked with going to Earth so that the Viltrumite Empire can conquer it with his help as they have done with other worlds. While getting accustomed to Earth, Omni-Man developed a moral conscience thanks to his interactions with his wife and son, culminating with him turning against the Empire he used to work with. As Omni-Man is still working on trying to build trust among heroes in the Pantheon following his past actions, Rosalina found something to like about how a morally complex man was able to better himself thanks to family. That said, Omni-Man having enough power to destroy planets if he goes all-out was something that Rosalina was wary of and while she is hoping that Omni-Man can become a true hero, there is still concern on if planets will be destroyed and if Omni-Man will end up being as morally dark as he was in the past.
In addition to participating in various sporting-related events with Mario and the others, Rosalina was one of many different individuals who participated in the Smash tournaments not just with Mario and his closest associates, but with various other characters as well. The Lumas show up alongside Rosalina to provide a boost to her attacks, though they're vulnerable to being attacked and can be rid of for a period of time until a replacement shows up. Being involved in these fights also meant that Rosalina had to team up with the other participants to stop Galeem and Dharkon from laying waste to the worlds around them. The number of victims caught in Galeem's attack and the wide range of power it and Dharkon possess led Rosalina to see the two as extreme dangers to the cosmos and given how her abilities on her own weren't enough to thwart Galeem's initial attack, she is willing to take whatever help is needed, even from Bowser and Bowser Jr. who also fought against the two abominations, to prevent the Pantheon from falling into either Galeem or Dharkon's grasp.
USS Enterprise-A/B Senior Crew
USS
Enterprise
-A/B Senior CrewMembers , Patron Saints of Intergalactic Treks
(Kirk: Captain Kirk, Jim, Jimmy-boy, Ike Clanton, Baroner, Kirok,
Emperor Tiberius
,
James R. Kirk
,
Jane Tiberia Kirk
; Spock: Ambassador Spock, Spock Prime, The Great Spock, Frank McLowery,
Pollux the Wizard
; McCoy: Dr. McCoy, Bones, Plum, Tom McLowery, McLaury,
Lea McCoy
; Sulu:
Walter
, Itaka,
Tiny
,
George
,
Hikari Sulu
; Uhura: Samara, Penda,
Queen Neve
,
Nnamdi Uhuro
; Scott: Captain Scotty, Mt'gm'ry, Billy Clanton,
Marjorie Scott
; Chekov: William "Billy" Claiborne, Aleksei Mikhailovich Chekov, MisterCleanUp,
Pavlovna Chekov
)
Lesser Gods (Intermediate Deities as Lanterns with Spock becoming an Overdeity when controlled by the Life Entity)
Symbol: NCC-1701-A/B
Theme Song: Theme from Star Trek (Both), Sign Off (Original Timeline) for The Original Series. To Boldly Go for the Kelvin Timeline.
Alignment: Lawful Good on paper, but are all Neutral Good at heart.
Portfolio: Bold Explorer, Legendary in the Sequel, Rank Up, War Hero
Domains: Ships, Space, Peace, Treks
Allies:

Star Trek: Jean-Luc Picard, The DS9 Crew, Elim Garak, Q (on the more Teeth-Clenched Teamwork side)
Space Heroes: The Doctor, Green Lanterns of 2814, Life Entity, Luke Skywalker, Han Solo, Leia Organa, Padme Amidala, Ahsoka Tano, Clark Kent/Superman, Commander Shepard, Professor X and the X-Men, Ultraman, Ultraman Cosmos, Optimus Prime, EDI, John Carter, Mogo, Firefly Crew, Honor Harrington, John Sheridan, Gentaro Gisaragi/Kamen Rider Fourze, Norinn Radd/Silver Surfer, Star Fox, Space Power Rangers, Power Rangers Lost Galaxy, Zordon, Team Lightyear, Team Voltron
Others: Abraham Lincoln, Shido Itsuka, Linkara, Nostalgia Critic, Sheldon Cooper, Richard Hasley Best, Enterprise
Kirk: Takuto Maruki, Bob Richards
McCoy: Kenzo Tenma, Black Jack, SCP-2295, Baymax, Tony Tony Chopper, Mordin Solus
Uhura: Wonder Woman, Aemon Targaryen
Scott: Franky, Asami Sato, Gadget Hackwrench, Dell Conagner, William Scott
Chekov: Jeff Moreau

Enemies: KHAAAAAAAAAAAAAAAAAAAAAAAAAN, Nekron, Thaal Sinestro, Atrocitus, Larfleeze, Gul Dukat, Borg Queen, Xehanort's Incarnations, Apollo, Harbinger, Darkseid, Sheev Palpatine, Cybermen, Dalek Empire, The Combine, Star Dream, Dark Specter, Psycho Rangers, Megatron, Starscream, Unicron, Xenomorph Drone, Facehuggers
Opposes: Immortal God-Emperor of Mankind
Space. The final frontier. The senior crew that succeeded Captain Christopher Pike's are renowned across the galaxy for their various adventures across deep space. Even after moving onto new posts, their bond with the Enterprise have lasted even beyond that. As a result of their fame throughout Starfleet history, the entire senior crew was given allowance to ascend to the Pantheon as one group. This was given request by Kirk, Spock, and McCoy who were long residence for the Pantheon. Realizing that as individuals, they are less effective than they were as a crew so they gave petition for their fellow Enterprise members to ascend, even if sacrificing their former positions to do so. It was a joyous occasion for the group and other Starfleet members when they did ascend. A good joke amongst them was that they had to retract the sendoff signatures they left during their final mission together.
Their placement in the Pantheon is rather complex as there are two different iterations of the same characters are here. There is the Prime timeline, to which most are familiar with where you have The Federation playing Cold War against species against them. Then there is the Kelvin timeline whose main difference from the Prime timeline is the technological advancements made after Nero's forces attacked the Federation ship Kelvin. Since the Prime timeline is further ahead of the Kelvin timeline, Nero's forces brought along them more advanced technology and the Federation managed to acquire it from their wreckage, leading to that boost. Hilariously, Prime timeline Federation ships turned out to have looked just as futuristic but chose to replace them to have more efficiency. Though people will see the Prime timeline more within the Pantheon (as they are retired), sometimes the Kelvin timeline selves are seen instead. The Kelvin timeline version just gives a vague explanation on "shore leave" before doing Pantheon shenanigans at the place of their alternative counterparts. When referring to both versions, drop the pretenses of them being separate entities would be the simpler way to think.
Several members of the senior crew have interacted with their successors. Kirk saved the galaxy with Picard and ended up being buried by him. Spock is confined with Kirk on his doomed peace mission on Romulus. McCoy gave some passing words towards the new Enterprise crew for their first mission. Scotty was saved by the crew years later from a transporter experiment gone wrong where he went through an existential crisis over being time-displaced. However, they have had unknowing interactions with the Deep Space Nine crew who had gone back through time to stop Kirk from getting assassinated by the future version of a Klingon spy he incidentally dishonored. Of course, they accidentally brought back the Tribbles from extinction which is something that most of them dread considering how many Tribbles they had to scoop out of their ship. Thank goodness they have not seen Tribbles within the Pantheon... yet.
Are confused by Q as they are sure they met a similar childish person who had Reality Warper capabilities. They theorized that person was a Q who ditched the name to sever ties with the Q Continuum. Of course, they never and elaboration on who took that man away and decided to question Q on it. Q replied that he knows about him but chose not to elaborate any further. Rumor has it that the man was Q's protégé that went rogue so Q may face severe punishment if he even references it. The Continuum is always watching...
None are happy with Khan's being at the Pantheon, especially as he gave them shit is not just one universe but two. Then again, they cannot truly blame Khan for his hate against them. The Enterprise had left them stranded on a planet that became a wasteland some time afterward, not bothering to check up on their circumstances. However, the Khan from the Kelvin timeline (who looks like Benedict Cumberbatch) has done all the things For the Evulz and does not gain any sympathy points. Regardless of these feelings, as Starfleet officers, they must stop Khan from doing more harm against the Federation with retribution for his suffering.
Their relationship with Dukat bases itself on their interactions with his Alternate Universe counterpart where the Federation has fallen after a war between the Klingons and the Dominion. Dukat, leading Dominion forces posed an even deadlier threat than his other self at the Prime timeline due to keeping a consistent commanding rank. Furthermore, Dukat turned things From Bad to Worse by releasing the Pah'Wraiths who proceed to decimate the Q Continuum after defeating the Prophets. Only a plan that involved making a Fusion Dance between Q and a Prophet to save the universe. If there was a higher alert status besides Red, then it would be one specifically for Dukat.
Most of the crew members will not forget the time that they were inducted to becoming Lanterns after finding Lantern rings off a dead Guardian of the Universe. Chekov became a Blue Lantern, Uhura became a Sapphire Lantern, McCoy became an Indigo Lantern. Hal Jordon showed up, gave them the rundown that the Lanterns rings are now choosing their new masters. Elsewhere, new other Lanterns were the Klingon General Chang became a Yellow Lantern, a Gorn royal named Glocon became a Red Lantern, a Romulan senator named Decius was chosen to be an Orange Lantern. All three attracted the leaders of the respective Corp and a war between the races that gained a Lantern ring emerged happens (the Spectrum War if you prefer). However, the war is the least of their problems as Nekron returned and resurrected a destroyed Vulcan and converted the dead to Black Lanterns (of the Kelvin timeline, of course). When all hope seemed lost, Spock decided to use McCoy's ring which turned him into a White Lantern by absorbing all other rings to himself, able to defeat Nekron once and for all. The day is saved, the Spectrum War has ended, and things went back to normal afterward. Except maybe a Klingon, a Romulan, and a Gorn having their dead bodies floating in space. Within the Pantheon, the crew is unhappy with the appearance of their Lantern opponents but are overjoyed to find those who helped
When the Klingons aided the guerrilla warfare of gorillas to overtake the ales, the Enterprise crew went to aid the apes who distrusted them for comprising mostly of humans. Though Zaius gave them a plethora of headaches, the Enterprise was able to oust the Klingons from their proxy war and put a momentary end to the apes and gorillas' conflict. Zaius sees the Starfleet members as respectable, though he still does not have faith in humanity's enlightened future. They all take it well, though forewarn Zaius not to utilize the slingshot time travel method they had accidentally shown.
Had an encounter with Cybermen once while taking over a Federation colony. It was a close call for them and they did not pay much mind to it... until the Borg and Cyberman decided to team up decades later. Though their technology has been far outclassed by the present Cybermen, these officers are willing to do anything Starfleet asks them to prevent the Cybermen from plaguing the galaxy. Of course, they will get help from the Doctor who looks vastly different from the scarf-wearing candy-loving Doctor they have known briefly.
Apollo does not like the Enterprise at all for having challenged his authority as a Greek god. Apollo gave very contradictory backstories to his appearance when he used his giant green hand to drag the ship down to his planet. Apollo disclosed to them that he was a born a demigod from Zeus and was also from an alien explorer race who was entitled as a Greek god by primitive humans. Kirk called bull on both statements and tells his crew they should take anything a person who proclaimed themselves as gods less seriously than a well-dressed Gorn. Except when Spock's brother is involved, to which then they should take god-proclamation seriously. Apollo pointed out the hypocrisy they have since they ascended to the Pantheon but all reasonable Starfleet officers share the sentiment they had only been immortalized—not placed at godhood status as Apollo gloated over.
Though they are completely asked to aid them, Starfleet refused to intervene with whatever wars that a galaxy that was far, far away had. The reason due to the Prime Directive not allowing anything but humanitarian efforts unless the Federation is threatened by the conflict as well. The Jedi and New Republic members find it as fine as humanitarian aid is all they need. Those against them want opposition against Starfleet's aid but know that even attacking one may spell their doom as if Starfleet ships can bomb planets. A fleet is as powerful as the Death Star on its testing das! This deters them from places where Starfleet makes their presence know, and the Enterprise crew is happy for it.
Had a rough start with the X-Men when it came to fighting off Proteus who possessed Kirk's old friend and Federation hero, Gary Mitchell. Of course, they settled their differences and defeated Proteus. A rift is what sent the X-Men back to their universe but both parties noted that it can go either way that the X-Men can be led towards the idealistic Federation's future. Then the X-Men traveled to see the next crew under Picard and had more interactions with them, but the X-Men never forgot their first glimpse of what it meant to be united under making bridges with aliens instead of conflict.
Helped the Autobots against the Decepticons when the latter attempting to conquer the Klingon Empire. However, the Prime Directive did not allow them to help finish off the conflict. The Autobots were able to finish it for them and even managed to struck a deal with the barely hanging-on Klingons afterward. Needless to say, this crew who fought with them are still friendly towards any Autobot who helped Starfleet during that crisis and are willing to fight the Decepticons once again.
None have the highest opinions on the Imperium of Man who has their ideas completely at odds with Federation's philosophies. All races are equal under those who joined them and they have to learn to accept their differences. On the contrary, the Imperium promotes that humans are the culturally, morally, and aesthetically superior race when compared to other alien races who they see as misguided unless they are under mankind's guidance. The Enterprise crew rejects this philosophy and believes whoever is in charge should get his mind out of the superiority-crazed gutter. Of course, the Emperor did not listen and only sees the Federation and Starfleet's refusal to be more imperialistic dooms them due to not taking action against predominant threats. They could have done this with the Romulans, the Gorn, the Klingons, the Borg, the Dominion, Species 8472—morals that they backed has done nothing but bring potential future suffering. The Emperor clapped when the Federation and Starfleet stood by as Romulus got vaporized to nothing, as he knows they are realizing that being not so different can be beneficial to them. To note, this Enterprise crew does not approve of Romulus being left to die either.
Nostalgia Critic and Linkara were enthusiastic to meet them, as this crew inspired their morals and seeing of science fiction now. On the other hand, Sheldon Cooper jizzed himself upon seeing the legendary crew and promptly fainted. This Enterprise crew does not know to react to being worshipped by so many "Trekkies" as people call them.
Had nothing but high praise towards Lincoln after meeting a replication of the president. Lincoln does not recall those moments, though remained respectful and courteous to the much more advanced people who greeted him. Though it is humorous that Kirk's crew had to aid Lincoln at a battle royale conflict against other historical figures. It reminds Lincoln where his Heroic Spirit is...
Obviously, the Starship Enterprise was named after a famous ship used throughout World War II. Richard Hasley Best who had been stationed at the original Enterprise showed relief that people have not forgotten about the fight for peace. He likes reminiscing his time there to the Starfleet officers, though they had a hard time breaking to him over the World War III stuff afterward. Then the Moe Anthropomorphism of Enterprise showed up to the starship and felt bad that she was out-gunned at nearly every level. Richard only patted his ship on the back.
Exclusive to Kirk:

Infamously had shagged so many women across the galaxy. Like many of his more well-known traits, he had since moved on from it upon getting older though he can proudly state he was a league above the typical ladies man. He doted upon Shido Itsuka with the hopes that he took lives up to his legacy by dating as many women as he could. Shido is embarrassed over Kirk acting like a Cool Uncle towards him but is too polite to tell him to stop such actions.
Picard and Kirk had only known each other briefly but had profound effects on each other. Picard ushered Kirk to save the day once again and not dwell at realities never meant to be while Kirk's reputation and heroism influenced Picard and all Starfleet captain after Kirk's era heavily. Their respect for each other has not wavered and the two's crews work closely together. Needless to say, people wet themselves upon having two versions of the Enterprise crop up.
After the death of his son, Kirk only wanted some peace after having so many tragedies happen in his life. Hell, Kirk survived a systematic genocide ployed by an insane colony leader (who eventually turned into a Shakespearean actor) in his youth. The Nexus provided him such happiness but again, Picard snapped him out of it. Maruki who drove Kirk around felt bad and hoped life could be so much better for him. Kirk felt flattered but wants to look towards the future, not the what-ifs.
Used a rather... obtuse combat style where he proceeded to decimate opponents by slapping them with hand chops. The only thing he cannot fight off are creatures he knows are much larger and deadlier than he is like a Gorn commander. Bob Richards has shown interest in such a combat style and wants to study it. Kirk was amused and agreed to show his combative abilities to the far superior fighter.
"They used to say that if man was meant to fly, he'd have wings. But he did fly. He discovered he had to."

Exclusive to Spock:

A Vulcan whose maternal parentage was human, Spock had fame even outside Federation space for good reason. He had The Stoic attitude that most Vulcans pertained but also wrestled continuously with his human side as a weakness. Though Kirk had always been captain, Spock had always been beside Kirk through thick-and-thin. Towards his elderly years, Spock infiltrated Romulus (Vulcans and Romulans are the same species but differing philosophies) to kickstart a cultural movement against the oppressive government there. However, that would mostly go to waste once Romulus had its sun go supernova which resulted in the Romulans' near extinction. Prime Spock went to the Kelvin timeline to halt the revenge of Nero who wanted to destroy the Federation there as retribution for the Federation refusing to aid Romulus. Though he failed to save Vulcan, Spock helped the Kelvin Vulcans rebuild until his natural death. Out of everyone, the two versions interact at the Pantheon the most due to having a mentor-student relationship with each other.
Though shows loyalty to his current crew, Spock also was the officer right after the previous Enterprise captain, Christopher Pike who ended up entirely paralyzed after an accident. Other tidbits to Spock's history are not only having a long-lost half-brother but also a long-lost adopted sister. Weird how this happened twice. Though Spock is willing to talk about his history to those he finds lacking maliciousness, there are certain boundaries he does not speak upon. One is the Vulcan traditions which are so private, they are refused to be spoken by anyone except close associates. The other is his adopted sister who had been wiped off clean from the record books due to certain happenings that could endanger the Federation if their enemies were to find out at them. Lastly, there was the time when his brain got removed which everyone keeps bugging him about and finds most illogical people derive humor from it until now.
Finds interest towards Histoire who has enough knowledge to give him a run for his money. What helps is that Histoire is sensible compared to the compatriots who are needlessly... chaotic is what Spock said. Histoire likes the man and was willing to give access to most information she carried. Though one time her database got corrupted and Spock had to fix the error for her. He had to wear a SUSPICIOUS LOOKING HELMET that he was not amused using.
Related to Corrin over having a mixed heritage that they debated over constantly. It was worse for Spock because he was repeatedly critiqued by Vulcan society for letting his more human emotions emerge. Though Spock finds a decent correlation with Corrin, he questioned why as he and Corrin do not share much in common. Corrin has a respectable standing as a leader, though Corrin had only known about their heritage later in his life and not having been raised by two completely different. Corrin does not even have themselves ushered to believing a different philosophy—only what government they chose to fight for. Spock finds it illogical that he finds that commonality though his fellow officers noted that even the most opposite of persons can find correlation within their history no matter how removed.
Shared the same voice as Xehanort... until it suddenly changed to become a different voice entirely. Though this may seem like a surface-level interaction, Spock finds Xehanort's plans to be utterly illogical to the point that he prefers that Xehanort had stuck to his plan on just wanting a Keyblade War For the Evulz. Xehanort wanting to use Kingdom Hearts to erase evil does not make sense as his other selves shown nothing but villainy. Even if he summoned Kingdom Hearts to succeed, a Keyblade War would occur even if everybody had their evil removed as the differing philosophies would conflict with each other—to the point that those who had good intentions would want to revive evil because they believe it necessary!
"Live long and prosper."

Exclusive to McCoy

The chief medical officer for the Enterprise, McCoy has an outspoken and opinionated personality that while very controlled, drives his view on the world. He believes compassion should be the forefront motivation for every action taken. Of course, this leaves him at constant odds with Spock and his culture's logical approach to life. Though has the willpower and skills to help out, just do not ask him to do other things aside from medical/biological circumstances. The doctor would say he is a doctor, not an insert needed duty here.
Though he has some knowledge of surgery, it has been noted by Dax that McCoy had smoother hands than the average person. Most people do not want to know this fact. Regardless, the doctor has enough knowledge and expertise to keep up with the best medics at the Pantheon. Whenever he is working on a patient, is warned to stay away lest they upset him for obstructing his duties for no good reason.
Pities Tenma for feeling guilt over saving a sadist. McCoy stated that a doctor's duty is the save as many people as he could and Tenma simply chose what he saw as the more innocent life. Nobody could have foreseen the person he saved dedicating his life to cause misery to everyone he comes across. If McCoy had to save a Romulan known for destroying colonies, he would have saved his life now and worry the consequences later. Tenma noted that this does not satiate his guilt over how Johan turned out but thanked McCoy for trying,
Mordin Solus had a personality similar to a Vulcan's, using cold logic to paint his actions even if it meant planetary genocide. What Mordin has done for the sake of duty (sterilizing the Krogan infant survivability) would have made McCoy fully against him as he views the action unforgivable. However, he was shocked to see Mordin develop extreme regret over what he helped done—to the point he wanted to reverse his sterilization to the Krogans. Instead of holding animosity, McCoy wants to encourage the "human" emotions Mordin has lest he regrets his regrets.
"I'm not a magician, Spock, just an old country doctor."

Exclusive to Sulu:

A bridge member of the crew, Sulu had the duty as a helmsman. A reserved individual, Sulu showed traits of a swashbuckling romantic with his fencing skills, charisma, and loyalty to his crew. The latter to the point that he was willing to risk his career as a captain of a ship to aid his fellow captains. Though he may not have his crew with him at the moment, Sulu is happy he could help out his companions once again.
Though generally not considered that eccentric compared to his fellow officers, Sulu had been noted to have rather known Catchphrase associated with him. Though Sulu has never uttered it at all, nor even brought it to thought—people still see him as the person who said it! To drive everybody away, he had said it once and put it on a button so he does not have to repeat it when asked.

His Undying Loyalty to his crew had been especially praised by Fenrich and Jeremiah Gottwald who also risked life and limb for the persons they are loyal towards. Despite this, Sulu hoped that people would no idolize such behavior that he displayed against Starfleet command. The difference at the time was that he was captain and he expected his subordinates to follow through with his orders. He even had to explain it to an ensign named Tuvok who rightfully questioned his orders at the bridge. Sulu said that people should listen to their superiors unless they are in a position of power that allows them to do something like that.
Is well-versed with botany, believe it or not. He keeps exotic species from other planets that are questionable with how safe they are but Sulu defended that they were perfectly fine. As a result, Sulu found himself teaching a young Mary Lennox how to care for those alien plants. Though people tell him a little girl should not play with things that could be harmful, Sulu says they are too close-minded to appreciate gardening.
A buff on history, Sulu has shown that he knows how to operate several objects centuries ago. From 20th century vehicles to rusted revolvers, Sulu's knowledge may not be impressive at the Pantheon but impressive for a Federation citizen. Sulu had bonded with Nico Robin over their shared love for historical artifacts (though not ancient civilization-level old) and had asked her to teach him how to read the Poneglyph language as the universal translator he has cannot decipher the language, interestingly enough.
"You have no idea who we are, but you'll soon find out."

Exclusive to Uhura:

The Communications Officer aboard the Enterprise, Uhura had been notable for keeping that same position even after the Enterprise ended its five-year journey. Not that this bothers her at all. Though she may have aged, it does not hamper her abilities in receiving/getting contact with transmissions across the bridge. When push came to shove, Uhura has shown she was as much a capable leader as the rest of the crew to the point she was trusted with command at a certain point. This extends even further with her Kelvin counterpart who had shown nothing but professionalism in the face of danger.
A notable inspiration to black women across the world for being a professional at her duty and treated with the utmost respect by her fellow officers. Though Uhura is proud of her African heritage and has known about the hardships her ethnicity faced across the world, though she finds it strange people looked up to her as a role model. Considering that displaying racism against differing human ethnicities/cultures are long forgotten by her era, Uhura does not truly know how revolutionary she was to The '60s pop culture. Regardless, she is humbled by such praise and does not wish to contest those who were inspired by her role.
Her relationship with Spock has been confused. Prime Uhura teased Spock for having an attraction to her more than once, though nothing resulted from it. In the Kelvin timeline, she and Spock are in a relationship but chose to sideline that for their duty as Starfleet officers. It becomes relatively unknown if that same professionalism applies to the Pantheon as Spock has become too busy of an ambassador to pursue such romance. Not that her romance with Spock defines her character anyhow.
One incident where she had taken charge was when a civilization of siren-esque alien women rendered the men unfit for duty through their music. Uhura took charge and was able to rescue her officers trapped with the sirens just before they were put to dangerous harm. Coming from an island of women herself, Wonder Woman had shown extreme interest in Uhura's capabilities as a warrior thanks to her brave display. That does not even seem to be the first instance as Uhura shown capability when trapped in the Mirror Universe. Again, Uhura became humbled and says she has no interest as a warrior. Starfleet officers are peacekeepers and only fight when needed.
A fear from Uhura is becoming old and shriveled, basically looking like a malnourished person who managed to survive past age 30 during the Middle Ages frightens her deeply. Though Federation tech would alleviate that and she aged better than what her fear stated, the concern for being so decrepit and useless persists. Aemon Targaryen simply told Uhura that she will get used to being so old just like he is. That statement would sound a bit too blunt, though Uhura knows what he says is true.
"Oh, beyond belief, but it's nothing I can't handle."

Exclusive to Scott:

Chief engineer for the Enterprise, "Scotty" has shown that if there was the biggest Berserk Button in the history of Starfleet, it was mocking the Enterprise in front of him. He had helped maintain the ship for so long and even when given a Rank Up to captain, still has a particularly close connection to the ship she spent five years with. His work had still been used years after he was presumed dead (we will get to that), a testament to his skills as an engineer.
Does not particularly like teleporters but persists in working on them. The reason for his presumed death at the Prime timeline was him getting trapped at a teleporter during an emergency escape until he was reawakened by the succeeding Enterprise crew decades later. History Repeats for the Kelvin Scotty as a teleporter experiment malfunctioned got him banished from Federation space. That incident involved Admiral Archer's beloved dog. He asked the Engineer to help him on such matters, though tries his best to make sure the Enterprise does not have her secrets being found out. The Engineer finds this infuriating because he does want to pry the ship's secrets too, though is thankful to Scotty for allowing him a safe space for his teleporter experiments.
Attempted to have a competition with Franky over who has the better ship. Franky was amazed by how advanced the Enterprise was and wanted to see if Scotty would allow the schematics for the ship to be compared to the Thousand Sunny. Scotty pridefully gave those blueprints though knew Franky was trying to see if the technology can be applied to the Thousand Sunny. Franky became sad over the Sunny being unable to traverse space but that is not going to stop him from making it the greatest ship across existence!
Being Scottish as signified by his name, Scotty has been known for being very loud and proud of his heritage. He goes as far as to be a person who still eats haggis, willing to fight for those he stands beside. Hearing the most Scottish person of all, William Wallace was present at the Pantheon. Scotty leaped for joy and went to see the great hero of Scotland. Tons of haggis was shared and even more, alcohol was given, leading to Scotty having to be relieved of duty until he recovered from such partying. Not the first time he ever got this drunk but it was a particularly bad time at this point.
Had come up with several bizarre methods on dealing with equally bizarre circumstances he and his crew had faced across their trek across uncharted space. If he were not from a peacekeeping race, then he may have designed enough warheads to blast planets to dust! Asami Sato and Gadget wanted Scotty to teach them a thing or two on creating stuff on the fly—not asking to be taught engineering on future technology. Scotty warned them that it doing so means to invite chaos to their personality... which he realized was pointless as they are pretty nutty themselves.
"I have spent my whole life trying to figure out crazy ways of doing things."

Exclusive to Chekov:
The Cosmic Trio of Disaster
Greeza
Greeza, Deified Negative Space Wedgie
(
Void Monster
)
Overdeity. Greater Deity in its first form or when forced into a physical body.
Symbol: Its first form.
Theme Song: Greeza's Theme
Alignment: Chaotic Neutral (in nature). Chaotic Evil (in actions).
Portfolio: A Sentient Void Abomination, Big Bad of Ultraman X, Remains Powerful Even when Weakened by Being Forced Into a Physical Form, Eldritch Abomination, Enemy to All Living Things, Grows In Power the More Matter It Absorbs, Giggling Villain, Immortality until forced into a physical body, Immune to Any And All Harm Except For the "Needle" Inside It, Power of the Void, Reality Warper, Omnicidal Maniac.
Domains: Space, Distortions, Omnicide.
Kindred Spirits: King Ghidorah, Nekron, Chaos, GOLB, The Lich, Bill Cipher, Dark Gaia, SCP-682, Ghatanothoa, The Wither, Unicron, Majin Buu, The Nothing, Deathwing, Firebird, Crimson King, Void Termina, Vaatu, Amatsu-Mikaboshi.
Source of Interest for: Ultraman Belial, Yapool.
Enemies: All Living Beings in General (except those who seek the death of everything). Notable stand-outs are: The Heroic Ultra Series Deities (especially Riku Asakura/Ultraman Geed, Musashi Haruno and Ultraman Cosmos, STORAGE and Celebro), Sonic the Hedgehog, Gaea, Battra, Mogo, Fluttershy, Godzilla, Rick and Morty, The Doctor, The Creation Trio, Nebby, The TARDIS.
Greeza was a most mysterious entity, with unknown origins it was first sighted travelling through various Universes while chased by an Ultra Warrior known as Ultraman X, who battled and pushed the abomination into the Sun, seemingly destroying it... However, Greeza didn't die and instead it merely scattered its essence throughout the Universe to corrupt living beings and cause destruction everywhere before reforming years later to continue its original purpose of destroying all life. It was only stopped when Ultraman X used a powerful weapon known as the Xlugger to turn Greeza into a corporeal being, allowing him to finally destroy it for good.

A second Greeza appeared after the destruction of a Bullton that "held" the anomaly in place. Like the previous one it tried to cause destruction and chaos and even came close to absorbing Ultraman Geed when the latter tried to fight it almost assimilating the Ultra into itself, but was stopped by the combined efforts of Ultraman Z, Ultraman Geed and Jugglus Juggler thanks to the Beliarok; a sword made out of a "needle" inside of it that could "sew" Greeza due to its nature as a living void that was ultimately pulled out by Z who used it to fight and defeat Greeza while saving Geed; ending the entity's reign of terror once again.

Greeza was of much concern when it was ascended, deities made sure to contain it in its temple to prevent it from breaking out and gathering too much power. Eventually the Ultras helped by using the Beliarok (which the unascended Ultraman Z provided to Zero) so as to repel Greeza and seal most of its power away. While Greeza so far remains inside its temple, other deities have nonetheless sought it out.
Greeza's current greatest foe in the Pantheon is Riku Asakura/Ultraman Geed who clashed with the entity when it appeared in the World of Ultraman Z and began wrecking havock, Riku was temporarily absorbed and nearly assimilated into the Void Monster before Z employed the power of Beliarok to save Riku and then end Greeza's threat. Riku has been one of the more useful agents in informing the many Houses of the threat of Greeza and how to counter it. For now the young Ultra has remained on guard for the possibility of Greeza setting out to cause destruction again, while also wary of knowing that his father, Ultraman Belial, has taken a worrying interest in Greeza himself.

Eventually STORAGE and Celebro ascended and their enmity with the Void Monster resumed, both groups were especially wary of the possibility of Greeza going out of control again and becoming even stronger if supported by the right entities in the Pantheon, as such they've taken measures to fight it once more.

Like the aforementioned Belial, Yapool has also taken a big interest in employing Greeza for his own purposes, Yapool mostly seeks to combine the destructive properties of both his and Greeza's energy so as to create a power strong enough to end all Ultras once and for all and then follow suit with any and all allies they might have. That said, he's taken to studying for now how to contain it without sealing or destroying it by forcing it into a physical form.
Deities that harbor a hatred or desire to exterminate all life became the first kindred spirits of the Void Monster, among these was Nekron, the infamous destroyer of all life who found Greeza's abilities to be a much desirable tool for his plans, especially regarding its capacity to grow in power the more matter it absorbed and its inherent drive towards all lifeforms which compelled the abomination to destroy them all. Nekron has plotted to eventually break out the powerful being and employ it in his forces to ensure his victory even further.
Another being who found himself with equal desirable alliances was King Ghidorah. The space dragon is infamous for causing destruction everywhere it goes and won't stop until it has laid waste to everything else. Ghidorah's interest was further moved by Greeza's anti-existence properties that resemble those of his Planet Eater form, especially given that Greeza doesn't needs a ritual to employ its most destructive abilities. Like Nekron, Ghidorah has plans for the abomination, though it plans to merge with it so they can completely exterminate all other pieces of existence and leave nothing behind but pure emptiness.

This in turn caused Greeza to become a high danger priority for Godzilla, as the King of the Monsters knows how terrifying things like Greeza can be from his experience dealing with Planet Eater Ghidorah and as such has made sure to get closer to achieving his most powerful form, Super Godzilla, so as to have the means of combatting Greeza on equal grounds should the need ever arise. Godzilla's allies followed suit, though they have preferred to help from afar to prevent themselves from being absorbed and assimilated into Greeza and unintentionally help the abomination gain more power.

Since both of them are inclined towards chaos and absolute destruction, The Lich and Bill Cipher were equally interested in the capacities of Greeza, Bill has even thought about recruiting the Void Monster into his Henchmaniacs or just take control of it so he can unleash it on Gravity Falls first to get his revenge and then follow suit with the entire Multiverse. As for the Lich, he likes that Greeza feels a drive to end all life as much as he does, and has planned to also employ its abilities in any way he can hoping that the abomination can be the one true key to the realization of his goals; for similar reasons GOLB has taken equal interest in Greeza as well.
Greeza's residual essence, that its sole presence can spread, known as the Dark Thunder Energy can corrupt living beings and turn them evil or aggressive, thus making Greeza quite infamous among deities who are guardians of life and living beings, one of these was Gaea who has remained alert to the possibility of Greeza's Dark Thunder Energy spreading throughout the Pantheon and causing countless tragedies and chaos without end. Other nature spirits such as Battra and Viridi were equally wary of the powerful entity and its averse effects on living beings. This dark energy also ensured the entity powerful enemies in the form of Musashi Haruno and Ultraman Cosmos, who protect all life in existence and have ultimately come to the conclusion that an aberration such as Greeza has ultimately no place in the natural world and instead must be dealt with for good.
Greeza is driven to consume all life and end it by erasing those it absorbs from existence, as such it has made "allies" (not really such, but the closest a walking void can have) in the likes of the Nothing, the Firebird and Unicron, all abominations driven by a desire to "devour" everything in existence to varying degrees and who gladly carry out that task. While they only see Greeza as a temporary help that they'll need to dispose of later to prevent it from becoming too powerful, they nonetheless are all too ready to assist it and align with the Void Monster when they feel that it's an approppiate time for it.
With its threat that could spread out to the entire Multiverse, it has been seen as a serious threat by various deities in charge of multiple dimensions, those that travel and those who protect them. One of these deities was the Doctor, famous for many multiversal exploits and his TARDIS; the duo have taken measures to have some form of containing Greeza without the need for a space needle or a reality warping wish to turn it physical but so far it hasn't been disclosed to prevent any evil deities from knowing too much. Also in this category was Tsukasa Kadoya/Kamen Rider Decade who views Greeza's threat as perhaps one of the few Toku villains that he absolutely takes seriously under any circumstance and is currently thinking of developing the means to "create" a space needle that could help take out Greeza at any circumstance when needed to. Dimensional travelers Rick and Morty were equally wary of Greeza, with Rick in particular being somewhat frustrated to know such a thing existed (or better said, didn't), while Rick so far thinks that it shouldn't be much of an issue for him to create a counter, he has yet to do so as he's gotten sidetracked with thousands of personal stuff to care much though Morty is worried that his grandfather might not have such means ready the day that Greeza wrecks havok.
The Creation Trio have labeled Greeza as a very serious threat to existence which they have began taking measures to fight against. Giratina in particular was worried that shall Greeza absorb any one of them, it could assimilate their powers and become unstoppable and unopposed in its quest to end existence. Arceus himself has so far decided to let the trio handle the issue, but has made sure to keep tabs in case the worst-case scenario happens. For similar reasons, Nebby the Solgaleo/Lunala is equally alert of Greeza and also cooperating with its fellow cosmic Pokemon in having the means to stop it.
Interestingly, an equal to Greeza might be the infamous Giygas, though its considered to be the antithesis to Greeza. While Giygas represent an ascended existence, Greeza is instead an absolute nonexistence. While neither has encountered each other, some deities think that it might be possible to lock both deities in an eternal stalemate by somehow getting them to fight one another, with neither capable of overcoming the other. Though other fears, one might consume the other and instead become even more unstoppable. So far most have generally agreed to keep tabs and try and study both more to see if the matchup option would be good or bad.
As a destroyer it found itself opposed by the Gods of Destruction, Beerus. While it might seem like a useful ally in his role of keeping balance by causing wide destruction for him, Greeza's nature and lack of restraint or ability to stop on its own once it gets going ensured that instead the destroyer deity see Greeza as a threat to not only his job but also even himself over time, seeing that Greeza's status as non-existing renders his destruction abilities mostly useless at trying to deal with the abomination lest someone else turns it into a corporeal entity to let him destroy it. Due to this, Beerus has mostly decided to do a silent opposition but won't lift a finger to help due to seeing it as a pointless act.
Lavos
Lavos, Unholy Planetary Parasite
(Big Fire,
The Time Devourer
)
Greater Deity. Overdeity as The Time Devourer.
Symbol: Its spiky shell
Theme Songs: Lavos' Theme, World Revolution, The Final Battle
Alignment: Neutral Evil
Portfolio: Planetary Parasites, Generic Doomsday Villains, Destroying (Almost) All Life on Earth, Destruction Raining From the Heavens, Birth From Nothingness, Spikes of Villainy, Being Impossible to Control by Mortals, Secretly Guiding the Evolution of Mankind, Harbingers of Impending Doom, Creating Gigantic Impact Craters, Warps Space and time by existing
Domains: Creation, Death, Destruction, Life, Time, Space, Parasites
Herald: Queen Zeal
Followers: Jenova
Allies: Nekron, Unicron, Sephiroth, Lord English, Cell, Porky Minch, Giygas, Grima, Eobard Thawne, The Dark Star, Pennywise
Enemies: Crono, Lucca, Marle, Frog, Robo, Ayla, Serge, Homura Akemi, Future Trunks and The Creation Trio, Son Gohan, The Pantheonic Time Police, Sailor Pluto, Chibiusa Tsukino, The Heroes of the World of Balance, Cloud Strife, Oriko Mikuni, The Luminary, Erik, Mogo, Bête Noire, Lucifer and Chuggaaconroy of all people.
Those drawing upon its power: The Evilutionists of Mad Science, Zarok, Quan Chi, Kefka Palazzo, Babidi, Dr. Gero
No one knows where or how Lavos came about, but it is responsible for nearly destroying one planet twice over. It first appeared crashing into the Earth, killing off the Reptiles and secretly guiding the evolution of Mankind. Eventually, it causes a Bad Future, Crono and his allies becoming determined to Set Right What Once Went Wrong. Lavos destroyed Magus' family, kingdom and childhood, basically ruining his entire life, reduced Queen Zeal to a willing servant and even killed Crono. It planned to give birth to and send its spawn out into space in order to destroy more planets, a process that would likely have repeated until nothing remained. Fortunately, Crono and his allies were able to stop Lavos from destroying the world and sending its children into space.
Ascended to the Pantheon by crashing into it in the form of a Colony Drop. Fortunately, anyone killed upon arrival eventually came back to life due to the Death Is Cheap nature of the Pantheon. Crono, Frog and Magus had been in the Pantheon at the time, and were dedicated to do all in their power to prevent Lavos from raining destruction again. They (well, just Crono and Frog since Magus is not a team player) decided to ascend the rest of the team that killed it in order to better combat Lavos.
Very good at corrupting others with its power. Queen Zeal, who was once a benevolent queen, went mad due to Lavos' power and made an alliance with it, acting as The Dragon to the creature. Curiously, it doesn't mind being commanded by Queen Zeal nor her siphoning its energy without consequences. Of course, if it notices people trying to control its power, which is a very tall order, they will be annihilated with no effort at all and reduced to being its servants, as evidenced with Queen Zeal.
As of late, Lavos has become more active and attempting to create spawn. They are usually destroyed, but Oriko Mikuni has received visions of a possibility where it is successful. She has been opposing the Planetary Parasite with everything she has as a result.
Homura Akemi HATES this thing, it reminding her far too much of the Walpurgisnacht. She has fought Lavos and its herald multiple times and won all of the battles so far. Unfortunately, Lord English, who happened to overhear one of these fights, decided he is going to ally himself with Lavos and try to ascend Walpurgisnacht just to be a dick.
Frightened most of the Pantheon when Grima sided with it due to the You Can't Fight Fate situation it created as well as its sheer power and potential. Interestingly, Grima has come to defend Lavos multiple times from those who seek to kill it. It has usually taken many deities to defeat them both.
Gained the ire of many deities who sought to prevent a Bad Future, but none of them loathe the beast as much as Future Trunks, who is disturbed by its frighteningly similar appearance to Cell. Cell sees interest in the creature and wonders if trying to fuse with it to reach Overdeity status is a good idea or not, but he's taking precautions just in case.
Gained the ire of Mogo and the entirety of the Green Lanterns. This is because it launched one of its spawn into space and it landed on Mogo. The spawn attempted to destroy the planet, but was defeated handily. They have been opposing Lavos and the threat it poses ever since. We mean actually killing it. Mogo trapping it in its gravitation only ended up giving the monster an easier time digging through the planet.
Similar to Giygas in more ways than one. It is more of a force of nature than it is evil, similar to what Giygas became in the end. Porky Minch has taken an interest, but is smart enough to not piss off the creature at the moment. It doesn't mean he isn't using some of its power for his own ends.
Galactus sees the creature as what would happen if he were to be consumed by his nature as a Planet Eater. Unicron likes it much more, though, seeing it as a Kindred Spirit and is willing to keep it as a pet. Of course, while stronger than Lavos in its current form, even he knows not to let it become the Time Devourer.
The Creation Trio, more specifically, Dialga and Palkia, have it out for Lavos due to it influencing and warping both time and space by its mere existence. The Pantheonic Time Police have been opposing it for the same reasons and have been helping prevent it from becoming the Time Devourer.
It is highly advised to never let Lavos become the Time Devourer or allow it to release spawn into space unchecked. Nobody wants one Time Devourer, let alone potentially an entire race of them. Unfortunately, Nekron has taken an interest in this possibility. In any case, previous evidence shows the Time Devourer not only requires Lavos to incorporate a magic being to get extra powers, but that bond can be broken with a certain Musical Trigger. And the Pantheon has kept recordings of that song readily available.
Nicol Bolas
Nicol Bolas, Dragon God of Multiversal Conquerors
Greater God (formerly Overdeity)
Symbol: A Gemstone floating between two horns
Alignment: Above Good and Evil (so he claims)
Portfolio: Agony Beam, Mind Rape, The Most Powerful Planeswalker, The Dreaded, Evil Overlord, Dragon Sorcerer, Xanatos Gambit, Oldest Planeswalker, Sorcerous Overlord, Mind Manipulation, Black Magic, Dimensional Traveler, Complete Monster
Domain: Magic; Dimensional Travel; Blue, Black, and Red Mana
Allies: Arael
Rivals: Dormammu, Alduin, Homura Akemi, Darquesse, Ganondorf, Aizen Sousuke
Enemies: Ajani Goldmane, Sorin Markov, Madoka Kaname, Lord Kroak, Azir, Doctor Strange, Merlin, Io, Bahamut
Nicol Bolas arrived inside the Pantheon when he Planeswalked into the dimension, having sensed the immense concentration of power that resided in the Pantheon. His arrival was immediately noticed by Sorin Markov, who alerted fellow deities in the Magic Pantheon to his presence.

Since then, Nicol Bolas has taken to studying the nature of the Pantheon and the various users of Magic within it.

Nicol Bolas is an immensely old and immensely powerful Planeswalker, one of the few still living from the days when Planeswalkers were powerful enough to be considered Gods, even able to create their own days. But with The Mending, Nicol Bolas lost that power and immortality he once possessed, and he set various machinations in place to reclaim that power. He hopes his plans in the Pantheon will lead to that conclusion.
Nicol Bolas once dared to confront Arael, desiring to know what kind of powers the Angel possessed. Unfortunately, Nicol Bolas was able to strike up an alliance with Arael (Bolas would never indulge in 'friendship'), because Nicol Bolas shared a propensity for shattering minds with but a touch with Arael.
Very few in the Pantheon are able to match Nicol Bolas in terms of magical power, even though his powers are not what they once were. Before the Mending, he was essentially a God within the Multiverse, able to create entire planes which he ruled, immortal, and able to use magic with effects on a Multiversal level. Now, he has lost that power with the nature of the Planeswalker spark changing, but he seeks to regain that power by any means necessary.
He has his eyes set on Homura Akemi, as he believes that he could steal her power to restore himself back to his past glory. As such, many of the Good-aligned deities in the Pantheon stand against him and his ambitions, particularly Madoka Kaname.

If not, then he can always try to take the Hogyoku from Aizen, and use it to give him immortality and restore his power. After all, such an item is more suited for his hands than a mere Soul Reaper who plays at being a God.

He also has rivalries against many of the powerful Evil-aligned magic users in the Pantheon, particularly Darquesse, whom he sees as a dangerous hinderance to his plans.
He begrudgingly acknowledges Io as being the progenitor of his own race of dragons, but that only drives Nicol Bolas' ambition to reclaim his powers not only so that he can regain his own strength, but surpass and usurp Io as well. He will have none who are above him, Dragon or otherwise.
He has shown an interested in in other deities who can summon creatures and spells to do their bidding through cards, as it reminds him of certain Outer Beings who play as Planeswalkers in another plane of existence.
He is aware of the how the Pantheon came to be, as he once hijacked a page on the Magic The Gathering site to explain the rules of the game based on his multiverse.note
Can also be found in the Hall of Conquest and Conquerors
---
This house is a centerpiece for multiple occupations that take place in space, with Galactic Superpowers and Alien Royals having various discussions and taking part in events that surround intergalactic politics, relations, economy, and trade exports among several other factors that make up a functional society. In addition, Space Corps in general would frequent the House to scout out any potential threats and making sure planets and galaxies are ensured safe at all costs, though this isn't going to stop upcoming threats anytime soon.
---