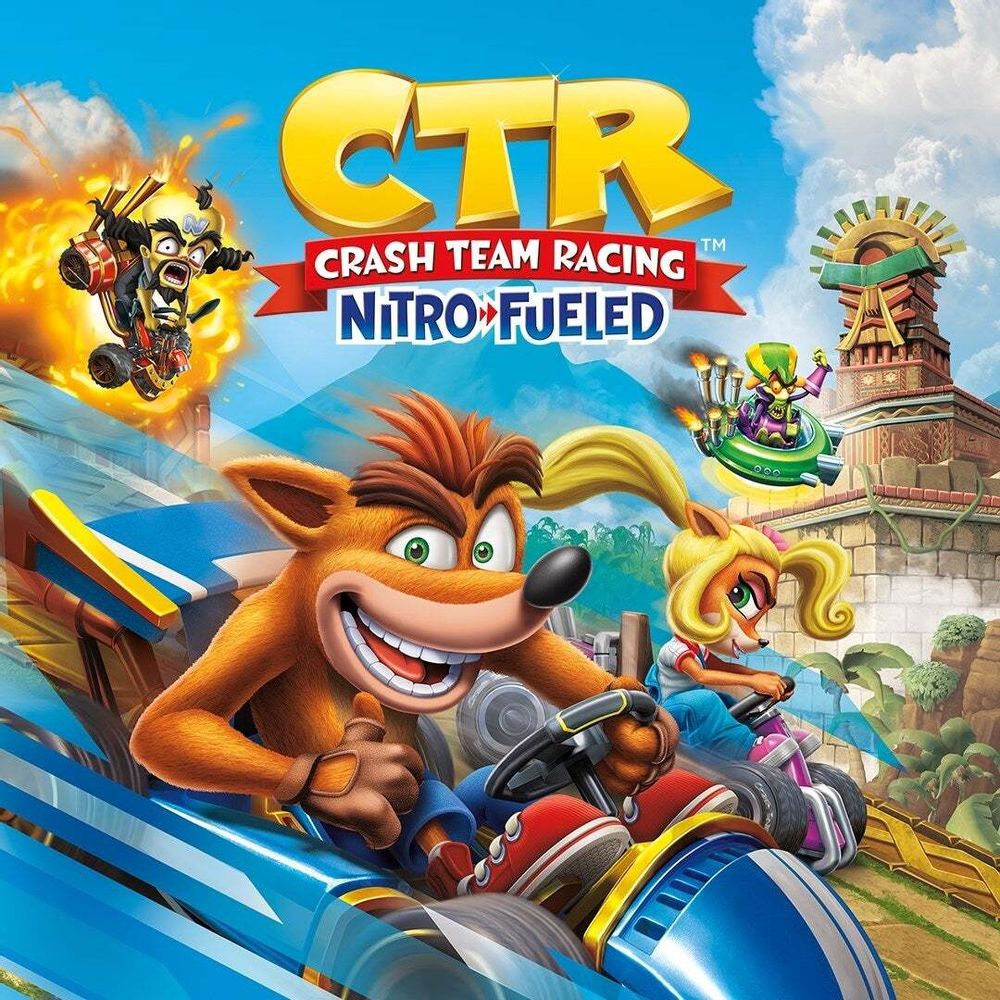 Crash is back in the driver's seat!
Crash Team Racing Nitro-Fueled is a remake of Naughty Dog's PlayStation racing game Crash Team Racing developed by Beenox. The game features the same updated graphics as the Crash Bandicoot N. Sane Trilogy, as well as a number of additional features, including characters and tracks from beyond the original game, kart customization, character skins, and online multiplayer; some of those features are taken from the two post-Naughty Dog era Crash Bandicoot racing games, Crash Nitro Kart and Crash Tag Team Racing.
It was released on June 21, 2019 for the PlayStation 4, Nintendo Switch and Xbox One.
This game's confirmed playable characters include:
From Crash Team Racing:

Starting Roster: Crash Bandicoot, Dr. Neo Cortex, Tiny Tiger, Coco Bandicoot, Dr. N. Gin, Dingodile, Polar and Pura.
Bosses: Ripper Roo, Papu Papu, Komodo Joe, Pinstripe Potoroo and Nitros Oxide.
Other Secret Characters: Penta Penguin, Fake Crash and Dr. N. Tropy.

From Crash Nitro Kart:
See Cast Herd below for their character classes.
---
This game provides examples of:
open/close all folders
A
B
Badass Biker: Both Crash and Tiny get biker costumes in the Nitro Tour GP, although the lack of bikes in the game does render it somewhat mootnote .
Bad Future: Megamix Mania, of course, but it's specifically this for Roo's Tubes and N. Gin's battleship, which have seen better days.
Balloonacy: Played for laughs with Clown Cortex's victory podium animation, which has him getting lifted up by his balloon, until the air leaks out of it and it forces him to zip around everywhere before he falls down.
Bamboo Technology:

The Mammoth kart is basically this, being a prehistoric kart made out of bones, stone, wood and animal hide powered by an engine filled with strange glowing-green stuff.
N. Tropy's Stone Age costume is him wearing a primitive version of his usual suit, complete with a sun dial and a scepter made out of bones. Justified a bit in that he uses voodoo magic to compensate for any shortcomings.

Battle in the Center of the Mind: Implied with Nina's Nightmare, according to its description.
Battle in the Rain: Well, more like "Race in the Rain", but Cortex Castle, Tiger Temple and Thunder Struck all have racers going through stormy weather (with the latter two even getting lightning strikes!) as they race each other on the tracks.
Becoming the Costume: Legendary skins generally change the characters' victory podium animations almost completely to reflect them, with some going even further by changing them into other forms (e.g. robots, spellcasters, monsters).
Big Boo's Haunt: Nina's Nightmare, which comes with the typical Haunted House trappings (pumpkins, graveyards, spiders and cobwebs...).
Big Eater: In her Elf skin, Coco hungrily eats a cupcake in her podium animation. Thanks to the loop, she will happily eat them indefinitely.

Coco practically shows restraint in comparison to Stew, who spends most of the Winter Festival GP intro devouring the giant foodstuffs found in Gingerbread Joyride.

Book Ends: Both the very first Grand Prix and the very last feature the Nitro Squad prominently.

Similarly, the highlight newcomers for those same Grand Prixes (Tawna and Emperor Velo, respectively) are Acceleration characters by default.
The first and final Grand Prixes that Chick and Stew do CTR TV reports for have five racers, including themselves in the latter case.

Bottle Episode: Downplayed with the Back N. Time Grand Prix; while it still has plenty of content otherwise, there are only 3 new racers to get compared to Nitro Tour's 5 Nitro Squad members, and only one of them comes with a legendary skin. Furthermore, the racers use recycled voice clips but pitched up higher, yet the only one to use new voice clips is Baby T, and even then he's unevolved. On top of that, Baby T. used a few voice clips from Crunch until Spyro & Friends. Most of the other Grand Prix after Back N. Time also only have 3 new racers each, but they have more work put into them.

The Rustland Grand Prix is more intentional in this regard, since the main reason why Megamix is the only new racer is to celebrate breaking the milestone of 50 racers. Also, part of Megamix Mania uses heavily-altered assets from Roo's Tubes, and all the skins are labelled "Rustland" for convenience's sake.
Downplayed further with the Gasmoxia Grand Prix, as while everything else is otherwise done with great effort despite Emperor Velo coming alone, the CTR TV report reuses assets from the Adventure mode's Oxide cutscenes.
Aside from the fact that the post-GP update no longer adds any new tracks, it features no new racers with new voice clips (with the Lab Assistant using pitched-down voice clips from Crash, Baby Cortex and N. Tropy being pitched up higher like Baby Crash and Coco, Fixed Rilla Roo reusing the other Rilla Roo's voice clips verbatim, and Iron Checkpoint Crate outright being The Voiceless).

Bowdlerise:

Oxide no longer uses the word "slaves" during the intro, and he instead uses the word "minions".
The Trophy Girls have been redesigned to be less sexually provocative, with Ami and Liz having their skirts lengthened and pants put on beneath them, and the group as a whole no longer have large breasts.
A patch changed the names of certain character skins that might have been interpreted as having racial implications, like "Watermelon Tawna" becoming "Summertime Tawna" due to the skin giving her a watermelon colored shirt and slightly darker fur. This was also generally done to skins with names that line up with actual racial descriptions, such as "White Tawna" becoming "White Tiger Tawna", "White N. Tropy" becoming "Quartz N. Tropy" and "Black Zem" becoming "Solar Flare Zem".
Coco's epilogue in the original version was her starting a dating service. Since the implications of that were risky (especially considering her age), this was changed into running a game streaming service website instead, something that's a little more in-character.
The Bone Machine from Tag Team Racing was renamed the Skull Rider due to the original name likely being sexual in nature. Similarly, the Organ Grinder was renamed the Phantom.
The Dark Coco skin is based on the unused Evil Coco from Twinsanity, albeit with some changes to make her less sexual in nature. She doesn't wear skimpy leather short-shorts, but instead a skirt, and her fishnet stockings are no longer see-through. Her personality has also been changed from The Vamp to being a Goth.

Bragging Rights Reward:

N. Tropy, for those that managed to both unlock and beat all his ghosts in Time Trials. There's also his Digital skin, which requires beating all the Oxide ghosts in the same mode, which is nothing short of head-slammingly difficult.
Three of the paint jobs that can be unlocked for use include three colors modeled after the three ranks of Relics- Sapphire, Gold, and Platinum. To unlock each one, you must get every Relic of that rank in the Crash Team Racing tracks, making the Gold and Platinum Relics' associated colors into these.
Similarly, there's the trophy paint jobs introduced in the post-GP update modeled after bronze, silver and gold. Unlocking them requires beating all the cups on easy, medium and hard respectively, making the Gold one this.
Oxide's Hot Rod skin, which can only be obtained by getting 101% in Adventure modenote .
Starting from the Nitro Tour Grand Prix, there's now the aptly-named Champion kart, which can only be obtained by reaching the top 5% on the leaderboards. You may now cry tears of bitter rage here.note

In addition to the Champion kart itself, Gasmoxia GP adds two exclusive decals that can be obtained if all of Oxide and Emperor Velo's Time Trial records are beaten on all tracks. Including the GP ones.

The Master wheels, a glowing set of wheels that emit out colorful silhouettes when driven, are unlocked by beating all of Beenox's developers' Time Trial records. Take note that even the Emperor Velo records are designed to be remotely beatable; the devs themselves do not fuck around in this manner.

Braids of Action: The Nitro Squad's motorsports outfits also have them tie their hair back into braids and ponytails.
Brain in a Jar: Cortex's robot skin has glass at the top of his cranium exposing his brain.
Bread, Eggs, Milk, Squick: In the CTR TV report for the Neon Circus Grand Prix, Stew waxes a lyrical about the smell of stale circus peanuts, gasoline and childhood trauma.
Brick Joke: A new detail in this game's version of the intro is that Crash unknowingly inhales a butterfly while he's sleeping. During the 100% Completion Ending, Crash coughs up the same butterfly while he and Coco are celebrating.
Brutal Bonus Level: The Beenox developer times are treated as these, since they require the player to use their absolute best skill to defeat them, and those that are cleared are marked with a special stamp instead of a regular star that's awarded for defeating N. Tropy, Oxide and Velo.
Bubble Gum Popping: A skin called "Dark Coco" will blow and pop gum while browsing her phone on the victory screen.
Burger Fool: At the beginning of a race in Drive-Thru Danger, the voice of a disinterested employee will pipe in on the drive-thru speakers. What he says and which fast food company he works for changes each race.
Burning Rubber: Not quite rubber, but the Lava Rock wheels still have this effect regardless. In a variant, other wheels can also create colorful, glowing trails.
The Bus Came Back: This game adds many characters from post-Naughty Dog era Crash Bandicoot to the "Naughty Dog game remake" series, some of whom had appeared only once in the whole series and haven't been seen in more than a decade:

Most of the Nitro Kart cast, including Zem, Zam, N. Trance, Krunk, Nash, Norm, Geary, and Real and Fake Velos are back, and none of them have been seen since 2003.note
Chick and Stew from Crash Tag Team Racing appear as the announcers for each of the Grand Prix events after being absent since 2005. They also appear on an advertisement in Turbo Track and were Promoted to Playable in the Winter Festival Grand Prix. Pasadena and Von Clutch from the same game also join them as of the Neon Circus GP.
Tawna Bandicoot is also getting in on the action, making her playable for the first time ever in a kart racer, and making her playable for the first time since Crash Boom Bang in 2006, which was also her last appearance as a character aside from the N. Sane Trilogy.
Baby T. is playable, and he hasn't been seen since Warped unless you count the N. Sane Trilogy.
Technically speaking, Baby Crash appears for the first time since the Golden Ending of the Nintendo DS version of Titans in 2007.
Nina Cortex is coming along for the ride, and she hasn't been in a game since Mind Over Mutant in 2008. Same goes for N. Brio (unless, again, you count the remake trilogy).
Koala Kong is back again, and wasn't seen since Twinsanity in 2004, if you ignore the N. Sane Trilogy.
Rilla Roo appears for the first time since Bash all the way back in 2000.
Yaya Panda makes her first appearance since Crash Bandicoot Nitro Kart 2 in 2010.
Megamix appears for the first time since it was playable in the multiplayer mode of N-Tranced in 2003 (not counting that, its first appearance was in The Huge Adventure in 2002).
Disregarding their appearance in N. Sane Trilogy, Baby Cortex and Baby N. Tropy appear for the first time since Warped.
C
D-E
F-G
H-M
N-P
Nerf: Oxide, Penta (in the European and Japanese versions only), both Velos, Spyro and the GBA Nitro Kart bosses had maxed-out stats in the original installments, but with this game introducing online multiplayer, they've been rebalanced to keep them in line with the rest of the roster.note
Nice Girl: Megumi. When she loses but gets a podium position, she gives the winner a warm smile and a thumbs up.
Ninja Prop: The trophy that appears above the victory podium looks like it's just for show...that is, until Nina Cortex got added, as she can actually grab it from off-screen with her extendable hands when she winsnote .
No Fair Cheating:

Want to unlock Penta Penguin? Sure, no problem, the code works just fine. Want to blast through time trials and the Adventure mode with Infinite Wumpa Fruit, Super Turbo pads, and other boosts to your cart? By all means, but you won't earn a darn thing. Not even Wumpa Coins. Since the Spyro & Friends Grand Prix update, the race counts required to unlock the Palette Swap skins also no longer increase while non-Penta codes are active to discourage quick skin unlocks.
Quite a number of players found and mastered unintentional shortcuts and tricks in the original tracks. Unfortunately for them Beenox noticed and removed most, if not all, of the most egregious ones like in Hot Air Skyway. Further, when new exploits are found Beenox actively corrects them. For example, Thunder Struck had an exploit where a lap could be done in about 30 seconds as opposed to nearly two minutes, and further glitches made repeat laps done in seconds. The track was removed from online multiplayer until the exploit was fixed with an invisible wall.
If on an online race and a player fails to cross the finish line in the last 30 seconds that player doesn't get any Wumpa Coins if they are not far enough on the final lap. On the one hand, this punishes would-be idlers from gaining an easy 75% of boosted Coins by doing nothing. On the other, it punishes those who tried but just couldn't keep up. This can be really aggravating if one player ends up being significantly better than the others allowing them to unintentionally grief just by being good at the game and thus depriving others of Coins.

Non-Indicative Name: The Spyro & Friends Grand Prix introduces, apart from Spyro himself, only one friend of his, Hunter. The only other character is Gnasty Gnorc, the Big Bad of the first game and most certainly not his friend. However, one could technically count Sparx, who acts as the invincibility mask item for them, including Gnasty.
Non-Ironic Clown: The Neon Circus GP gives jester and harlequin skins for Penta and Megumi, and they genuinely enjoy their roles in contrast to Neo Cortex, who hates every minute of it.
No OSHA Compliance: Whatever flimsy maintenance N. Gin's battleship had is completely gone in Megamix Mania's post-apocalypse, as there's sparks coming out, many holes in the catwalk, at least one area has no handrails, and the missiles haven't been removed from their launchers (on top of still being functional, as an oblivious chicken that sits on one finds out when you pass through during the second lap).
No Plot? No Problem!: While Adventure Mode retains the original Team Racing's Excuse Plot, the Grand Prix events don't provide any reason for the newly-added racers to be here at all outside of a brief presentation from Chick & Stewnote . They're shown off roll call style, then it's off to the races.
Not Me This Time: When Oxide interrupts the race in the intro, Coco turns to Cortex with an annoyed look, and Cortex turns to her looking confused.
Octopoid Aliens: Downplayed with the N. Brioctopus skin, which replaces N. Brio's legs with tentacles.
One-Steve Limit: Done with, of all things, two legendary skins; since the Mind Over Mutant skin for Coco already gets named Evil Coco, the one from Twinsanity gets the Dark Coco designation instead.
Only One Female Mold: With the exception of Nina, the design differences between the female cast are downplayed heavily in this game. While the Nitro Squad were always proportionally similar to Tawna, their anime influenced aspects are gone, while Pasadena is now the exact same height and frame as them compared to the smaller lankier figure she was originally. Coco and Yaya are different sized, but more from age difference, and still very closely follow the same feminine Beast Man design. This only sticks out further given the game has otherwise tried to make nearly every male character look and act more distinctive.
Our Gnomes Are Weirder: Real Velo can get a costume in the Spyro and Friends GP that turns him into the garden gnome variety, complete with a chipped body and performing statue-esque poses in his podium victory animation.
Our Orcs Are Different: Gnasty Gnorc, natch. Big Norm also gets a costume that turns him into one himself.
Our Werewolves Are Different: Tiny can become one in the Spooky Grand Prix, complete with torn 50's-era tracksuit.
Palette Swap: The Neon Hawk plane kart is this to the Firehawk.
Pass Through the Rings: The "Ring Rally" gameplay mode, introduced in Neon Circus GP. Here, tracks are littered with "ring groups" that you have to pass through, and with a time limit. Like in Rings of Power from Warped, passing through the rings will give your character a speed boost, as well as extension for the timer and points. Finishing a lap will also give you extra points. On the 3rd lap onward, the rings will give you "blue fire boost" that makes your racer go even faster. The rings will become smaller with each lap finished, so extending the timer will become trickier the longer you go on.
Perky Goth: The Dark Coco skin is effectively this, as she only shows blasé behavior in her victory podium animation, while her regular racing lines remain unaffected.
Permanently Missable Content: Averted; if you don't buy content during a Grand Prix, it will become available in the Pit Stop three months later. This was almost the case with a series of national flags available in the Nitro Tour Grand Prix, but they were added to players' collections free of charge at the start of the Rustland Grand Prix. The only things that are actually missable are skins for the Champion Kart, which require players to be in the Top 5% on the leaderboard.
Play Every Day: There are incentives to play every day, like increased Wumpa Coin payouts for playing online and daily challenges.
Playing Card Motifs: The redesign of Hot Air Skyway adds casino themes to it, and Pinstripe's gangster outfit gives him playing cards tucked away in his hat band and vest. Two of the Deadinator's decals also follow the same casino theme.
Pragmatic Adaptation: Since the tracks from Nitro Kart relied heavily on driving up walls and ceilings, they've had to be changed and reshaped to better fit with the original CTR's more grounded physics. Additionally, the vehicles from Tag Team Racing can no longer clash with other racers and they function much closer to the karts from the first two games.
Precision F-Strike: While there's no cursing otherwise, Devil Dog Zam's bundle is labelled as "Hell On Leash".
Prehistoria: Other than the remade Mystery Caves, the game adds a new Mesozoic-themed level: Prehistoric Playground.
Prince Charming: Prince Lab Assistant acts the part very much, presenting a rose, although his bow gets messed up when his crown goes through his head.
Product Placement: A promotional deal between Activision and Mondelēz International created a candy-themed kart that can only be unlocked by entering codes found in specially marked packages of Sour Patch Kids and Trident Vibes.
Production Foreshadowing: Possibly a subtle case with the post-GP update's inclusions of Baby Cortex and Baby Tropy, as the game following this one occurs sometime after the predicament they were in to begin with.
Production Throwback: In a unique case of being one to a different company's work, the Desert Duster kart's design is almost identical to Professor Frink's hovercar in The Simpsons Hit & Run. The developers for that game, Radical Entertainment, were also responsible for the Tag Team Racing elements and characters present in Nitro-Fueled.

Similarly, the Red General Tiny exotic skin has a dog paw print on the back as a reference to the logo of Naughty Dog, the developers for the original Team Racing.
Geary's Beenox Robot skin is heavily based on a mascot that they had used, in the intro for some of their games. The way he blasts off is near-identical, as well.

Promoted to Playable:

Nitros Oxide, although this is not the first time he is playable (that goes to Crash Nitro Kart). Players can also select his hovercraft to be used by other characters.
Krunk, Nash, the Norms, Geary and Emperor Velo were only playable in the handheld versions of Crash Nitro Kart, while in the console version of said game, they were completely unplayable boss racers. Now they join the rest of the cast as playable characters, with Velo joining them in the Gasmoxia GP.
Tawna, as well as the Trophy Girls; Ami, Isabella, Liz and Megumi (now known as the Nitro Squad), are added as playable characters in the first Grand Prix.
Baby T from Warped, who is added through the second Grand Prix.
In regards to the third Grand Prix, while Hunter was previously playable in Spyro: A Hero's Tail as well as a few parts in Spyro: Year of the Dragon, this is the first time Gnasty Gnorc has ever been playable.
Komodo Moe and N. Brio have now become playable as of the Spooky Grand Prix. Neon Circus GP also makes Koala Kong playable.
Chick and Stew have finally become playable for the first time via the Winter Festival GP.
While previously playable in N-Tranced's multiplayer mode, the Rustland Grand Prix makes this the first time that Megamix is playable in a racing game.
Baby Cortex and Baby Tropy become playable after previously only appearing in the true ending of Warped.
The Lab Assistant is finally playable, after being a simple regular enemy for years.
The Iron Checkpoint Crate becomes the very first playable item, weirdly enough.

Punctuated! For! Emphasis!: Chick introduces the Back N. Time Grand Prix in this manner.
R-S
T-Y