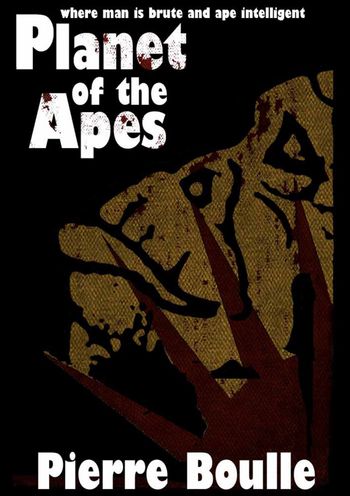 La Planète des Singes, released in English as Planet of the Apes, is a 1963 French satirical sci-fi novel by Pierre Boulle. It formed the basis for the 1968 film, which spawned a decades-long franchise in its turn.
In this original version, we follow a journalist named Ulysse who accompanies his mentor, the professor Antelle, to a long space trip, after getting bored of Earth and humans. They land on a planet strikingly similar to Earth, and are welcomed by a beautiful young (and naked) woman… who strangely acts like an animal, as do the other members of her "tribe". And soon enough, they are taken in the middle of a hunt where the hunters have an… unexpected appearance. They are both captured and separated, and Ulysse ends up in a research center, where he will learn what it feels like to be on the side of the animals.
---
This novel provides examples of:
---