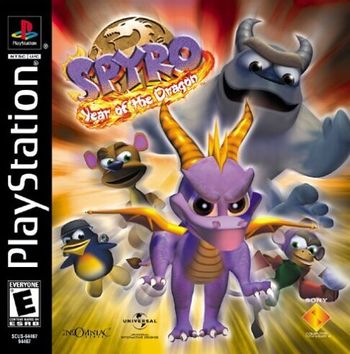 Argus: Find the Eggs and bring them back, Spyro. You're our only chance!
Spyro the Dragon: You got it!
The third Spyro the Dragon game, and the last to be developed by Insomniac Games for the PlayStation. Released in 2000, the actual Year of the Dragon.
In the Year of the Dragon, a rare event that happens every 12 years, mass numbers of new Dragon Eggs are brought to the Dragon Realms. But they're stolen en route by a white rabbit thief who disappears into a strange hole. Spyro follows her and ends up in the Forgotten Worlds, where an evil sorceress rules. Now Spyro, with the help of his new friends Sheila, Sgt. Byrd, Bentley, and Agent 9, has to recover all the Dragon Eggs and make sure the Baby Dragons get home safely.
This game, along with the first game and Ripto's Rage!, was remastered on the PlayStation 4, Xbox One, PC and Nintendo Switch with updated graphics as a part of the Spyro Reignited Trilogy, with the latter two ports coinciding with the franchise's 20th anniversary.
---
Spyro: Year of the Dragon contains examples of:
---