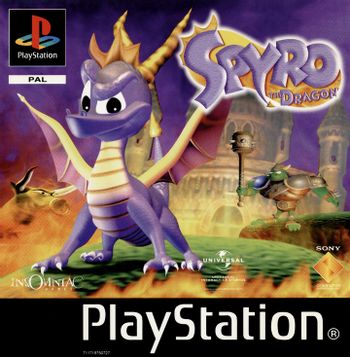 "Looks like I got some things to do!"
— Spyro the Dragon
The first Spyro the Dragon game, released on the PlayStation in 1998.
Gnasty Gnorc is a greedy fellow, and he has his eyes set on the massive gem hoard they keep in the Dragon Realms. So he swoops in, steals their treasure, and turns all the dragons to crystal! Well... all but one, that is. A young dragon named Spyro managed to survive the crystalization. Now it's up to him and his dragonfly Sparx to recover the gems, rescue the dragons, and defeat Gnasty Gnorc!
This game, along with Ripto's Rage! and Year of the Dragon, were remastered on the PlayStation 4, Xbox One, PC and Nintendo Switch with updated graphics as a part of the Spyro Reignited Trilogy, with the latter two ports coinciding with the franchise's 20th anniversary.
---
Spyro the Dragon contains examples of:
---